Top 10 Things NOT to do in Thailand – the basics (2019)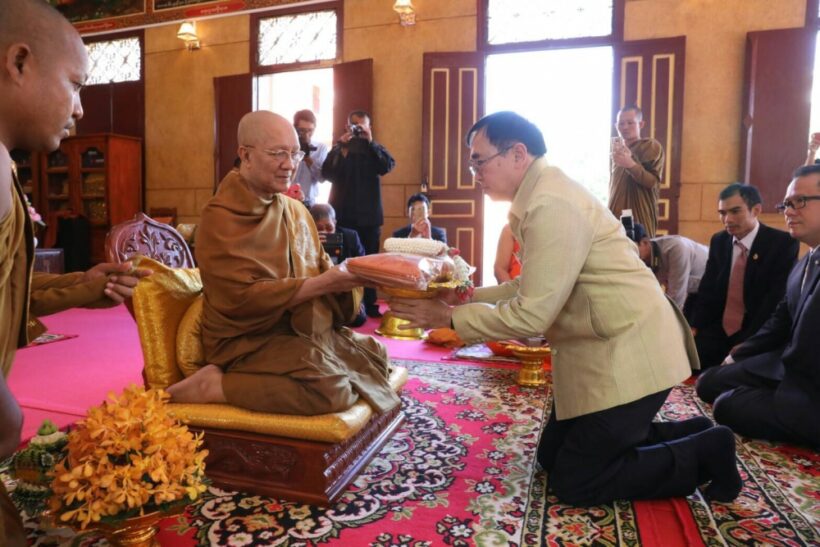 Thailand is a wonderful place, full of new adventures, different cultures and a surprise around every corner. You better believe it. Thailand is unique in the region with very little overt western influence throughout its history and a proud culture that puts the needs of its people first, ahead of appeasing westerners. Most of this is a mystery to be discovered but sometimes you'll just mess it all up by not knowing the basics. Here's Thai culture DOs and DON'Ts Lesson One.
1. Don't point with your feet
…or doing just about anything with your feet. Thais consider the feet the most lowly part of the body (physics and gravity support their contention). As the head is revered as the top of the body and closest to heaven, the feet are close to the ground and just 'dirty'.
So doing anything with your feet, especially pointing with them when seated, is against the grain of Thai culture. It probably goes without saying, you should 't put your feet on tables or on chairs when in the company of Thai people or in public.
Tuck your feet away when seated and try not to point you feet in the direction of a Thai person. For example, if you're sitting cross-legged in the company of Thais you'll probably be inadvertently pointing your feet at someone.
Whilst we're on the feet, remove your shoes when going into a Thai person's home or even some shops and offices. Take the lead of the people before you. If they're taking off their shoes, do the same. You will see a lot of slip-on shoes and sandals worn around in Thailand, for good reason. You're always slipping them on and off.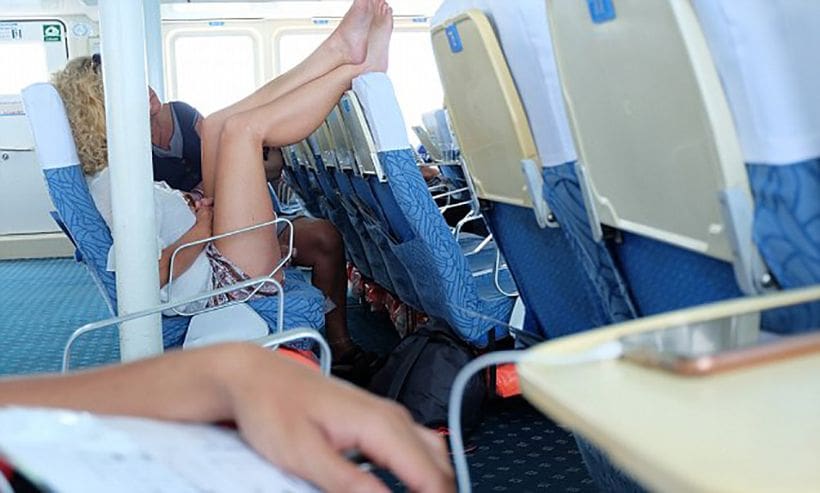 2. Don't touch people on the head
From the feet we head north to the head, the loftiest and most holy part of the body. Touching someone on the head, if you're not intimate with that person or unless they're very young, is going to be taken as an disrespectful or, at least, a cultural faux-pas. Thais take their hair very seriously, washing it often and grooming their 'do' endlessly during the day. Pull up at a set of traffic lights and you will often see the true reason Thai's have large rear-view mirrors on their motorbikes – they will be touching up their hair whilst waiting for the lights to turn green. It's also cited as a reason for the Thai resistance to wearing motorbike helmets.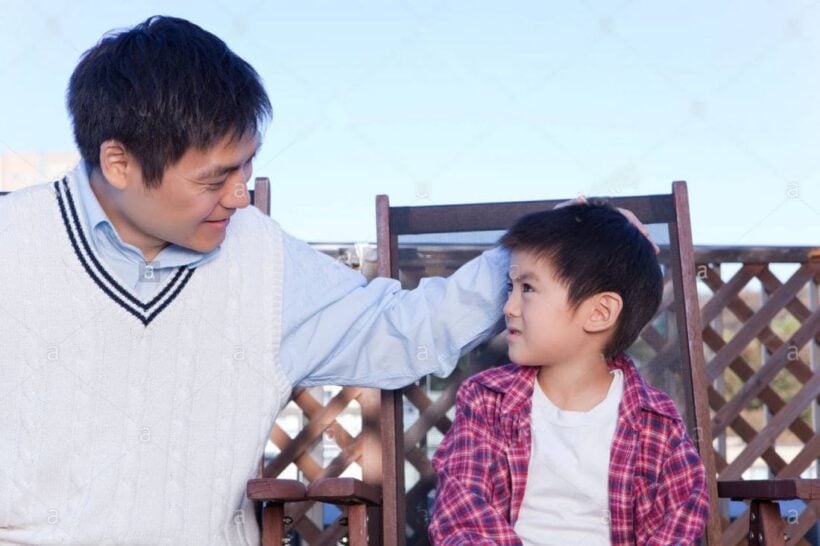 3. Don't flash the flesh
It might be OK to walk around some streets in the world with your top off, bath topless at the beach or get around in the skimpiest of cheeky, skin-revealing outfits. Not so in Thailand. Despite the few notable streets in places like Bangkok, Pattaya and Phuket where you'll see quite a lot of flesh exposed to tantalise customers, Thais are mostly a conservative bunch and will frown on your showing of extra skin when it's not required.
Going into many offices around the Kingdom without the proper attire – not covering your shoulders, knee-length skirts, long pants, no shorts, no T-Shirts, etc – will see you pointed politely towards the exit. This rather conservative attitude towards showing too much skin may seem contradictory in some situations, and it is. Just be guided by what Thais are wearing around you and save the confusion for a discussion between your foreign friends. If in doubt, ask – your hotel reception staff and concierge will provide advice what you should be wearing in most situations.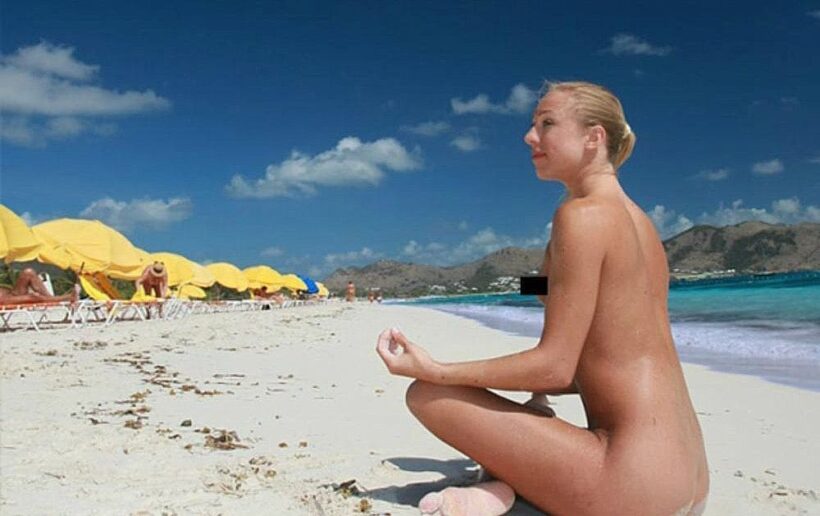 4. Don't discuss the Thai Monarchy
Thailand is indeed a Kingdom, a modern constitutional democracy (sometimes) with a King as their head of state. The Thai King, Rama 10, still retains a highly revered place in Thai society despite the monarch having their absolute powers taken away in a bloodless coup back in 1932.
The current King Maha Vajiralongkorn's father, King Bhumibol Adunyadej, was highly revered during his astonishingly long 70 years on the Thai throne. Through his tireless work for the Thai people, along with effective PR and communication from the Palace (King Bhumibol was an excellent photographer and accomplished musician), he made the position of the monarch much more than just a mere constitutional role.
For these reasons any discussion, at all, about the Thai royal family is strongly discouraged. Be aware of the image of the King on money, numerous signs and images around the country and try and avoid anything that could be misconstrued as offensive towards the royal family. At the very least Thais will be greatly offended. At worst you could end up in jail.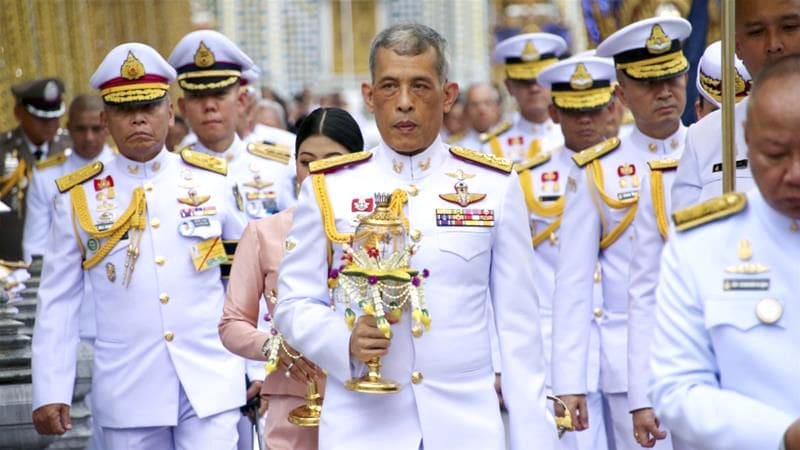 5. Things NOT to do around monks and temples
Most visits to Thailand will include at least one visit to a temple. You will also see monks collecting alms (food offerings) early in the morning as they walk the streets around their temples. Thais have fine-tuned their own version of Buddhism over the centuries with historical and geographic influences fused with aspects of Hinduism and Animism. Just about all young Thai men will become a monk as a right-of-passage, usually in their early 20s as a symbol of respect for their family. You will never really understand Thailand without understanding a bit about Thai Buddhism – it's a lot more than just a religion, it's an intrinsic part of their daily life.
Monks play a special role in Thai society and its best to know what to do when in temples and around monks. These are some general tips but also follow the guidance of the Thais and other people around you if you're not sure.
• Especially ladies, don't touch the monk. If you want to hand something to the monk put it on a table or the ground and let them pick it up. Or hand it to a male who will then hand it to the monk. If they stand, you stand, if they sit, you sit.
• Remove your shoes before entering the temple's most holy areas and try and avoid stepping on the threshold at the top of the steps or at the doorway.
• Walk slowly and keep your chatter to a minimum. Walk around sacred object in a clock-wise direction and back away from any Buddha image and don't turn your back.
• Don't point at Buddha images (more about pointing later) and keep your position lower than the Buddha image or statue at all times.
• Remove your hat and sunglasses, turn off your mobile and remove headphones.
• Taking photos will probably be OK but look out for signs that ask you not to and never get a photo taken when your back is facing the Buddha.
• It goes without saying that you should dress appropriately when visiting a temple. Many temples will have sarongs and shawls available for those who are not appropriately attired.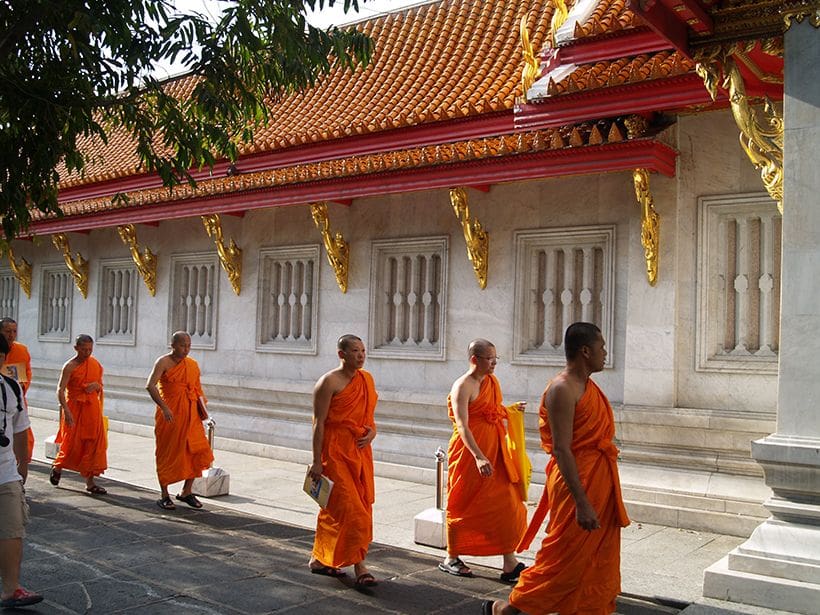 6. PDAs (public displays of affection) are not welcome
Thailand isn't Italy or Spain where public displays of affection are a part of life. And the streets of Thailand aren't all like that girlie bar you visited in Pattaya where the girls were wearing short shorts and a flimsy singlet.
When in public in Thailand you will rarely see any displays of affection towards each other in public. Even simply holding hands may be frowned upon by some older Thais, certainly when you head out of the capital and the tourist spots. If you watch Thai soap operas all they ever seem to do is go in and out of relationships, fight, shoot guns and glare at each other – drama, drama, drama. But in real life most Thais prefer a simpler, gentler life without too much overt physical contact. So keep your romantic moments to yourselves – they probably won't be appreciated on the streets of Thailand.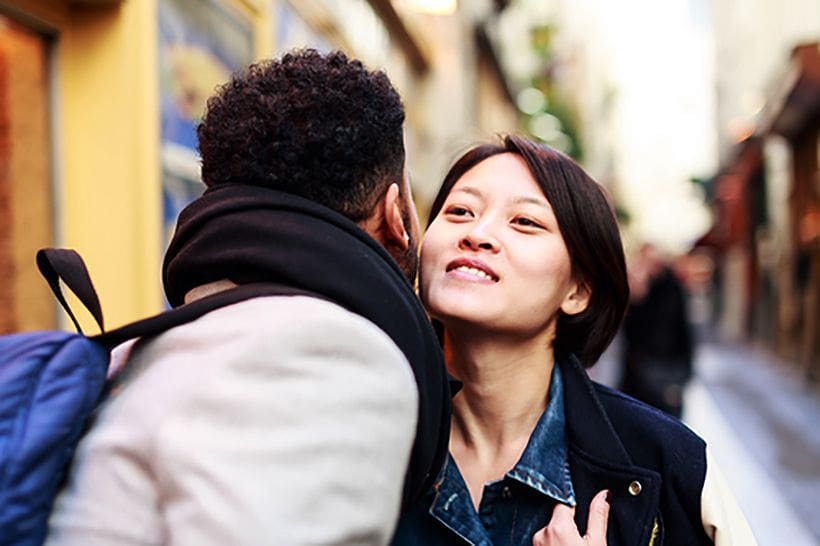 7. Don't lose your cool
…or how to lose friends and not influence people in Thailand. Getting angry, even raising your voice, never goes down well in Thailand. You may have been waiting in the immigration queue for two hours, are trying to get your visa extended or trying to wade your way through the 'labyrinth' a.k.a. Thai Banking! All these things will test your mettle and patience. But don't, just don't, get angry and try and shout your way out of the situation.
It will never, repeat NEVER work in Thailand. Thais really hate conflict and raising your voice or losing your temper will be seen by most Thais as a sign of madness.
The young lady behind the service counter or the poor officer sitting behind the immigration counter will likely smile at you whilst you rant on about your 'rights' and that you 'know somebody'. Once you're finished they either walk away or completely ignore you and start serving the next person like you never existed.
If you run into Thai police, same applies x 10. If you think getting into any argument with the Thai boys-in-brown is a good idea we can guarantee that you will come off second best every time. In all situations never lose your cool, try and be polite and take a deep breath.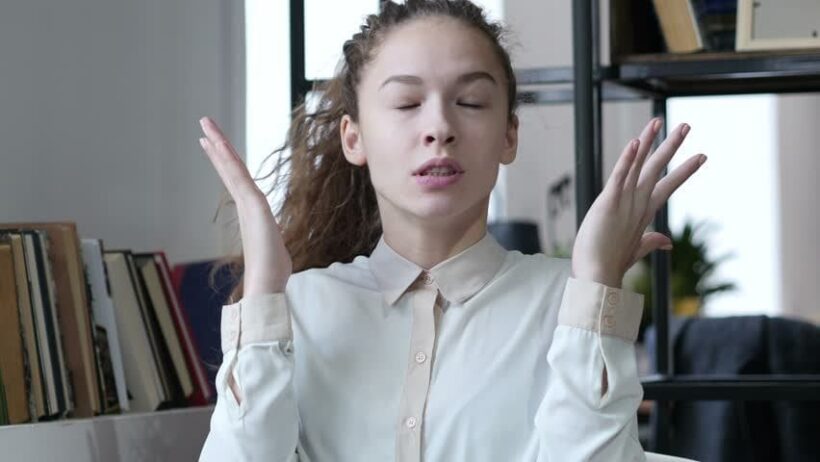 8. Dress up, not down
You're here for a relaxing holiday but keeping neat and clean, no matter what you're wearing, will be appreciated by Thais. Whilst your skimpy beach wear will likely be tolerated and your singlets will be OK for wandering around the streets in the tourist areas, a smart pair of shorts and a nice shirt or blouse is going to earn you big points in the eyes of your Thai hosts. Wearing nice shoes is something that is also appreciated. When meeting Thais, even in business situations, don't be surprised if they check out your shoes with a discreet glance down.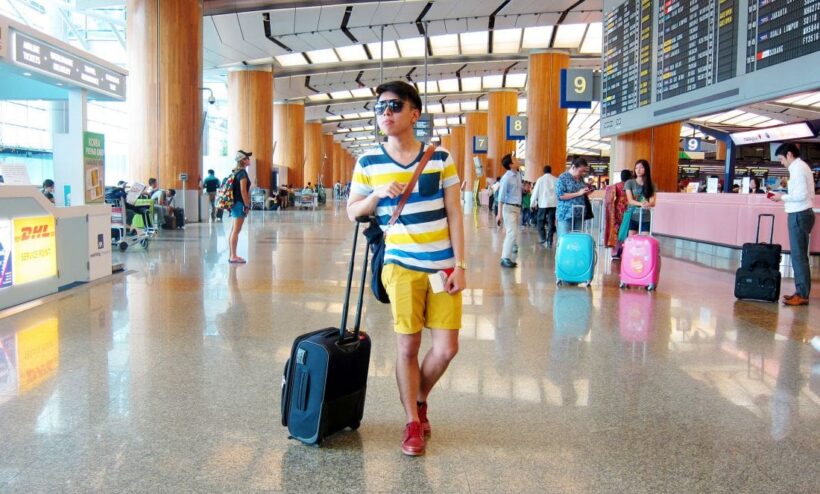 9. Don't whistle at night and other superstitions
Don't whistle at night. It's a Thai superstition that you will call in the ghosts and other bad spirits if you whistle in the evening. Generally, Thais don't whistle at any time but if you are a happy whistler better to keep it to the shower and not try and impress the locals with your whistling skills whilst in Thailand in the evenings.
Whilst we on superstitions, Don't cut your hair on Wednesdays, if you eat the last piece of food on the plate when sharing you will get a handsome boyfriend or pretty girlfriend, don't leave home if you hear a gecko, if your right eye twitches it means something bad is going to happen but if it is the left eye you will have good luck, you will see a ghost if you bend down and look between your legs, your finger will fall off if you point at a rainbow, consult the monk to decide on the best day for your wedding or buying a new car, toot your horn when passing a temple or shrine… we could go on but let's move onto Number Ten.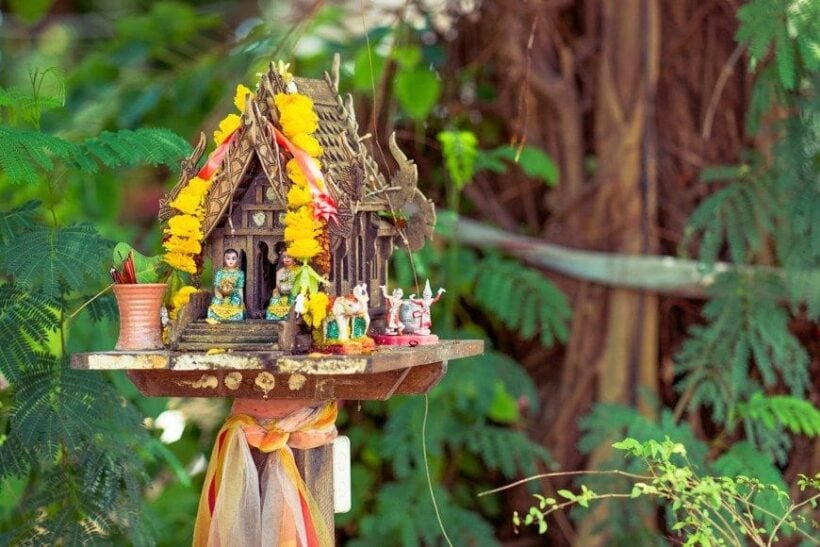 10. Don't take things too seriously
Mai phen rai & sabai sabai
Translated 'don't worry/no worries' and 'relax, take it easy'. These two phrases sum up a lot of Thai thinking. Put simply, don't think too much about things in Thailand. Many things will simply not have a reason or purpose and your western logic and thinking simply will not be applicable in many confusing moments in the Land of Smiles. Many expats use the code 'TIT' when confronted by some of the seemingly absurd things that happen in every day life living in Thailand – 'This Is Thailand'. And it is.
Enjoy the roller coaster because it's THEIR country, THEIR culture and THEIR way of life. Expecting things to be like your country will just get you frustrated so enjoy the adventure. For every little annoyance you will be rewarded with many more wonderful moments and a lifetime of memories.
10a. Don't point with your index finger
We said we'd say something about pointing. Don't point with your finger. If you want to indicate something and draw attention to it, point with your fingers together and hand held sideways. Pointing with your index finger is considered rude and only done as a derisive gesture. There are a few other hand gestures to talk about but we'll leave that for another Top Ten on another day.
Having said that, there is an article called Thais Pointing at Things which celebrates the irony that Thais, indeed, love pointing at things.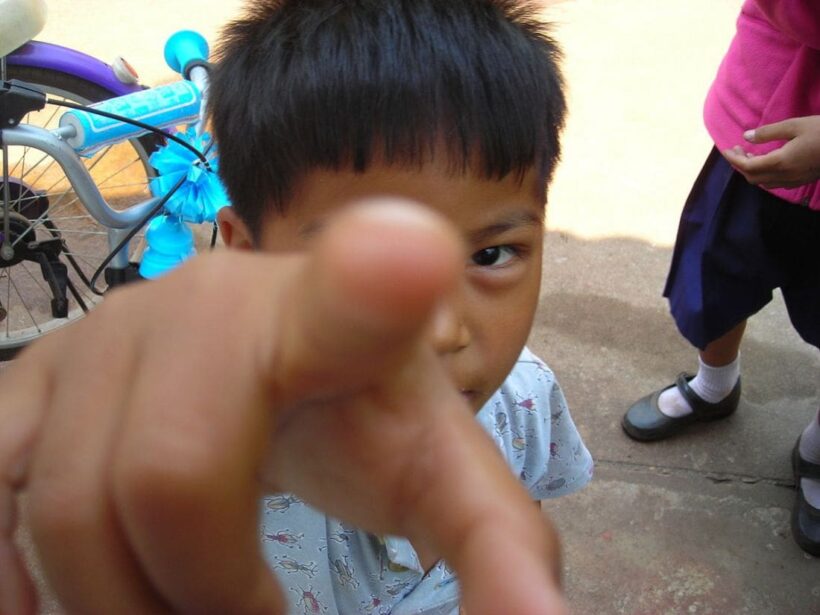 As a footnote we should say that, although these ten recommendations about Thai culture are a good guide, there may be local nuances around the country. From north to south, east to west, city to up-country, Thailand has a lot of variations, accents, foods and traditions.
Many of these things in our Top 10  are traditional cultural faux pas and perhaps less commonly frowned upon in modern times but they still prevail with the older generation.
You'll find that the Thais will tolerate western culture more easily in the tourist areas. Enjoy discovering Amazing Thailand.


Read more headlines, reports & breaking news in Thailand. Or catch up on your Thailand news.

Find more Thailand top 10s and top 10s in Thailand on The Thaiger.
Six per cent of Thai university students have attempted suicide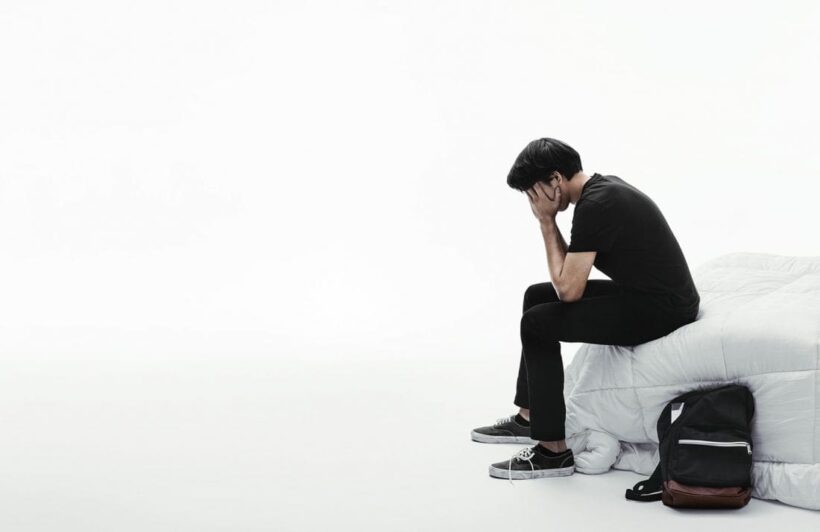 Recent research reveals a disturbing finding that over 6 per cent of university students have attempted suicide.
The study findings have been highlighted after several students killed themselves in recent weeks.
"From research on university students' depression during the past three to four years, it can be concluded that 6.4 per cent of students turned suicidal and tried to take their own life," said Asst Professor Dr Piyawan Visessuvanapoom, lecturer at the Chulalongkorn University's Faculty of Education.
The studies were both in Thailand and overseas, she added.
According to the research, most student suicide attempts were in dormitories or homes.
The common triggers for the actions were quarrels with someone very close, learning problems and relationship issues.
"Health problems, anxiety, stress and poor ties with parents and friends contribute to depression," Piyawan said.
"Given that half of university students' lives were about studies, lecturers could play a role in preventing a descent into depression."
"Lecturers should understand that students are diverse. When a group of students cannot do something, try to understand them and see how you can help."
Asst Professor Dr Nattasuda Taephant, who heads the Centre for Psychological Wellness, explained that everyone becomes sad from time to time.
"But if sadness is prolonged, a person may sink into depression."
Nattasuda said academic results that were below expectations, plus money problems, soured romantic ties or friendships, or the sudden loss of something important could upset students' lives and drive them into depression.
"The depressed tend to view the world and their situation negatively. Their past experiences affect their interpretation of what they are facing," she said.
She said those with depression tended to keep themselves away from others, lose interest in their studies and become suicidal.
"What the depressed want most is someone who agrees to listen and think for them. Lecturers, friends and family members can improve their emotional wellbeing," she said.
She said parents in particular should avoid any suggestion that they do not accept their children's mistakes.
In serious cases, he recommended that the depressed seek counselling from experts.
If you or anyone you know is in emotional distress, please contact the Samaritans of Thailand 24-hour hotline: 02 713 6791 (English), 02 713 6793 (Thai) or the Thai Mental Health Hotline at 1323 (Thai).
SOURCE: The Nation
BTS launch their new album on April 12, appear on Saturday Night Live the next day. Why this matters.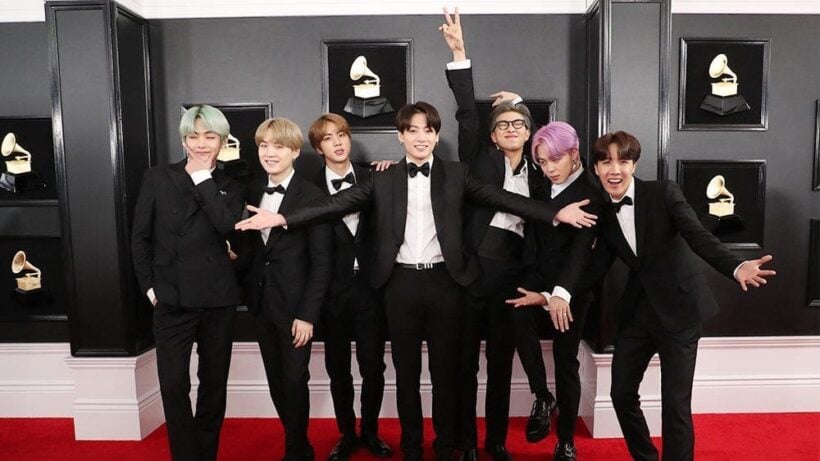 The music business is about to have another one of those seismic shifts in the next month as the power of the music business continues to dribble away from western record company influences to a more democratic, social media-driven, business model.
In the past two years, mainly, a small South Korean production house has re-tooled the massive world music business (and it is, first and foremost a 'business') with one product.
Bangtan Sonyeondan, better know around the world simply as BTS.
The seven members of the K-Pop phenomenon (and the word phenomenon is aptly applied in this case) actually debuted in 2013 after forming originally in 2011, but they're hardly an overnight success with real struggles threatening their success along the way. The BTS that writes, produces and performs in 2019 is a slick, highly professional performance and business unit that has, mostly by design, completely rejigged the fatally-wounded 'old' music business model. From a try-hard hip hop band to world-class music artists is a fascinating journey in the annals of the modern music business.
Also consider they've done this singing, mostly, in Korean.
Whilst the record companies continue to roll out the 'oldies' with another Greatest Hits compilation, or interpret their 70s and 80s heroes on the big screen (another guarantee to boost flagging music sales and downloads), there is some light at the end of the music tunnel which gives us hope of some great tunes ahead.
From first impressions the septet of BTS are just another fresh-faced boyband with catchy hooks, hair tosses and screaming fans – we've seen it all before, right? Except that they're South Korean in a white-washed music world.
But behind the facade is some raw talent, a highly skilled back-room and the use of social media as a jack-hammer, not just a tool. After charting two of their albums at #1 in the Billboard Hot 200 last year, a first for a Korean band, appearances on the American Music Awards, the Grammies, Ellen, all the popular Tonight Shows, the front cover of TIME and a series of sell-out concerts around the US, the seven young men are about to take the next big step, and it will be big.
Days after BTS announcing their forthcoming Map of the Soul: Persona album coming April 12, they also announced they are appearing on SNL, Saturday Night Live, (NOT Donald Trump's favorite TV show) the day after.
Saturday Night Live announced that BTS will make their musical debut with Emma Stone, a self-declared K-pop fan, on the April 13 episode.
SNL is a highly coveted stage for any performer and has the ability to bring an artist to new heights of their career. A pre-fame Adele performing in a 2008 episode went on to the highest-rated episode in 14 years and sent her 19 album to new highs on the charts.
BTS, although still in their early to mid-20s, are already seasoned live and television performers. There would be more BTS live YouTube clips on the net than any other performer, period. They know the performance craft and how to play an audience. The sales of their music speaks for itself, their YouTube click numbers are astonishing. Type 'BTS' into Google and you get 490,000,000 results!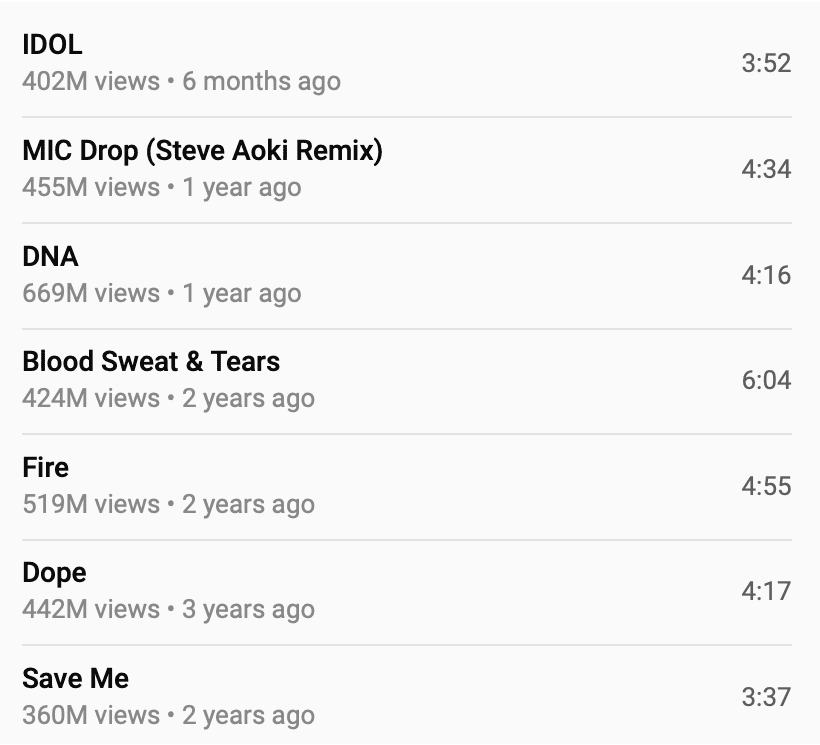 And that's part of the magic formula that separates them from just about every previous band. Whilst using social media is nothing new, BTS has amassed an enormous world-wide audience of music downloaders, ticket and merchandise buyers and sheer screaming hordes beyond anything previously attainable. And there's a lot more to come as the fan base spreads out of Asia into the rest of the world.
Of course it's easy to say the band came along at the right time, given the rise and rise in social media's impact on our lives. But they've been first band to really harness the power in ways most other bands never even thought about.
Their fanbase is called 'Army', an appropriate name given the onslaught on music fandom around the globe. That the enormous fanbase started in Asia and is spreading westward is something we've not seen before.
BTS also deliver a different message aimed squarely at their peers and not with the same gloss and sheen of most other K-Pop. It's sometimes raw, always relevant, reflecting their own battles and scars as young people growing up in a complex world. They cry, they share their fears, they argue on their videos, they're humble – it's very different.
The BTS-on-SNL program will be, easily, the biggest audience the show will EVER have, not by a little, by a LOT. That's quite an easy prediction given BTS's chart history, their YouTube viewer numbers, their growing appeal and the sell-out concerts, around the world.
For a crash course in BTS, check out this video (below). There are also thousands, yes thousands, of other videos apart from their award-winning music videos as well. Such is the power of Army, the power of social media, the power of good music well performed, and the hope that cream always, eventually, rises to the top.
The Saturday Night Live episode airs in the US on April 13.
A new visa paperwork problem for some expats?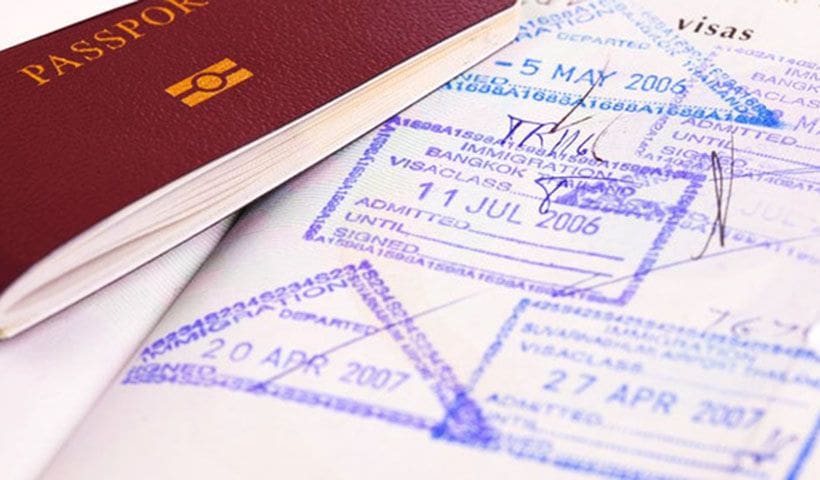 We get occasional emails from expats relating their various problems with Immigration as they apply for new visas or renewals. The common thread is that applying for, and renewing visas, is becoming unnecessarily complicated.
This one seems complex. Names have been withheld for privacy.
"I am a British citizen and my baby's visas were renewed without an issue, but the Thai immigration has caused problems for my wife and wants me to prove that I am married to my Chinese wife so that I can renew her dependent visa for a third year.
The man's wife and baby are on Dependent visas tied to his 'Retirement' visa.
Our marriage certificate is in Chinese so in order to get Immigration to acknowledge our marriage, she now has to go back to China to have our marriage certificate notarised and translated, first in her local home area, then sent to China's foreign affairs office in Beijing for their stamp, THEN to the Thai embassy in Shanghai for their stamp, THEN to Bangkok for the Chinese embassy's stamp.
This takes many weeks/months and it's simply a joke and is 'mission impossible' to do.
My wife flew out to China today and I am at home here in Phuket with our 1 year old baby who was born here at the Siriroj Hospital.
The new guy in charge at the local Immigration office has apparently decided that the certified translation from an authorised translator here in Phuket, which was ok in previous years is now NOT recognised or accepted.
We have brought all our money here and own two properties.  We have money in the bank, private medical insurance, spend all our money here, our baby was born here, but they have split up the family.?
"I just wondered if anyone else is aware of these changes?"
"It's crazy to penalise the good, law abiding people and break up a family.  I thought once I was on a retirement visa and met all the requirements that all would be ok?! But no."
"We have been to the Chinese consulate here in Phuket, they cannot help. My wife's visa runs out in 2 days so she has had to leave….. !?!?
And get this… from last year onwards all Thai embassies in China (Shanghai Beijing Guangzhou, etc) are all saying they need at least one month to process any non-immigrant visas (dependent, business or education visas). Why is it all becoming so complicated?
Not to mention that the months and huge expense wasted every year to do this is staggeringly stupid.  We have been hear for years, retired for the last two years and now this paperwork road-block!?!"
PS. I worked and lived in China for over 6 years, and later retired here in Thailand, I have been married for 7 years and my wife and I have been together over 11 years now.