Top 10 sources of tourists to Thailand in August, 2017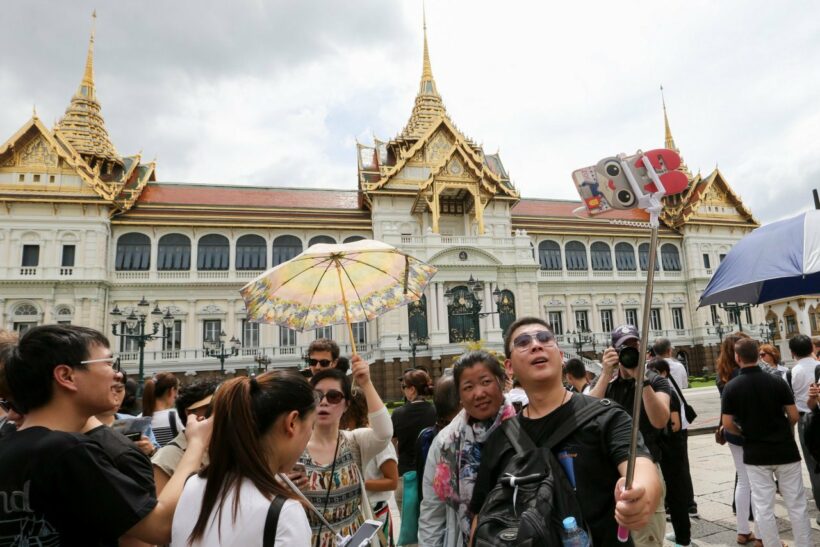 The rise in tourists to Thailand over the past two decades has been staggering. Whilst there are ebbs and flows in the tourism mix and the occasional political fracas, one thing is consistent – the rise in the tourist numbers flocking to the Kingdom. We may argue the issues in another article but here are the stark statistics which show the rise in figures over a 12 month period, comparing August in 2017 to the same month in 2016.
China, 982,212 +10.30%
Malaysia, 277,606 +9.52%
South Korea, 164,001 +16.52%
Japan, 162,703 +5.03%
Laos,158,377 +4.18%
India, 116,376 +14.77%
Hong Kong, 93,136 +8.88%
Vietnam, 90,502 +9.17%
Cambodia, 82,776 +20.84%
Singapore, 81,366 + 21.2%.


Find more Thai Life top 10s and top 10s in Thailand on The Thaiger.
Mitsubishi testing their new regional jet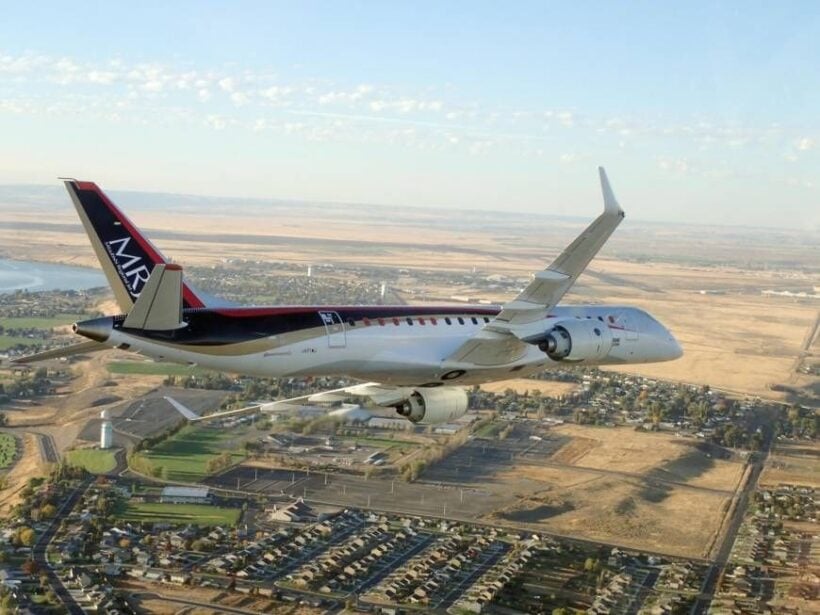 PHOTO: The Japan Times
Mitsubishi Heavy Industries' new 88-passenger Mitsubishi Regional Jet is testing the skies just as rivals Embraer and Bombardier are moving to sell off their manufacturing operations for jets with up to 160 seats to Boeing and Airbus.
At stake, particularly in the market for jets with fewer seats, is US$135 billion in sales in the two decades through 2037, according to industry group Japan Aircraft Development.
More cities in Asia and Europe are seeking to link up with each other and the Mitsubishi Regional Jet, the first airliner built in Japan since the 1960s, began certification flights last month in Moses Lake, Washington.
With fewer seats and smaller fuselages, regional jets are a different class of aircraft from larger narrow-body planes such as Boeing's 737 or Airbus's A320. The MRJ has a range of about 3,220 kilometres. The seating is 2+2 instead of 3+3 in a small Airbus or Boeing single-aisle jet.
After spending at least US$2 billion over more than a decade, the manufacturer is looking to get its jet certified and start deliveries to launch partner ANA Holdings.
Mitsubishi initially planned test flights in 2012 but blew past that deadline because of production difficulties. Now, the company, which makes ships, nuclear power plants and aerospace components, expects to have the plane ready for customers next year, a timetable that will test the company, said Mitsubishi Aircraft president Hisakazu Mizutani.
Mitsubishi Heavy is not the only Asian manufacturer betting that it can build aircraft cheaper and more efficiently. Commercial Aircraft of China (Comac) has a new regional jet in service, while Korea Aerospace Industries is studying whether to develop a 100-passenger aircraft.
"The aviation market in Asia is expected to grow further in the coming years and there will be demand for these aircraft," said analyst Lee Dong-heon at Daishin Securities in Seoul.
"The shift in the regional aviation segment we have seen over the last year or so has opened opportunities."
"The MRJ is fully capable of competing in the market."
Na-Oh, taking off daily into a brand new culinary adventure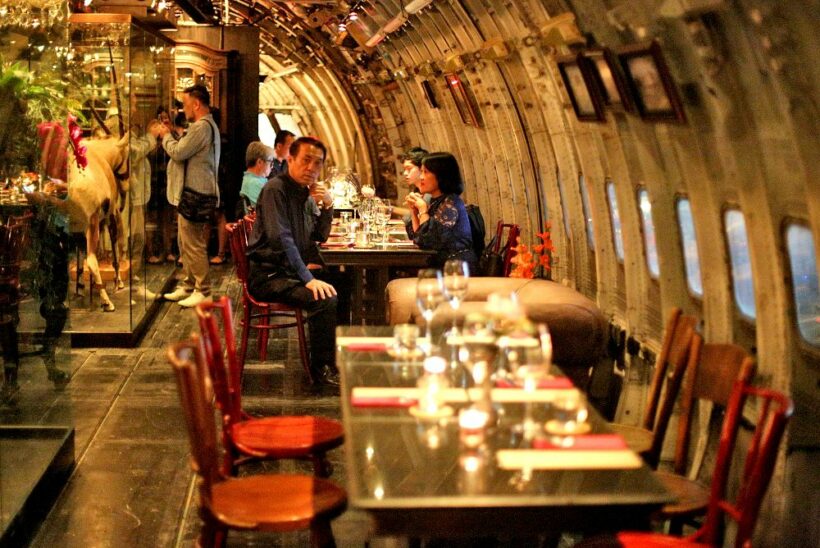 PHOTOS: The Nation | Na-Oh
A restaurant with a theme, a grand gothic theme – a flying vessel taking survivors of a post-apocalyptic world to a safe zone.
Na-Oh (a play on Noah and his journey-to-safety story) promises that its menu will constantly change to reflect a new theme set by the restaurant every three or four months, usually reflective of the various destinations the 'journey' will take you.
This flight of fancy is an old Lockheed L10-11, an 80s domestic flyer in the US now re-imagined as a restaurant in Bangkok's Thonburi district as part of the Chang Chui Bangkok Plane Night Market, on the west side of the Chao Phraya.
The 55 metre, 150 tonne former jet that's been permanently parked at ChangChui since 2017 is finally whisking passengers off on culinary adventures.
Formerly flying for Thai Sky Airlines fleet, the L10-11 was about to be scrapped when Somchai, the celebrated clothing designer and founder of fashion label FlyNow, flew to its rescue.
Upon boarding for what's billed as a "futuristic food journey", guests have five and five-course dinners to choose among – ranging from 1800 – 2800 baht.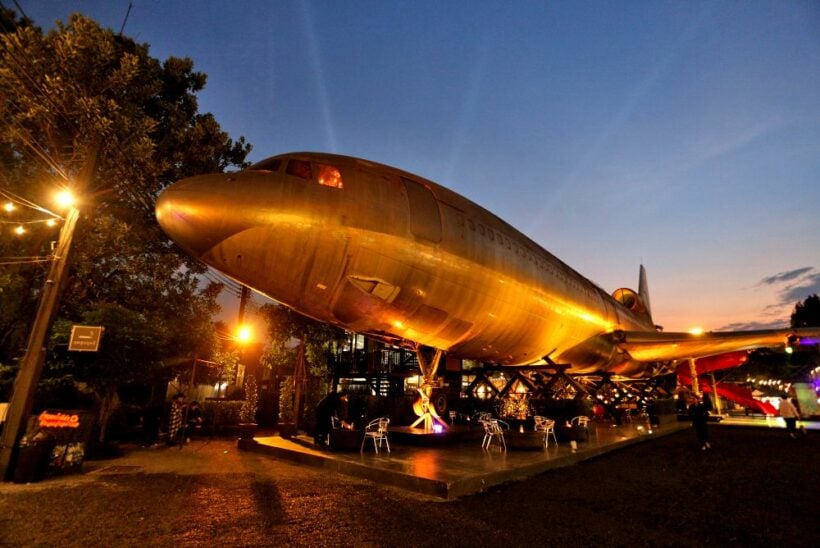 But when boarding the plane this time you're entering a whole new world of imagination – the look is gothic, sumptuous, art-deco, eclectic and lush.
The restaurant owners have replaced the 400 airline seats with vintage sofas and chairs and added fancy chandeliers. Old steamer trunks serve as tables.
And adding to the 'weird' is a range of taxidermy hanging on the sides of the old plane –  all are certified legal and ethical, meaning they died of natural causes.
Once upon a time surly baggage handlers would hurl your luggage onto a waiting trolley at an airport, but here the former luggage compartment is now a 10 seat lounge with high-backed maroon sofas.
The cockpit is a private dining room with a classic chesterfield.
You get the idea, Na-Oh is high on style, but what about the food? It's fine dining with a thematic twist. Mostly Asian-inspired simple flavours, the owners describe the culinary experience as a futuristic food journey. So, expect the unexpected. Check out the current menu at Na-Oh HERE.
Compared to the dramatic interior and wow-factor, the degustation menu-style offerings are a secondary matter. But if you're looking for that different dining experience in Bangkok strap yourself in, stow your tray table, open up your window covers and open up your mind to a new culinary experience.
Na-Oh is open daily, except Wednesday, from 6 to 11pm.
Bookings on 02 007 7070 or find out more HERE.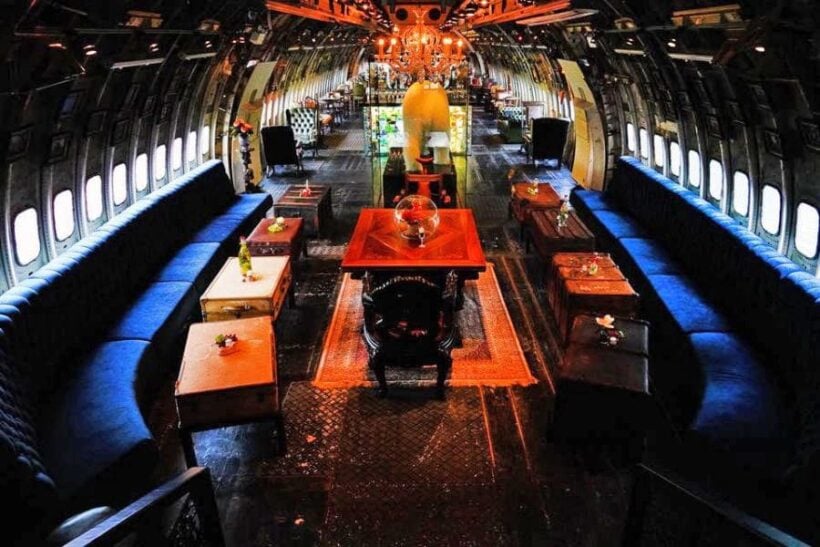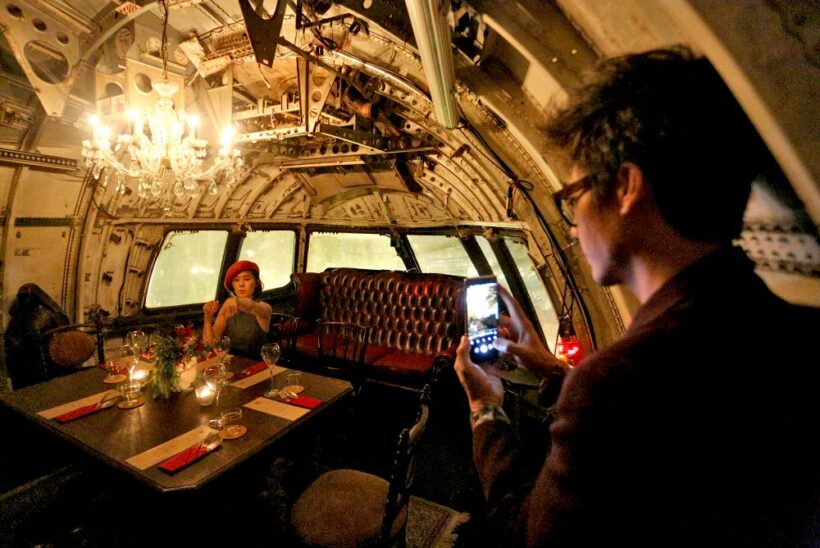 Give your stretch marks a makeover – the tattoo solution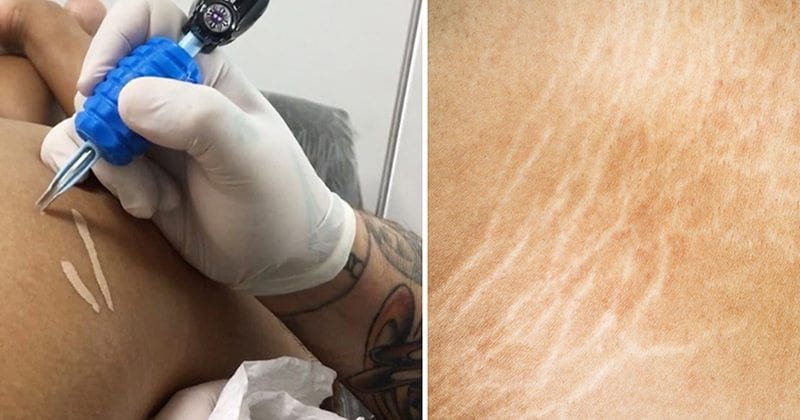 Stretch marks, we've all seen them and many of us have a few. Both men and women can be affected. But Inked In Asia has a possible solution.
Stretch marks are a natural indication that your body is growing and changing. It can be said that it's your body's way of 'celebrating' your growth – many would disagree.
They are part of many people's lives so why not turn them into works of art with a stretch mark tattoo. Stretch marks are nothing to be ashamed of so let's give them a tattoo make-over.
When elastin fibers and collagen tear during weight gain, pregnancy or even puberty, the skin's color and texture is damaged forever. Stretch marks can fade from when they first appear, but they might leave behind mildly indented streaks that won't return to the original smooth skin.
Some treatments and creams can help by improving the colour of the stretch marks or promoting collagen growth, but there is no true way to get rid of these unsightly blemishes. Trying to get damaged skin to fill out and return to its original colour is very difficult, even for the best dermatologist.
A new trend is the covering up stretch marks with tattoos. Now a normal 'cover up tattoo' consists of going over an existing tattoo with new ink, adding or completely changing the original tattoo.
But there's another solution to those that want a more subtle approach which can be used to disguise some stretch marks.
The technique of matching the skins natural tone by mixing tattoo ink, is more of an art than a scientific process. People's skin has a dynamic range of colours from reds, yellows, browns and greys and getting the exact tone needs expert evaluation and technique. The tattooing then begins, hiding and disguising stretch marks and giving confidence back to clients.
Click HERE to contact Inked In Asia's Tattoo Studio to arrange a FREE consultation appointment and discuss your stretch mark tattoo make-over.