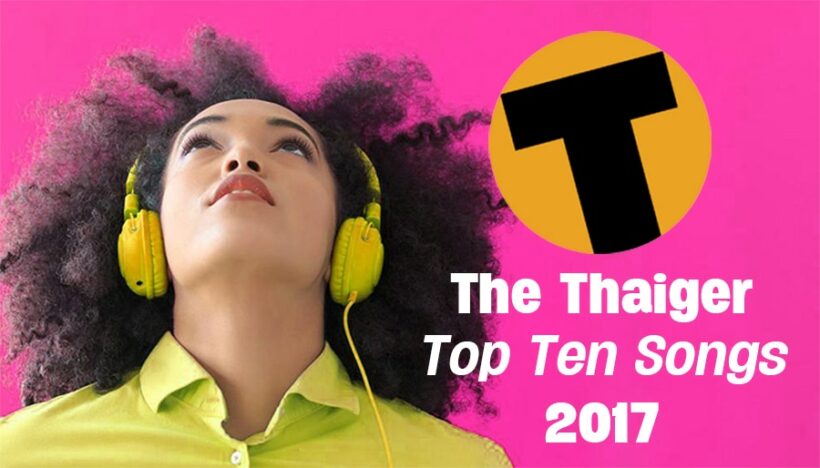 as played on The Thaiger 102.75 FM
At The Thaiger 102.75 FM, music is the heart and soul of the station. We like to keep absolutely current along with some of the best music from the past 30 years.
2017 was an outstanding year for new artists and also saw the return of established artists back into the mix. The compiled list below is our most requested and played songs for the – The Thaiger's Top Ten Songs for 2017.
1. Reggaeton Lento Remix – CNCO and Little Mix
Music magic happens when you bring five Latin American guys and five British girls together, and just quietly the music video is also hot!
2. Despacito – Luis Fonsi, Daddy Yankee and Justin Bieber
Justin Bieber whether you like him or not he has to feature on any top ten list of songs for the past few years. The music video to Despacito is at the time of writing the most viewed video of ALL time on YouTube with 4.5 billion views, followed closely by See You Again by Wiz Khalifa ft Charlie Puth with 3.3 billion views.
https://www.youtube.com/watch?v=kvjF46T3sb4
3. Perfect – Ed Sheeran
Ed Sheeran's duet with Beyonce, at the time of writing, is the current world number one song, and a lovely version, however the original song is so raw and a beautiful ballad and very worthy of our top ten songs of 2017.
4. Something Just Like This – Coldplay ft The Chainsmokers
It was a warm welcome back to the music world to Coldplay with the release of their album Kaleidoscope, which features this collaboration with American electronic duo The Chainsmokers which charted all over the world.
5. Sing of the Times – Harry Styles
Slightly edgy and gritty for the ex boy band One Direction member, Harry Styles impressed us with the first single from his self-titled debut album.
6. Malibu – Miley Cyrus
Traditionally Miley Cyrus showcases her happy go likely lifestyle choices within her music, in Malibu she tells of the love story with her then fiancé Liam Hemsworth. It's a quirky little number and a far cry from her wrecking ball days.
7. Feel It Still – Portugal. The Man
One of the brilliant world wide new comers for 2017, American rock band Portugal. The Man released their latest studio album Woodstock, which featured both Skin and Feel It Still chart toppers all over the world, and one of your favourites at The Thaiger.
8. Green Light – Lorde
With live performances on Saturday Night Live and Coachella Valley Music Festival in 2017, Kiwi artist Lordes' welcome return to the music world after a two year sabbatical with her second album Melodrama. The lead single Green Light is an unconventional little number and certainly left of the middle just like the artist herself.
9. Anywhere – Rita Ora
At The Thaiger it would be easier for us to choose Rita Ora's previous chart topping track Your Song for this list and it's a great song, however the follow up single Anywhere is getting much more interest from you and peaks as one of the most requested songs of the year and therefore makes our top ten.
10. Thunder – Imagine Dragons
Thank goodness you our listeners also love this indie American rock band, Imagine Dragons. Thunder comes from their third album Evolve and we love it here at the station too.