Three Thai lottery winners take home 6 million baht each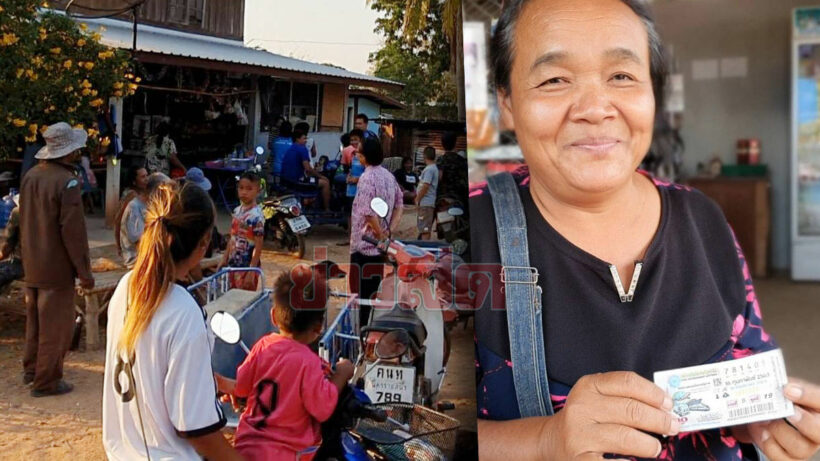 781403. That's the magic six numbers you needed for yesterday's lottery, which would award you with a grand prize of 6 million baht if you had a winning lottery ticket. Three people won, a convenience store owner in Nakhon Ratchasima and married couple from Rayong.
Suwarn Sinthao bought her ticket hoping to win a three-number prize of 4,000 baht but when she realised that she had all 6 numbers she just sat down and cried. Khaosod News went to interview Suwarn the store owner in Nakhon Ratchasima, along with lots of friends, relatives and well-wishers. Suwarn said she purchased the ticket using the numbers on an old car she had seen in a dream.
She says she will be using the money to pay off the family's debts and the rest to renovate her store and home. She says she'll also donate some of her winnings.
The other winners were a married couple from Rayong. 43 year old Sompong Raethuan and 32 year old Wimon Molatin filed a report at the Pluak Daeng Police Station after realising they had won 2 first prizes brining their total winnings to 12 million baht. They say they've been using the same sequence of numbers for a long time. The couple work at a local factory and the tickets were purchased at a market in the Pluak Daeng District, north-west in the Rayong Province. The say the money will be invested for future plans whilst both will continue to work in the factory.
Congratulations to all the winners. The next government lottery draw will be on March 1.
SOURCES: Khaosod | Thai Residents
Keep in contact with The Thaiger by following our
Facebook page
.
Hundreds of Thais stranded in New Zealand, denied boarding without documentation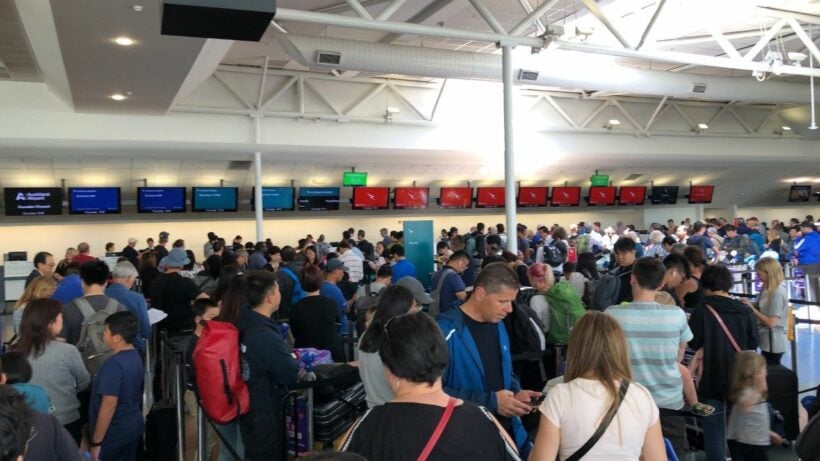 A Facebook post from a Thai Airways aircrew says hundreds of desperate Thais are trapped in New Zealand, denied boarding on a Bangkok-bound flight as they couldn't provide the mandatory "fit-to-fly" letter now required of Thai nationals, and proof of residency once in Thailand. Aaron Puranasamriddhi (known online as Krissanarat) called on the Civil Aviation Authority of Thailand to sort out the problems as a matter of urgency.
Due to the Covid-19 coronavirus pandemic, Thais need the documentation to get on planes heading home, including a "Fit to Fly" Health Certificate and a letter from a Thai embassy or consulate where they are announcing their intention to return home.
Many people are unable to get this documentation.
The post said that of the 280 people trying to board Thai flight TG492 from Auckland to Bangkok, only six were allowed to do so as they were the only ones with the required documentation.
Some 274 people were arguing to be allowed to board but were left stranded at the airport, according to the post.
Keep in contact with The Thaiger by following our
Facebook page
.
Search on for tour bus passengers after three test positive for Covid-19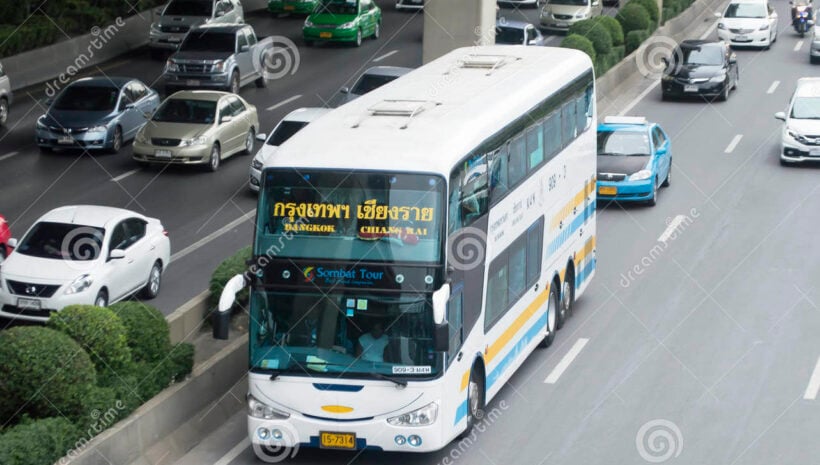 Authorities in Chiang Rai, Northern Thailand, have been tracking down 3 passengers who have tested positive for Covid-19. The passengers were travelling on a VIP tour bus from Bangkok to Chiang Saen, Chiang Rai disrtict.
Chiang Rai deputy governor, Mr. Pasakorn Boonyalak, and Dr. Tossathep Boonthong, the provincial health chief, say…
"…that they are asking passengers on Sombat Tour Company's bus No 16-3473, which left Bangkok for Chiang Saen on March 21 at 7.15pm, to report to provincial health officials for all fellow travellers now need to be screened."
All three confirmed Covid-19 cases from the bus are now being treated at Chiang Rai Prachanukroh Hospital.
Meanwhile, yesterday, Public Health Minister Anutin Charnvirakul and senior health officials accepted the delivery of Chinese medical supplies, at the Public Health Ministry, from Mr. Yang Zen, the Chinese chargé airfares. The medical supplies consists of 100,000 hygienic face masks, 10,000 N95 face masks, 2,000 protective gowns and 332 Covid-19 test kits.
SOURCE: Thai PBS World
Keep in contact with The Thaiger by following our
Facebook page
.
9 Thai airlines stop services during Covid-19 crisis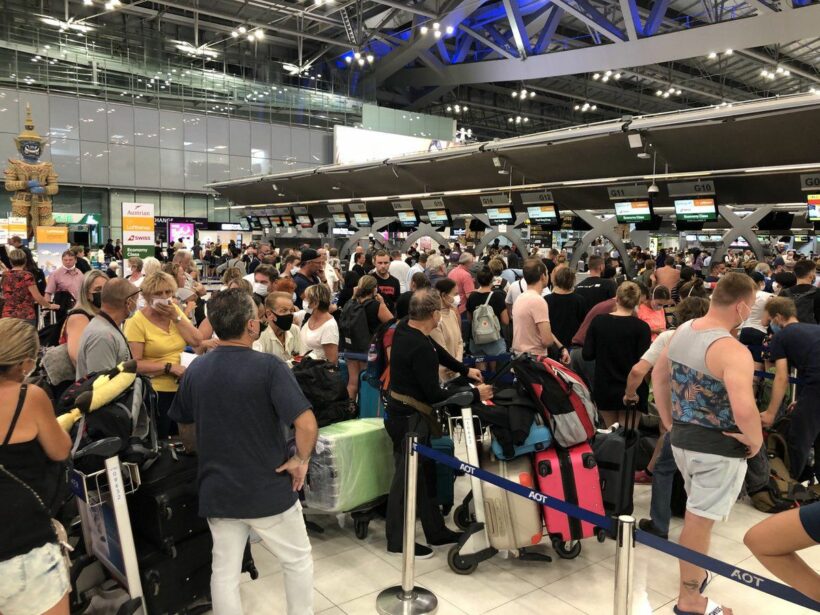 Yesterday, director general Chula Sukmanop of The Civil Aviation Authority of Thailand (CAAT), granted nine airlines permission to halt their flights due to the Covid-19 situation.
Chula says "that the nine airlines that had submitted requests to temporarily halt their operations".
The airlines are…
Thai Airways International, Thai Smile, Bangkok Airways, Thai AirAsia, Thai AirAsia X, Thai Lion Air, Nok Air, Nok Scoot and Thai VietJet Air.
"Most airlines want to cancel only some flights and some routes, so we have approved their requests accordingly. However, they must have plans to compensate customers who have already bought their tickets and they must notify the customers of flight cancellations in advance."
Thai Lion Air had earlier announced that they would suspend all domestic and international flights between March 25 and April 30.
Thai Smile, Thai AirAsia and Bangkok Airways also announced that they would suspend all international flights from March 22 until further notice.
Thai Airways has also announced yesterday that all TG flights to Europe will be suspended from April 1 to May 31, while regional flights, including flights to Singapore would be suspended from March 25 to May 31.
Read MoreHERE
The Ministry of Transport had earlier announced that airlines wishing to cancel their flights due to the Covid-19 crisis, must compensate their customers by refunding the cost of tickets and other related fees. In the case where the customers had bought tickets with cash, the refund transaction must be completed within seven days of the customers submitting their request.
SOURCE: The Nation
Keep in contact with The Thaiger by following our
Facebook page
.