The delicate process of starting plants from seed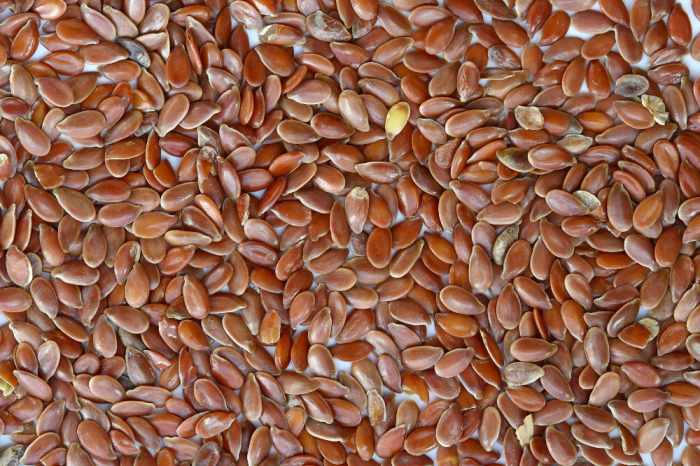 PHUKET: Just over a year ago, part of this column was about cultivating your own flowers. Time to go into a bit more detail. The easiest way to grow plants for your garden is to use seeds. They can be obtained from large supermarkets such as Tesco, a few garden centers, or from specialist retail outlets. One of these shops is on the old airport road going north from Phuket Town, a few hundred yards before 'SuperCheap'. In Phuket, the range of packeted vegetable seeds is good, the range of flowers less so. Take care to observe the instructions on the packet.
Of course, you can always use your own seeds. The easiest to get are from annuals such as zinnias, gomprenas, African marigolds or cosmos daisies. Indeed, these will readily self-sow if left to their own devices. Before man upset the apple-cart, seeds were solely distributed by wind, water or via the innards of birds and animals. Not any more….
After plants have finished flowering, seed heads or fruits form. These should be collected only when they are dry, and the seeds are beginning to fall away. As a general rule of thumb, the larger the seed, the bigger will be the end product. So seeds vary in size from the microscopic seeds of orchids, through the pea or bean-sized fruits of the legume family, to the substantial "stones" of the vetianas and avocados. These big stones should only be taken from over-ripe fruit.
However you come by your seeds, remember that once sown, they should be cosseted. Opinions vary as to which is the best sowing medium, but it should be relatively low in nutrients, and porous enough to allow the delicate initial rootlets to develop. Initially, seedlings will feed off the food in the seed itself. So straight top soil is likely to be too strong, and also too prone to contain pests. Sterile compost mixed with coconut fiber and river sand is probably ok for most small seeds. Succulents must have sand: cacti will not survive without silicates in the mix.
Choose clean plastic pots or trays. Dirty ones are liable to harbor disease. Pots are best since they do not dry out so quickly. And seedlings will not survive bone-dry conditions for long. Plant just below the surface for small seeds, about one to two centimeters for bigger seeds. Larger seeds (such as those of cannas) will germinate more rapidly if they are soaked in water for a couple of days, or if the tough skin is scratched or scarified. The potting mix should be moist but not saturated. If possible, apply water from below. This will avoid the twin possibilities of washing the tiny seedlings out of the soil, or of drowning them with over-liberal use of the watering can.
Place your seeds in a place where there is plenty of light, but little or no direct sunlight – at least initially. Water sparingly, look out for predators such as ants, and check for wilt or "damping off" which is caused by a fungus. If you can, use a weak solution of fungicide to prevent "damping off". Once the secondary or real leaves appear, move the pots to a position where they will get some sun.
Finally, treat the young seedlings with care when you finally plant them outside. Never hold them by the stem (which is very tender); instead hold them by a leaf when you place them in position. Losing a leaf is not a disaster; crushing the stem is… And don't expect perfect results. Homegrown seeds may produce genetically regressive offspring.
Shrubs and trees are less often propagated by seeds. The commonest and easiest method is to use cuttings (sometimes referred to as "striking") from the parent plant. Not all shrubs will respond to the method, but a few basics apply. Cut your slip below a node (growing point) at a sharp angle. Cuttings are normally ten to twenty centimeters long, but will need to be bigger for large shrubs or trees. Bury the cutting three or four centimeters deep in a mix of soil and sand (to increase permeability), or even start it in water with a mild dose of fertilizer.
If you can, dip the cutting in rooting hormone before you plant it. Of course, you may prefer to plant the cutting directly in the garden, but remember to keep it moist, and if you use a pot (preferred), place it in partial shade.Then wait for the shoots to appear.
If you have a question or a garden that you would like featured you can email me at: drpaccampbell@gmail.com. Further information about this gardening series and Patrick's other work can be accessed at: patrickaccampbell.wordpress.com
— Patrick Campbell
Keep in contact with The Thaiger by following our
Facebook page
.
Out of 37 countries, Thailand has the worst pension system, says Bloomberg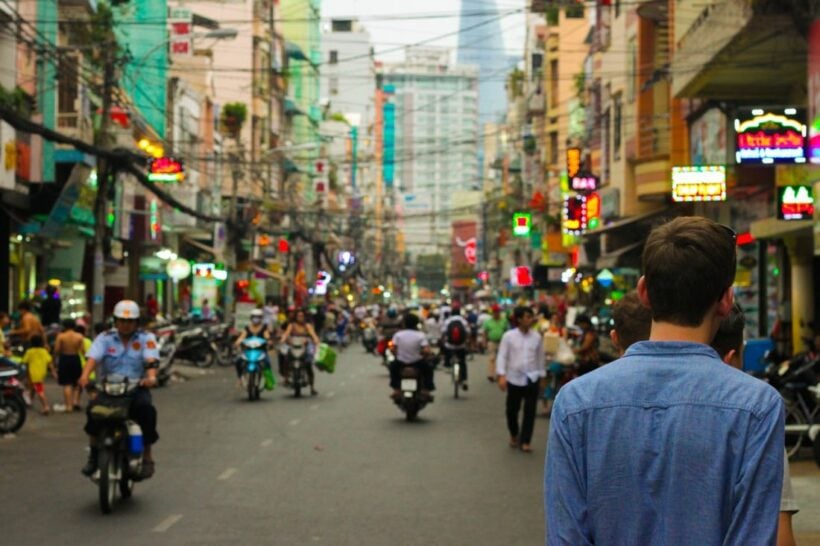 Thai Residents reports that on Sunday, Bloomberg published an article on the world's best pension systems, using information gathered from the 2019 Melbourne Mercer Global Pensions Index.
The survey looked at the pension systems of 37 countries with metrics including employee rights, savings, the number of homeowners, growth of assets, and growth of the economy. The purpose of the analysis was to determine what was needed to improve state pension systems and to gauge the level of confidence citizens had in their state pension system.
The Netherlands and Denmark were found to have the world's best state pensions, with Australia, Finland, Sweden, Norway, Singapore, New Zealand, Canada, and Chile next. Out of all 37 countries, Thailand finished last, with what the report described as an extremely ineffective and ambiguous system.
"Thailand was in the bottom slot and should introduce a minimum level of mandatory retirement savings and increase support for the poorest."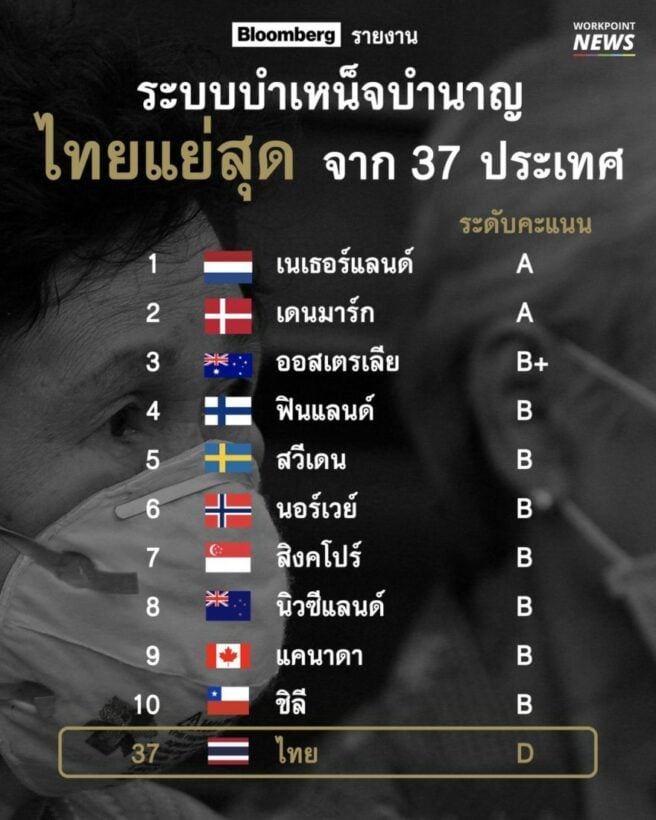 Photo: WorkpointNews
Thai Residents states that only those employed within the government system in Thailand are eligible for a pension based on salary. For most Thai citizens, pension amounts vary from 600 baht to 1,000 baht a month, depending on the recipient's age.
A report carried out by The Securities and Exchange Commission (SEC) advises Thai citizens to have at least 4 million baht saved by the time they retire, but Thai Residents reports that 60% of Thai retirees have less than 1 million baht in savings, with one in three citizens who have reached retirement age are forced to continue working in order to survive.
SOURCE: thairesidents.com
Keep in contact with The Thaiger by following our
Facebook page
.
Tax on salt content being considered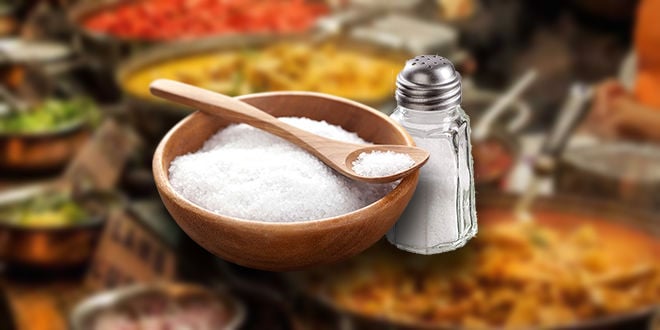 The Excise Department is considering imposing a tax on the salt content of food to encourage food producers to reduce the sodium content of snacks, instant noodles and seasoning cubes.
The director of the Office of Tax Planning said that the department is discussing a limit on the amount of sodium food can contain, in line with the standard set by the World Health Organization (WHO), which is 2,000 milligrams of salt per day.
In reality, Thai people consume an average of 1,000 milligrams per meal, making their daily intake well above WHO guidelines, according to the director.
He said any tax imposed would be at a level which would encourage food producers to reduce the sodium in their processed food without being punitive, adding that the proposal isn't intended to generate more tax revenue, but to help protect the health of consumers. Excessive sodium in the diet can lead to high blood pressure and kidney disease.
Fish sauce, soy sauce and salt would not be taxed.
SOURCE: thaipbsworld.com
Keep in contact with The Thaiger by following our
Facebook page
.
Water shortage warnings in 22 provinces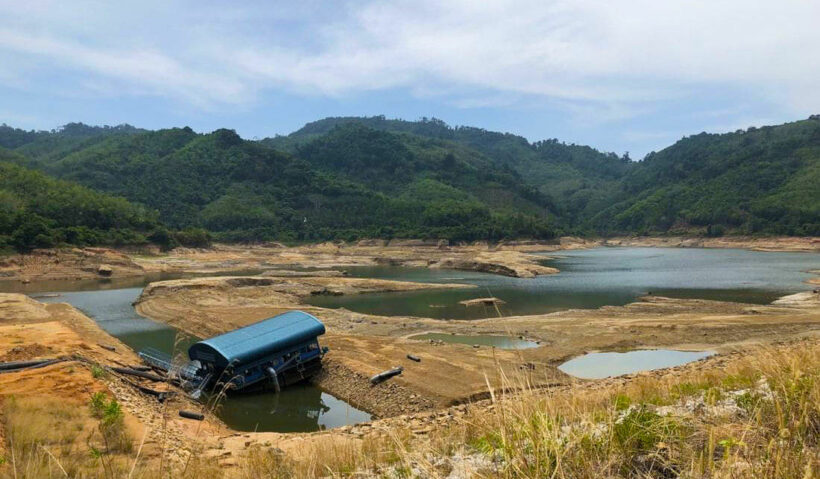 People living in 22 Thai provinces are being warned to prepare for shortages of drinking water during the upcoming dry season, due to start on November 1st.
The warning was issued by the National Water Resources Office, citing low levels in reservoirs, which are the main sources for tap water production waterworks in 22 provinces.
Areas at risk identified by the office are in northern, north-eastern, eastern and southern provinces.
Measures have been adopted by agencies charged with dealing with water shortages. including dredging water channels to allow greater volumes of water to flow into reservoirs, drilling underground wells, enlarging storage ponds and the purchase of water to supply to those in urgent need.
The Royal Irrigation Department has announced that people should use water sparingly.
There are currently about 6 billion cubic metres of usable water in reservoirs in the affected provinces, with 5 billion cubic metres reserved for consumption and ecological preservation, leaving only 1 billion cubic metres for use in agriculture.
This means farmers in the Chao Phraya river basin may not be able to grow a second crop of rice this year.
SOURCE: thaipbsworld.com
Keep in contact with The Thaiger by following our
Facebook page
.