Thailand, third biggest medical tourism destination in the world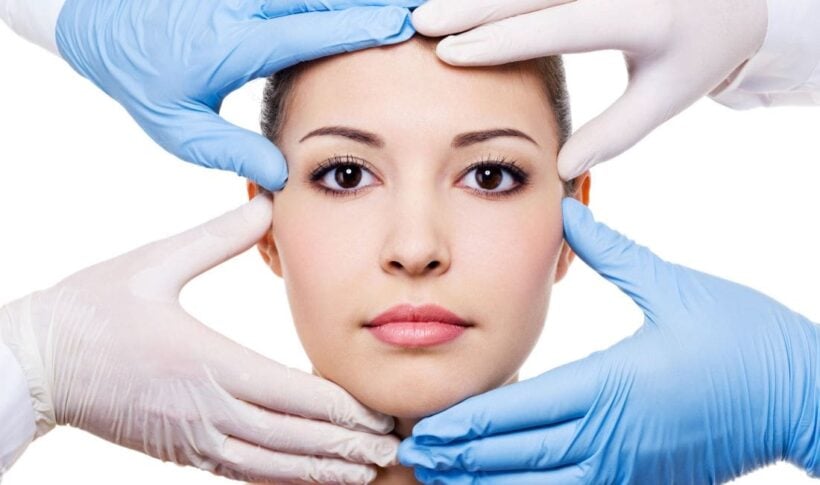 In the process of shrugging off its reputation for cheap back-alley plastic surgeries, Thailand is quickly catching up to South Korea as the world's prime destination for cosmetic surgeries and treatments. Home to 64 JCI-accredited medical facilities – three times more than Singapore and 6 times more than Malaysia.
JCI is the industry standard in global healthcare, where facilities are benchmarked against US standards and practices. 
In an industry of massively over-inflated figures, it's difficult to really gauge the size of the Global Medical Tourism market or even the Thai market. According to the TAT, a whopping 9% of Thailand's 35 million annual visitors are 'Medical Tourists', but it's believed this figure doesn't account for tourists who happen to visit a medical facility during their stay and it doesn't disregard multiple visits or expats.
A more honest assessment by the International Medical Travel Journal suggests the global market is worth around $13 billion, with Thailand being the joint third biggest beneficiary, taking $600 million in revenue each year.     
The top 25 medical travel destinations by value: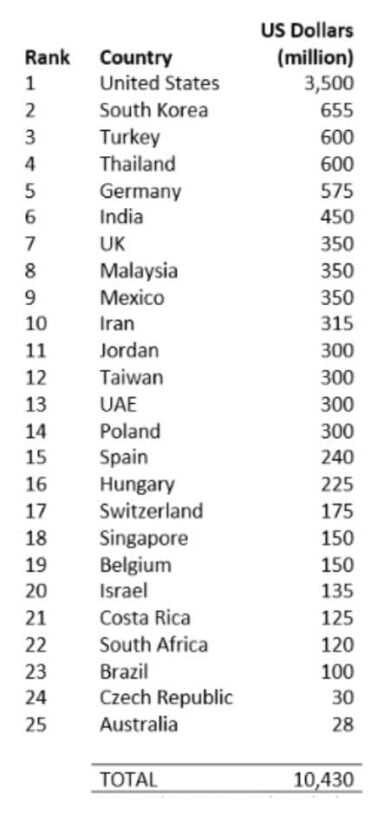 SOURCE: International Medical Travel Journal
But what is Medical Tourism and why is Thailand so popular? A loose definition of a Medical Tourist would be someone who travels to another country with the primary purpose of undertaking some form of medical, cosmetic or dental procedure. Common procedure types, include plastic surgery, dental procedures, tertiary medical care and fertility procedures.
It's estimated that Thailand receives 350,000 dedicated Medical Tourists each year, spending an average of $1,700 in hospitals and clinics across the country, with Bangkok seeing the majority of this money. South Korea still leads the way, but for how much longer?
Darren Lyons of MyMediTravel, a Singapore based Medical Tourism information and referrals platform (best comparison being the 'Booking.com' of global Medical Tourism), states that half of their requests are for cosmetic procedures in Thailand. Darren explains:
"We work with hospitals and clinics in 43 countries across the world and yet 48% of all enquiries are for Thai facilities, with the vast majority of these being cosmetic procedures. Breast Augmentation procedures in Thailand are by far the most common, but other more 'modern' procedures are on the rise, for example CoolSculpting, the Brazilian Butt Lift and the Labiaplasty."
We asked Darren why he thinks Thailand is such a popular choice for Medical Tourists:
"Reputation. Thailand invested so heavily over the last 20 years, it's now reaping the benefits of having 60-plus gold standard facilities and hundreds of smaller but well-established clinics. And a huge amount of the surgeons are internationally trained with many years of experience.
"Gone are the days of everyone sniggering at Thailand for its botched plastic surgeries. Of course, there'll always be ill-informed people who still say this, but with so much information and first-hand accounts and reviews available online, such ignorance is being disregarded now. 
"And cost is an important factor. Outside of the major hospitals, Thailand is so competitive, not just in the region, but globally.
"Other more affordable hospitals are quickly gaining ground, for example Sikarin Hospital and Bangpakok9 International Hospital. Smaller, more niche clinics like KTOP Clinic are gaining a reputation for the 'Korean Style' facial plastic surgeries, attracting patients who'd previously only ever considered South Korea as a viable destination.
"Finally, no waiting times. Prospective patients will say 'I want my procedure done on this day', and nine times out of ten, that's when it's booked in for. Failing that, it'll be the following day."
Darren went on to explain how emerging nations like Thailand were able to undercut hospitals in Western / developed countries, and it comes down to simple economics. Where the cost to build, run and maintain a multi-disciplinary hospital and pay the staff is much lower, and this huge saving is passed onto the consumer.
Price comparison of some popular procedures: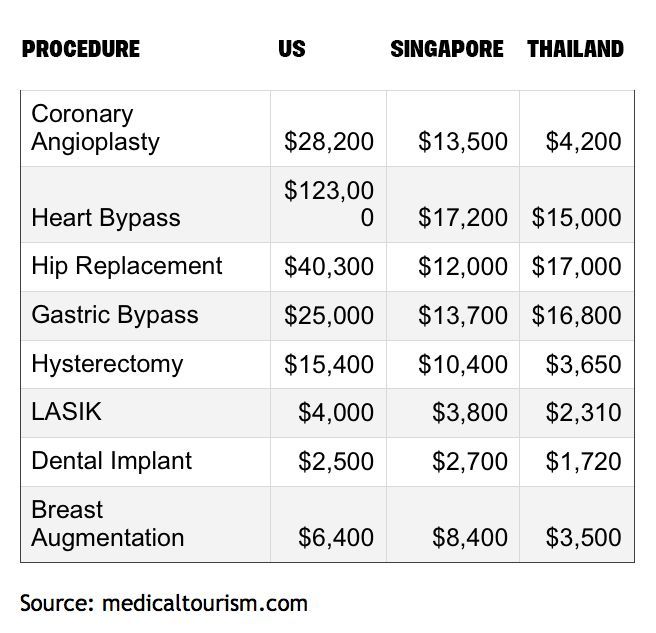 STORY: Articles.MyMediTravel.com  


Are you considering a medical procedure abroad? With Thaiger Medical you can research hospitals and doctors, choose a destination in Thailand or abroad, and book an appointment today.

Looking to jettison some items before jetsetting away or chartering a yacht? Look no further than Thaiger Classifieds where you can find and post items, work, property and more for free. Be sure to check out YonderTours for things to do in Thailand and tours across the country.
Bangkok named most popular city for Japanese tourists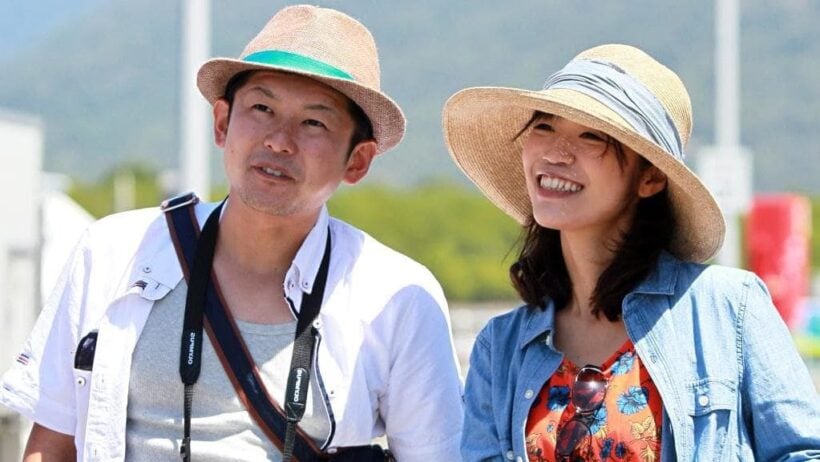 Thai PM Gen Prayut Chan-o-cha says he was happy after hearing that Bangkok was named the most popular destination for Japanese tourists during their Golden Week, a five-day long holiday which begins in late April.
The survey was conducted by Agoda, the online booking platform. Pattaya and Phuket were also ranked among the most popular destinations at #4 and #10 respectively.
"Japanese tourists are among the top 5 nationalities of foreign tourists visiting Thailand, particularly Bangkok where there are many beautiful attractions, delicious food, not-too-high cost of living, and friendly Thai people. The two countries's cultures are also quite similar. They can go along quite well," said a spokesperson for the PM.
Lt Gen Werachon Sukondhapatipak, the deputy spokesman of the Thai government, added that the PM loves to follow the updates on the tourism industry. Thai tourists love to escape the summer heat in Thailand, and visit Japan to experience the Japanese spring, visit popular tourist locations, sample authentic Japanese food and the Japanese people. The PM also invited the Thai people to be a good hosts, making all tourists feel welcome and helping keep them safe.
SOURCE: National News Bureau of Thailand
Bangkok luxury poised to push through the US$300 ceiling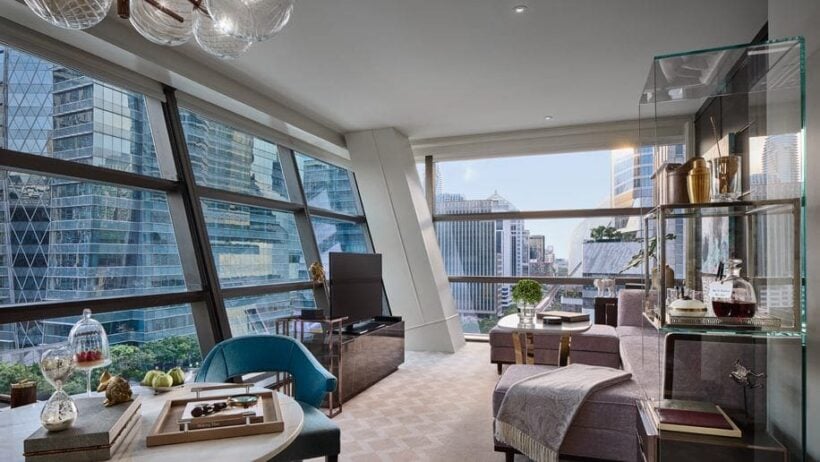 by Bill Barnett of c9hotelworks.com
PHOTOS: Rosewood Bangkok
For hotel owners and managers in South East Asia, one of the great mysteries of the past ten years has been the low rate profile of Bangkok's luxury hotel set. Despite soaring and sustained tourism growth, rising airlift and a strong economy, rates at Bangkok's top tier properties have remained fairly stagnant.
Have we reached the tipping point?
I had had the opportunity to visit the latest entry to the Bangkok luxury class a few days ago, the Rosewood. With 159 keys which includes a limited number of posh houses with private pools and terraces the property is seeing an exceptional response and already achieving high rates.
What's impressive about the entry is a take on the design approach that sees hotel developers apply a non-uniform approach with AvroKO coming in to focus on the restaurants and bars, while the rooms and public areas were led by Celia Chu Design and Associates.
While the speakeasy Lennon's has not be opened yet, the 6,000 record vinyl collection is impressive and the bar will clearly have a strong pull. Taking the approach to designing restaurants and not typical hotel outlets, the Chinese eatery Nan Bei is a breath of fresh air and limited seating provides a bespoke appeal.
Taking a step back, and looking at recent entries like the Waldorf Astoria, and upcoming 101 key Capella, what is clear is luxury properties are shifting in terms of key drivers of the segment of art, fashion, residential vibe, bar and restaurant offerings, wellness and events.
So, what about rates?
On a broad basis Bangkok's top tier hotels have averaged rates of US$200-240 for the past few years. This set has seen longer serving properties such as the St. Regis, Kempinski, and Okura effectively flatline on rates, though newer entries have come up including the Park Hyatt. On the broader horizon is the return of the Four Seasons and Capella by the river and the Orient Express at the MahaNakhon skyscraper.
With the entry of Rosewood driving rates, my expectation is that a few of the set will follow and at the end of 2019 we will set limited number of hotels crash through the US$300 average room rate barrier and effectively smash the legacy glass ceiling of Bangkok's luxury hotels.
As in any business there will be winners and losers. Smaller hotels with some rate leading premium key types will be able to push up average daily rates. Segmentation is another key and hotels on the river that lack substantial corporate numbers will remain challenged until transport links to the area improve.
Where in the world are Bangkok luxury hotels heading?
To sum up 2019, size and location matter, the shift on food and beverage and social events along with niches like wellness and  smaller meetings/weddings are the key to the future. As for the quantum leap in rates, it's about time Bangkok hoteliers be confident and push rates towards a more global norm.
Third runway for BKK Suvarnabhumi Airport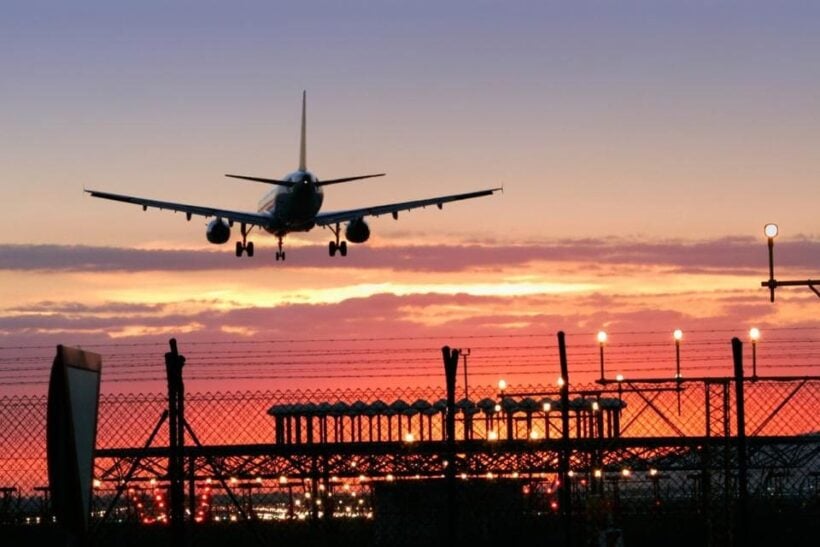 The Thai cabinet yesterday approved the construction of a third runway at Suvarnabhumi International Airport as part of the country's ambition to become the aviation hub of ASEAN.
The 21.7 billion baht project will increase the combined capacity of Suvarnabhumi international airport's runways to 94 arrivals and departures per hour from the current 64, said Lt-Gen Weerachon Sukonthapatipak, deputy government spokesman.
Suvarnabhumi Airport (aka. BKK) was opened in 2006 as Bangkok's second airport. Initially it replaced the tired Don Mueang Airport but Don Mueang was later revamped as a low-coast airport to service the growing traffic demands.
Meanwhile Suvarnabhumi Airport was, and still is, operating above its designed capacity. An earlier bid to build a third terminal has been mired in controversy and is currently shelved pending a new brief from Airports of Thailand with a new round of design bids called for in the future.