Walking the brand dogma: Hotel-branded residences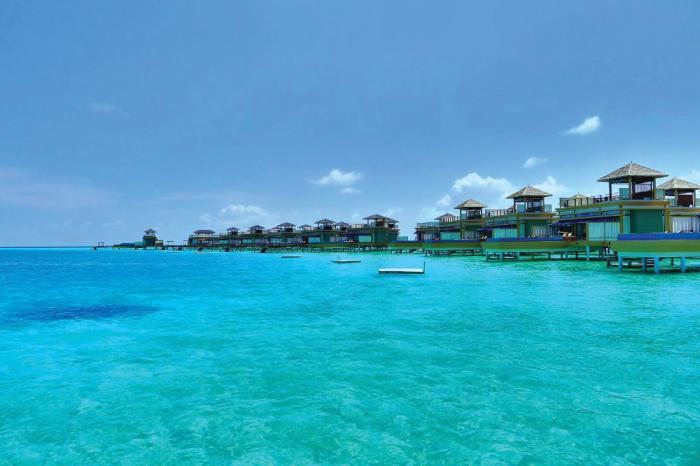 PHUKET: One of my recurring nightmares is that of a tropical island sunset framed by a sinking orange ball, and the erotically charged image of a scantily-clad, swimsuit-model type gently grasping onto the edge of a mega-villa infinity swimming pool, staring aimlessly onto an empty horizon.
Please bear with me, I have not entirely lost my mind. Not yet anyway, but please, read on.
Meanwhile, back in paradise, the golden moment suddenly takes a dark twist when a giant reptilian tail appears out of nowhere and after the gushing sounds of water breaks the tranquility, the lovely girl disappears in a flurry of bubbles.
My imagination runs wild with an image straight out of the Black Lagoon – a half man, half reptile, who preys on those who dare go swimming solo in their waterfront cliff-hanging mansions.
I did sit next to a man on an airline a few years back who claimed to be deep into the study of "ichthyology" (study of certain types of fish), but that's an entirely different story.
Welcome to my nightmare, and let me fill in the missing link between the disappearing pool girl and a real estate investor who once embraced the hotel-branded pool villa craze in Asia.
As I take the brand dogma out for a walk, we can look back to the golden age of the two icons of the movement – Aman's Adrian Zecha and KP Ho of Banyan Tree. These two propelled the entire leisure experience of getting out of the box and into your own private space.
To sum up their approach – the concept of getting naked, swimming, and staying naked, was a far greater stimulant for the rich than Viagra could ever be.
During the lead up to the "Big Sleep" of 2007, hotel-branded resort villas were flying off the shelves across Asia's leading resort destinations – Phuket, Bali, Koh Samui, Vietnam and even Cambodia. "Brand-ologist's" and property-types quoted the hallowed doctrine like hyped up Jehovah's Witnesses, pitching the value-add of brands to real estate offerings – premium pricing, amped-up sales pace, and that intangible yet valuable resource, prestige.
Truth be known, the house came crashing down around eager developers in that specific segment, and to this day it has yet to see clear air. While multimillion dollar hotel-branded leisure residence projects once garnered a few sales each month, today, the trading remains sluggish, with even leading markets like Phuket or Bali taking four to five months to sell just one villa.
In many ways, real estate is just like The Talented Mr Ripley and Asia's developers took to a different tactic – going low and high and staying out of the meaty part entirely. While not exactly vegetarian, the extremes put pressure on size and price, so we ended up with smallish investment types that might be more suitable for a vegan, rather than a hungry carnivore. Domestic buyers replaced the elite international crowd and the rise of the Asian middle class created a new East – where the West once lived.
At the same time, large smart property developers spotted a money trail that still existed after the crash, and investors came off the beach, and into town. Suddenly hotel brands clamored to urban offerings.
In each Asian country, as investment became more of a domestic affair, the large listed institutions grasped the concept of capturing both rich locals, and an increasing aspirational class who loved upscale retail malls, hotels and city-center living. What better way to showcase a large mixed offering than with prestigious hotel brands, lending a rarefied air to an entire lifestyle complex?
Today, in every CDB across Asia, international hotel brands and celebrity designers have been caught up in a high stakes name-game in city locations, launching a massive number of new offerings.
Where and when the saturation point comes is anyone's guess, but taking a look at the Philippines, where a Paris Hilton affiliated residential resort project has prospered, might signal that the air is getting pretty thin?
Illogically, the familiar resort destinations in the region are again seeing a new splash out of hotel-branded multimillion-dollar pool villas. Can they defy gravity at a time when big numbers of consumers remain at the aspirational level?
For now, branding has definitely gone to town, and while you might want to take the dogma for a walk, it's hard to say if it's going to be heading back to the beach for a holiday anytime soon.
Bill Barnett is Managing Director of C9 Hotelworks, he can be contacted through c9hotelworks.com
— Bill Barnett

Join the conversation and have your say on Thailand news published on The Thaiger.
Thaiger Talk is our new Thaiger Community where you can join the discussion on everything happening in Thailand right now.
Please note that articles are not posted to the forum instantly and can take up to 20 min before being visible. Click for more information and the Thaiger Talk Guidelines.