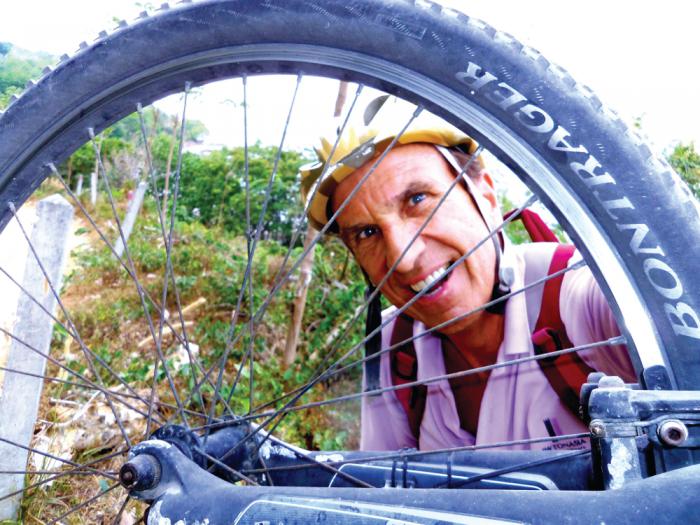 PHUKET: Bicycling Baz is only too aware that his is not the only opinion when it comes to cycling in Phuket. With this in mind, he asked his erstwhile drinking associate, Hugo Barfly, to write an alternative viewpoint from the perspective of a well-padded bar stool in Rawai. Here's Hugo's take on cycling in Phuket.
So, I was sitting there as usual on the corner stool in my favorite ramshackle bar on Rawai's beachfront, nursing a beer and a hangover, when the most amazing thing happened. This bright-eyed, healthy-looking guy bounds into the bar having just parked his mountain bike against the empty beer crates out front and loudly orders a lime juice and soda… whatever that might be. The bar girls thought this was as hilarious as I did and went into a loud chorus of laughter before trying to work out how you actually prepare such an alien beverage.
The nutter is clad in bright day-glo cycling attire, which stuck to his slim sweating body like cling-film and he seemed to be wearing some sort of gay fetishistic codpiece, which accentuated his private parts, but on further scrutiny this turned out to be nothing more deviant than cycling shorts.
Without a 'by your leave' he bounds over to me and says, "It's all a battle once you hit fifty of course, keeping the body and mind fit and virile and the rampaging dogs of aging at bay."
I thought I may have been hallucinating and silently vowed to slow down on the alcohol intake a bit if this was the sort of bizarre mental illusion it conjured up. But then he continued, "How old are you old boy, if I may ask? You've seen the better side of the big six-O, I'll warrant."
Hell's teeth…. the temerity of the ingrate!
"Well, if you must know, I would qualify for my bus pass this August in fact… that is if they still offered such quaint fillips to the aging back in the old dart," I replied, as a means of trying to dissuade him from pressing his soggy codpiece against my thigh.
"Oh, a limey," he says, "That's even worse… you guys have had your pensions royally shafted by your government and you're going to have to look after yourselves from now on… and that means keeping fit and healthy and out of the clutches of the hospital system."
He did have a point about pensions. What with cut-backs and the effects of inflation, things were not exactly a bed of Roses chocolate creams for me these days.
"Look, let me give you a word to the wise. It's all about balance as you get older. There's nothing wrong with enjoying the occasional beer or two, but you have to balance that out with exercise, good diet, good social relationships and a meaningful purpose in your life. They are the four pillars of wisdom when it comes to aging gracefully and happily in Phuket, or anywhere else for that matter."
Before I had time to hit him, the idiot bounded onto his saddle and rode off over Rawai Hill in a cloud of sweat and testosterone.
As I sat there, I couldn't help but reflect upon his words.
Maybe he had a point. I had been hitting the turpentine a little hard recently and my meals, when I actually bothered to eat them, tended to feature the four P's…. pizza, pies and potatoes, all washed asunder by pints.
I called upon Honey, my favorite bar stroodle, to bring me pen and paper and decided there and then to draw up "Hugo's Life Plan for Healthy Aging."
So here, fellow gentlemen of the bar, it is:
Rule number One: Alcohol
During the day drink beer only and no serious drinks until at least 6pm. Be home and in bed by 2am on weekday nights and only go to the Icon or Laguna Bars at the weekend if you're definitely onto a sure thing.
Rule Number Two: Diet
Eat lots of fiber and roughage i.e. chew on the lime that comes with your evening gin and tonic and eat lots of bar peanuts. Have at least one orange juice with your vodka every week.
Rule Number Three: Exercise
Chase Honey around the bar at least every other day before lying down so she can give you your usual two hour massage. Drink only from heavy pint glasses of beer to develop the arm muscles and play at least one game of "Snap" with the bar stroodle every day to hone the mental reflexes.
Rule Number Four: Relationships
See rule number three about chasing Honey around the bar and subsequent massages.
Rule Number Five: Having a Purpose in Life
Are you kidding? My life couldn't be more purposeful what with looking after my scrofulous hound "Lucky" and writing this guest column for the Gazette… I'm busier and more purposeful than I've ever been.
So that's it. With an approach to aging like this, I'm bound to live to a hundred and eight… so I'd better have another beer to celebrate.
— Baz Daniels

Join the conversation and have your say on Thailand news published on The Thaiger.
Thaiger Talk is our new Thaiger Community where you can join the discussion on everything happening in Thailand right now.
Please note that articles are not posted to the forum instantly and can take up to 20 min before being visible. Click for more information and the Thaiger Talk Guidelines.