Thailand's largest property portal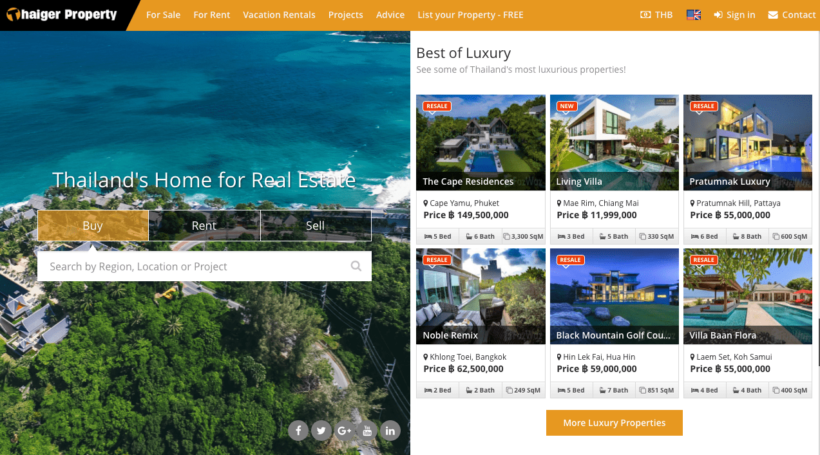 property.thethaiger.com is Thailand's largest property portal, in six languages, covering the Kingdom's hot property areas, mainly in Bangkok, Phuket, Pattaya, Koh Samui, Chiang Mai and Hua Hin.
The real estate market in Thailand, with all its bumps along the way, has proven itself to be robust with genuine growth over the past 20 years, especially in the main property markets of Bangkok and the major tourist zones. The market's also become more sophisticated along the way which has raised building standards and demand for more diverse locations, not just the inner city and the beach areas.
There are nearly 40,000 listings on property.thethaiger.com and the portal also provides information and comparisons for like properties you won't find anywhere else in the market.
The Thaiger has partnered with Faz Waz to provide this service – the best you'll find in Thailand.


Find more property for sale and rent across Thailand at Thaiger Property, powered by FazWaz. You can even list your property for free.
Bangkok home prices among the cheapest in the Key Global Cities report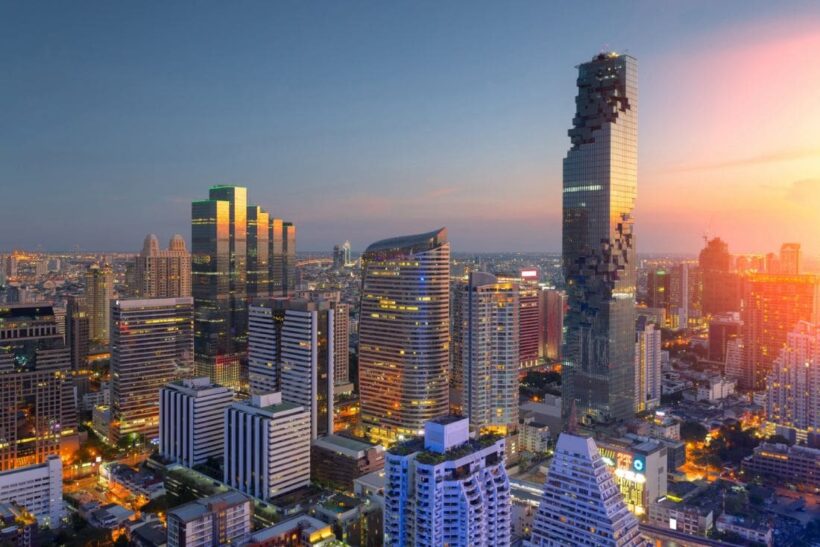 Hong Kong maintains its position as the world's most expensive residential city, while Bangkok ranks at #33 out of 35 global cities surveyed.
In the fifth annual Global Living Report, CBRE profiles the property markets across 35 key global cities. The results highlight that investments in urban areas such as transport infrastructure, connectivity, retail, cultural centres and housing are key drivers of economic growth.
"In the fifth edition of the 'Global Living' report, we have expanded the number of cities we examine from 29 to 35. They include the most exciting cities in the world, from emerging technology-driven powerhouses like Shenzhen and Bangkok through more traditional capital cities such as Rome and Lisbon, to rapidly evolving modern urban centres like Dubai and Johannesburg," according to Jennet Siebrits, Head of Residential Research at CBRE UK.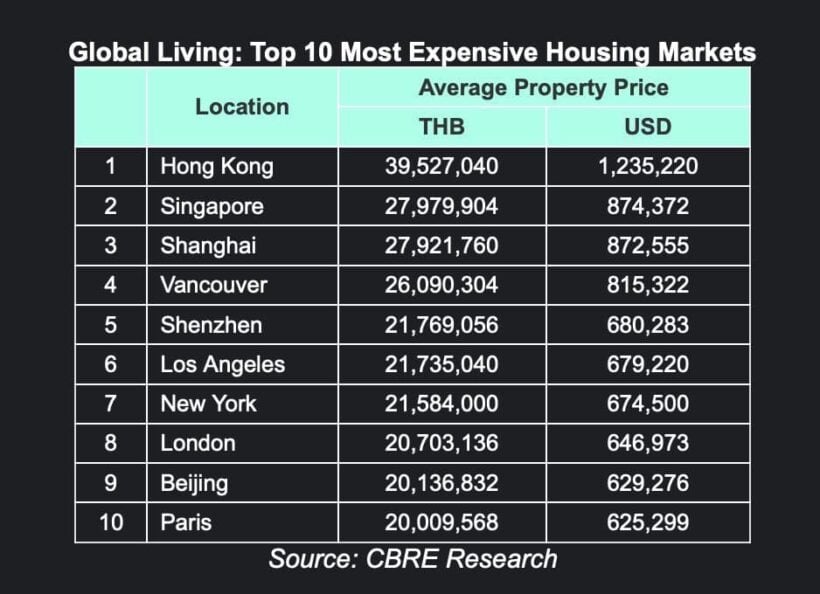 The top three most expensive places to buy a residential property are all in Asia. Hong Kong remains the city with the highest value residential real estate, with an average property costing 39.52 million baht (USD 1.235 million), Singapore in second place, averaging 27.97 million baht (USD 874,372), and Shanghai third at 27.92 million baht (USD 872,555).
Bangkok stands at #33 position with an average residential property price of 3.4 million baht (USD 106,383), followed by Ho Chi Min City at 3.29 million baht (USD 103,057) and Istanbul at the bottom with average prices of 3.11 million baht (USD 97,396) amongst the 35 surveyed world cities.
The biggest year-on-year growth was experienced in double-digits by Barcelona (16.9%), Dublin (11.6%), Shanghai (11.2%) and Madrid (10.2%). London remains one of the top ten performing global cities, with the average property price of 20.7 million baht (USD 646,973) although growth was down by 1.1%.
You can read the full report HERE.
Find the largest list of Bangkok city properties for sale HERE.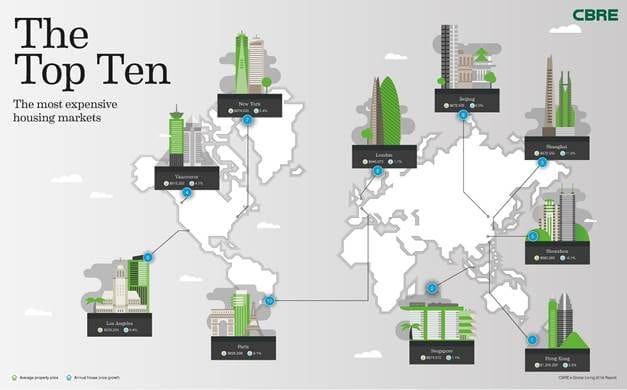 Raid on 18 foreign-owned Koh Samui hotels, owners arrested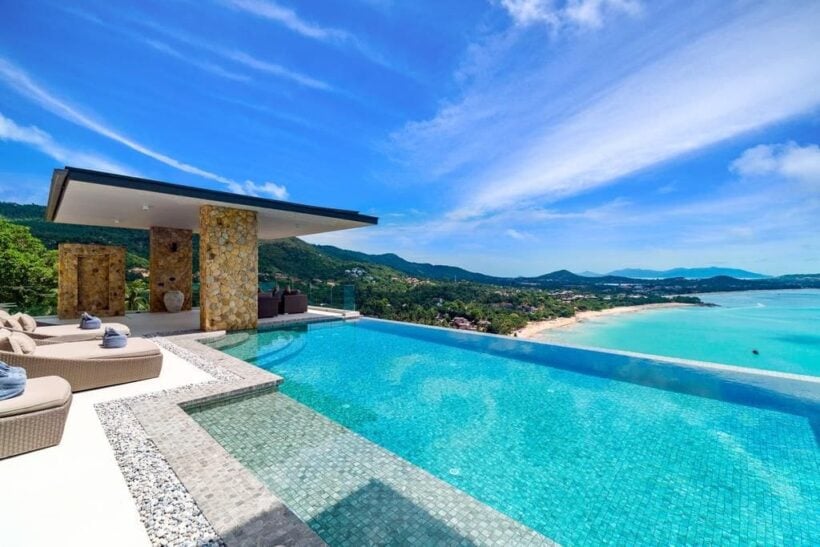 FILE PHOTO
Army, police and municipal officials have raided 18 hotels on Koh Samui claiming that they are illegally owned by foreigners. The hotels in questions are on a mountainside on the Gulf island, the second largest island in Thailand.
Officials carried out the search and raids on Chaweng Noi Mountain in Moo 6 village in Tambon Bophut  and found that 18 luxury mansions had been modified as hotels to cater to foreign tourists.
None of the 18 hotels were licensed and all are co-owned by businessmen from several countries, according to officials, including the UK, Germany, France, Russia, Belgium, Israel and Austria. Officials said the foreigners used Thais as nominees by stating their names as co-owners.
The inspection was carried out following complaints from licensed hotels that they had seen a large decrease in patrons after the new hotels began operating. Hoteliers said the new hotels had an unfair advantage because they were not paying the same taxes, or operating under the sale rules, as the licensed hotels.
Officials found the 18 hotels had proper land deeds but had not been registered as hotels.
Bophut police station took legal action against foreign executives of the four companies that were operating four of the 18 hotels. They have been charged with operating without a hotel license and working in a business – food and beverage – that is reserved for Thais.
Police said they will summon executives of the remaining 14 hotels to face charges. The executives are all living abroad.
SOURCE: The Nation
Bangkok luxury poised to push through the US$300 ceiling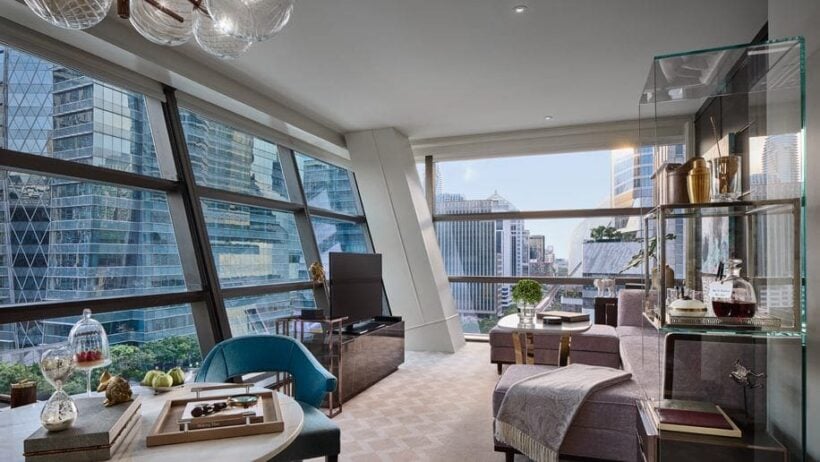 by Bill Barnett of c9hotelworks.com
PHOTOS: Rosewood Bangkok
For hotel owners and managers in South East Asia, one of the great mysteries of the past ten years has been the low rate profile of Bangkok's luxury hotel set. Despite soaring and sustained tourism growth, rising airlift and a strong economy, rates at Bangkok's top tier properties have remained fairly stagnant.
Have we reached the tipping point?
I had had the opportunity to visit the latest entry to the Bangkok luxury class a few days ago, the Rosewood. With 159 keys which includes a limited number of posh houses with private pools and terraces the property is seeing an exceptional response and already achieving high rates.
What's impressive about the entry is a take on the design approach that sees hotel developers apply a non-uniform approach with AvroKO coming in to focus on the restaurants and bars, while the rooms and public areas were led by Celia Chu Design and Associates.
While the speakeasy Lennon's has not be opened yet, the 6,000 record vinyl collection is impressive and the bar will clearly have a strong pull. Taking the approach to designing restaurants and not typical hotel outlets, the Chinese eatery Nan Bei is a breath of fresh air and limited seating provides a bespoke appeal.
Taking a step back, and looking at recent entries like the Waldorf Astoria, and upcoming 101 key Capella, what is clear is luxury properties are shifting in terms of key drivers of the segment of art, fashion, residential vibe, bar and restaurant offerings, wellness and events.
So, what about rates?
On a broad basis Bangkok's top tier hotels have averaged rates of US$200-240 for the past few years. This set has seen longer serving properties such as the St. Regis, Kempinski, and Okura effectively flatline on rates, though newer entries have come up including the Park Hyatt. On the broader horizon is the return of the Four Seasons and Capella by the river and the Orient Express at the MahaNakhon skyscraper.
With the entry of Rosewood driving rates, my expectation is that a few of the set will follow and at the end of 2019 we will set limited number of hotels crash through the US$300 average room rate barrier and effectively smash the legacy glass ceiling of Bangkok's luxury hotels.
As in any business there will be winners and losers. Smaller hotels with some rate leading premium key types will be able to push up average daily rates. Segmentation is another key and hotels on the river that lack substantial corporate numbers will remain challenged until transport links to the area improve.
Where in the world are Bangkok luxury hotels heading?
To sum up 2019, size and location matter, the shift on food and beverage and social events along with niches like wellness and  smaller meetings/weddings are the key to the future. As for the quantum leap in rates, it's about time Bangkok hoteliers be confident and push rates towards a more global norm.