Phuket Property Watch: How same-same drove me insane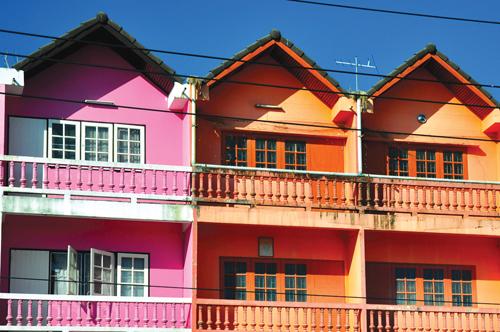 PHUKET: It was a rainy Tuesday night, just last week, when I rolled over in bed and casually glanced at my wife, enveloped in the dark shadows of sleep. Suddenly, my heartbeat turned staccato, as it dawned on me that the woman next to me had not the familiar face of my wife, but, shockingly, turned out to be my neighbor's wife!
Fearing a sudden blackout, and in keeping with the somewhat mundane reaction of one who is facing imminent death, my thoughts turned biblical. Smack down the list of the Ten Commandments, there it is – 'You shall not covet your neighbor's wife' – much less end up in bed with her! Actually, the Bible verse goes on about various objects of desire such as maids, donkeys and oxen, or the killer clause… any of his possessions. I must admit to coveting the guy down the street's black BMW 7 Series, but I digress.
Meanwhile back in my neighbor's bed, all I can do is slowly pull back the sheets, slide out from under the covers and tip toe down the stairs, out of the front door and up the street to my very own home – and wife.
Sure, Phuket Gazette readers might be tempted to think that a night of binge-drinking and amorous intent had landed me in this world of hurt. But no, this is where the strangeness kicks in, as I slowly make my way up the familiar sidewalk trying to find 'my' house, I begin to see the cause of my predicament. The problem is that I live in a very nice gated residential estate, but all of the houses are uniform in design, leading me on a road to nowhere. Lost in same-same land at three in the morning, I'm shooting blanks trying to find my own personal abode.
Deep in the Phuket night, a soundtrack turns on in my mind; it is the theme song from the TV series Weeds, titled Little Boxes, that goes something like this:
Little boxes on the hillside,
Little boxes made of ticky tacky,
Little boxes on the hillside,
Little boxes all the same.
There's a green one and a pink one
And a blue one and a yellow one,
And they're all made out of ticky tacky,
And they all look just the same.
Despair kicks in and I slump down on a nearby curb, pondering my dilemma and musing about our own little island's shift into sameness. So, let's logically search out the villain in our story, and immerse our passions in the blame game.
Did the Chinese start it all with the 18th century shop-house culture? From Phuket, Penang, Melaka, Singapore and beyond, these early forebears of the home-office were Lego-like, long and narrow same-sames. Of course, row houses were popular in Europe, the UK and also travelled across the pond to the US.
Thailand's own shop-house trend evolved from city centers to suburban and rural models, with simple building modules, and again, living and working in the same space became a recurring theme. Today, as you drive across the island, you can't help but find your mind being sedated by row after row, after row, of monotonously stacked units.
Eventually, residential housing here moved to occupy vast areas of space and in the 1990s came the trifecta of sameness, the holy trinity of mass housing – attached, semi-attached and detached houses. Suburban life had arrived en masse. Property developers suddenly caught a contagious stutter, and again and again, all they needed to do was find a rubber plantation, cut down all the trees and create rows of houses as far as the eye can see.
Moving into the new millennium, foreigners who had previously lived in free standing homes become a force to be reckoned with and upscale sames-sames came into the picture. Or shall we say same-same but different? The latter meaning a bit more luxury – adding in customized pools, gardens and other perks.
On an island where tourism remains the number-one economic indicator, the global downturn created a whole new hotel investor base. These were domestic companies, or families who had land already and wanted to be hoteliers. In many cases, lacking international branding or any experience whatsoever, they embarked on a journey into unfamiliar territory. Lacking also maps, all they could do was to verbalize to their designers a wish list of familiar terms for their dream hotels.
In most cases, these dreams were based on existing island properties – lobbies from that specific hotel, rooms from another, a restaurant or water feature from somewhere they had visited recently – let's politely call this approach 'eclectic'. But if we wanted to take off the gloves, or go all MMA, we'd call these developments tourism shop-houses. Containing little original DNA and even less innovation, their effect is much like a meal at a fast food joint – the minute a customer leaves, hunger returns.
As I sit on the hard curb, I ponder the turn of events that has brought me to this crisis. Same-same is not always bad – Starbucks for instance? Yes, some people will disagree but I find comfort in a regular latte wherever I go. If you find something that is good, why not have more of it? But to reverse the argument, if it is bad, then there is a whole lot of badness.
Phuket's adaptation to mass-culture is far from over, but frankly speaking, most places in the world face similar challenges. For all the sameness here, there remains something truly unique about the place.
Now if only I can find my way back to my own house, I can go back to sleep.

Bill Barnett is the Managing Director of C9 Hotelworks and can be contacted through C9hotelworks.com.
Keep checking our online Phuket Property pages, join our Facebook fan page or follow us at @PhuketGazette for the latest local, national and international property news.
— Bill Barnett

Join the conversation and have your say on Thailand news published on The Thaiger.
Thaiger Talk is our new Thaiger Community where you can join the discussion on everything happening in Thailand right now.
Please note that articles are not posted to the forum instantly and can take up to 20 min before being visible. Click for more information and the Thaiger Talk Guidelines.