Phuket Property Watch: 2013 property ponderings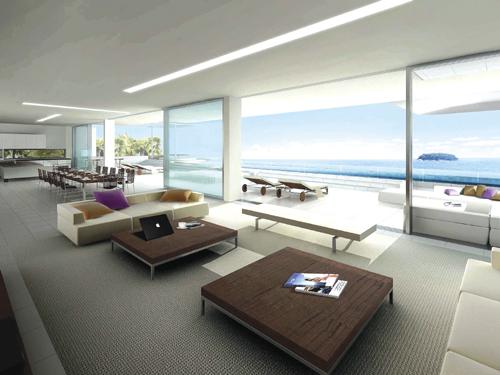 PHUKET: When I lived and worked in the corporate rule, one of the true signs of executive prowess was the ability to read upside down. Now I'm not talking about taking up Japanese. Clearly that's a country in decline. You can see it in the first installment of Die Hard. That's where the trouble started.
But look at me, an American, we've been in a nosedive for so long I can't tell if the color of the sky is blue or has changed these days. Forget a fiscal cliff, just tune into those cliff divers in Acapulco who will momentarily soar before plunging face down into the ocean depths. Well, that's Mexico, or shall we say Greater California.
Back on track. Reading things on other people's desks while sitting in front of them politely was an arcane pre-hacker must do. Company secrets, strategic business decisions, imminent firings and corporate acquisitions were all just sitting there in front of you. But of course they were upside down.
Long gone Steve Jobs figured out the upside down thing with the "autorotate" anticipating our moves no matter which way you turned the damned thing.
Remember all those great heavy metal bands who embraced the occult, Black Sabbath, Blue Oyster Cult, and pushing it out a bit Judas Priest. That's before Ozzie went mainstream and the hoax, well Aleister Crowley, he's definitely still dead.
But my point in all of this is flicking to the next page and looking into the blank page of 2013. The jury is out on the 13th thing, lucky, not lucky, I've got no idea but for anyone who watches the news these days, this year looks to be a bit like heading up that river in Apocalypse Now.
Brando. Enough said.
What's worth looking at for island real estate and hotels in the year to come? My God, I can hear a sigh of relief from my editor's desk – an actual reference to property in what is loosely termed a property column.
In no particular order I'm looking forward to the opening of Point Yamu by Como. Will the East Coast finally get its due? Will branded hotel villas finally break out of a slump due to a prolonged dose of no new launches? We need a little sexy excitement.
Or the buzziness of The Naka, which is arguably one of Asia's coolest designed hotels. And of course at last Kata Rocks will finally arrive. But what of Sansiri and their new plans to tap into higher level housing products to attract foreign buyers?
As last year's headlines blared of ultra small (I've been warned about using the term shoebox) condominiums.
And beach clubs. My forecast is hit the fast forward and let's say "same same" to both of these as likely repeaters in the months ahead.
We still continue to see island big events grow, from sporting, sailing and all manner of other happenings. Yes, there will be more retail shops coming, malls, and one key sector we see as active will be a number of amusement attractions and theme parks up and coming.
Certainly we continue to look over our shoulders as we walk through the forest at night to Grandma's house. This might be a forest that is a national park and as we've seen this year all hell can break out in the blink of an eye, and seemingly disappear in similar fashion.
Entertainment and politics make strange bedfellows in the trip from hero to zero or 'stinging like a bee'. Yes Ali knew all about butterflies.
We are digging down deep in 2013, "all the way to China", as they said in the old days. But is up down, down up? Steve, you've saved us from having to read upside down. In the day and age of the iPad things can always be up, just a long as you keep your hands moving fast.

Bill Barnett is Managing Director of C9 Hotelworks and can be contacted through C9hotelworks.com.
— Bill Barnett
Property

Join the conversation and have your say on Thailand news published on The Thaiger.
Thaiger Talk is our new Thaiger Community where you can join the discussion on everything happening in Thailand right now.
Please note that articles are not posted to the forum instantly and can take up to 20 min before being visible. Click for more information and the Thaiger Talk Guidelines.