Property
Phuket Property: A vision for Vista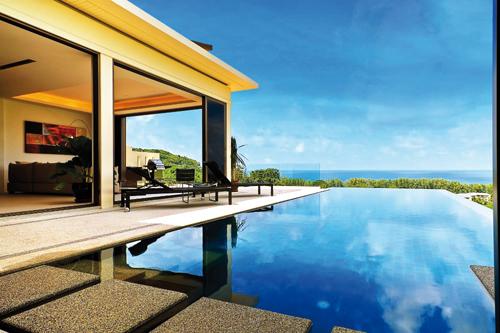 PHUKET: Situated on a hill among lush landscape overlooking Nai Thon beach, Vista del Mar is an exclusive villa development bordered by landscaped tropical gardens.
The recently launched second phase of the development will consist of four smaller villas – 300 square meters, compared to the larger 420 to 700 sqm first phase villas – complete with infinity swimming pools and a starting price of 19.5 million baht.
The smaller second phase villas will be located closer to the beach on the same 1,700 square meter plot as the rest of the development.
The Phuket Gazette spoke to Vista del Mar's Chairman of the Board, Sergey Nesterenko, about his luxury development in Nai Thon.
Phuket Gazette: How did you get started in villa development?
Sergey Nesterenko: My clients asked me to invest somewhere in anticipation of the looming financial crisis. They wanted to invest in something real and they told me to buy something.
I traveled the world from Canada to Australia and I couldn't find a place better than Thailand. My major aim was to find a holiday destination. I helped find some projects in Bang Tao and a couple of apartments in Nai Thon for them. After helping my clients find projects, I decided to start my own and Vista del Mar is my own project.
How do you see the future of property in Phuket?
Phuket has two different types of trends. Firstly, it is really appreciated by successful business people who are already here and want to make it a high-scale destination, which now gives Phuket a lot of luxury areas like Layan and Nai Thon.
Phuket is almost in the center of Thailand, and Thailand is in the center of Asia, and Asia is now becoming the center of the world. My own perception is that Phuket should grow into a luxury area.
Secondly, you have a lot of package tours that are coming to Phuket, especially after the financial crisis. To accommodate this market, a lot of cheap hotels and low cost condominiums can now be found on the island, even in Bangtao and Nai Thon.
Beach areas like Nai Thon will stay more upmarket simply because there is not a lot of land left to build on.
Why choose to build Vista del Mar in Nai Thon?
My understanding of luxury living is to be further away from the crowds.
There was no way I could do Vista del Mar in Patong or Rawai or Karon. I built here because Nai Thon is the best beach on Phuket. It's not crowded or too built up.
The OrBorJor [PPAO] doesn't allow beach vendors, jet skis or construction on the beach like Surin, and it is close to the airport. In today's world, it is fantastic that when you land at the airport you can be home in just over ten minutes.
What does Vista del Mar offer that is different than other villas in the same bracket?
The main thing is the location. I don't think you can get a view like this from any other new villa project on the west coast. Also, it will be hard to find a new villa development that is this close to the beach. It is a unique location.
Another thing is design; it is what we call smart design. It is not done in a Thai style or Bali style because if you rent for two weeks that's fine, but if you live here and are not from Asia you will probably want something like the Vista del Mar design.
The villas have a local touch but not too much. We have optimized space in the villas so that we don't waste any and it is comfortable.
It would be hard to find a villa with a sea view on the west coast for the how much you would pay at Vista del Mar. The price is great compared to the location.
For more information on the project, visit: vistadelmarphuket.com or send an email to: info@vistadelmarphuket.com.
Keep checking our online Phuket Property pages, join our Facebook fan page or follow us at @PhuketGazette for the latest local, national and international property updates.
— Andrew Scott