Phuket Pads: Winter birds looking to cash in on Phuket property market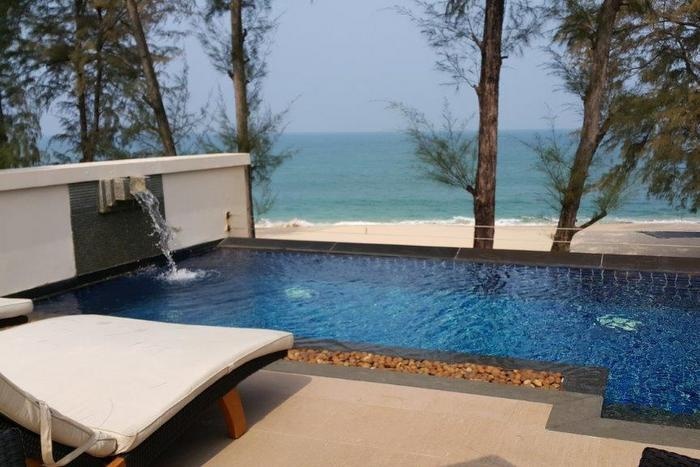 PHUKET: More and more resorts and hotels in Phuket are offering excellent guaranteed rental returns for properties that buyers are looking to use themselves for only a short period each year. The rest of the year, the property is expected to generate rental income for its owners.
This week's property offers exactly that. Priced at 52 million baht, this one of six exclusive units at the high-end Laguna resort complex also offers the owner 60 days' use per year free of charge at any time, including during high season.
It also offers a net average rental return of 1.12mn baht per year.
For many Phuket buyers, acquiring a unit at a resort is one of the very few ways of owning a property within meters of the beach. This is simply down to the scarcity of private properties in beach locations.
The resort is on private land, and hence has no sunbed restrictions on its own property. What is better than having your own veranda and third-floor swimming pool with a sundeck overlooking the beach and Andaman Sea?
This luxurious, private three-storey home can accommodate up to six people. The entire ground floor comprises two spacious bedrooms with adjoining en suite bathrooms and direct access from the bedroom to private open-air garden courtyards.
The second floor features a fully-equipped kitchen, and a dining and living area opening onto a beautiful sunlit patio.
The third level has a roof-top deck with an 18-square-meter private infinity pool, an outdoor shower and sun loungers offering panoramic sea views.
The unit comes fully furnished with latest-model appliances and high-quality fittings. There is a compact Western kitchen with a stove-top, range hood, refrigerator and plenty of storage, with large windows allowing in plenty of natural light.
The living area is open-plan, and there is air conditioning throughout. On site, as part of the hotel, are communal gardens, a gym, restaurants, spas and car parking. There is also home security and video surveillance.
The property comes with a Chanote title, and finance for up to three years is available
For more information contact: Patrick Lusted at Siam Real Estate, quote reference number: HSOB7010. Tel: 076-288908 Website: SiamRealEstate.com
— Patrick Lusted


Find more property for sale and rent across Thailand at Thaiger Property, powered by FazWaz. You can even list your property for free.

Co-working spaces in Bangkok are re-shaping small to medium business office options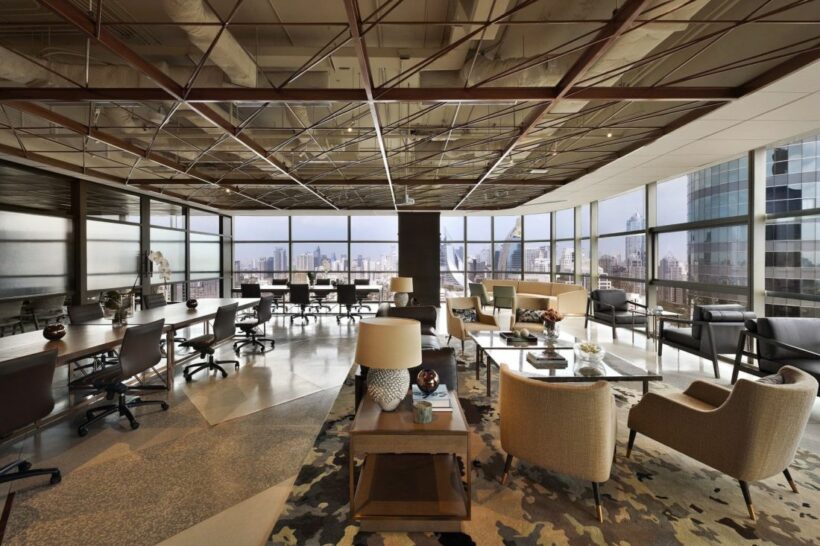 PHOTO: The Great Room
Co-working spaces are opening up around Bangkok and providing a more flexible framework for businesses to grow. Advances in technology, a more mobile workforce, and unpredictable economic growth are reshaping the business environment.
In the Bangkok office market, a traditional three-year lease with options to renew and the tenant fitting out the space remains the typical way of leasing office premises for most occupiers. CBRE reports that multinational firms, with offices in different countries, are increasingly looking for flexible lease terms as real estate costs continue to be one of their major concerns.
Companies are also looking at agile working where staff no longer have allocated desks and, in some cases, it is easier to get third parties to design, build, and operate this space rather than companies doing it themselves.
Some of the current pricing being offered by co-working space operators is very competitive and the cost combined with flexibility is making leasing from third parties more attractive than companies leasing space, fitting them out, and managing their own premises.
In Bangkok, co-working space has continued to be an emerging source of office demand and CBRE has leased over 44,000 sqm, accounting for around 25% of CBRE's total new office letting volume in the last 2 years, to co-working space operators.
International operators like JustCo, WeWork, Spaces, and The Great Room have opened multiple centres over the recent year and more are scheduled to open this year. The aim of these operators is to revolutionise the way occupiers source office accommodation. They want to provide office space as a service rather than a traditional lease.
CBRE believes that co-working space operators are not just targeting startups companies but also multinational firms especially those seeking to build more flexibility into their real estate portfolio. The use of co-working space can provide flexibility for companies to accommodate fluctuation in space requirements.
Accounting rules have changed and rent payable under leases must now go on the balance sheet, whereas it appears that sourcing office space as a service does not count as a lease and therefore need not be on the balance sheet.
This means occupiers do not need to commit to a traditional three-year lease term. Instead, they are paying their rental as a service fee on a per desk or membership basis rather than per square metre. Co-working space operators are also providing tailor-made solutions with companies enjoying exclusive use of the space and not sharing it with others, making this a viable alternative to a traditional lease for large local and multinational companies.
As millennials will become the largest generation within the workforce in the future, CBRE foresees that companies are forced to re-think their workplace quality to make it capable of encouraging collaboration and innovation as well as promoting employee wellbeing. More companies will transform their offices into agile workplaces either doing it themselves or relying on a coworking space operator to provide the solution.
SOURCE: CBRE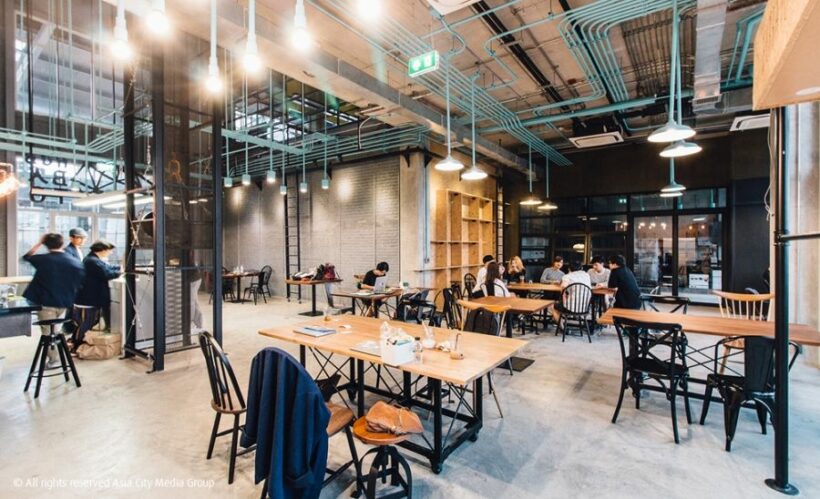 PHOTO: Soimilk
Residential projects launched in June up, but sale 15% lower than May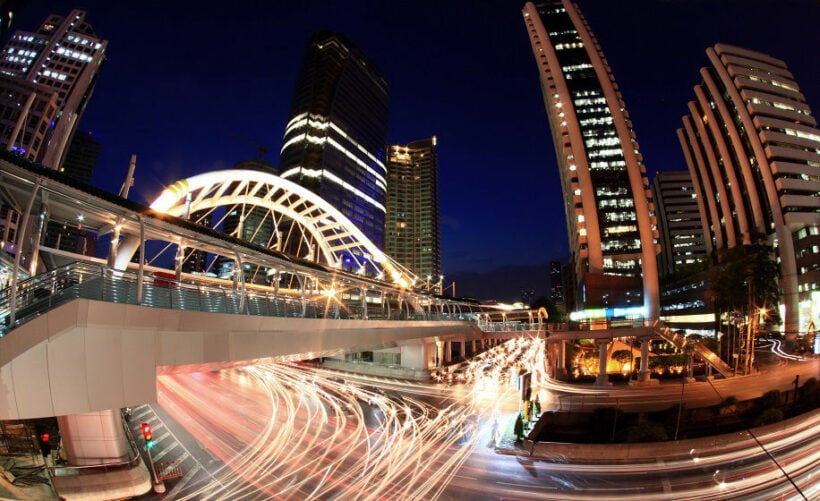 As many as 47 new residential projects were launched in Bangkok and its suburbs last month (June), 16 more than in May. This from the Agency for Real-Estate Affairs.
The projects combine 13,943 units worth a total of 57.25 billion baht, with per-unit prices averaging at 4.1 million baht, the survey added.
The sale of new projects launched in June was 15% less than in May, when 20% of the newly launched projects were sold, on average.
The firms that launched projects in June include Pruksa Real Estate, Chewathai, Lalin Property, Property Perfect, Supalai, AP (Thailand), Areeya Property, Sansiri, and Eastern Star Real Estate.
SOURCE: The Nation
Property developer confidence takes a dive in second quarter 2019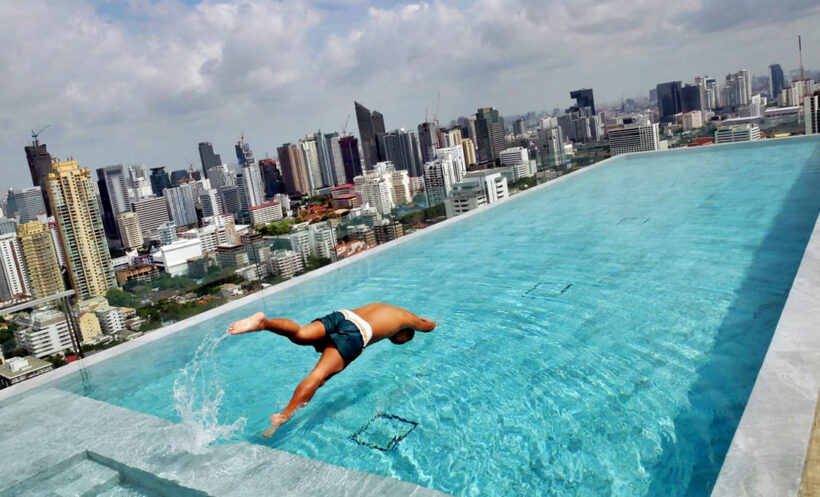 A measurement of real estate developer confidence for the Q2 2019 (April to June) has dropped to 42.2 points from 50.4 points for Q1 2019 (January to March).
Thai PBS reports that the second quarter confidence index has fallen below the 50 point median index, reflecting developers' declining confidence in the economic situation and investment in Thailand. Real estate developers are also waiting for the government's policy on real estate and housing development to be clarified.
The substantial drop in the confidence index is believed to stem largely from a decline in the confidence index of listed real estate companies, from 52.2 points in the first quarter to 41.9 in the second quarter, against a 50.0 point median level.
The confidence index of non-listed real estate companies also fell to 42.7 points in the second quarter from 47.7 points in the first quarter.
The expectation index of real estate situation in the next six months registered at 58.0 points for the second quarter this year compared to 58.4 points for the first quarter. This shows that the developers are optimistic that the economic situation will pick up after the formation of the new government.
The expectation index of non-listed companies was registered at 53.1 points for the second quarter, compared to 56.1 points for the first quarter, reflecting that the real estate developers are optimistic that real estate situation in the next six months will improve.
Some more property and real estate date from CEIC Data HERE.
Original Source HERE.