Property
Organic living at Phuket's Saiyuan Estates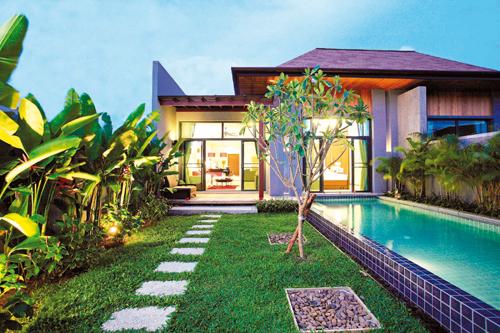 PHUKET: The Attitude Club Co Ltd, who own Saiyuan Estate, are trying to reduce the environmental impact their developments have on Phuket.
Saiyuan Estate is a new luxury boutique pool villa development nestled among the hills in Saiyuan, one kilometer south of Chalong circle. The Oriental Essence and Onyx Essence villas have been built with an environmental awareness that gives its customers an organic lifestyle in a nature-friendly environment, without compromising style, comfort and convenience.
The Onyx Style villas are uniquely designed, compact, yet spacious single-storey. two-bedroom private pool villas with a traditional tropical appeal, ranging in size from 154 to 183 square meters.
The villas have an open plan kitchen, dining, living room and a swimming pool off the master bedroom, enclosed in a private garden.
The larger Oriental Style villas are also single storey, two-bedroom private pool villas, with plot sizes from 255sqm to the largest at 393 sqm.
Each villa comes with an eight-meter long swimming pool and hardwood pool deck which is raised above the large garden.
This type of villa is perfect for customers looking for a main residence or second home, with the added value of the rental program.
Representing an investment of more than 400 million baht, Saiyuan Estate is built on 8.5 rai of land in Saiyuan.
Each unit is fitted with a waste water treatment outlet and a separate waste outlet. The waste water from each villa is filtered until it is clean enough – no dangerous chemicals – to be drained in the public drain without harming the environment.
The landscape architecture reflects natural materials and reduces the destruction of resources by using wood from an industrial park.
The villas have also been designed to optimize the use of energy through natural light and ventilation from the sea breeze. To illustrate, the developer designed the villas with large windows to allow more sunlight, which helps reduce the use of electricity. With this wise design, when customers open the doors or windows, the ventilation from the sea breeze cools down the house without using an air conditioner.
"In the long term it [reduction of environmental impact] will be a great benefit for the island, and Phuket will be a beautiful place to live forever," opines Wirachai Pranveerapaiboon, CEO of The Attitude Club.
Onyx Style Villas start from 8.4 million baht and there are only seven units available. Oriental Style Villas start at 10.2 million baht and there are only nine units available.
For more information on the project, click here.