Are you ready to take the leap and live your best life? Then the sun-kissed shores of Phuket is the perfect destination for you. Not only is it the ultimate destination for sun, sand, and surf, but it's also a hotspot for affordable luxury properties. That's right, you can have it all – stunning sea views, private pools, lush gardens, and all the space you need to make your dreams a reality. Whether you're looking for a cosy condo, a chic townhouse, or a sprawling villa, there's a wide range of properties for sale in Phuket. Your options are endless!
Let's take a look at some of the best affordable luxury properties available for sale in Phuket today.
A beautiful place to call home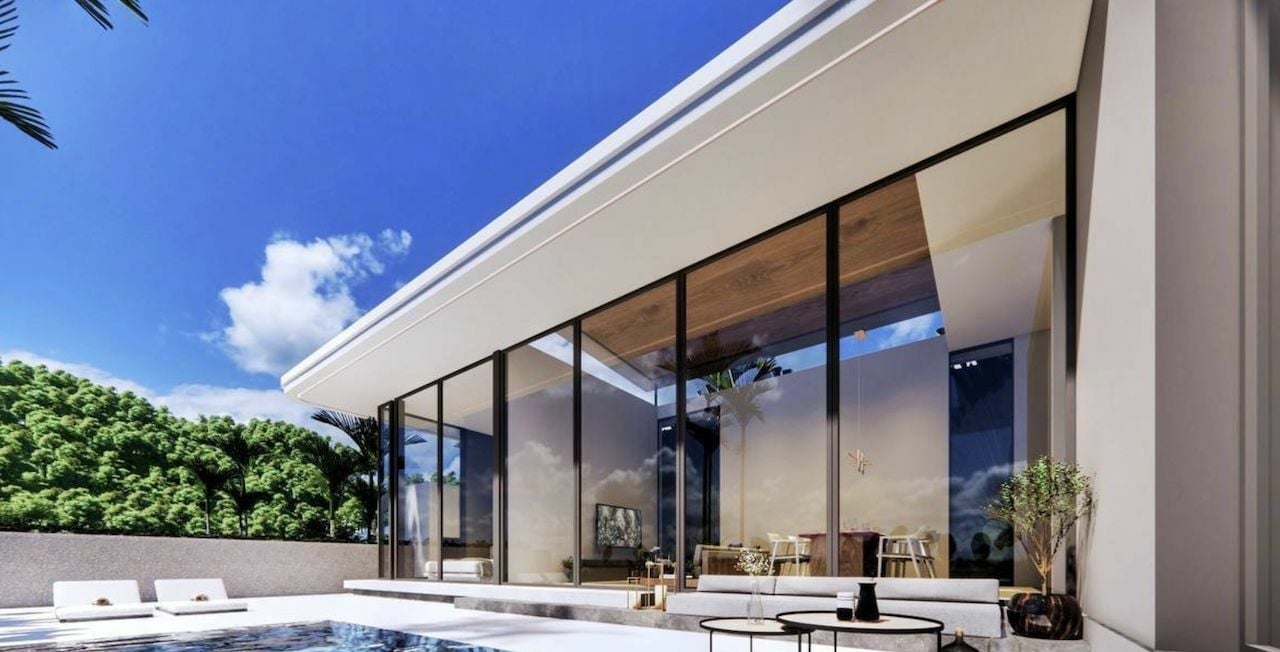 Starting price: $394,000 (฿13,300,000)
Click here to see more pictures
Experience the epitome of luxury living at Aileen Villas The Scenery, where you will find a stunning 4-bedroom villa that is a beautiful place to call home. Set in the heart of Sakhu, this property for sale offers an oasis of tranquillity, surrounded by the natural beauty of Phuket. With a sparkling private pool and a beautiful private garden, you can work on your tan, relax under the sun, and cool down in the refreshing water.
Boasting a magnificent design with floor-to-ceiling windows, white walls, and natural light that flows through every room, this villa offers a true sense of luxury living. Perfect for families or as a vacation home, you can even rent it out to holiday goers.
Aileen Villas The Scenery is part of a project that has been developed by Trinity Property Co., Ltd, the same team behind Aileen Villas Tropico (Phase 2), Aileen Villas and Aileen Villas Rawai. With a total of 22 units, you can be a part of an exclusive community that shares the same love for luxurious living.
A private world of serene beauty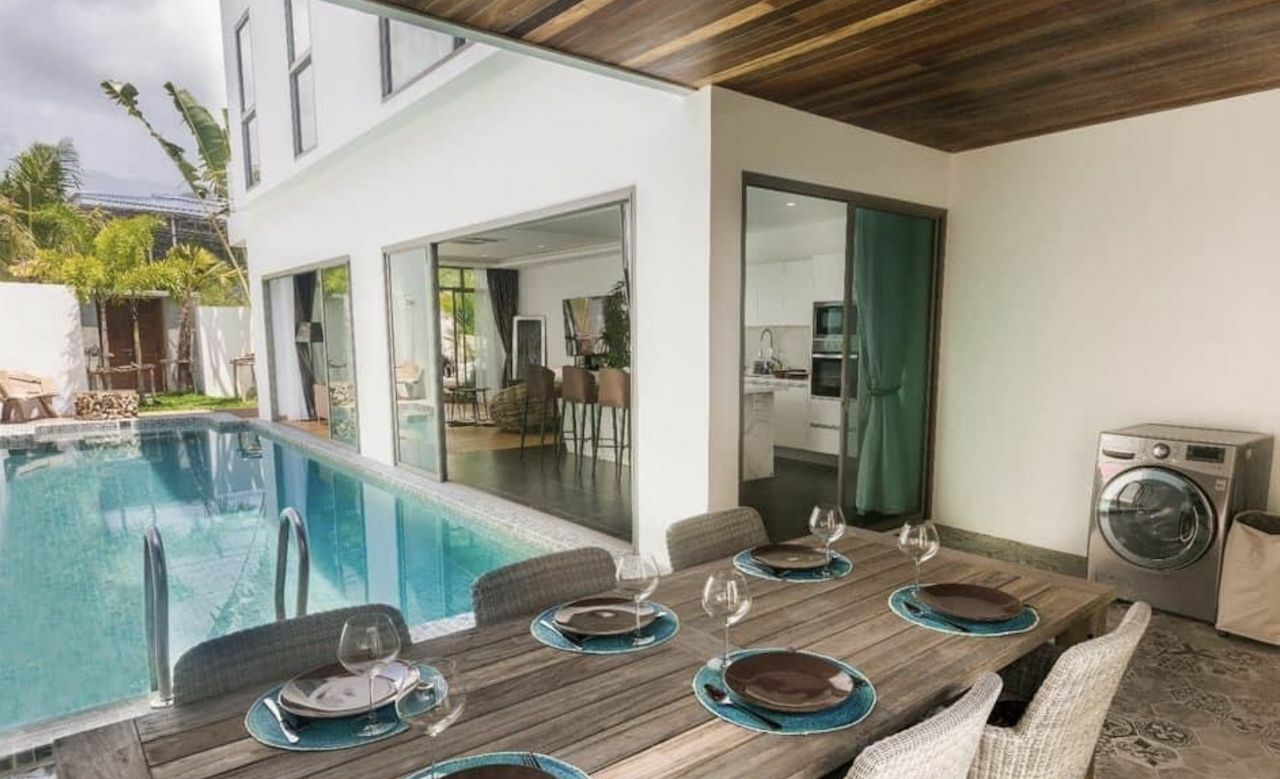 Starting price: $471,000 (฿15,900,000)
Click here to see more pictures
Step into a world of serene beauty and modern luxury at Elite Atoll Villa. This 318 SqM villa boasts three bedrooms and four bathrooms and is available for sale or long-term rent. With a prime location near Rawai and Naihran beaches in Phuket, you'll be able to enjoy the best of both worlds: a peaceful family home in a quiet residential area. Moreover, you'll get easy access to community facilities and amenities.
The design of the villa makes the most of its indoor-outdoor living space, seamlessly blending the interior and exterior with a terrace. Thus, you'll get plenty of natural light. Relax and unwind by your own private pool or on the spacious undercover balconies. You'll have everything you need for comfortable living, with a fully equipped kitchen, dishwasher, oven, and microwave. The bedrooms all feature king-sized beds and ensuite bathrooms, and the living room is complete with a large sofa and flat-screen TV.
Surrounded by a fully fenced yard, this villa provides a haven of privacy and security. Enjoy the convenience of nearby gyms, convenience stores, and a variety of restaurants to suit every taste. And with Phuket International Airport just under an hour away, the world is at your doorstep. Make Elite Atoll Villa your forever home, where you can live, work and play with ease. Your modern oasis awaits.
Wake up to the serene sound of the waves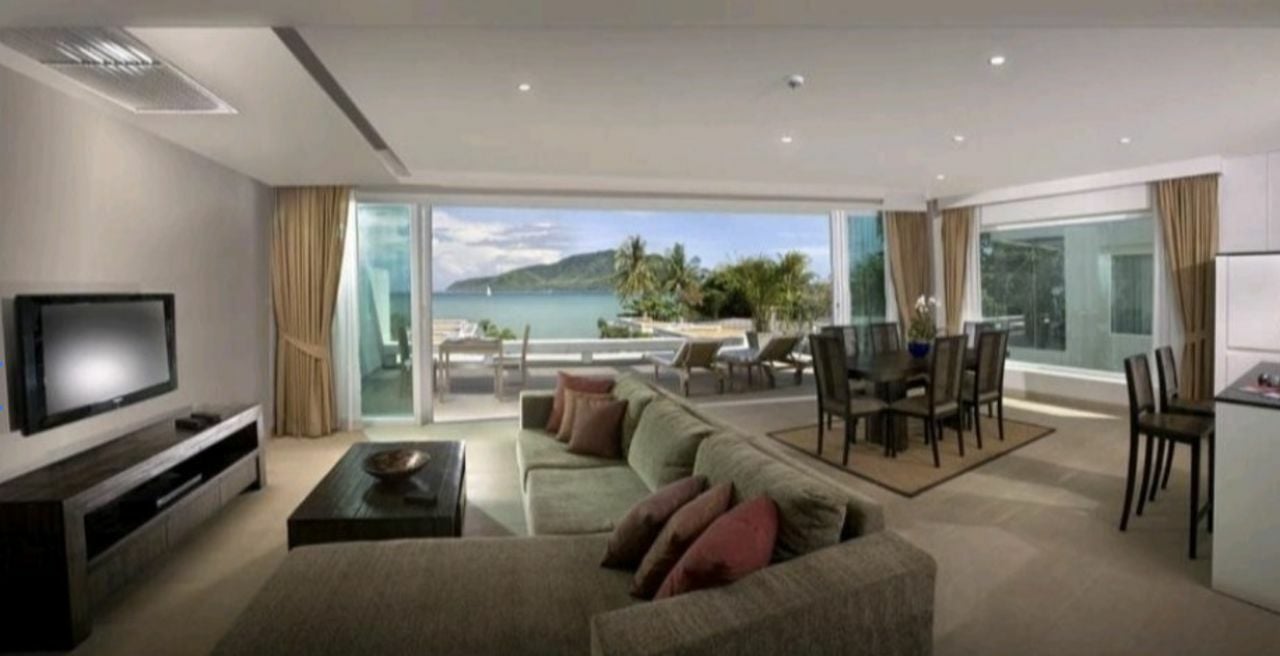 Starting price: $586,000 (฿19,800,000)
Click here to see more pictures
Get ready to experience pure paradise in this stunning sea-view apartment located in the luxurious Serenity Resort & Residences in Rawai, Phuket! With its magnificent view of the Andaman Sea, this 200 SqM apartment with 2 bedrooms and 2 bathrooms is sure to take your breath away. Imagine waking up every morning to the soothing sound of the waves and enjoying your morning coffee on your private balcony overlooking the crystal-clear waters of the sea.
This apartment is the perfect blend of luxury, comfort, and style. The modern design, high-end amenities, and attention to detail will leave you feeling pampered and relaxed. Not to mention, the resort's superior facilities are at your fingertips to indulge in the ultimate vacation experience.. These include a beach bar, swimming pool, restaurant, fitness room, and spa.
And the best part? You don't have to break the bank to live in paradise. This sea-view apartment is available for sale for $586,000 or for long-term rentals starting from $5,330 per month.
Your very own tropical oasis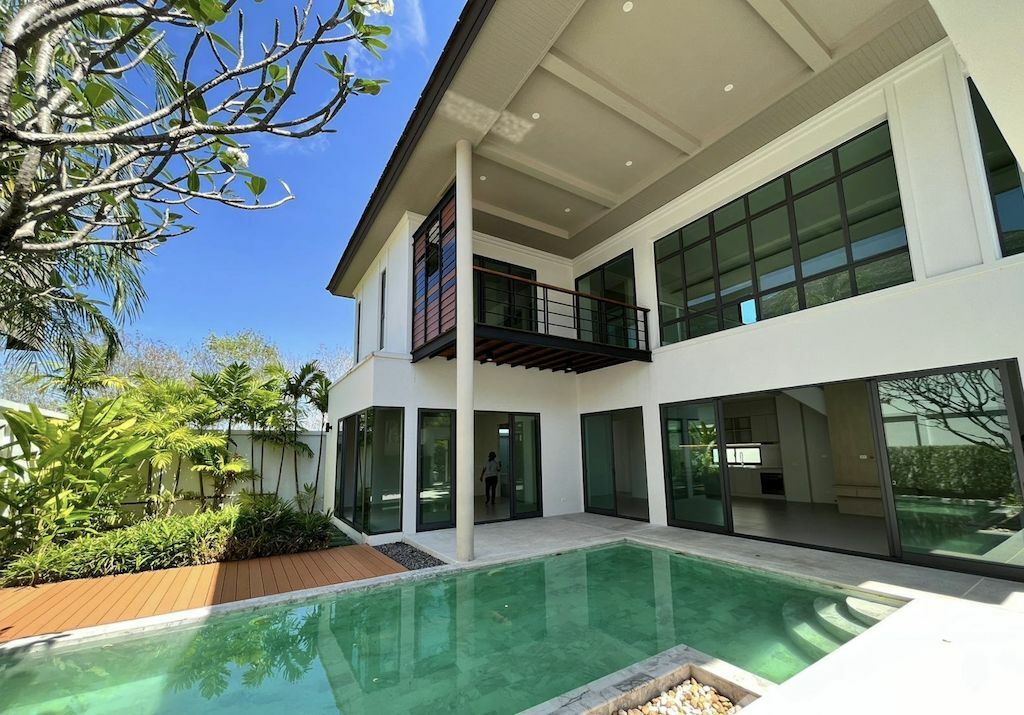 Starting price: $441,000 (฿14,900,000)
Click here to see more pictures
Escape to your very own tropical oasis with Vinzita Pool Villas, an exclusive development of just 8 modern villas nestled in Si Sunthon, Phuket. It boasts a contemporary design and is situated in a tranquil natural setting. Plus, each of these spacious villas offers three bedrooms, four bathrooms, and all the modern amenities you need to enjoy a comfortable and luxurious lifestyle. The villa is perfectly designed to allow natural light to stream in. Thus, it has a bright and refreshing living environment that relaxes both the mind and soul.
After a long day, relax by your own private pool and enjoy the perfect view of the tropical surroundings. With a full western kitchen and an oven, the villa is ideal for both everyday living and hosting friends and family.
Vinzita Pool Villas provides a peaceful retreat from the city's chaos. And its project facilities ensure a stress-free lifestyle. You can take a stroll around the garden, unwind at the communal pool, or find peace of mind in the private parking lot and 24-hour security system. Vinzita Pool Villas is also conveniently located close to popular attractions, such as Layan Beach, Bang Tao Beach, Porto de Phuket, Blue Tree Phuket, and Boat Avenue Cherngtalay.
A life of blissful tranquillity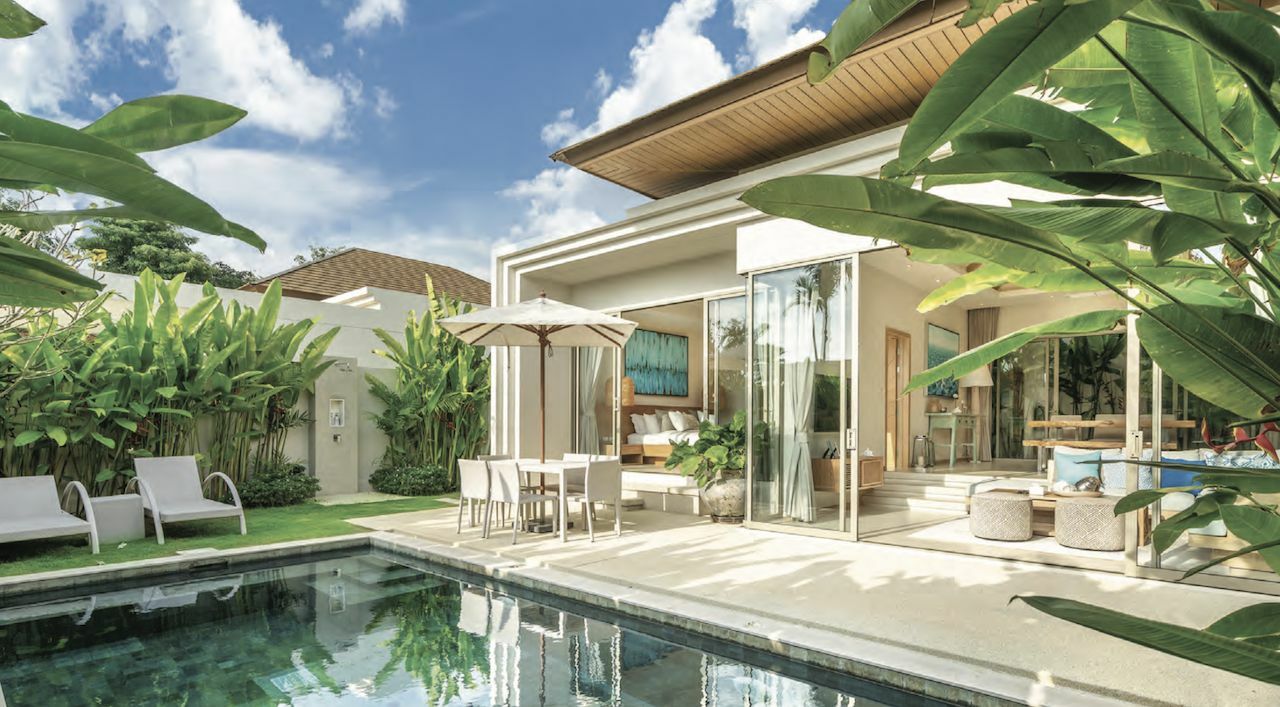 Starting price: $592,000 (฿20,000,000)
Click here to see more pictures
Looking for the ultimate vacation home? Or do you want to feel like every day is a holiday? Trichada Breeze is the perfect place to call home. This property for sale in Phuket is a mesmerizing vision of luxurious tropical living that beckons you to indulge in the finest of seaside living. With completion set for November 2023, this 243 SqM villa boasting 3 bedrooms and 3 bathrooms offer an extraordinary opportunity to embrace the perfect blend of elegance, style, and tranquillity.
The villa offers an ambience of natural light, harmoniously blending with the tropical paradise that surrounds it, further enhancing the picturesque views of the surroundings. As a result, your home will feel like a haven that you would never want to leave. Moreover, the tastefully designed villa features a full Western kitchen, a covered parking space, outdoor showers, and a private garden where you can bask in the sunshine and soak in the freshness of nature. The villa also boasts a sparkling private pool, where you can relax and unwind after a long day, and a terrace to indulge in some much-needed rest and relaxation.
On top of it all, Trichada Breeze's prestigious location in the heart of Choeng Thale offers an abundance of tourist attractions and amenities that are sure to keep you engaged and entertained. With the likes of Porto De Phuket, Laguna, Laguna Beach, Bang Tao Beach, Layan Beach, Boat Avenue Cherngtalay, Tesco Lotus Thalang, and Blue Tree all nearby, you'll never run out of things to see and do.
The ultimate tropical luxury living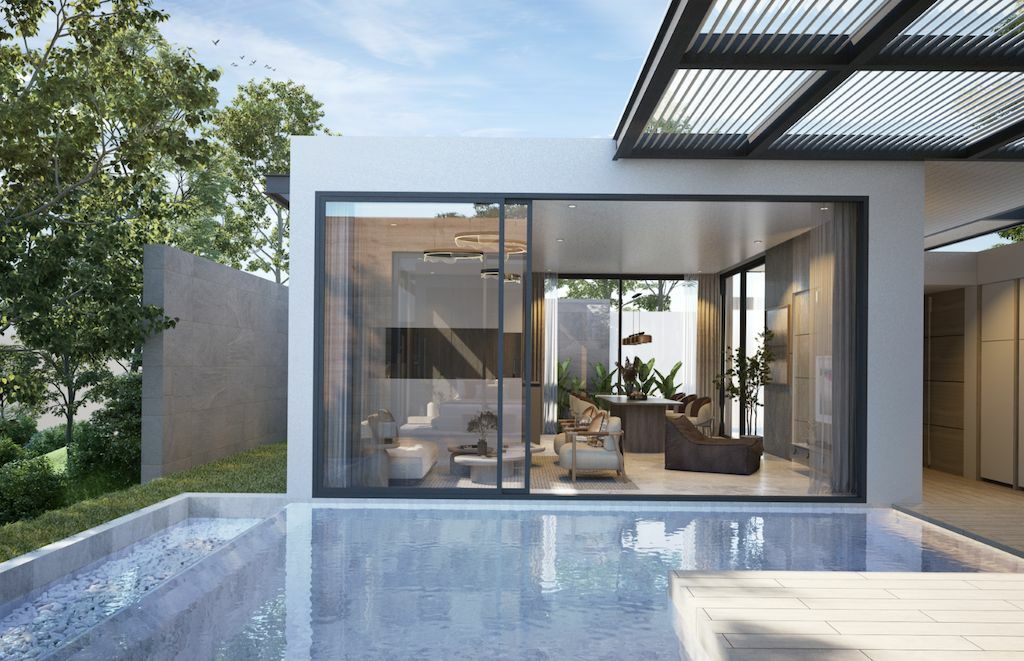 Starting price: $418,000 (฿14,107,800)
Click here to see more pictures
Discover the best of tropical living in the heart of Choeng Thale, Phuket, where Walai Layan stands as a testament to modern elegance and sophistication. Nestled by the turquoise waters of the Andaman Sea, this contemporary villa boasts two spacious bedrooms, two sleek bathrooms, and an expansive living space that perfectly balances style and comfort.
Thanks to its floor-to-ceiling windows, neutral colours, and sleek finishes, this villa radiates warmth and charm, inviting you to unwind and relax in its inviting interiors. In the evenings, sip on a glass of wine on your private terrace, and gaze at the starry night sky above. To top it off, the villa comes complete with a private pool, jacuzzi, and garden, perfect for hosting intimate gatherings or simply enjoying some well-deserved solitude. With covered parking and other amenities like a bathtub and an additional balcony, you'll never want to leave this slice of paradise.
Moreover, the Walai Layan project is just moments away from some of Phuket's most exciting destinations, such as Layan Beach, Boat Avenue Cherngtalay, Tesco Lotus Thalang, and Blue Tree, making it an ideal spot for those who crave a balance of adventure and relaxation. Live your dream lifestyle in Walai Layan's contemporary villas and make every day an adventure worth savouring.
Happiness and joy come naturally here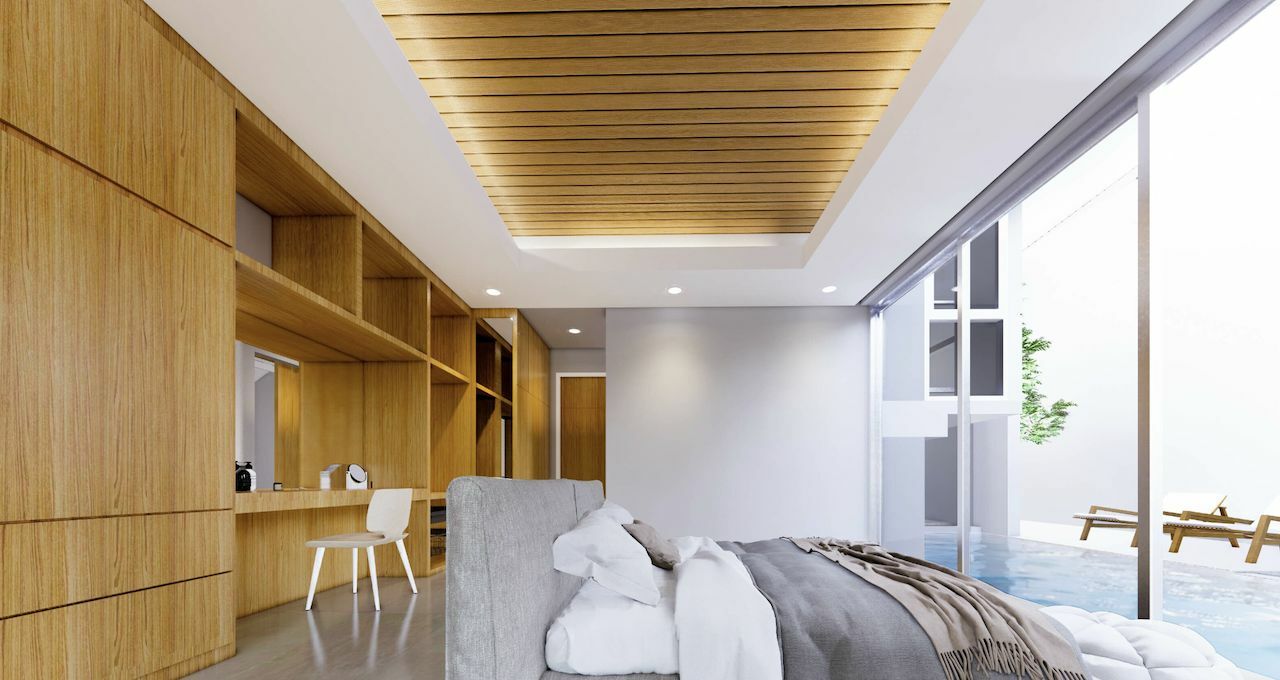 Starting price: $514,000 (฿17,375,070)
Click here to see more pictures
LuxPride by Wallaya Villas is a stunning project located in Si Sunthon, Phuket. It offers a unique blend of contemporary and minimalist styles, with warm natural wood finishes and neutral hues, giving a luxurious yet homely feel.
This breathtaking 3-bedroom, 3-bathroom villa boasts 402 SqM of living space. It includes a spacious terrace, balcony, and covered parking. Furthermore, its all-white walls and floor-to-ceiling windows allow for plenty of natural light and airiness. Therefore, you can enjoy a refreshing and relaxing atmosphere that's perfect for families or vacation-goers.
The villa features a 42-square-metre private pool on an expansive 375-square-metre plot. It provides a refreshing oasis to relax and unwind after a long day. Nestled in Choeng Thale, the villa is surrounded by lush green mountains. Thus, you may enjoy the tranquillity of nature while still having access to numerous amenities.
Enjoy easy access to Blue Tree, Boat Avenue Cherngtalay, Catch Beach Club, Laguna Golf Phuket Club, Porto De Phuket, Surin Beach, Bang Tao Beach, Layan Beach, Villa Market – Laguna, Café Del Mar Phuket, Kajonkiet Cherngtalay School, and more from this property for sale in Phuket. With only 11 exclusive units, this community is your ticket to experience one-of-a-kind living.
Discover tranquillity like never before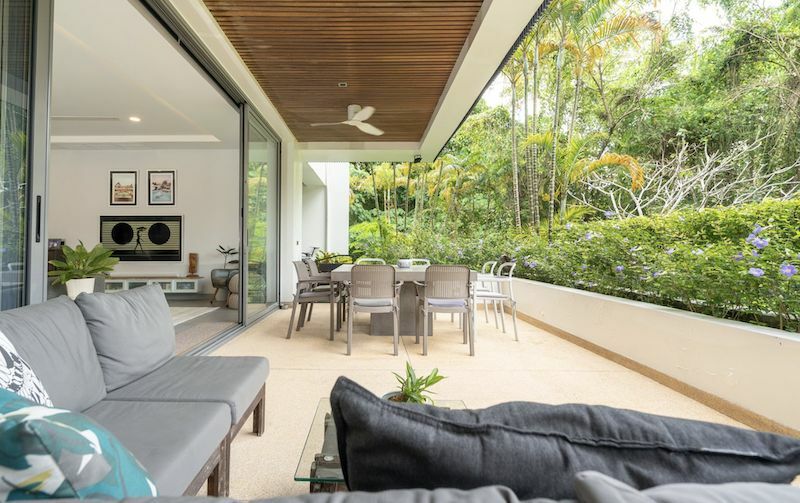 Starting price: $488,000 (฿16,500,000)
Click here to see more pictures
Indulge in the perfect blend of comfort and luxury with this property for sale in Phuket, the lavish Lotus Gardens condominium. Offering a serene environment surrounded by lush greenery, this boutique complex is a true escape from the chaos of daily life. Its location is just minutes away from the tranquil Layan Beach. Therefore, it's an ideal vacation rental spot that will make you feel right at home.
Inside, you'll find a fully renovated 3-bedroom, 3-bathroom unit with its modern decor. Best of all, you can take in the breathtaking nature outside your window. Moreover, this luxurious 178 SqM condo features a renovated kitchen and a bathtub. It also comes fully equipped with modern appliances such as a washing machine, oven, and TV.
At Lotus Gardens, every unit is designed for independent living, allowing residents to relish new experiences from an extensive range of facilities. Take a dip in the large communal pool, built with a Jacuzzi, and soak in the tranquil ambience of the lush flower gardens. Stay fit and healthy at the complete fitness centre, and enjoy round-the-clock security and CCTV.
Lotus Gardens is strategically located near multiple amenities and tourist attractions, including Laguna Shopping Malls, Chaba supermarkets, and luxury spas. Delight in the numerous dining options available, and discover the beauty of nearby Surin Beach. This beautiful oasis is more than a place to stay – it's a place to create lifelong memories. With only 50 units across six floors, Lotus Gardens is an exclusive community, and you could be a part of it.
Indulge in modern tropical living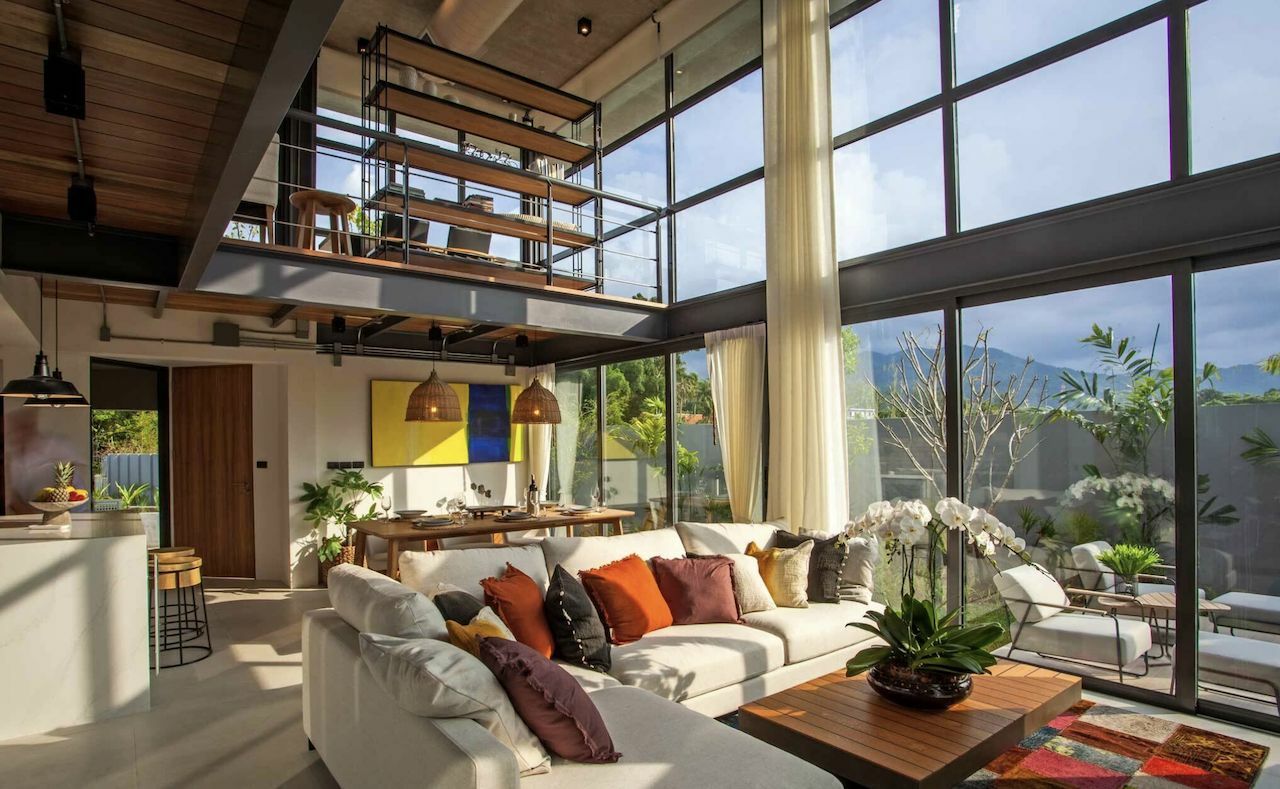 Starting price: $532,000 (฿17,990,000)
Click here to see more pictures
Experience the beauty of contemporary design and natural elements in this property for sale in Phuket. This stunning villa has a 2-bedroom, 2-bathroom villa at Riverhouse Phuket. The warm and cosy ambience of natural wood accents and furniture complements the abundance of natural light that flows through the floor-to-ceiling windows, spanning two floors of this luxurious home.
Enjoy your very own private pool and rooftop terrace, perfect for a relaxing evening with a beautiful sunset. Step out into your private garden with garden access. It's a great place to enjoy nature and soak up the tropical atmosphere. Your vehicle will also be safely parked under covered parking. Moreover, Riverhouse Phuket is the perfect blend of eco-friendliness and modernity. It features solar panels and a heat circulation system to reduce carbon emissions and save energy. The dehumidification system also ensures that the air is clean and fresh in every room.
Located in a tranquil area, Riverhouse Phuket is just 800 metres from Boat Avenue. It's also only 1 kilometre from Laguna Complex. Thus, it provides easy access to many famous landmarks, restaurants, and entertainment. Relax in the comforts of your own villa or take advantage of the project facilities, including a swimming pool, garden, and 24-hour security system with CCTV.
Nothing but lush greenery outside your window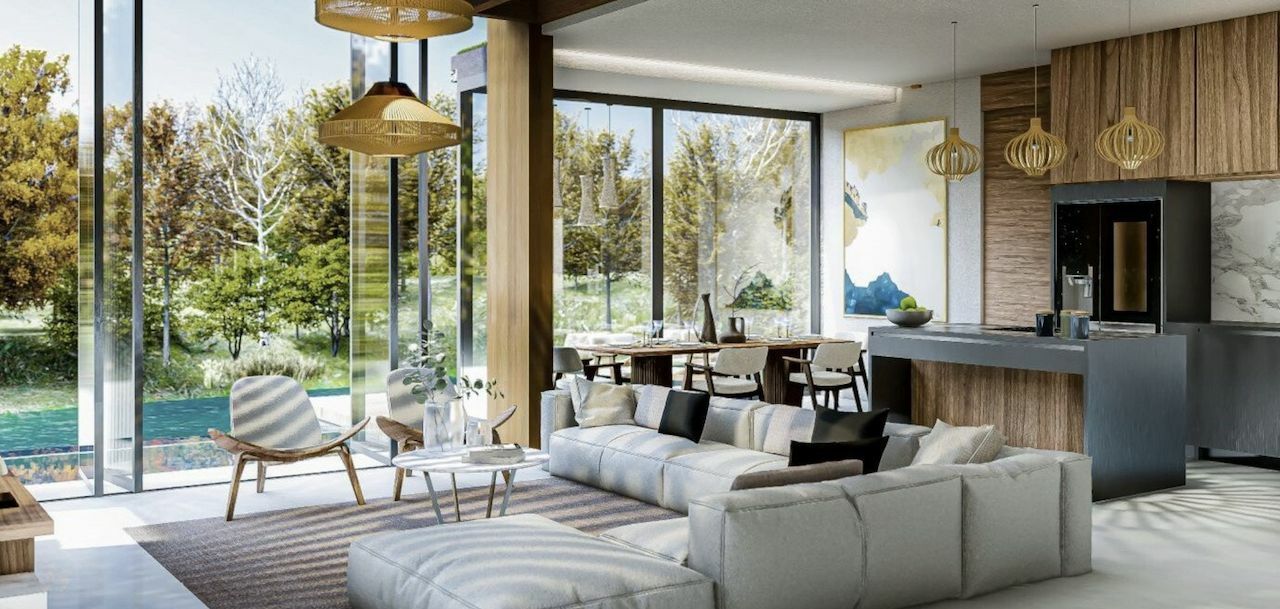 Starting price: $591,000 (฿19,980,000)
Click here to see more pictures
Get ready to bask in the tranquil beauty of The Gloria Villa Phuket. Nestled in the lap of Si Sunthon, Phuket, this exquisite 324 SqM villa boasts 3 bedrooms and 4 bathrooms, with a completion date set for Jan 2024. The asking price for this dreamlike haven is $591,000 ($1,830/SqM). Experience the thrill of nature and immerse yourself in its soothing embrace, as you relish the lush greenery right outside your window. Luxuriate in the perfect blend of contemporary style and natural charm, where white, darker wood, and stone fuse in perfect harmony. And that's not all – with great furniture, The Gloria Villa Phuket elevates your living standards to new heights. Moreover, the villa boasts a 24-hour security system and CCTV, offering you complete peace of mind.
Indulge in the ultimate luxury with your very own private pool and garden. It provides you with the perfect oasis to escape from the bustle of everyday life. This stunning villa also features a terrace, covered parking, maids quarters, and a balcony. But that's not all! The Gloria Villa Phuket is also part of an eco-friendly, energy-saving project that prioritizes your well-being. So get ready to embark on a sustainable lifestyle!
Each villa offers unique features and amenities that are sure to suit the needs and desires of any homeowner. From the eco-friendly and modern Riverhouse Phuket to the luxurious and nature-inspired Gloria Villa Phuket, these properties are a true testament to the beauty and elegance of Phuket living. So go visit Thaiger Property and let their experienced agents help you find the perfect property for sale in Phuket.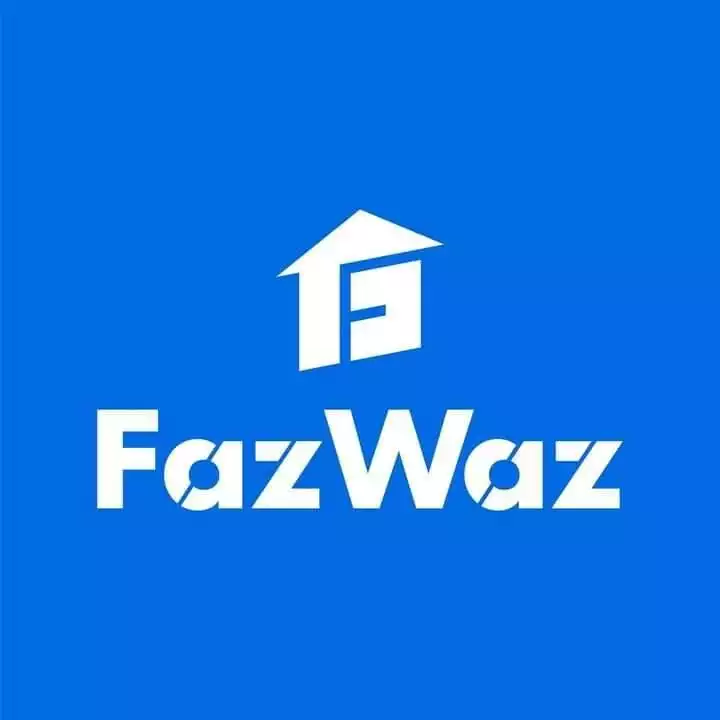 Join the conversation and have your say on Thailand news published on The Thaiger.
Thaiger Talk is our new Thaiger Community where you can join the discussion on everything happening in Thailand right now.
Please note that articles are not posted to the forum instantly and can take up to 20 min before being visible. Click for more information and the Thaiger Talk Guidelines.