Introducing Thaiger Property – 8,000+ listings for Phuket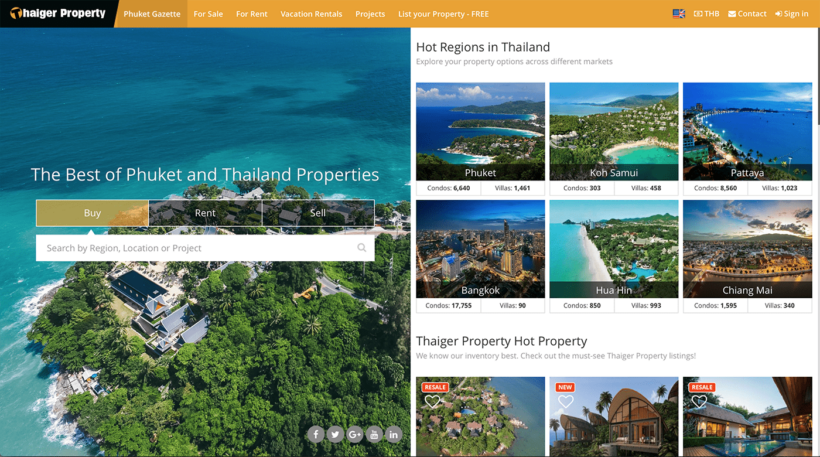 Phuket Gazette/The Thaiger are proud to launch our new ThaigerProperty.com website.
In Phuket, alone, there are more than 8,000 properties for sale on the website and, around Thailand, nearly 40,000 listings – by far the largest selection available. Some of the properties are exclusive, some are 'motivated sellers' and there's also rental listings as well, making it a very comprehensive one-stop-shop for everything 'real estate'.
The Thaiger's Tim Newton says this is one of the really important pieces of the puzzle in the rebuilding of the Phuket Gazette platform to provide the most comprehensive set of tools for people wanting to know anything and everything about Phuket, from the daily news to the best places to eat.
"Building on the strong news tradition of Phuket Gazette, we are broadening our platform and property remains a key part of the island's growing economy. There will be booms and lulls in a tropical island market developed around tourism but people are always going to want to buy and sell properties on Phuket."
The Thaiger Property site has tools that have never before been available for buyers to find transparent information about properties, the area, previous sales and similar properties in their budget. The more you look the more you'll find.
"We can honestly promise that this IS the only property website you'll ever need to use to find something to suit you. We also have exclusive arrangements with some of the newer developments on the island," said Tim.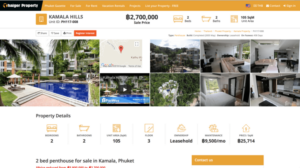 Tim's been on the island for long enough to see real estate agents come and go and plenty of start-ups that are promising but fizzle out within a year.
"Anyone can set up a Facebook page and sell property but people need to know that they're working with a reliable, stable agency with the right people and advice to back up their purchase. The team behind Thaiger Property now have 50 staff around Thailand and have specific inside knowledge about Phuket's property market."
ThaigerProperty.com also covers the markets in Bangkok, Chiang Mai, Pattaya, Hua Hin and Samui.
You're invited to check out ThaigerProperty.com anytime.
Keep in contact with The Thaiger by following our
Facebook page
.
Never miss out on future posts by
following The Thaiger
.
Koh Pha Ngan and Chiang Mai win gongs in the latest Condé Nast Traveler Awards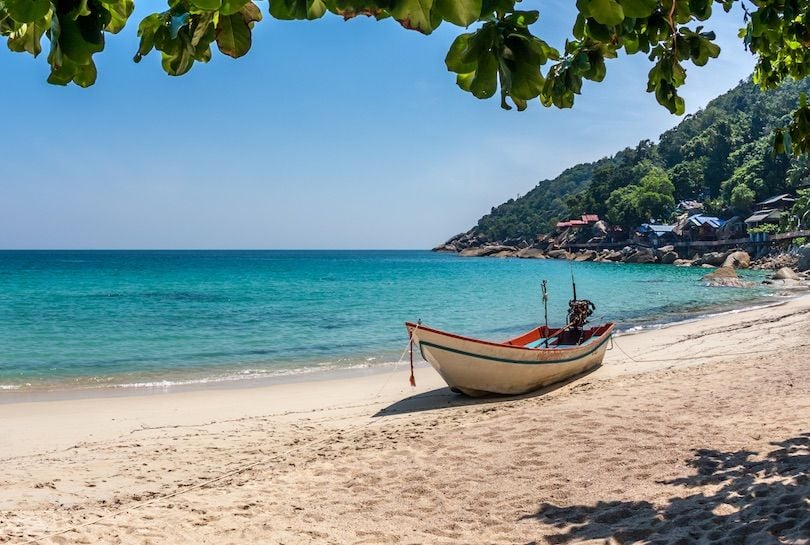 Koh Pha Ngan, a short ferry ride from Koh Samui off the coast of mainland Surat Thani, is the 'third best island in Asia', according to a vote in the readers' choice awards by Conde Nast Traveler. Thailand also ranked in 7th place in the 'Top 20 Countries in the World list.
Topping the 'Best Asian islands' list were Cebu & Visayas, Philippines and Sri Lanka. Koh Pha Ngan, at 3rd place, is the home of Rin Nok beach where party-going tourists gather for the monthly full moon parties. But they've been shut down since April when Thailand shut its borders. Two other Philippine islands – and Siargao and Palawan – made up the top 5.
But Surat Thani's governor Wichawut Jinto maintains there is more to Koh Pha Ngan than its full moon parties.
"The island boasts a blend of nightlife and beautiful natural scenery. The beach is a perfect cove flanked by mountains."
"Koh Phangan also has other beautiful beaches such as Thong Nai Pan, Khuad and Yao beaches. Apart from the beaches, Than Sadet waterfall is also a landmark attraction."
In other Condé Nast Traveler Awards, Chiang Mai was placed 2nd on the 'Top 10 Best Small Cities'. Who was number 1? San Miguel de Allende, Mexico. Bangkok, often a contender in the Best Big Cities Awards, didn't even figure in the Top 10 on the Condé Nast list this year. Kyoto, Japan, scored top spot in the Big City list this time.

Of course the TAT Governor Yuthasak Supasorn, seized the opportunity.
"We are always proud to see Thailand on this list, but in this challenging year when the Covid-19 restrictions are affecting international travel, it is indeed a very special honour."
"We would like to extend our sincerest appreciation to the readers of Condé Nast Traveler as well as travellers from across the globe for their confidence in Thailand. When all difficulties from the Covid-19 pandemic have improved, Thailand will certainly be more than ready to welcome international tourists once again."
But this year's Condé Nast Traveller Awards were announced at a time when much of the world isn't travelling. The magazine says the names in this year's edition were the ones that "brought voters comfort", that they "still connected with" long afterward and got them through the months without travel.
"These are the enduring gems that can withstand the test of time and the vicissitudes of circumstances. So while it is always an honour to be on this list, in this strangest of years, it is a special honour, indeed."
"Many readers have told us that when we emerge from this pandemic, they want to turn their attention to the classics, whether that means personal favourites or places they know have brought joy to others."
For more information on Condé Nast Traveller's Readers' Choice Awards 2020, check the full list HERE.
Keep in contact with The Thaiger by following our
Facebook page
.
Never miss out on future posts by
following The Thaiger
.
Human rights lawyer Anon Nampa arrested, flown to Chiang Mai for sedition charges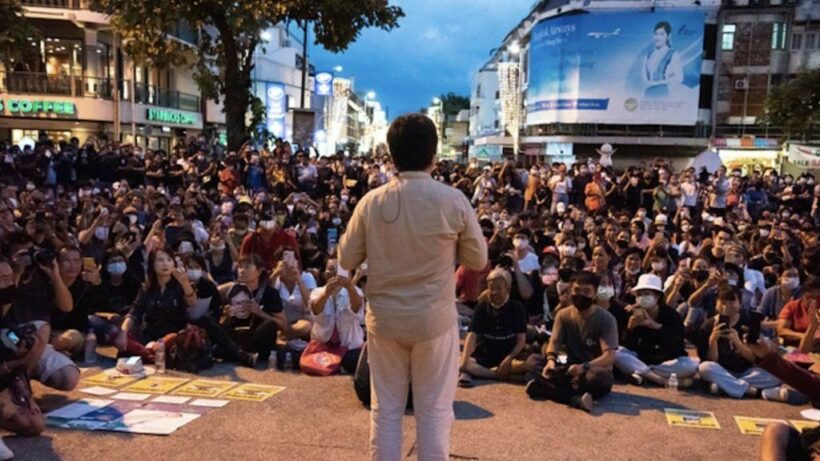 After being arrested in Bangkok early this morning, along with numerous other protesters, human rights lawyer and pro-democracy activist leader Anon Nampa is apparently being flown up to Chiang Mai to face sedition charges for allegedly criticising the Thai Monarchy at a past event in the northern province.
In Bangkok today, at least 20 protesters, who intended to camp out at the Government House for a few days to put pressure on PM Prayut Chan-o-cha to resign, were arrested after the State of Emergency was imposed early this morning.
Following his arrest, Anon wrote on Facebook saying that he had been denied a lawyer, a violation of his human rights. Thisrupt shared the post by Anon saying police had forced him in a helicopter to Chiang Mai and that he fears for his safety.
The activist's Facebook page was later deactivated. Journalist Andrew MacGregor Marshall posted on Twitter saying the situation is "extremely worrying."
"The Facebook page of protest leader อานนท์ นำภา aka Anon Nampha has been deactivated. He was arrested earlier today and taken to Chiang Mai. He is denied access to lawyers under the new emergency decree. This is extremely worrying."
BREAKING—The Facebook page of protest leader อานนท์ นำภา aka Anon Nampha has been deactivated. He was arrested earlier today and taken to Chiang Mai. He is denied access to lawyers under the new emergency decree. This is extremely worrying. pic.twitter.com/CBPbVRrxIC

— Andrew MacGregor Marshall (@zenjournalist) October 15, 2020
PHOTO ABOVE: With thanks to Will Langston
SOURCE: Nation Thailand
Keep in contact with The Thaiger by following our
Facebook page
.
Never miss out on future posts by
following The Thaiger
.
Chiang Mai tourism slowdown takes a toll on local businesses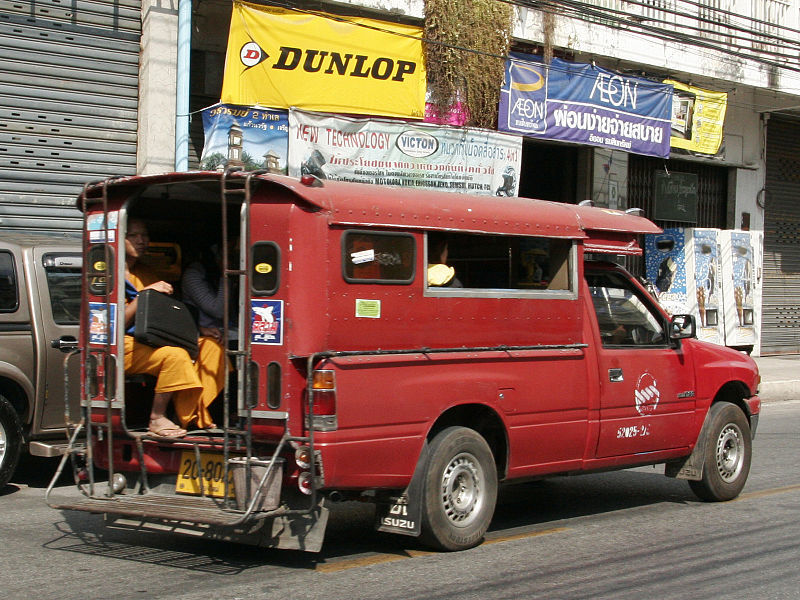 Chiang Mai's tourism industry has drastically slowed down from the lack of travel due to the affects of the Covid-19 pandemic – the lockdowns and the travel restrictions. Tourists "vanished" during the April lockdown, according to president of the Tourism Association of Chiang Mai, Anantorn Hochindarat. Now, as the chilly, cool season approaches, when the northern province is the most popular for locals, Chiang Mai's tourism sector is likely to remain "slow".
The impacts from reaction to the pandemic has effected various people and business groups in Chiang Mai. Only 35% of the hotels have reopened, and those that are open report lower occupancy rates, Anantorn says. Many tourism businesses like spas, souvenir shops and tour agencies remain closed. The drivers of the red trucks, known as songthaews, used to do 3 to 4 round trips per day. Now only 1 trip per day is the average, and that's with some drivers taking temporary leave.
"Over 1,000 tour guides are unemployed, while dozens of hotels have been put on sale after owners faced a liquidity crisis."
Last year, Chiang Mai recorded 100 billion baht in revenue from 10.8 million visitors. 70% of the visitors where Thais while the other 30% were foreigners. After domestic travel restrictions were lifted, local travellers were only 20% from the same period last year. There have been travel promotions and events to help boost domestic tourism across Thailand, but some Thai nationals are still hesitant to travel because of health safety concerns.
"As the international market is stalled, if Chiang Mai can simply get the same chunk of the domestic market back within a year, typically 70% of the total, we should be happy enough."
Apparently the slowdown of international tourists has been happening before the pandemic. After the 2018 Phuket incident where 2 tourists boats capsized in a storm, killing 46 people, tourist confidence was "shattered," according to the director of Tourism Authority of Thailand's Chiang Mai office, Pakkanan Winijchai. The Phuket tourist boats were carrying Chinese tourists, and many Chinese lost confidence in Thailand, she says. Chinese visitors make up one-third of overall international arrivals.
For the past 6 months, there has been a ban on international tourists, crippling travel destinations that relied on the foreigners for income. Thailand has been working on a way to get tourists in, but even the new Special Tourist Visa was a bust when authorities said they were preparing for a group of tourists from China to arrive in Phuket, but no one had actually applied for the visa. Even if the scheme does start up soon, Chiang Mai cannot benefit because it does not have any alternative state quarantine facilities to house the tourists for their mandatory 14 day quarantine upon arrival.
SOURCES: Bangkok Post | Wikapedia
Catch up with the latest daily "Thailand News Today" here on The Thaiger.
Keep in contact with The Thaiger by following our
Facebook page
.
Never miss out on future posts by
following The Thaiger
.