Coal power plants shelved for at least three years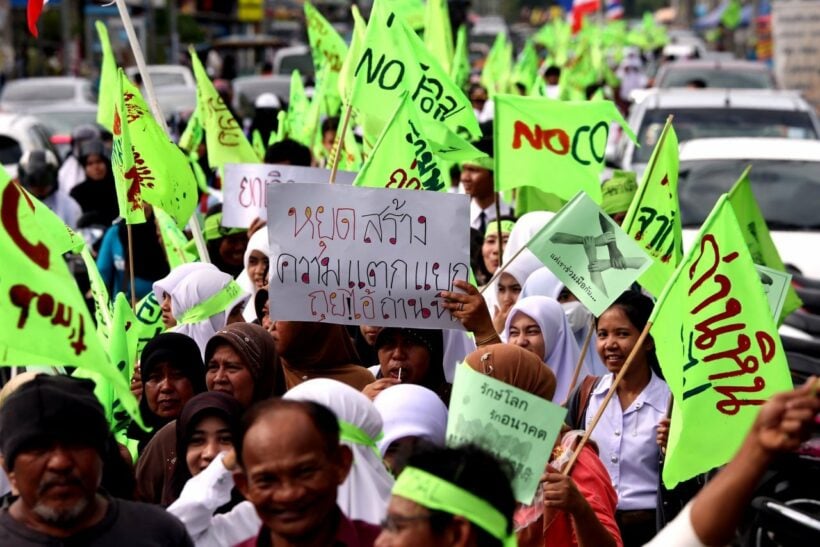 The Thai Ministry of Energy has decided to put on hold two coal-fired power plant projects in Krabi and Thepa district of Songkhla for three years pending additional environmental and health impacts assessments and environmental impact studies.
Energy Minister Siri Chirapongphan says the ministry would inform the cabinet its decision to put off the two controversial projects and, at the same time, propose its revised power development plan for consideration in March.
He says that the postponement of implementation of the two coal-fired power plant projects for three years wouldn't worsen the electricity situation in the southern region in the short term which, currently, has to rely on an addition of 17 percent power supply from other regions to offset the shortage.
The two coal-fired power plant projects, especially the one planned for Thepa district of Songkhla, has met with stiff resistance from local residents and NGOs, claiming that it will threaten the environment and ruin their livelihood.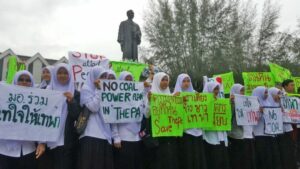 Thai PBS reports that there are two things that will have to happen to maintain electricity supply in the south during the next three years as other solutions are investigated…
Firstly, the upgrading and increasing of the high-tension transmission power lines linking the two main power plants in Khanom and Jana with a combined production capacity of 2,400 megawatts with the cities along the Andaman coast that consume high amount of electricity.
Secondly, development of transmission lines to supply up to 1,000 megawatts of electricity to the southern region by the Electricity Generation Authority of Thailand coupled with the construction of three more bio-mass power plants in the South which will generate a combined amount of 300 megawatts of biomass electricity on top of the current supply of 100 megawatts from bio-mass power
plants.
Currently, the entire southern region consumes up to 2,600 megawatts of electricity which local supply amounts to 2,000 megawatts, hence the need of more power supply from outside sources.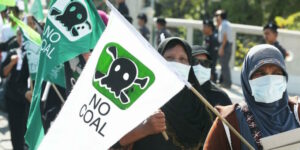 ORIGINAL REPORT: Thai PBS
📱 Download our app on Android or iOS for instant updates on your mobile
📧 Subscribe to our daily email newsletter
👍 Like/Follow us on Facebook
🔔 Subscribe to or Join our YouTube channel for daily video updates
Thai chef pleads for justice after child kills her cat in New York park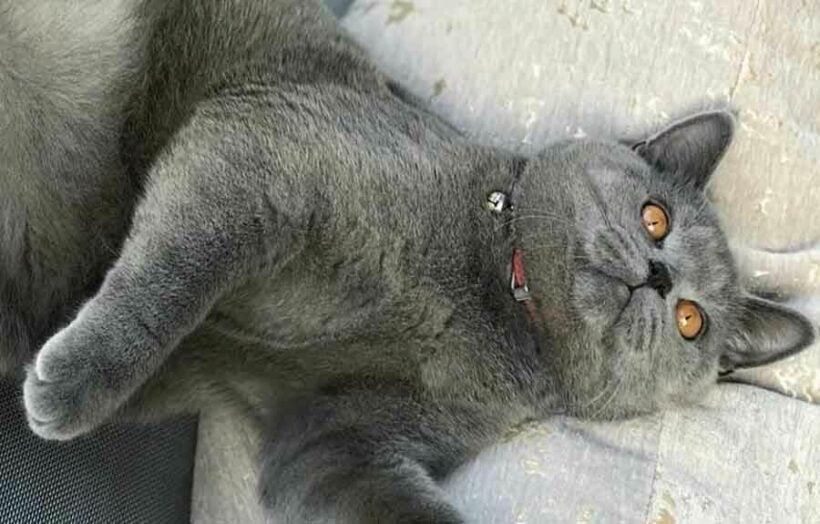 A Thai-born chef, who now lives in New York, has launched a social media campaign calling for justice for her pet cat after the feline was attacked and killed by a child. Suchanan "Rung" Aksornnan says she was walking her cats, Ponzu and Kimchi, along with her dog, Tofu, and parakeet, Mango, in a Brooklyn park, when a boy ran towards her and grabbed Ponzu's leash with such force that the cat, who suffers with a heart condition, flew into the air before hitting the ground. The boy then proceeded to drag the cat several metres, with the animal later dying of his injuries.
It's understood Suchanan confronted the boy and his family but received no apology. The child's family, understood to be Puerto Rican nationals, have defended the boy, saying Suchanan shouldn't have been walking her cat in a public place. The confrontation became physical, with Suchanan slapped in the face, strangled, and kicked, according to the Coconuts report. Her boyfriend's nose was also broken before passers-by came to their rescue.
Police have now arrested a 42 year old woman named as Evelyn Serrano, who has been charged with assault. Suchanan says she too has visited the police station to provide additional information and the Thai consulate has been in touch to offer assistance. Meanwhile, news of the cat's death has gone viral on social media, with #justiceforponzo trending on Instagram, where Ponzu had over 38,000 followers.
Suchanan owns an Asian-fusion restaurant in Brooklyn. She was born in Chiang Mai and moved to the US with her family at the age of 15.
SOURCE: Coconuts
📱 Download our app on Android or iOS for instant updates on your mobile
📧 Subscribe to our daily email newsletter
👍 Like/Follow us on Facebook
🔔 Subscribe to or Join our YouTube channel for daily video updates
Search continues for missing Indonesian submarine with 53 crew on board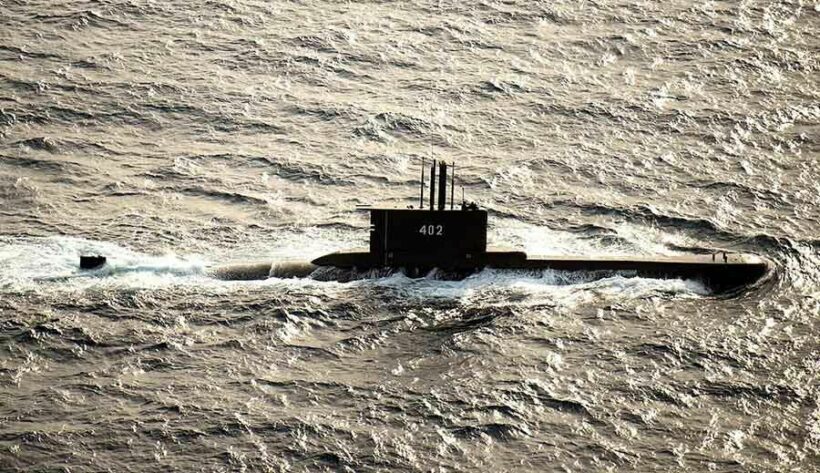 Officials in Indonesia are continuing to search for a submarine that disappeared while on a routine exercise on Wednesday, with 53 crew members on board. The Indonesian military has issued a warning about unverified information and speculation after the KRI Nanggala-402 submarine went missing. It's understood the vessel is expected to run out of oxygen within hours.
Military spokesman Achmad Riad addressed a press conference yesterday, in which he confirmed that contact was lost with the submarine as it was undertaking a torpedo exercise about 95 kilometres off the coast of Bali.
"The last communication with KRI Nanggala was at 4:25am when the drill commander was authorising a torpedo launch, that's when communication with Nanggala was cut off."
According to a Coconuts report, there has been some speculation, some of it by officials, that there may have been an electrical failure during the submarine's descent and that water pressure may have caused damage to the fuel tank. Achmad won't be drawn further on the reports, saying the military is waiting for more information.
On board the missing vessel are 49 crew members, the submarine's commander, and 3 arsenal personnel. The German-built submarine is one of 5 that belong to the Indonesian navy. A number of other countries, including Singapore and Australia, are assisting in the search.
SOURCE: Coconuts
📱 Download our app on Android or iOS for instant updates on your mobile
📧 Subscribe to our daily email newsletter
👍 Like/Follow us on Facebook
🔔 Subscribe to or Join our YouTube channel for daily video updates
Covid UPDATE: 2,070 new infections reported today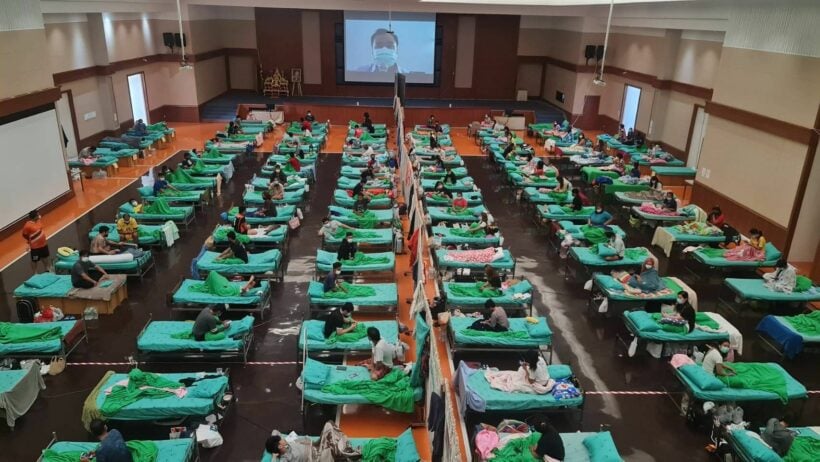 Reports on Thai media and announcements on social media say 2,070 new Covid-19 cases and 4 coronavirus-related deaths were confirmed today, raising the total number of cases since the outbreak on April 1 to 21,230 and this month's Covid death toll to 27.
The reported number is the highest daily total ever reported in Thailand.
The numbers are unofficial and have been reported on Thai news outlets, shared on LINE messaging chats and posted by local expat blogger Richard Barrow. The Centre for Covid-19 Situation Administration will have more information in their official daily briefing which starts at 11:30am.
There are now 15,642 people being treated in hospitals for Covid-19, including 352 people who are in critical condition with with "severe pneumonia". 91 Covid patients are on ventilators. Another 4,231 people with Covid-19 are in field hospitals.
The CCSA will give an update today with more information and an official report.
📱 Download our app on Android or iOS for instant updates on your mobile
📧 Subscribe to our daily email newsletter
👍 Like/Follow us on Facebook
🔔 Subscribe to or Join our YouTube channel for daily video updates