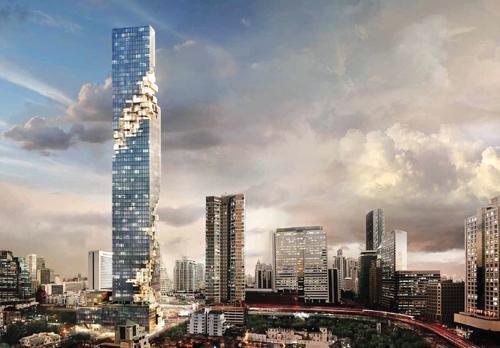 PHUKET: Asgar Patel, group chairman of India-based multinational House of Patels, and one of the wealthiest people in India and the United Arab Emirates, earlier this week expressed an interest in investing in Phuket's property market.
"We are interested in investing in the Thai property sector not only in Bangkok, but also in other locations such as Hua Hin and Phuket. If they have the best location and design, we will expand our investment in both destinations," he said.
The wealthy businessman was quoted in a report by The Nation that focused on his recent investment in what will soon be Thailand's largest skyscraper, the 314-meter MahaNakhon building, being constructed in Bangkok's in Sathon-Silom area.
Patel, who lives in the UAE, decided to invest 480 million baht early this year in the luxury Bangkok condominium project, the Ritz-Carlton Residence at MahaNakhon, after seeing the potential return, given Thailand's stable economic growth and the fact that the Kingdom will be at the center of the ASEAN Economic Community, which comes into effect in 2015.
Patel, whose firm has interests in real estate, financial services, transport and logistics, said that when he expanded his investment in the property sector, he had first examined the state of Thailand's economy, and then considered the location and project design.
"Besides, Thailand has a large middle-class population who are gaining wealth that will support future development. Again, Singapore and Hong Kong are both saturated and over-priced, and have hardly any land mass left.
A road is proposed from Kolkata through Myanmar into Thailand and, when the AEC is implemented, Thailand will be the heart of Asia. China, India and Japan are investing in Thailand. So, it is logical to invest in this growing economy," said Patel.
Following his own investment in the Ritz-Carton Residence at MahaNakhon, the House of Patels Group has acquired the luxury project's marketing and sales rights for India and the Gulf Cooperation Council area, confirming his belief in the Thai property market.
Patel has also invested in property in the United States, India and Dubai.
Pace Development Corp chief executive Sorapoj Techakraisri, whose company developed the luxury mixed-use MahaNakhon project, said that up to 60 per cent of its customers were foreign buyers working in Singapore, Hong Kong and Dubai.
Since the MahaNakhon project's launch in 2009, unit prices have been increased by an average of 5 per cent a year from the original pre-sales price of Bt220,000 per square meter.
This article appears in the current (May 3-10) issue of the hard-copy Phuket Gazette newspaper, now on sale at newsstands throughout the island. Digital subscribers may download the full newspaper, this week and every week, by clicking here.
— The Nation / Phuket Gazette