Find your dream property in Thailand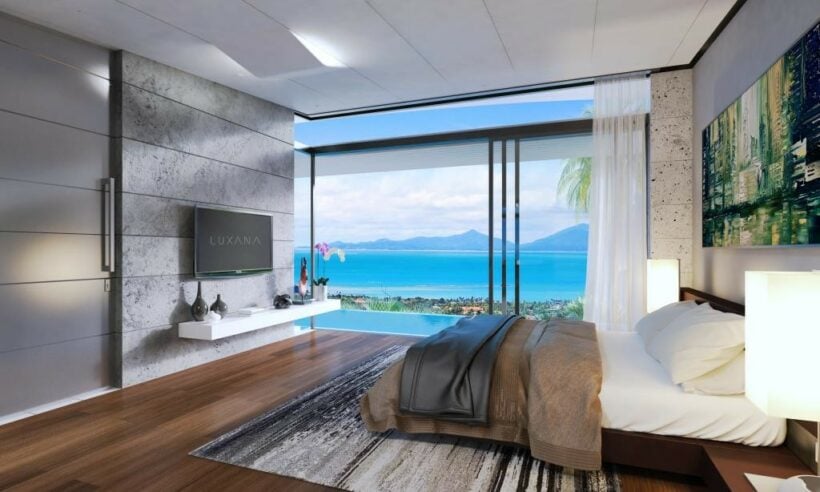 … or list your property for free.
property.thethaiger.com is a true one-stop-shop when you're looking to sell or buy property in all Thailand's hot real estate spots.
Paul Trayman, Chief Operating Officer, says property.thethaiger.com provides unique, comprehensive information about up to 40,000 properties around Thailand.
"We provide all details on every project and unit available for sale in Thailand (within the six regions we cover). Unlike other platforms we don't hide any information, empowering users with accurate pricing, land sizes, unit sizes, pools size, views, locations, monthly maintenance fees, completion dates and ownership structure. The site also has floor plans, master plans and lots of photos of listed properties."

Paul says property.thethaiger.com is committed to providing the best useful data so buyers can make more informed decisions about their purchases.
"We also have accurate market data so you can compare units and developments to others nearby or similar projects. There are over 40,000 unique properties for sale and rent on property.thethaiger.com
"Map-based searching is another innovation, enabling property buyers to not only filter by bedrooms, price, etc but also narrow their search down even further by navigating the map to the specific locations they want to live. Coupled with being live in 6 major languages, we cater to the local and international markets looking to purchase in Thailand.

CEO of The Thaiger Co. Ltd. Tim Newton says The Thaiger is delighted to be working with Paul and the team.
"property.thethaiger.com is an integral part of thethaiger.com platform providing our growing audience the best opportunity to find a great property somewhere around Thailand. We were so impressed with the unique platform we just hard to get them involved. Just a tip for people checking out the many properties on the site, scroll down to the bottom of the front page and you'll find the 'motivated sellers' section. You might just pick up a bargain!"
New properties are added everyday and the site services the main property hot spots around Thailand – Bangkok, Pattaya, Phuket, Chiang Mai, Samui and Hua Hin.

Find more property for sale and rent across Thailand at Thaiger Property, powered by FazWaz. You can even list your property for free.

Two survive after a six wheeler overturns near the Sarasin Bridge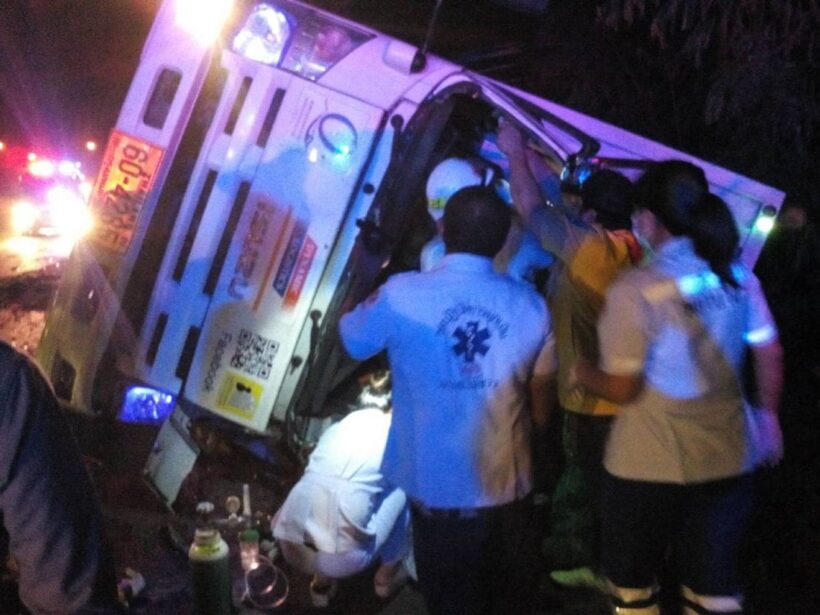 Two people have survived after a six wheeler truck, carrying goods on the way to Patong, has overturned in the far north of the island.
Police and rescue workers arrived at the scene on Thepkrasattri Road, southbound, near the Phuket Gateway at 1am this morning, to find a six wheeler truck overturned on the side of the road.
The truck driver, 27 year old SuJinda Yeamloi from Songkhla, was waiting at the scene. 23 year old Duangjit Kongbangpoe was still stuck inside the cab crying with pain.
Rescue workers took about half an hour to free her with hydraulic cutters. She was immediately taken to the Thalang Hospital.
The truck driver told police that he was driving from Surat Thani to deliver goods at a shop in Patong with his girlfriend.
He was driving in the right lane when a pickup truck was driving behind him, honking his horn indicating he was going to overtake. SuJinda says he moved to the left lane to allow the pickup to pass but lost control of his vehicle and rolled over.
Police are continuing their investigation to find the cause of accident.




Aung San Suu Kyi stripped of prestigious peace award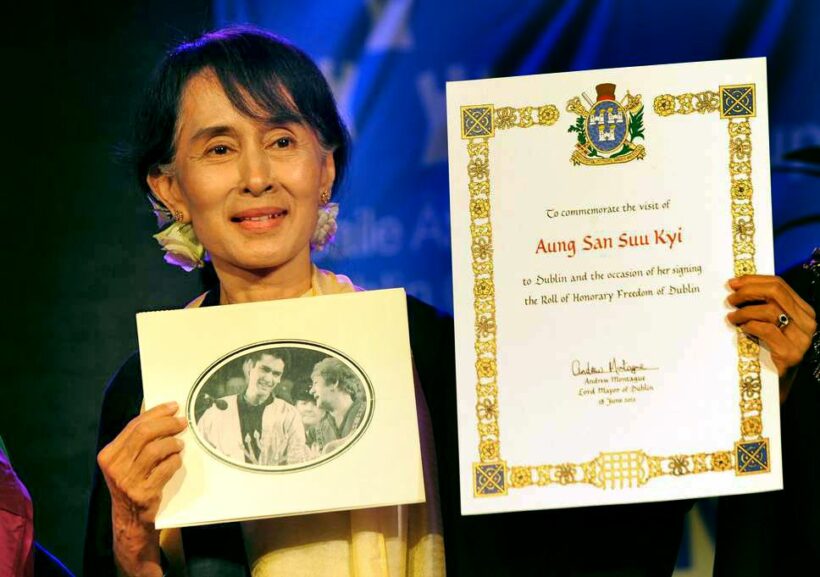 Myanmar's Aung San Suu Kyi has been stripped of Amnesty International's most prestigious human rights prize, the Ambassador of Conscience Award, which she was awarded whilst still in detention in 2009.
Amnesty is calling out the defacto Burmese leader and accusing her of perpetuating human rights abuses by not speaking out about violence against the country's Rohingya Muslim minority.
Once hailed as a champion for democracy and peace in Myanmar, Suu Kyi has been now stripped of a series of international honors over her handling of the brutal crackdown and Rohingya exodus following outbreaks of violence in the Rhakine region in August 2017.
More than 700,000 of the stateless Rohingya fled across Myanmar's western-most borders into Bangladesh after the Myanmar Army launched a ruthless crackdown in response to Rohingya insurgent attacks on the security forces.
Human rights organisations, NGOs and UN investigators have continually accused the Burmese military of unleashing a campaign of killings, rape and arson with "genocidal intent".
Suu Kyi's administration, for their part, have ignored or rejected the findings claiming that they're 'one-sided'. Her response has been that the military action was a legitimate counter-insurgency operation.
The international human rights group named Suu Kyi as its 2009 Ambassador of Conscience Award recipient when she was still under house arrest for her opposition to Myanmar's oppressive military junta.
Amnesty International says she had failed to speak out over the atrocities and continues to "shield security forces from accountability" for the violence against the Rohingya.
"A shameful betrayal of the values she once stood for"
Amnesty International informed Suu Kyi on Sunday about the decision to revoke the prestigious award. So far the Myanmar leader has not responded publicly about the decision.
Politicians raise doubt over February 24 election date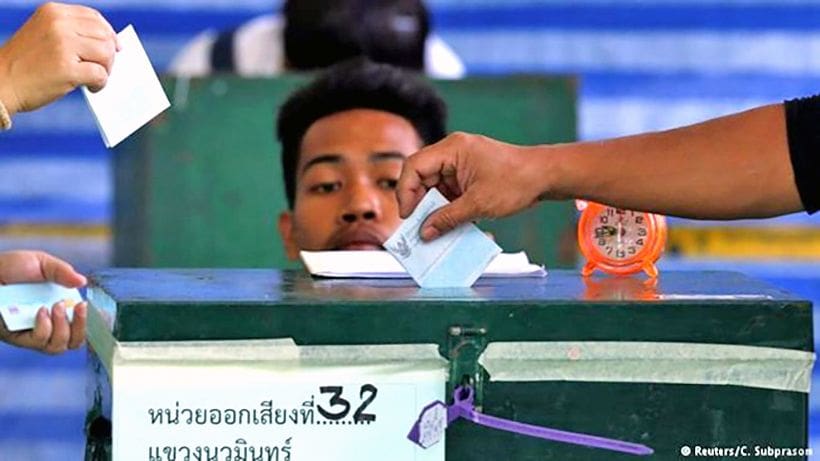 The Election Commission secretary-general Jarungvith Phumma is refusing to confirm that the next election will be held on February 24, fuelling speculation of a possible delay.
He said February 24 was the earliest date the agency would be ready to hold the general election, citing a conclusion of an Commission meeting held many months ago in Pattaya.
"The election commissioners, however, have not scheduled February 24 as the election date," he said.
Jarungvith added that according to its order, the ruling NCPO is also empowered to "work with" the EC in scheduling the election date.
The official noted that after the law on the election of members of Parliament takes effect on December 11, the national vote will be held within the next 150 days but not later than May 9 in accordance with the legislation.
Jarungvith's remark caused politicians to conclude yesterday that the election will not be held on February 24.
Paiboon Nititawan, leader of the pro-junta People Reform Party, said he was convinced the next election would not be held on February 24, as many political parties would not be ready by then. He added, however, that he saw no problem with that.
He noted that the law requires election candidates to be members of a party for at least 90 days to be eligible to run under its banner.
Varawut Silapa-archa, who heads the Chartthaipattana Party's policy and strategy committee, said he was not surprised by Jarungvith's remark.
"Many people in the political circles who I talked to agreed that there would be no election on February 24. There are many factors that would cause the postponement," Varawut said. However, he added that he believed the next election would be held within the legal limit of 150 days after the new law on MP elections takes effect.
"I can wait if the election will be postponed for a month or two. But it must be not later than 150 days. We have been waiting for four years already," he said.
The young politician blamed the EC's failure to designate constituencies early for the lack of preparedness of political parties. He said parties need to know which districts and areas are in which constituency so that they can field suitable candidates. Also, parties are required by law to select their candidates based on the results of primary voting among party members, he added.
Meanwhile, provincial officials of the EC have become worried that a delay in designating constituencies might cause the election to be postponed beyond February 24, according to a source familiar with the matter.
Pheu Thai politicians yesterday also called on the EC to complete the designation as soon as possible in order to prevent further delays in the election timing.
Meanwhile, Suthin Klangpha, a politician from the anti-junta Pheu Thai Party, said yesterday that he suspected the junta government was plotting to further delay the next election. He claimed that pro-junta political parties would seek postponement by arguing that they were not prepared for the election on February 24.

PHOTO: Election Commission secretary-general Jarungvith Phumma – The Nation
SOURCE: The Nation