Phuket's sea gypsies gain ground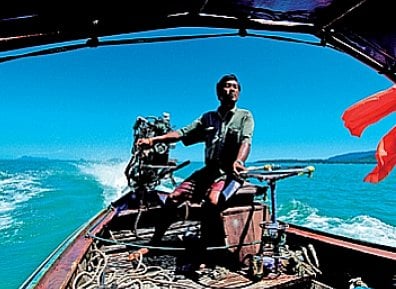 PHUKET: After decades of struggle, Phuket's sea gypsies may soon be allowed back into their ancestral fishing waters.

Sea gypsy communities for centuries lived freely off the abundant sea life in Andaman waters with an unyielding respect for the source of their nourishment and an innate commitment to environmental preservation.

With industrial development, tourism growth, the creation of new technologies and the arrival of big-business fishing, calls for regulation and environmental activism led to the creation of "marine preservation zones".

The sea gypsies seem to have lost out on all sides of the environmental debate and have seen their fishing territory gobbled up by commercial fishermen, luxury hotels and the government, which has designated protected areas off-limits to fishing.

In recent years, the sea gypsies of Phuket have been fighting to regain their rights to fish in traditional areas, with some tangible results now on the horizon.

A meeting last month, chaired by Phuket Deputy Governor Chaiwat Taephee, was held to seek a sustainable solution to what all sides have recognized as a real threat to a traditional way of life.

In 1969, The Phuket Provincial Fisheries Office (PPFO) designated almost 30,000 rai of Phuket's coastal and island areas as marine preservation zones.

All collection or harvesting of sea life in those areas – unless directly involved with academic research – became illegal. As the preservation areas are mostly along the coastline, this created a problem for locals who made their living by fishing near their communities.

"We have been fishing in these areas for more than 100 years – this is how we earn our living. We don't use any illegal equipment, so I don't understand why we have to change our entire way of life because of these laws," says Sutha Prathep Na Thalang, a local representative of the traditional fishing group.

"Our boats are very small, so we can't fish too far from shore. Even a small wave can capsize them, so we have to fish close to the coast – we have no choice," he said.

Kawi Saranakhom-kun, of the PPFO, said the protected area is about five per cent of Phuket's total sea area.

"The PPFO created these areas in order to protect marine life. Even though there aren't many animals living in the protected areas, they are rich in seaweed and corals, which are great places for fish and other creatures to lay their eggs," he said.

However, the sea gypsies are struggling to avoid fishing in the protection zones.

"I remember why these areas became preservation areas. Back in 1969 the Danish government wanted to give the PPFO the funding to establish a marine research center, but they couldn't give them the funding unless the research center was in a 'preservation area', so they had to create them," said Mr Sutha.

"I think these areas should never have been turned into protected areas – there isn't a lot of seaweed or coral there," Mr Sutha said.

"Even the the marine creatures are too small to catch and sell at the market for a good price, but we have to go there because everywhere else commercial fishing boats catch all the fish before us.

"We try to stay away from the preservation areas but the other areas are mostly owned by fancy hotels and resorts along the beach," Mr Sutha said.

"I know that beaches are supposed to belong to the public, but many times when we have been collecting shellfish close to a hotel, security guards have chased us away or threatened us with their guns. I don't know where we are supposed to earn our living," Mr Sutha said.

Sarod Pramongkit, a representative of a Koh Sireh sea gypsy community, told a similar tale of being chased off beaches near luxury hotels.

"I wish the government would allow us to fish in the preserved areas. We never use any equipment that can damage coral," he said.

The idea of issuing special identification cards for sea gypsies – which had been mooted in the past – was once again brought to the meeting. Proponents hoped that the identification cards would protect sea gypsies from being arrested while fishing in preservation areas.

"This is against the law," Mr Kawi of the PPFO says, referring to the ID card proposal.

"It's unfair to others if we allow sea gypsies to fish in preserved areas. Everyone should have the same rights and a special identification card is not the right solution," he said.

Mr Kawi emphasized that the best way to resolve the situation was to give equal rights to everyone. He suggested that sea gypsy communities list the types of fishing equipment they intend to use in an effort to create a system of permits allowing anyone to fish in protected areas, as long as they used proper equipment.

"As long as none of [the equipment] is illegal, I can write a letter to the Phuket Governor, who can then take the issue to the Department of Fisheries in Bangkok to get approval for everyone to fish and earn a living in the preserved areas," Mr Kawi said.

"Nobody wants to break the law – we just don't have any other option. If there is any way we can make it right, I'll be happy to follow the law," said Mr Sutha.

"I used to think it would be easier if they just repealed the laws that protected the areas along the coast, but I realized we would lose more than we would gain by doing that. If they were 'free zones', everyone would come to make use of the resources, then we would have less opportunity to find fish – commercial fishing boats can catch a lot more than we do.

"I think controlling the type of equipment is the best solution to the issue, but we have to make sure that non-sea gypsy people or commercial fishing boats who want to fish in this area have to use the exact same tools we use," he added.

Mr Sarod of the Koh Sireh sea gypsy community is more skeptical.

"It's not fair to allow everyone to be able to fish in the protected areas, even with equipment requirements. This means that more people will be using the only resource we have," he said.

Mr Kawi said that this is just a short-term solution and that he hopes to see more "artificial coral" built to create new fishing areas.

"The PPFO has obtained approval for a three-million-baht budget to build 500 artificial coral areas under the sea about 1.3 kilometers off Bon Island," he said.

"If we can provide sea gypsies with more places to fish, they will not invade preserved areas. We hope to provide one artificial coral reef for each sea gypsy community so they can have a place near the shore to legally make a living," he added.
— Chaiyot Yongcharoenchai
Keep in contact with The Thaiger by following our
Facebook page
.
Journey back to Tham Luang in 'The Cave' – VIDEO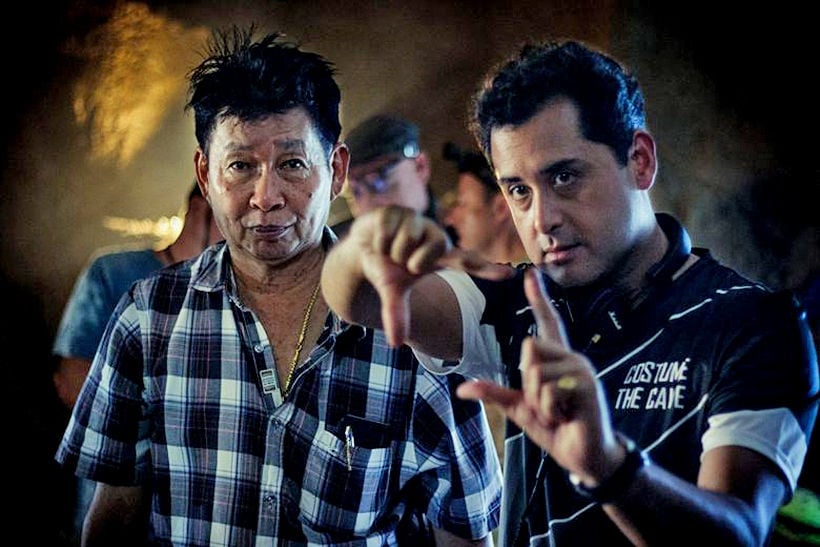 PHOTO: Tom Waller on site during the filming of The Cave – AFP
Determined divers racing against time. Rising waters threatening lives. 12 teenagers and their soccer coach trapped inside for two weeks. A remote cave that most had never heard of.
The stuff of a Hollywood drama, except that it's all true and happened in Chiang Rai last year. Now the first of several re-tellings of the story comes to the big screen in The Cave.
The ordeal in late June and early July last year had barely ended when filmmakers began their own race to get the nail-biting drama onto cinema screens. The first of those projects premiered at the start of October, when director Tom Waller's The Cave showed at the Busan Film Festival in South Korea.
The film was shot over three months earlier this year and has been in post-production since then. The 45 year old Thai-British filmmaker says the epic tale of the Wild Boars (Mu Pa) football team was a story he simply had to tell.
"I took the view that this was going to be a story about the people we didn't know about, about the cave divers who came all the way from across the planet."
The 13 young men entered the Tham Luang cave complex after soccer practice and were quickly trapped inside by rising floodwater. The boys were forced to spend nine nights lost in the cave, whilst Navy Seal and other diver searched frantically, before they were spotted by a British diver.
It would take another eight days before they were all safe, against all odds, in a risky mission.
Waller was visiting his father in Ireland when he saw television news accounts of the drama.
"I thought this would be an amazing story to tell on screen."
But putting the parts together after their dramatic rescue proved to be a challenge. Thailand's government, led by the military NCPO, became very protective of the story, barring unauthorised access to the Mu Pa team or their parents. Waller often feared his production might be shut down.
His good fortune was that the events at the Tham Luang cave in Chiang Rai province had multiple angles and interesting characters. Especially compelling were the stories of the rescuers, particularly the expert divers who rallied from around the world. He decided to make a film "about the volunteer spirit of the rescue."
Other people proposed telling the story from the point of view of the boys, and Netflix nailed down those rights in a deal brokered by the Thai government.
"I took the view that this was going to be a story about the people we didn't know about, about the cave divers who came all the way from across the planet. They literally dropped everything to go and help, and I just felt that that was more of an exciting story to tell, to find out how these boys were brought out and what they did to get them out."
Waller even had more than a dozen key rescue personnel play themselves.
Waller said they were natural actors, blending in almost seamlessly with the professionals around them, and helped by the accuracy of the settings and the production's close attention to detail.
"What you are really doing is asking them to remember what they did and to show us what they were doing and what they were feeling like at the time. That was really very emotional for some of them because it was absolutely real."
Waller says his film is likely to have a visceral effect on some viewers, evoking a measure of claustrophobia.
"It's a sort of immersive experience with the sound of the environment, you know, the fact that is very dark and murky, that the water is not clear."
"In Hollywood films, when they do underwater scenes, everything is crystal clear. But in this film it's murky and I think that's the big difference. This film lends itself to being more of a realistic portrayal of what happened."
Some scenes were filmed on location at the entrance to the actual Tham Luang cave, but most of the action was shot elsewhere.
"We filmed in real water caves that were flooded, all year-round. It is very authentic in terms of real caves, real flooded tunnels, real divers and real creepy-crawlies in there. So it was no mean feat trying to get a crew to go and film in these caves."
The Cave goes on general release in Thailand on November 28.
ORIGINAL ARTICE: Associated Press | Time.com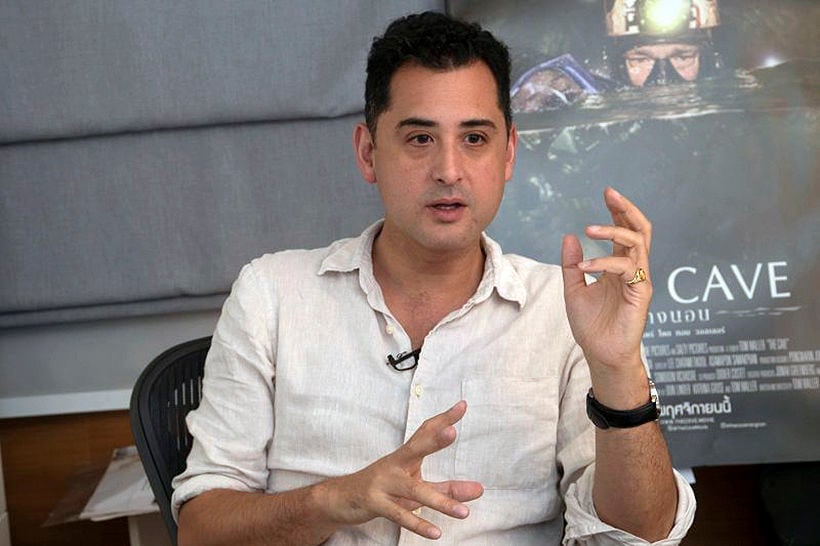 PHOTO: Tom Waller – Associated Press/Sakchai Lalit
Keep in contact with The Thaiger by following our
Facebook page
.
Tale of two cities – Hua Hin vs Pattaya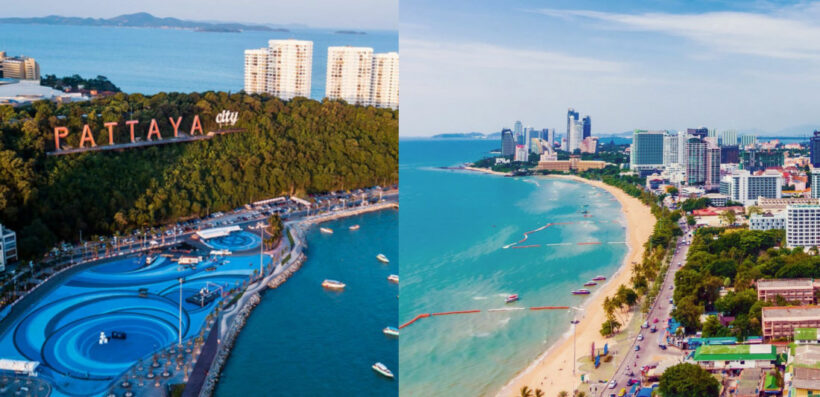 by Kornrawee Panyasuppakun
Property buyers looking to buy a seaside villa or condo in a coastal town in Thailand, relatively close to Bangkok, confront one question – should I buy a property in Hua Hin or Pattaya?
And rightly so, because these two choices have similar aspects. Both have kilometres of coastline, good beaches, and are just a couple of hours away from Bangkok – 3 hours for Hua Hin and 2 hours for Pattaya. They also have good year-round weather, large expat populations, and are some of the best places in Asia for water-sports and playing golf.
Yet, each place suits buyers with different lifestyles and goals.
Town or City?
If you want a laid-back beach town feel, Hua Hin is the right choice. If you like to live in the middle of action, with a greater range of things to do, Pattaya is the winner. It is simply more established and has a longer development history in terms of western-style villas and condominiums.
Hua Hin has a population of around 100,000 plus a growing tourist reputation. The lazy town offers long, sandy beaches that run 5 kilometers along the coast and are not fully obstructed by high-story condos on the beach, due to building regulations.
Hua Hin may not be the best place to swim in Thailand, as the sea-bed is a bit rocky, but it makes up for it with clean beaches, dedicated beach cleanup groups consisting of locals and expats, and regulations which, among others, restrict commercial tourism on the beaches on Wednesdays, and town planning which controls high-rise along the coast.
Hua Hin also suits those in search of a peaceful getaway because the town does not have a seedy reputation and is far from any industrial enterprises. This is thanks to a strong tradition of royal patronage and residence in the district, such as Mrigadayavan Palace and Klai Kangwon Palace, the latter is owned by the late King Bhumibol Adulyadej (Rama IX).
Nevertheless, the town has a growing reputation for restaurants and new attractions for tourists; it is a favourite resort town for Thai upper-class and Bangkokians who like to go to Hua Hin on weekends.
Check out the largest selection of properties in both towns HERE.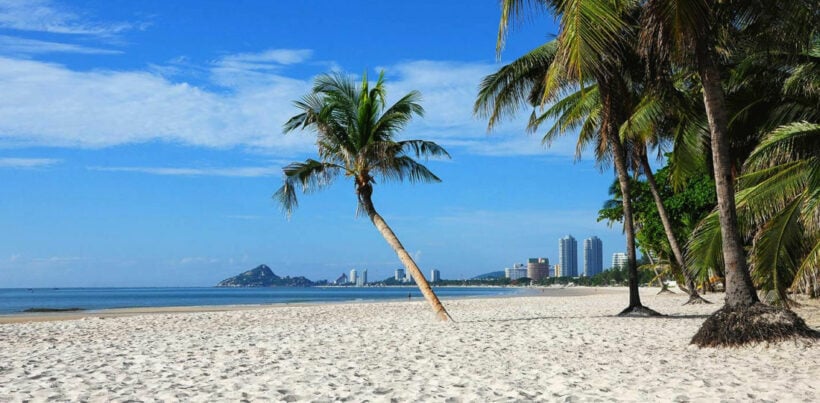 Pristine beaches of Hua Hin, larger and longer than Pattaya
Pattaya, on the other hand, is home to almost 400,000 people, plus plenty of international tourists. The city is highly developed and has a higher density of high-rise buildings along the coastline and many great sea-view villas on the hillside, both of which are harder to find in Hua Hin due to the tighter building regulations.
During the day, the beaches in Pattaya attract sun worshippers and all different types of water sports, from kitesurfing to waterskiing. At night, Pattaya's Walking Street is an international adult entertainment playground. But that doesn't mean you can't find a quiet place in Pattaya. There are less-popular beaches like Jomtien Beach and nearby islands like Koh Larn and Koh Samet.
Pattaya is part of Thailand's eastern seaboard, the Eastern Economic Corridor, meaning the city is situated close to Thailand's main industrial facilities and sea ports, as well as airports like Suvarnabhumi Airport, which is around an hour and a half away by car. It also has its own airport about 40 minutes from town called U-tapao International Airport.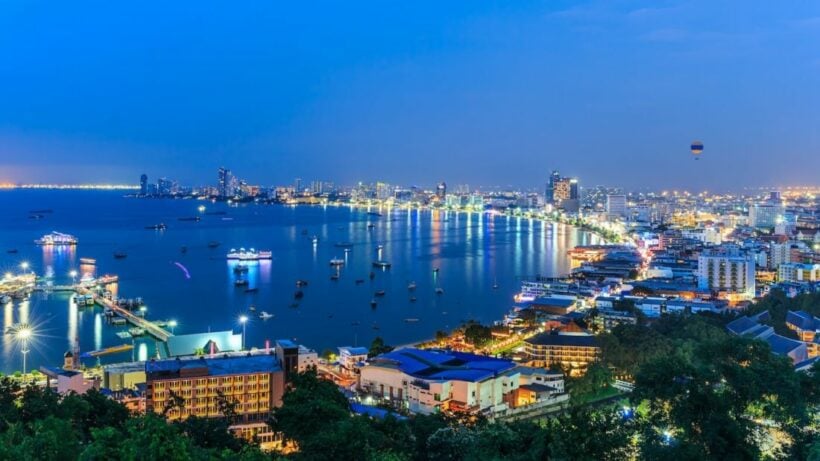 The famous sweeping coastline of Pattaya, a haven for nightlife and entertainment options
Holiday home, Retirement, or Investment?
Hua Hin and Pattaya are both highly qualified for holiday home buyers with an impressive choice of villas and condominiums. But Hua Hin is better known for retirement and Pattaya for investment.
Hua Hin has been named as one of the best retirement locations in Asia by countless surveys. It offers a high standard of living, great golf courses, first-class restaurants, quality medical care, close proximity to Bangkok, as well as "the big foreign community that connects through reading clubs, festivals, cycling clubs, soccer leagues, wine tastings and darts tournaments," wrote the US News and World Report in 2019.
Foreign property buyers are those who buy a holiday home or a retirement residence. Most are from western countries, especially those from Scandinavia, Germany and England. Many buy in Hua Hin to spend the winter with their families, rent out when they are away, and eventually live there when they retire. Also, a hi-speed railway will soon be built to link Hua Hin with Bangkok, which will make travelling to Bangkok airports even more convenient. It already has a multi-lane highway, train and bus services.
Pattaya is a popular choice for investment. It has a large and growing tourism industry, with over 12 million tourists last year, as well as a healthy mix of nationalities, including Israeli, Russian, European, Indian, and Chinese, making its tourism less susceptible to change from a single demographic.
Additionally, Pattaya is part of the Eastern Economic Corridor, the Eastern seaboard that targets high-tech industries and attracts foreign direct investments, especially from Japan. It is also linked to Bangkok airports, sea ports, and main industrial facilities in Chon Buri and Rayong by the upcoming hi-speed rail. Plus, the city itself is positioned as an international medical hub.
Overall, a stream of foreign tourists and business travellers means a steady source of income for investors. Those who buy the property to rent out short-term and long-term can enjoy a realistic Return On Investment of about 7 – 8% year. In Pattaya you can already see investors from Western countries as well as Asian countries, from China to India and the Middle East.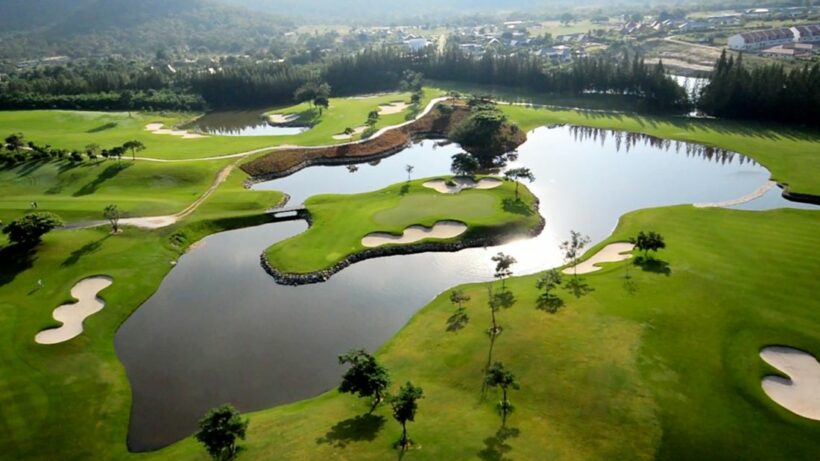 There is an excellent selection of international-standard golf courses in Hua Hin
Lifestyle
Both offer a cool selection of eateries, shopping malls, and activities, but if compared by the variety of choices, Pattaya is the hands down winner.
That isn't to say that Hua Hin doesn't have plenty of options. Most buyers in Hua Hin like to play golf and enjoy the outdoor spaces – town is one of the best golfing destinations in Asia. There are also first-class Thai and international restaurants, a huge eco-friendly water park, and several night markets that sell fresh seafood and local crafts, like Hua Hin Night Market and Cicada Market.
Furthermore, Hua Hin has stylish shopping malls like Blueport and Market Village, the latter of which offers so-called "you hunt, we cook" options. You can also try the new Latitude Wines at a vineyard in Hua Hin or head to a cool bar that offers familiar labels.
Pattaya may be infamous for its red light areas and nightlife – go-go bars, beer bars and nightclubs – but that is not the only side of Pattaya. In Pattaya you can find quality lifestyle with a burgeoning choice of family options and entertainments.
It offers a range of Thai and international cuisines, from award-winning restaurants with amazing views, sky bars, and Italian wine bars, to family-run restaurants, 100% vegan places, and local seafood. It also has a range of options to entertain people with different budgets.
Pattaya also offers lots of chic shopping centees like Terminal 21 Pattaya, Central Festival Pattaya Beach and Central Marina. There are also lots of family-friendly choices like water parks and museums, in addition to a wide range of extreme sports, such as Muay Thai, kitesurfing, waterskiing, and skydiving. You can also go snorkeling or plan a day trip to nearby islands like Koh Larn and Koh Samet.
In both cities, you can expect to find theatres with international blockbusters and supermarkets that sell western products. And there is a daily ferry between Hua Hin and Pattaya (during high season).
International Education
Expat families can find an excellent international school in both cities.
Hua Hin has a couple of options for expat families. With quality education and great sporting activities, Hua Hin International School, for instance, is one of the choices that follows the national British curriculum and the IB program, and recruits teachers from the UK. There are also several bilingual programs available.
Expats in Pattaya have more choice when it comes to international education. There are several internationally-recognised international schools with excellent facilities like hi-tech campus, drama studios, and a big theatre. Some of the best schools are St Andrews International School, Regents International School, and Tara Pattana International School.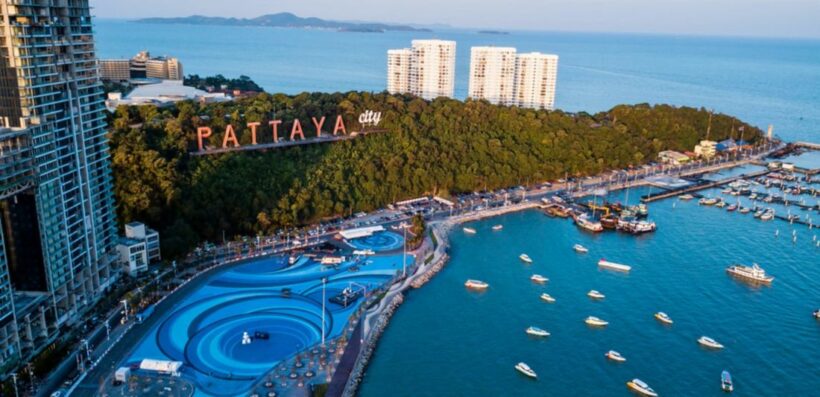 Health Care
Hua Hin and Pattaya offer high-quality hospitals that cover basic and advanced medical care and cater to patients with different budgets.
Top private hospitals in Hua Hin are, for instance, Sao Paulo Hospital which caters to lower budgets, and Bangkok Hospital Hua Hin which is part of the renowned BDMS group. These hospitals both offer quality specialist care including cardiology, urology, and orthopaedics, to name a few, and English is widely spoken.
For Pattaya, top hospitals are Bangkok Hospital Pattaya, Pattaya International Hospital, and Pattaya Memorial Hospital, with Bangkok Hospital Pattaya charging the highest fees. Also, as Pattaya is recognised as one of the best medical tourism centres in Thailand, and the region, there are tons of tourists flying to the city for medical care, and hospitals employ staff who are fluent in various languages.
Bangkok Hospital Pattaya, for instance, has interpreters in more than 20 languages, including Arabic, Chinese, French, German, Russian, Spanish, and Swedish.
The bottom line … It depends on your goals and lifestyle. If you want a peaceful hideaway with grand royal history, or are a golf enthusiast, you may choose a property in Hua Hin. If you want to a city that is always switched on, close to investment areas and airports, and has lots of leading international schools and shopping malls, you may like Pattaya more.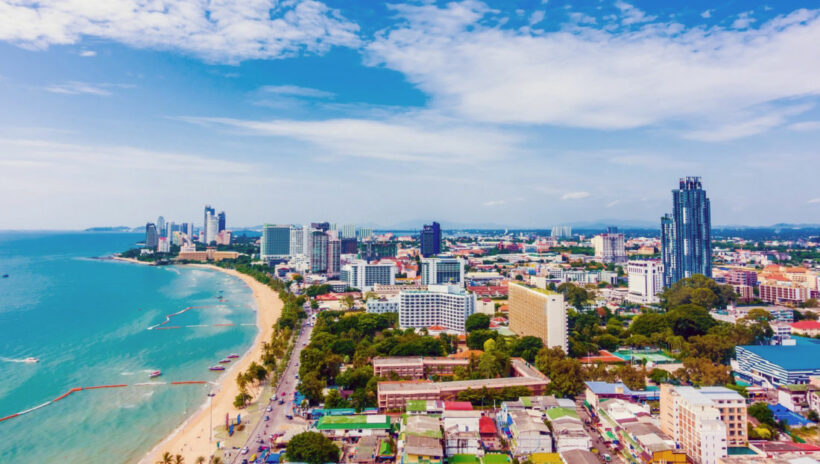 Keep in contact with The Thaiger by following our
Facebook page
.
Top 10 spas and massages in Phuket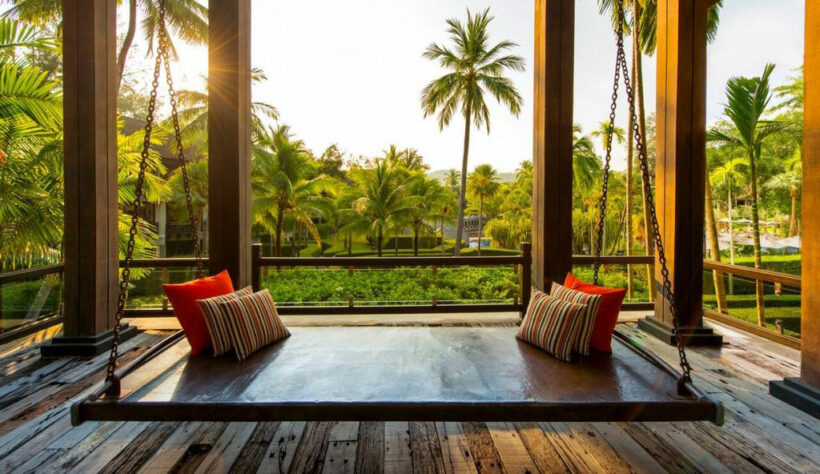 One of the best things about living in Asia, and in particular Thailand, is the abundance of fabulous places to have spa treatments. From the true local experience on the beach, to the ultra chic five star luxury treatments here is, in no particular order, our Top Ten Phuket Spa Experiences.
1. Let's Relax (Boat Lagoon)

Let's Relax's latest addition to their Thailand spa portfolio is located in the residential area of Boat Lagoon in Koh Kaew and by accounts a winner in our books! It is a beautiful space with the natural light also bringing a sense of calm as you walk down the long entrance. With multiple treatment rooms as well as a well appointed foot massage space that can accommodate a large gaggle of girls it is has become popular very quickly with the local ladies.
Being brand new it also is a treat to sit in lush white comfy chairs while having your foot massage and a chat to your girlfriend or boyfriend. Priced on the lower end of the market, but higher than the local spas on the side of the street and well worth the extra baht, Let's Relax is fabulous new addition to the flooded spa market.

2. Oasis Spa (Kamala)

Oasis Spa Group has a few little gems around the island including one in Laguna and also another great one on the beach road in Kamala, however this hidden sanctuary located on the back roads in Kamala is our pick of the bunch. From the main street you would never know there is a tranquil ten treatment room spa and delightful pool setting behind the single wooden door. With an impressive and consistent list of treatments, positioned above the street-side prices but below the five star offerings, Oasis Spa is wonderful place to pamper away your day.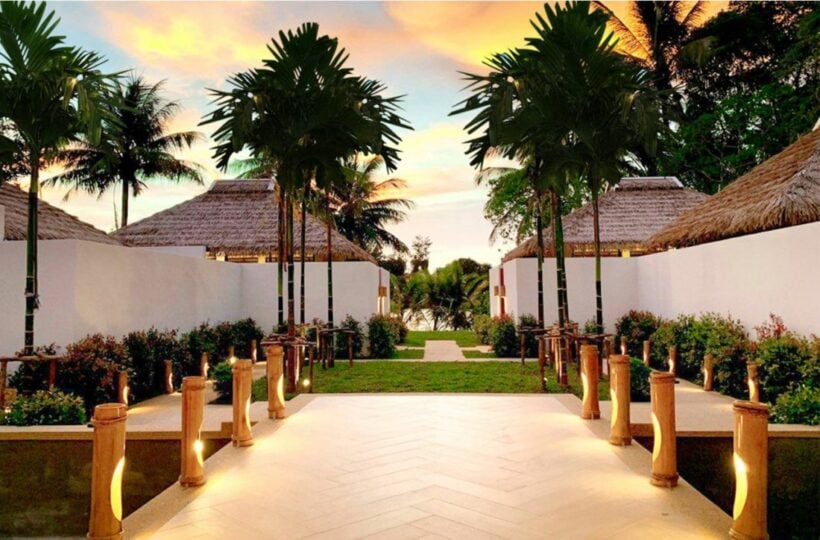 3. Kata Rocks Infinite Luxury Spa
Winning the World's Luxury Spa Awards for 2015, 2016 and 2017 we couldn't put together a top ten spa list without including the very modern and chic Infinite Luxury Spa at Kata Rocks.
The spa blends the beyond organic philosophy of ILA spa products with its own "Me Time" philosophy, the latest spa massage technology in its eight luxury treatment rooms and suites, each designed around specific treatments. This includes two rooms for couples complete with luxurious his and her bathtubs, a chromotherapy room for coloured light therapy, a waterbed room equipped with Italian-made Iso-Benessere, a water massage bed for aiding spinal integration, a sleeping pod room with Metronap rest pod, traditional Thai spa massage treatment room, consultation and treatment room, pedicure and manicure treatment room and a contemporary tropical relaxation patio for after treatment chill down.
Positioned in the very high end of the spa market, Infinite Luxury Spa is an impressive and fabulous space to spend your day, worth every baht!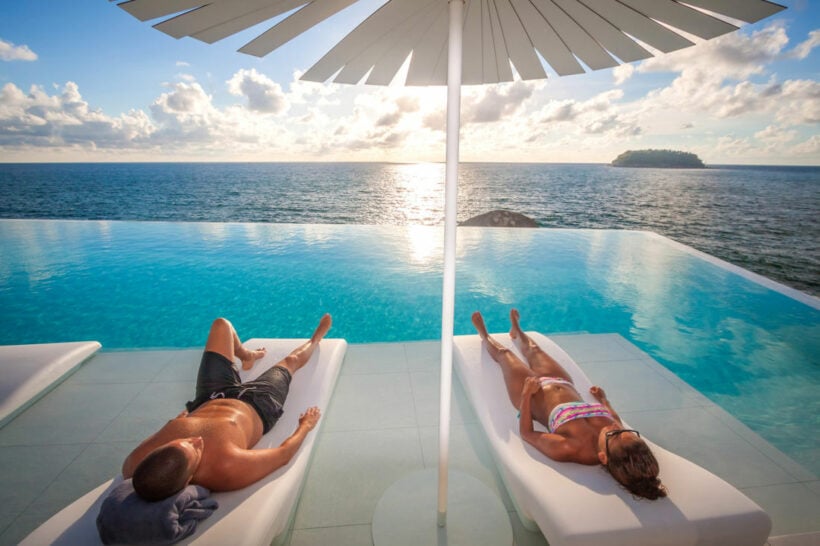 4. 4th Floor Central Festival Phuket

'It's not a very accurate location' I hear you say, but I love this spa, and whenever I am at Central I always try and allow at least 60 minutes extra to escape the crowds and enjoy a foot massage while reading my book. Located on the top floor of Central on the left hand side as you head towards Central Department Store (sort of above McDonalds), it's hard to miss it but the staff are always outside greeting you and encouraging you to come in and take a load off. Priced perfectly at 300 baht for a 60 minute foot massage (plus tip of course), the experience is consistent and friendly. Full body treatments are also available behind the traditional curtain.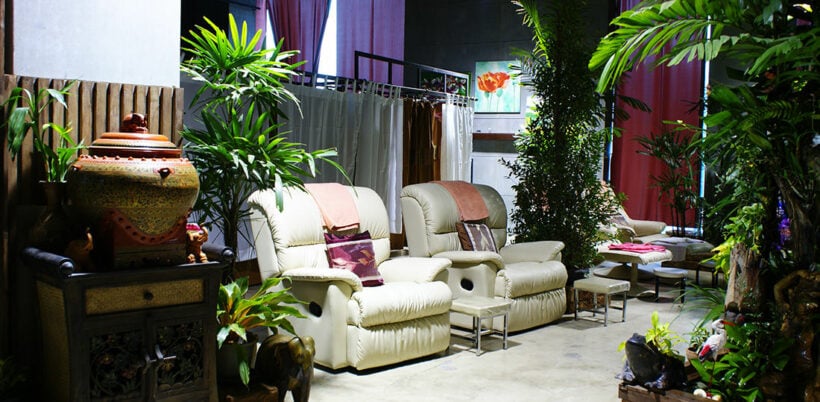 5. Amatara Wellness Resort

Located at the very South of Phuket at Cape Panwa, Amatara Wellness Resort as the names suggests has an incredible spa perched high on the cliffs overlooking the Andaman Sea. One of the largest spas in Asia with over 2000 square metres of dedicated spa bliss, paralleled by the extensive menu and holistic and wellness packages, it really is an experience not to be missed.
Amatara has also just opened a new spa wellness experience, the exquisitely designed Thai Hammam brings together traditional Turkish and Moroccan bathing practices with the wisdom and gentleness of Thai spa therapies. Soak your worries away.
Make a whole day of it, indulge in their fabulous Sunday Brunch and then move through to the spa! Perfection!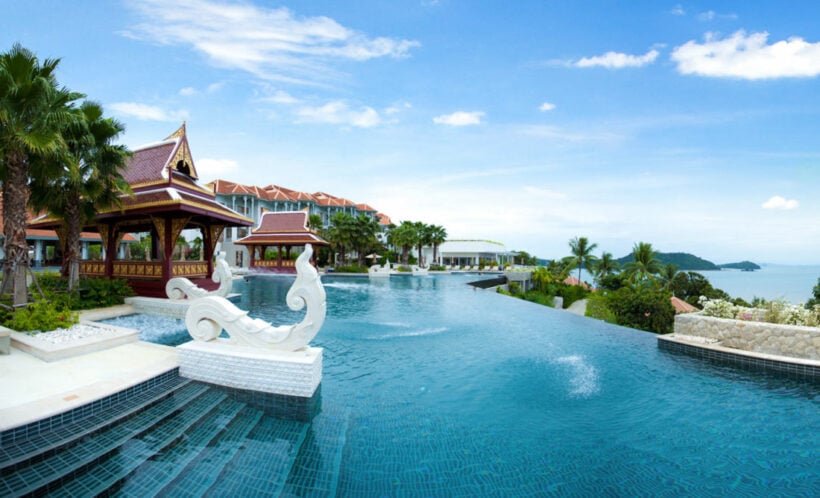 6. Banyan Tree Spa

A market leader for many years not only in Phuket but around the world, Banyan Tree is has provided us with professional and impressive spas for decades. Banyan Tree Phuket Spa with it's impressive 24 treatment rooms hidden in lush surroundings within the gardens of the resort has well trained and dedicated therapist giving you the ultimate in spa experiences. The attention to detail which is synonymous with the spa philosophy of the group together with the consistency and surroundings makes it one of the best spa experiences certainly in Thailand. I can highly recommend the three hour Royal Banyan package, which included a cucumber and coriander scrub, Banyan Tree herbal pouch massage, jade chilled facial and flower bath. My girlfriends and I indulged just last week, and it was such a treat.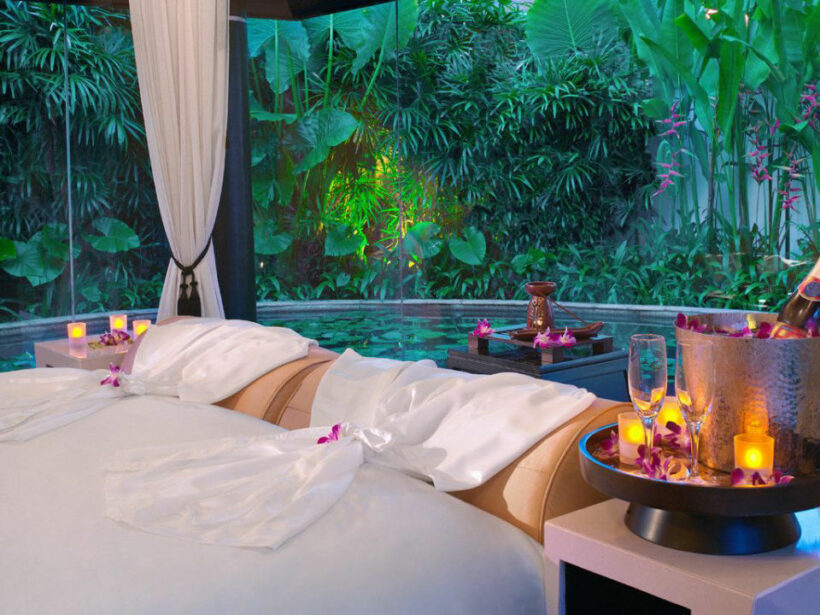 7. Beach Shack next to Dream Beach Club on Layan Beach

We are creatures of habit in our house, we have been in Phuket for ten years now and when we like something we tend to go back regularly. Sunday's are for chilling and we tend to either head to brunch or down to the local beach at Layan, away from the larger more commercial eateries and clubs we like eating and massaging with the locals.
Purely bang for your buck, the full body oil massages on the beach for 300 – 400 baht are an absolute must. I would love to say head to "Phung's Massage Shack" next to Dream Beach Club but to be honest it doesn't have a name but that doesn't mean it shouldn't get a mention and make our list. Head to the top end of Layan and facing the beach next to Dream go left, it's worth the trip!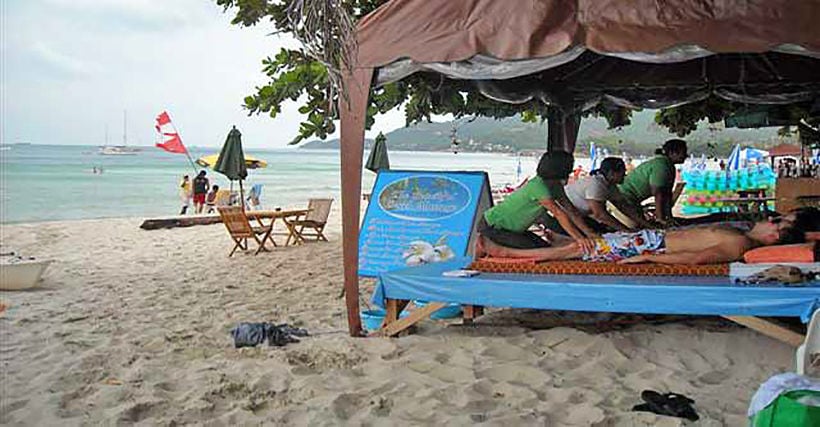 8. JW Marriott Mai Khao Spa

Mandara Spa at JW Marriott Phuket Resort & Spa is an oasis within an oasis, the resort itself sits on 27 acres of lush gardens and beach side bliss just North of the airport in Mai Khao. Within it's tropical gardens is the king pin for many years on the island Mandara Spa, its an icon in the local spa industry.
Tranquil, exotic and extremely relaxing, the Mandara Spa at JW Marriott Phuket Resort & Spa features a full service beauty salon, separate steam rooms for male and female guests, five double luxurious spa suites and eleven double deluxe rooms. The spa suites are well fitted out, with some enjoying outdoor bathrooms, but the most impressive aspect of the spa itself is the staff. They are incredibly well trained, and efficient in their craft, professional yet approachable and deliver every time.
The JW Marriott Wellness Retreat (bi yearly) is a highlight every year in my calendar, hosted and facilitated by Linda and her team, as well as the best wellness experts on the island, including Hayden Rhodes, Kim White and Andrew Stanndard. The four day program has informative workshops, wellness consultations, spa treatments, healthy meals, hands on activities, yoga, cooking classes and so much more.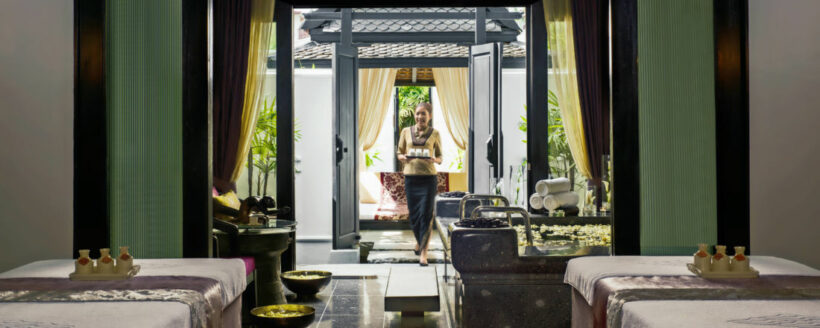 9. Atmanjai Wellness Retreat

Located on the South of the island just past Chalong circle Atmanjai Wellness Retreat at Friendship Beach offers a friendly and relaxed haven where guests can participate in detox, yoga or wellness programs that help restore your vitality, happiness and health. The cute bungalows located around the pool and on the beach side are a perfect excuse to indulge just a little further and stay on location while doing your retreats.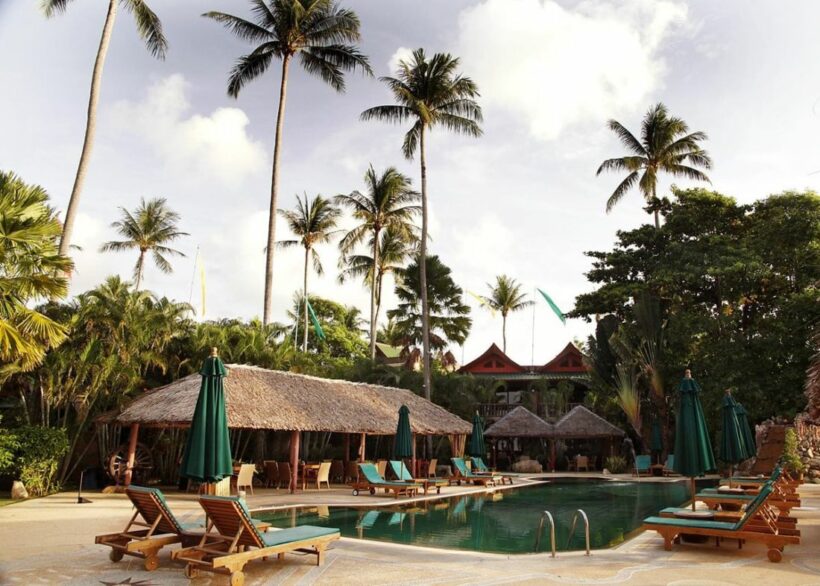 10. Coqoon Spa at The Slate

Unlike anything else in Phuket, Coqoon Spa at The Slate is tranquil and idyllic space nestled in the lush green trees of the resort. It has a "cocoon" tree house made from bamboo and other natural products located high off the ground in true robinson crusoe style. Being in the trees is a unique experience matched perfectly with the highly trained and efficient practitioners. Subtle touches throughout the spa together with the extensive well thought out menu make Coqoon a special occasion treat.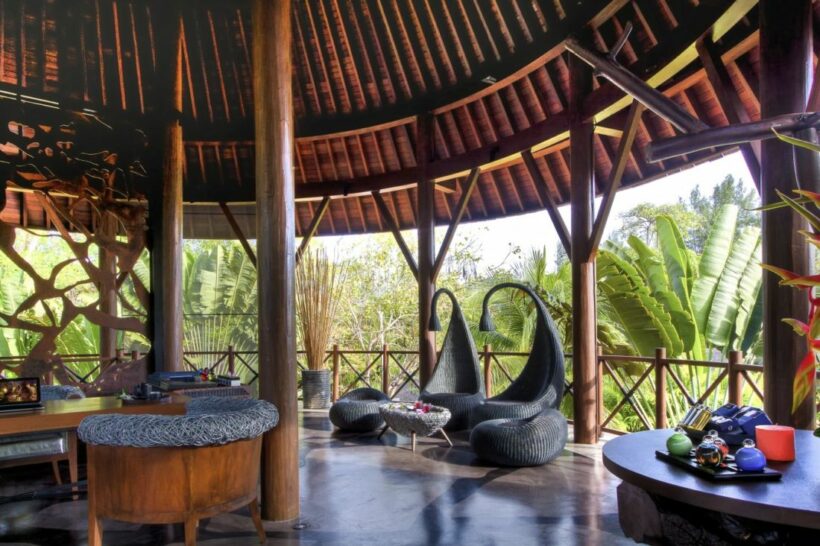 Keep in contact with The Thaiger by following our
Facebook page
.