Phuket's sea gypsies gain ground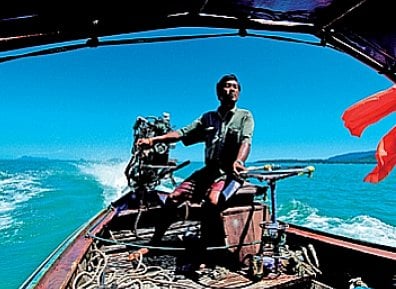 PHUKET: After decades of struggle, Phuket's sea gypsies may soon be allowed back into their ancestral fishing waters.

Sea gypsy communities for centuries lived freely off the abundant sea life in Andaman waters with an unyielding respect for the source of their nourishment and an innate commitment to environmental preservation.

With industrial development, tourism growth, the creation of new technologies and the arrival of big-business fishing, calls for regulation and environmental activism led to the creation of "marine preservation zones".

The sea gypsies seem to have lost out on all sides of the environmental debate and have seen their fishing territory gobbled up by commercial fishermen, luxury hotels and the government, which has designated protected areas off-limits to fishing.

In recent years, the sea gypsies of Phuket have been fighting to regain their rights to fish in traditional areas, with some tangible results now on the horizon.

A meeting last month, chaired by Phuket Deputy Governor Chaiwat Taephee, was held to seek a sustainable solution to what all sides have recognized as a real threat to a traditional way of life.

In 1969, The Phuket Provincial Fisheries Office (PPFO) designated almost 30,000 rai of Phuket's coastal and island areas as marine preservation zones.

All collection or harvesting of sea life in those areas – unless directly involved with academic research – became illegal. As the preservation areas are mostly along the coastline, this created a problem for locals who made their living by fishing near their communities.

"We have been fishing in these areas for more than 100 years – this is how we earn our living. We don't use any illegal equipment, so I don't understand why we have to change our entire way of life because of these laws," says Sutha Prathep Na Thalang, a local representative of the traditional fishing group.

"Our boats are very small, so we can't fish too far from shore. Even a small wave can capsize them, so we have to fish close to the coast – we have no choice," he said.

Kawi Saranakhom-kun, of the PPFO, said the protected area is about five per cent of Phuket's total sea area.

"The PPFO created these areas in order to protect marine life. Even though there aren't many animals living in the protected areas, they are rich in seaweed and corals, which are great places for fish and other creatures to lay their eggs," he said.

However, the sea gypsies are struggling to avoid fishing in the protection zones.

"I remember why these areas became preservation areas. Back in 1969 the Danish government wanted to give the PPFO the funding to establish a marine research center, but they couldn't give them the funding unless the research center was in a 'preservation area', so they had to create them," said Mr Sutha.

"I think these areas should never have been turned into protected areas – there isn't a lot of seaweed or coral there," Mr Sutha said.

"Even the the marine creatures are too small to catch and sell at the market for a good price, but we have to go there because everywhere else commercial fishing boats catch all the fish before us.

"We try to stay away from the preservation areas but the other areas are mostly owned by fancy hotels and resorts along the beach," Mr Sutha said.

"I know that beaches are supposed to belong to the public, but many times when we have been collecting shellfish close to a hotel, security guards have chased us away or threatened us with their guns. I don't know where we are supposed to earn our living," Mr Sutha said.

Sarod Pramongkit, a representative of a Koh Sireh sea gypsy community, told a similar tale of being chased off beaches near luxury hotels.

"I wish the government would allow us to fish in the preserved areas. We never use any equipment that can damage coral," he said.

The idea of issuing special identification cards for sea gypsies – which had been mooted in the past – was once again brought to the meeting. Proponents hoped that the identification cards would protect sea gypsies from being arrested while fishing in preservation areas.

"This is against the law," Mr Kawi of the PPFO says, referring to the ID card proposal.

"It's unfair to others if we allow sea gypsies to fish in preserved areas. Everyone should have the same rights and a special identification card is not the right solution," he said.

Mr Kawi emphasized that the best way to resolve the situation was to give equal rights to everyone. He suggested that sea gypsy communities list the types of fishing equipment they intend to use in an effort to create a system of permits allowing anyone to fish in protected areas, as long as they used proper equipment.

"As long as none of [the equipment] is illegal, I can write a letter to the Phuket Governor, who can then take the issue to the Department of Fisheries in Bangkok to get approval for everyone to fish and earn a living in the preserved areas," Mr Kawi said.

"Nobody wants to break the law – we just don't have any other option. If there is any way we can make it right, I'll be happy to follow the law," said Mr Sutha.

"I used to think it would be easier if they just repealed the laws that protected the areas along the coast, but I realized we would lose more than we would gain by doing that. If they were 'free zones', everyone would come to make use of the resources, then we would have less opportunity to find fish – commercial fishing boats can catch a lot more than we do.

"I think controlling the type of equipment is the best solution to the issue, but we have to make sure that non-sea gypsy people or commercial fishing boats who want to fish in this area have to use the exact same tools we use," he added.

Mr Sarod of the Koh Sireh sea gypsy community is more skeptical.

"It's not fair to allow everyone to be able to fish in the protected areas, even with equipment requirements. This means that more people will be using the only resource we have," he said.

Mr Kawi said that this is just a short-term solution and that he hopes to see more "artificial coral" built to create new fishing areas.

"The PPFO has obtained approval for a three-million-baht budget to build 500 artificial coral areas under the sea about 1.3 kilometers off Bon Island," he said.

"If we can provide sea gypsies with more places to fish, they will not invade preserved areas. We hope to provide one artificial coral reef for each sea gypsy community so they can have a place near the shore to legally make a living," he added.
— Chaiyot Yongcharoenchai

Join the conversation and have your say on Thailand news published on The Thaiger.
Thaiger Talk is our new Thaiger Community where you can join the discussion on everything happening in Thailand right now.
Please note that articles are not posted to the forum instantly and can take up to 20 min before being visible. Click for more information and the Thaiger Talk Guidelines.