Thai Life
Phuket Yacht Chefs are Franke-ly brilliant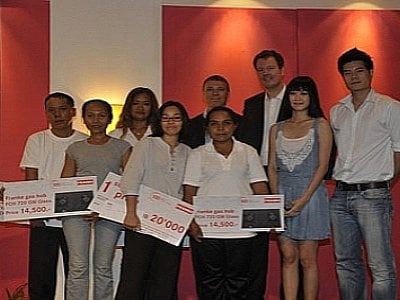 PHUKET: SIX Senses Phuket Raceweek not only enjoyed great competition on the water this year, but also witnessed a great culinary challenge to celebrate the 100th anniversary of kitchen appliance supplier Franke Kitchen Systems.
The 'Franke Yacht Chefs Cooking Challenge', a first for Thailand, was organized in Phuket to test the cooking skills of yacht chefs, with 100,000 baht worth of prizes on offer.
Celebrity Thai Chefs Fang and Faifoo from the well known Thai TV show "Krua INDY" on Channel 5, opened with a cooking demonstration and were on hand to assist with the judging.
Contestants were given a specific dish to prepare with one hundred ingredients then divided among the competing cooks.
At the end of the given time, spoons and whisks were laid down and the dishes were judged and rated. Prizes were presented at an evening cocktail party at Evason Phuket & Bon Island, venue for the Regatta and cooking challenge.
In first place was Mrs Nantida Bosch who won 20,000 baht and a Franke induction hob; second place was Ms Saowapa Phumsombat who received 15,000 baht and a Franke oven; and third place went to Mr Yongyut Yaowarin who received 10,000 bant and a Franke gas hob.