Phuket Travel: Camp like a champ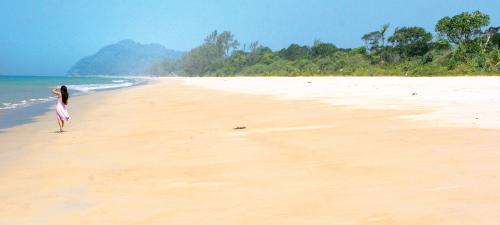 PHUKET: In high season everyone is attempting the paradise-island cliche of beating the crowds. So standing on the beach front of Khao Lampi-Hat Thai Mueang National Park it's time for an umbrella count. Nothing on the right, nothing on the left – that was easy enough. But perhaps it's unfair to compare a pristine national park beach area with the umbrella-forested beaches of Phuket.

It's Saturday, two hours before sunset, a person count was unequivocally more fair. A quick estimate of density per estimated 100 meters of beach for the several kilometers of off-white sand stretching out in both directions left a total of zero. With a friend still back at the tent, the beach was mine – all mine!

Despite the stunning, deserted beach landscape that fades into the horizon unobstructed by anyone and water that runs flat to the horizon with only a few lazy boats to break it's surface, these aren't the park's selling points.

Khao Lampi-Hat Thai Mueang National Park is the weekend getaway for a family camping trip – that's right camping – or just a fresh breath away from Phuket for expats in need.

Broken up into two main sections, the Lam Pi range, which comprises a stretch of mountains composed of mostly igneous rock and Hat Thai Mueang the nearly deserted beach, there is more than enough to explore.


GETTING THERE

Pile into the car, jump on to the motorbike, or take the inter-provincial bus from Terminal 1 towards Khao Lak, and cross the Sarasin Bridge to the mainland. Hold true to Highway 4 when 402 splits off a few kilometers past the bridge and ride it out to Thai Muang – following the signs to KhaoLak.

Anywhere between 30 minutes and an hour later, depending on your observance of speed limits, the road slides into the sleepy little town of Thai Muang and then takes a jagged 90 degree turn toward Khao Lak… let it go. Head straight under the arch. A couple kilometers farther, and you are on the beach front road with nowhere to go but the park.


CAMPING LIKE A PRO

The park's facilities would make a US National Park Service Ranger chirp like a chipmunk if he ever had a chance to visit. The campground, shaded by large sparely distributed pine trees, stretches out across the road from the beach.

Inside the park headquarters, book one of the tents, which easily fit four people, probably making it a 12-person tent by industry standards. Once you've paid, a couple officers come out to set up the tent and hand over your pillow, sleeping bag and bed mat.

Lights (hidden in concrete tree stumps) remain on throughout the night, making it easy for those with small bladders to make it to the bathroom facilities. Though there aren't hot showers, the facilities are spotless and cleaned regularly.


TURTLE TIME

When the kids, husband or friends start to become a bit of a bore and the sounds of the waves lapping against the beach become too much, pile back in the car.

Halfway down the beach road on your left is a must-see side-show treat: the Phang Nga Coastal Fisheries Research and Development Center.

Though clearly a research center, with it's concrete tanks of marine life, Director Suparp Pripanapong has left the gates open for curious tourists and hundreds of school children eager to learn about the marine life just over the other side of the road.

The main draw for most people is the sea turtle conservation project. The project offers visitors the chance to see see baby sea turtles and juveniles, as well as full-grown turtles that are being mated in an attempt to have them use an artificial beach at the facility to lay eggs. Additionally, there are giant clams, a variety of reef fish, a few giant groupers and even a two-meter-long freshwater crocodile.

One of Dr Suparp's many projects is seaweed, which isn't so fascinating to look at, but is rather tasty. The quick growing variety clusters of pinhead sized "berries".


EATING THE SEA GREENS

To get a real taste, however, it's best to leave research center and head back towards Thai Mung. About 200 meters after the road bends away from the beach, there is a small restaurant that is doing some big things with what they are pulling out of the ocean.

I See Seafood Restaurant is hard to miss, as it appears they hired the Easter Bunny to decorate the place. Stripes of pastel pinks, yellows, blues and greens run across the interior of the open air establishment with matching chairs and tables.

The only must-have dish is the seaweed salad, which is the seaweed berry clusters served with the traditional dressings for som tom – warning, don't put all the dressing on top as it will "melt" the seaweed clusters, just add a little at a time.

The whole-fish dishes are well above standard, with the fish in boiling plum and pork sauce, as well as the fish buried in a forest of fresh herbs, both stand out from the crowd. The shrimp and the softshell crab dishes, well… perhaps it's best to leave some tasty surprises for those making the trip.

Back from a late lunch at I See Seafood Restaurant, it's time to drive until the road ends inthe white sands of the 1,000 rai Thung Samet forest (a cajuput forest) to begin a hike, take a trip up to Lampi Waterfall, tackle the 622-meter peak of Yot Khao Khamin or maybe just wander back down to the beach and bask in the glory of having beaten the crowds.


THE TRIP AT A GLANCE

Park fees: Foreigners 100 baht, Thais 20 baht

Food: Cheap: 40 – 150 baht a plate

Tent: 150 baht a night

Sleeping gear (sleeping bag, pillow, bed mat): 60 baht per person

Activities: Beach-going, hiking and bird watching – free

Distance from Phuket: 28 kilometers from Sarasin Bridge

Phone: 076 417206 or 025 62076

Advice: Call ahead to make sure school groups aren't booked for the same weekend if you want to ensure screaming and shrieking is kept at a minimum.


— Isaac Stone Simonelli
Keep in contact with The Thaiger by following our
Facebook page
.
Thais go bananas over freak plants in pursuit of lottery numbers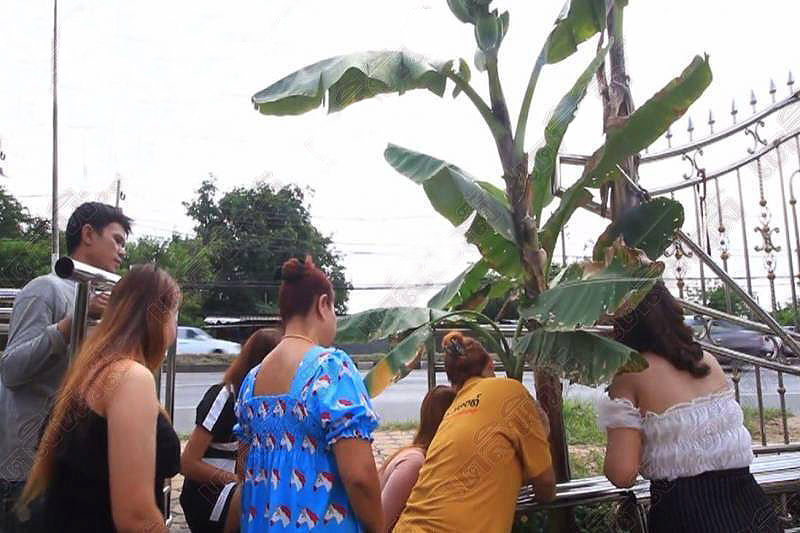 PHOTOS: Daily News
The answers are in the banana leaves.
Thai people LOVE playing the lottery (and gambling generally). In fact they're BANANAS about the twice-monthly lottery (it was drawn again today). Daily News has reported about two unusual banana trees growing in front of a shop in Klong 4 Pathum Thani, just north of Bangkok. The trees did not have blossom and on one plant two bananas were pointing skywards. On another there was a whole bunch pointing up into the sky.
There was a steady stream of the faithful lighting incense, praying and rubbing powder on the trees to get lottery numbers. One group thought '542' was the magic numbers and a path to riches (we're not sure how they came to this conclusion). 53 year old Surachai says the trees had been growing for a few months and that he'd never seen anything like it before.
An unnamed agricultural expert suggested that there was probably something wrong with the banana plants. Trees and malformed animals are a favourite source of inspiration to select numbers for the lottery, as are numbers of houses and vehicles involved in events where people experience "miracle" escapes from danger, or even bizarre accidents.
SOURCE: Daily News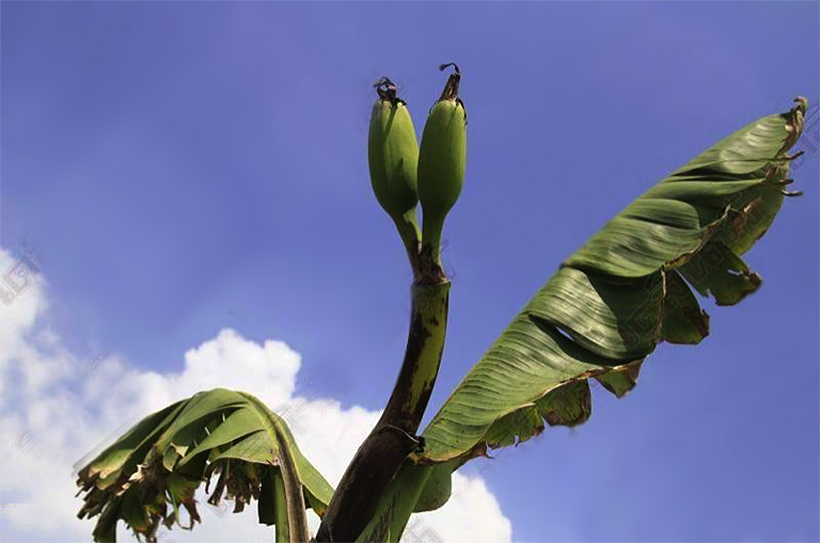 Keep in contact with The Thaiger by following our
Facebook page
.
The K-pop Olympics: performers battle in the K-pop festival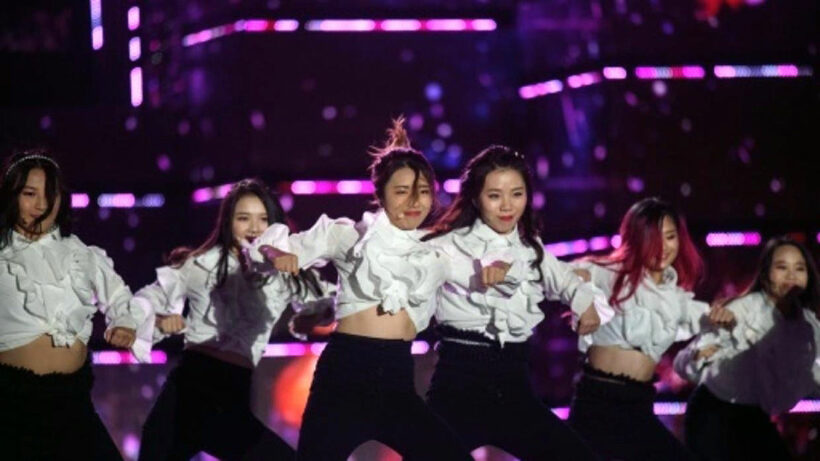 On the streets, in parks and garages, seven Cuban youngsters spent seven months practising K-pop moves to secure a spot on their dream stage: an appearance in South Korea to imitate their idols. 13 final teams from 80 countries are competing in the 2019 event.
At the grandly titled and government-funded Changwon K-pop World Festival contestants from around the globe perform imitation dances or sing cover versions of the genre's biggest hits, with thousands of fans cheering them on.
In terms of global heft, South Korea is overshadowed by its much larger neighbours China and Japan, but the event is a way for Seoul to derive soft power from one of the country's biggest cultural exports. In terms of pop-power, South Korea's K-Pop is now a recognised world-wide music phenomenon with bands like BTS and Blackpink figuring amongst the other big-hitters on the Billboard charts and outselling their western counterparts with millions of albums and downloads.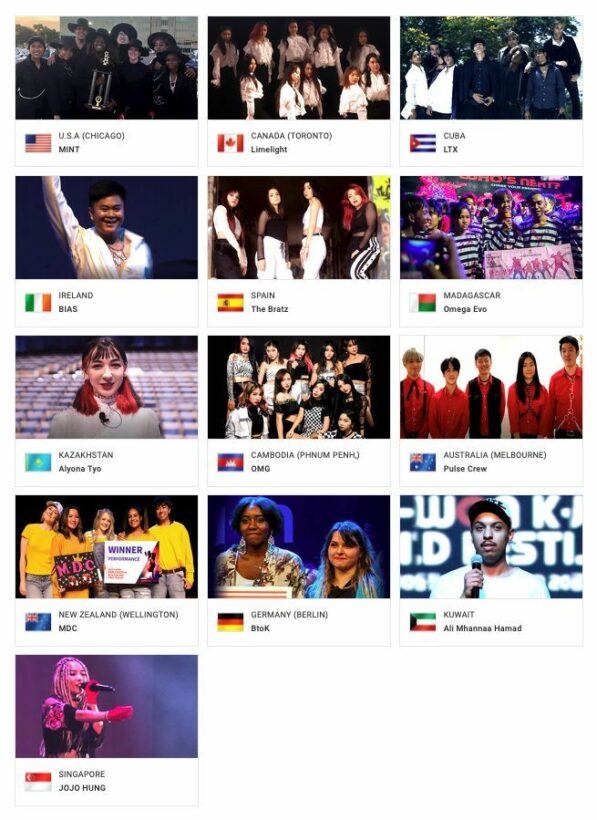 Finalists for this year
Cuba's Communist government is one of North Korea's few remaining allies: when President Miguel Diaz-Canel, successor to the Castro brothers Fidel and Raul, visited Pyongyang last November he was only the third foreign head of state to do so since leader Kim Jong Un inherited power in 2011.
But rather than geopolitics, Havana performer Karel Rodriguez Diaz – whose mannerisms and sleek hairstyle could easily be mistaken for those of a K-pop star – is more motivated by high-tempo beats and superslick dance moves.
"We never had a place with a mirror or a choreographer who could teach us the steps" but they kept on practising, he said.
His team-mate Elio Gonzalez added: "We are so excited to represent not just Cuba but also the whole of Latin America."
Some 6,400 teams from more than 80 countries entered the competition, according to organisers, with 13 groups from places as diverse as Kuwait and Madagascar winning through to the final in Changwon, where they appeared on stage waving their national flags.
"This is like watching the Olympics, a K-pop Olympics," said the event's host Lia, a member of K-pop group ITZY.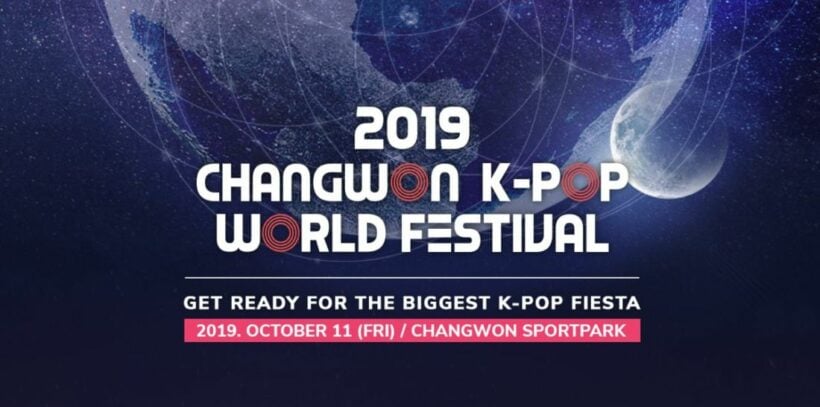 The Korean Wave
K-pop – along with K-drama soap operas – has been one of South Korea's most successful cultural exports to date. A key part of the "Korean Wave" which has swept Asia and beyond in the last 20 years, the K-pop industry is now estimated to be worth $5 billion, with boyband BTS its latest high-profile exponent, becoming the world's most successful band in the past 12 months, selling out stadium concerts within minutes, around the world.
The South Korean government has financed a variety of K-pop themed events in what CedarBough Saeji, a visiting professor at Indiana University Bloomington in the US, said was a form of long-term "soft power diplomacy".
"When you are covering you get to 'become' those idols for the three and a half minutes of the song," she said, adding that performers will go so far as matching their clothing, accessories and hairstyle to their heroes and heroines.
"The cover dancers of today will be diplomats, news reporters, and business leaders in forty years," she went on.
"And hopefully they'll still have a soft spot in their heart for Korea. Korea can't win the world through hard power – armies, economic bullying – but with soft power even a small country like Korea has a chance."
The music also provides an artistic alternative for overseas fans, especially those in developing countries, Saeji added.
"The West, especially the United States, has been so dominant culturally for so long, and having a different cultural pole to look to provides hope that one's own country can experience similar success in the future."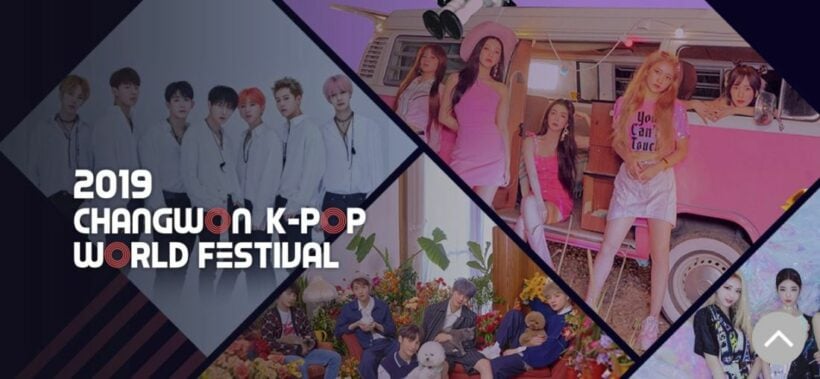 Be who you want
Beneath its glitz and glamour, the K-pop industry is also known for its cutthroat competition, a lack of privacy, online bullying and relentless public pressure to maintain a wholesome image at all times and at any cost.
Sulli, a popular K-pop star and former child actress who had long been the target of abusive online comments was found dead on Monday, with her death sending shockwaves through fans around the world.
"I think a day where (people) would be ashamed of the K-show business will surely come," a South Korean online user wrote in the wake of the star's death.
"I think an industry that makes money by (making people) sing, dance, undergo plastic surgeries and go on a diet to please the gaze of others since they are teenagers should really go bankcrupt."
But for Kenny Pham, a finalist from the US at last week's contest, K-pop's diversity – with some tunes having dark themes, while others were "cute" or sensual – is what gives him a sense of liberation.
"I like how expressive you could be," the 19 year old told AFP last week.
"I feel like it's a place where you could show the passion you have for music, dance or fashion. No one is bashing you for what your likes are."
SOURCE: Agence France-Presse
Keep in contact with The Thaiger by following our
Facebook page
.
Singha grabs a 90% stake in Thailand's Santa Fe restaurant chain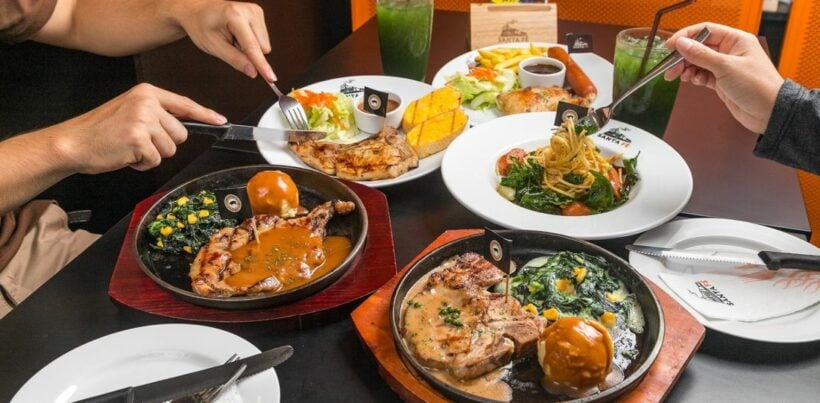 (…or is that a 90% 'steak'?)
PHOTOS: Wongnai
DealStreetAsia, an investor news site reporting on Asian business, confirms that Singha Corporation has purchased a majority stake in the Thai restaurant chain, Santa Fe. It's understood that Singha purchased the shares held by Lakeshore Capital for approximately US$50 million or 1.53 billion baht, giving it a 90% stake in the chain seen in most Thai shopping centres.
The Nation reports that Singha will now oversee over 110 restaurants across Thailand in one of the country's biggest food industry deals of the year. The company first turned its attention to the food industry two years ago, launching Food Factors Company under the Boon Rawd Brewery group.
WongnaiFood Factors aims to make 5 billion baht over 3 years under the stewardship of Piti Bhirombhakdi. The company has an ambitious long-term target of 10 billion baht a year, along with plans to be listed on the stock exchange.
The Santa Fe chain was established in 2003 by Surachai Charn-Anudet's KT Restaurant Company, with the aim of becoming a major competitor to Sizzler, the American chain brought to Thailand by Minor Food.
SOURCE: The Nation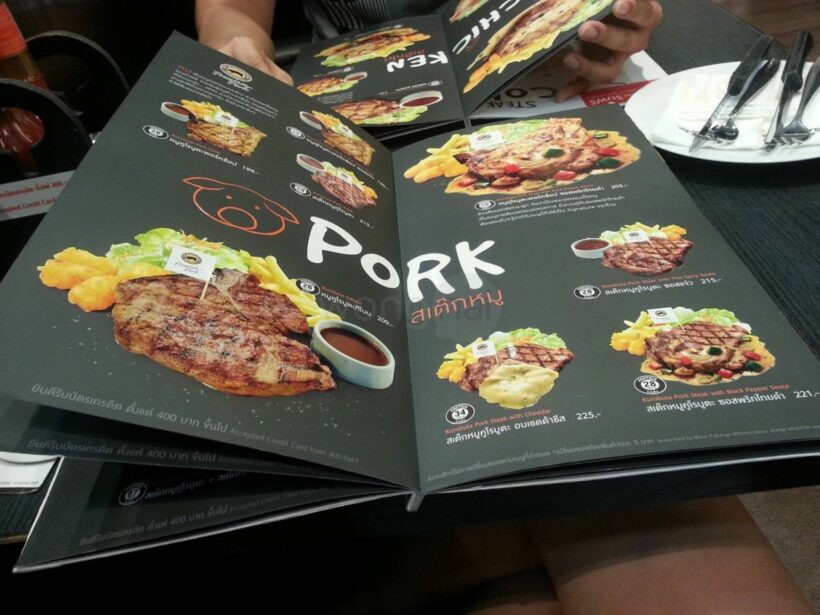 Keep in contact with The Thaiger by following our
Facebook page
.