Phuket paddling challenge: Birds ready to hit the water for 'round-the-island' adventure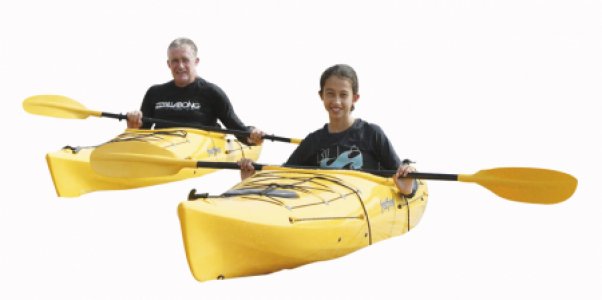 PHUKET: The countdown is on for the father-and-daughter team of Les and Victoria Bird whose epic quest to paddle more than 120 kilometers in a circumnavigation of Phuket starts this weekend.
In the early hours of February 12, Ironman athlete Les, 59, and seven-time triathlon champion Victoria,11, will set out from Yacht Haven marina on the island's northeast coast. They won't return for some time.
Paddling in scorching heat during the day and cloaked in darkness at night, the Birds will have to contend with boat traffic, exhaustion, unpredictable weather and tide changes to make it the whole way around.
But they are determined to finish what has been described as an "inspiration for Phuket", and it could take them five days to finish.
Anil Thadani, CEO of Symphony Capital, has donated his 38-foot vessel Blowfish as safety boat.
Australian mariner Bill O'Leary will helm the boat, looking for potential dangers and pointing the Birds in the right direction.
"When I read in the Phuket Gazette about Victoria's aim of raising awareness for charity, I wanted to help in some way. I admire people who take on tough new challenges. This young girl is an inspiration to us all," said Mr Thadani.
The Birds will also be flanked by two veteran kayaking instructors on their trip: Ian Jones, who runs Exceptional Experiences, and Rob Ford, the Head of Primary at Victoria's school, the British International School.
The Birds announced their ambitious plans in October. Since then, the local community has been quick to lend support and cash donations. They are raising funds for the 100 Friends international foundation and Phuket Sunshine Village.
So far, more than 32,000 baht has been raised and handed to charity representatives. Victoria is intent on raising much more.
First taking up kayaking 22 months ago in Phuket, Victoria completed a British Canoe Union (BCU) training course on the Isle of Wight in the English Channel in summer 2009.
Victoria's paddling progress over the past few months has left dad Les and her instructors baffled.
"It's amazing. She is a natural…she makes me look bad," Les jokes.
The pair will be paddling in 14-foot solo Atlantis kayaks with drinks, food and their bunk-beds all aboard Blowfish.
Les said the paddle will be split into eight sections, a change from the original three.
On the first day, the Birds will set out from Yacht Haven and paddle about 30km to Nai Yang (2). Later that day, after Les has had his daily two-km swim for a "cool-down", they will head for Bang Tao (3) and stay the night on Blowfish.
The following day they plan to make it all the way to Nai Harn (4) in the South. Les said they will have to stop halfway for a quick respite.
This will all be the easy part, says Les, who is more concerned with the unpredictable tidal patterns and speedboat traffic in Chalong Bay and off the coast of Phuket Town's Rassada Pier.
Day three is going to be tough. Paddling from Nai Harn, the duo plan to make it to Friendship Beach (5), then Cape Panwa (6).
On day four, en route to Boat Lagoon (7), "We'll stay away from the coastline to avoid the busy channel," says Les.
The fifth day will see the pair shoot for their final destination, Yacht Haven. This is where Victoria's classmates are expected to throw a welcome home party. All members of the Phuket community are welcome to attend.
Will the Birds reach their dream of paddling the whole way around the island? If there's any father-and-daughter team who can, it's them.
If you would like to bank on the Birds and donate to one of the charities mentioned in this story, then contact Les at T: 081-926 7103 or lesbird10gmail.com.
— Fraser Morton
Keep in contact with The Thaiger by following our
Facebook page
.
Tax on salt content being considered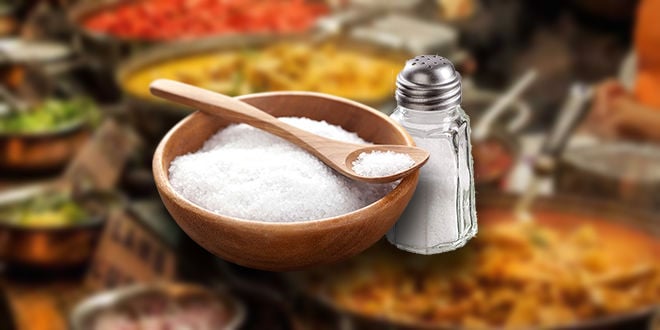 The Excise Department is considering imposing a tax on the salt content of food to encourage food producers to reduce the sodium content of snacks, instant noodles and seasoning cubes.
The director of the Office of Tax Planning said that the department is discussing a limit on the amount of sodium food can contain, in line with the standard set by the World Health Organization (WHO), which is 2,000 milligrams of salt per day.
In reality, Thai people consume an average of 1,000 milligrams per meal, making their daily intake well above WHO guidelines, according to the director.
He said any tax imposed would be at a level which would encourage food producers to reduce the sodium in their processed food without being punitive, adding that the proposal isn't intended to generate more tax revenue, but to help protect the health of consumers. Excessive sodium in the diet can lead to high blood pressure and kidney disease.
Fish sauce, soy sauce and salt would not be taxed.
SOURCE: thaipbsworld.com
Keep in contact with The Thaiger by following our
Facebook page
.
Water shortage warnings in 22 provinces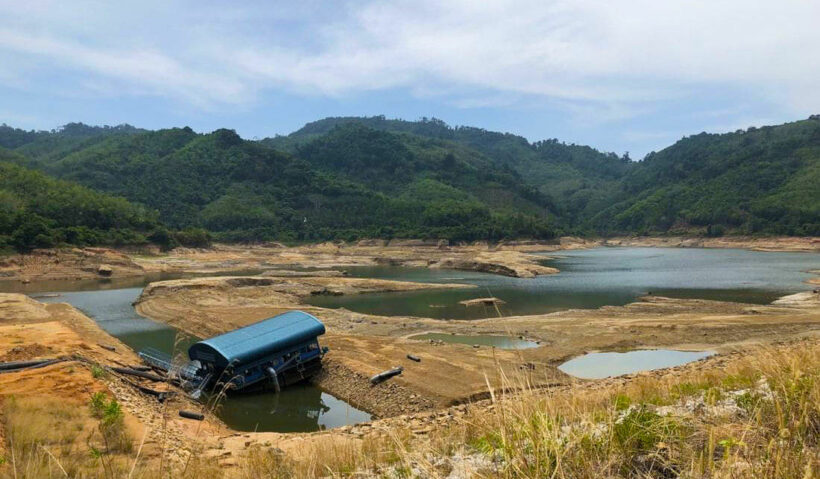 People living in 22 Thai provinces are being warned to prepare for shortages of drinking water during the upcoming dry season, due to start on November 1st.
The warning was issued by the National Water Resources Office, citing low levels in reservoirs, which are the main sources for tap water production waterworks in 22 provinces.
Areas at risk identified by the office are in northern, north-eastern, eastern and southern provinces.
Measures have been adopted by agencies charged with dealing with water shortages. including dredging water channels to allow greater volumes of water to flow into reservoirs, drilling underground wells, enlarging storage ponds and the purchase of water to supply to those in urgent need.
The Royal Irrigation Department has announced that people should use water sparingly.
There are currently about 6 billion cubic metres of usable water in reservoirs in the affected provinces, with 5 billion cubic metres reserved for consumption and ecological preservation, leaving only 1 billion cubic metres for use in agriculture.
This means farmers in the Chao Phraya river basin may not be able to grow a second crop of rice this year.
SOURCE: thaipbsworld.com
Keep in contact with The Thaiger by following our
Facebook page
.
Green Day heading back to BKK in 2020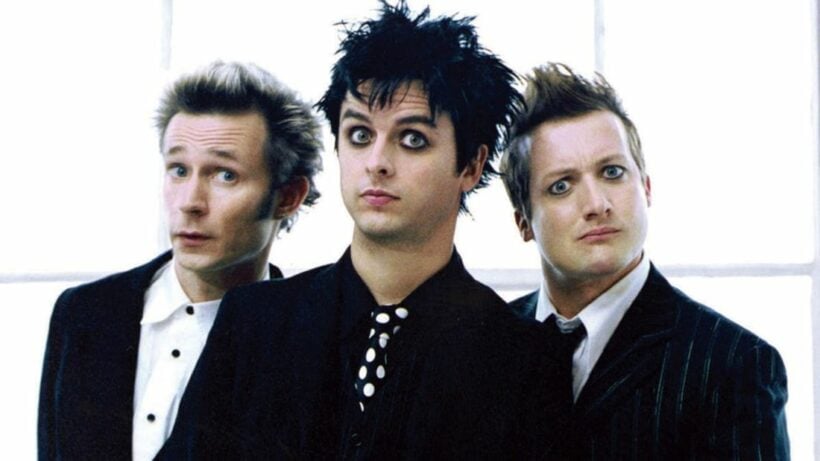 Green Day, five-time Grammy Award winners, are embarking on a global tour in 2020, including a stop-over in Bangkok during March. The rock 'n' roll Hall of Fame inductees will perform a series of concerts throughout Europe, UK, North America and Asia.
"Green Day Live in Bangkok" takes place on March 11, 2020 at Impact Arena, Muang Thong Thani. But it's not their first time. Green Day sold out concerts in their last Thai live gigs in 1996 and 2010.
Formed in 1986 in Berkeley, California, Green Day is one of the world's best-selling bands of all time, with more than 70 million records sold worldwide and 10 billion cumulative online streams of their music and performances. Their 1994 breakout album "Dookie" is widely credited with popularising and reviving mainstream interest in punk rock, catapulting a career-long run of No 1 hit singles.
In 2004, Green Day released the rock opera "American Idiot", selling more than 7 million copies in the US alone and taking home the Grammy Award for Best Rock Album. In 2010, a stage adaptation of "American Idiot" debuted on Broadway to critical and commercial acclaim. Entertainment Weekly called Green Day, "The most influential band of their generation," while Rolling Stone said, "Green Day have inspired more young bands to start than any act this side of KISS, and that doesn't seem to be changing."
Green Day Live in Bangkok 2020 is on March 11, 2020 at Impact Arena, Muang Thong Thani.
Ticket prices start at 2,000 baht and tickets go on sale on November 2 at all ThaiTicketMajor outlets via www.livenation.co.th or www.thaiticketmajor.com or call: 02 262 3838 for more information.
SOURCE: The Nation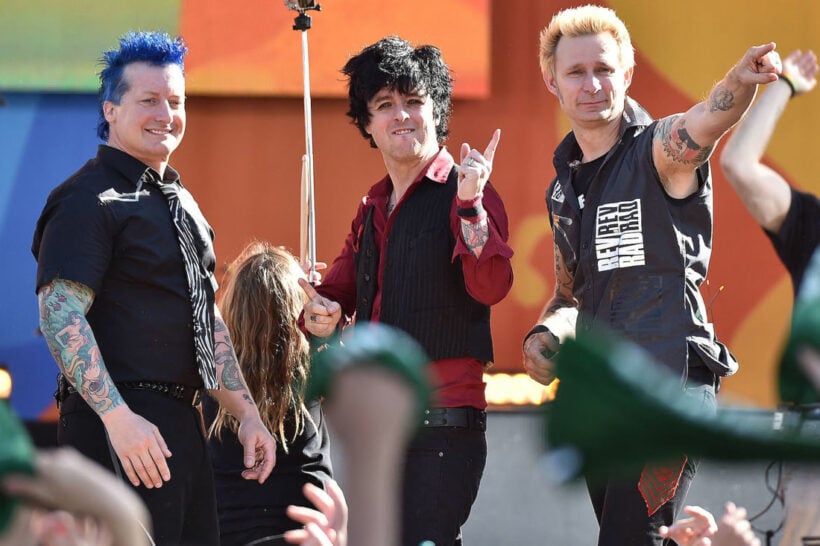 Keep in contact with The Thaiger by following our
Facebook page
.