Phuket Lifestyle: A great grill experience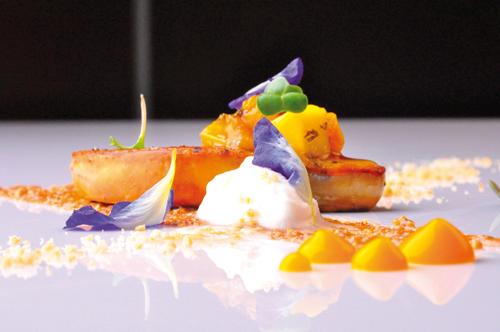 PHUKET: When we organized our visit to The Grill at Regent Cape Panwa, the newest luxury resort on the cape, I was intrigued by general manager Brice Borin's offer to show us the "Regent experience" as he put it.
Later that week, sipping a cool drink at the open-air rooftop bar, watching a cruise liner sail off towards the horizon on the Andaman Sea, I was beginning to get a sense of what such an experience might entail.
When he sat to join us, we asked Brice to elaborate on what exactly he meant. "Take these prawn crackers for example" he said, gesturing to the spicy, crisp yellow crackers served with a rich satay sauce, that we had already started snacking on, "we make them ourselves, with our own mix of prawn and spices. In fact, we make our own jam, mustard and ice-cream… even our own bacon". We were impressed, but it turns out that these are not the only individual components of the menu to be made from scratch, dozens of usually pre-ordered items, such as bacon, smoked salmon, even dried muscatel grapes, are all prepared from fresh ingredients in The Grill's kitchen.
This dedication to sourcing the best ingredients, and allowing the quality of the food to speak for itself, is the hallmark of executive chef Justin Baziuk. Hailing from New Zealand, Justin has worked in top restaurants in Australia, China and Dubai, and it seems as if the Regent has let him off the leash, so to speak, when it comes to stocking his larder. The cuisine Justin is producing is simple, not overcomplicated in terms of flavor, and his main aim is to showcase the ingredients and allow them to be the stars of the show.
Soon, we moved down to the lower dining level, where Justin greeted us and began to take us through the menu. Within minutes, it became clear that he has an abiding passion for meat – good meat. He deftly explained to us some of the intricacies of Angus/Tajima crossbreeds, marble scores and grain fed versus pasture fed cattle.
"Coming out of Black Creek in Western Australia, I've got a Black Angus/Tajima Wagyu cross, which is pasture fed for 14 months and finished on grain for 450 days.
"To find a piece of meat that is finished on grain for that long is not that common and gives it that ultimate marbling," he said. After that, the only question left to us was whether the cow was black or white, and in all likely hood, he could have told us.
We decided to leave ourselves in Justin's capable hands when he offered to create a selection plate showcasing some of his champion ingredients. For starters, was a tasting platter of seared foie gras, raw eye tuna slices stuffed with blue swimmer crab and topped with caviar, Spanish white anchovies with shaved fennel and whiskey cured Tasmanian salmon (cured in-house, naturally). As we savored these fresh flavors, I spoke to Brice about the concept of The Grill restaurant as part of the Regent's approach to hospitality.
"It's what I call a fine dining experience, but still in a very casual way, " he said.
The Grill has a extensive menu, but each of the 'main' ingredients can be prepared in a variety of cooking styles, so you can choose your meat and seafood and then specify how you would like it prepared.
"We do this so people can come to the same restaurant one night and have Western style and the next night have Asian style and the next Indian style and so on."
By providing this exacting quality of food and service, Brice hopes his guests can enjoy a complete and relaxing holiday experience without ever having to leave the resort.
"I'm a hotelier, what I mean by that is, that I'm in the hotel business, I'm not in the business of hotels, if you have that [approach], business will come.
"My guests are coming and they enjoy it. We have guests that come and never leave the hotel. That's what I want people to talk about, the experience."
As we continued to talk, Justin returned to introduce the highlight of the evening. Sitting on the rectangular platter where several juicy morsels of meat, cooked to pink perfection. A sirloin of purebred Tajima, tenderloin from Tasmania's Cape Grim, salt bush-fed Bultarra lamb "you can't go past that" and finally a succulent rib eye of black Angus/Tajima beef. The incredibly tender meat truly did speak for itself, needing nothing but a drop of jus to accentuate its incredible flavors. Side dishes for this carnivore's delight included, asparagus in truffle hollandaise, chips with shaved truffle and Parmesan, and finally, some delectable grilled portobello mushrooms.
Almost full to bursting after our main course, and some well-chosen wines from the extensive and reasonably priced wine list, we allowed Justin to persuade us to taste a selection of his decadent desserts. Chocolate was definitely the theme here, with fondant, ganache and ice-cream, all crafted with deep and deliciously rich 70 per cent Verona chocolate. The chocolate fondant with Bailey's ice-cream was devilishly good, particularly for that oh-so-satisfying moment when the you crack it open to watch the lava-like filling flow onto the plate.
At this point, I was convinced of the pleasures of the 'Regent experience' and our appetites were utterly sated as we sat conversing, the taste of chocolate lingering on our tongues. We asked Brice what he liked most about Phuket since he moved here to run the Regent.
"I really love the Panwa area, it's like Phuket 20 years ago, it keeps the true charm of Phuket," he said. He lamented that so many of Phuket's residents rarely venture to Cape Panwa and told us about an offer he has created to help attract locals. For the rest of June, when you come to enjoy dinner at The Grill, you only need to spend 5000 baht and you can turn your wonderful evening into a wonderful night by staying in a luxury room from only 2500 baht. What's more, you get a sumptuous buffet breakfast the following morning.
"We want to attract the locals, so they don't have an excuse not to come, like it's too far, I say, now you have no excuse, you can stay the night," said Brice with a grin.
So if your looking to indulge yourself, be sure to book a table at The Grill and enjoy your own Regent experience.
Keep checking our Lifestyle pages for the latest happenings across Phuket. Alternatively, join our Facebook fan page or follow us on Twitter.
— Mark Knowles
Thai Life

Join the conversation and have your say on Thailand news published on The Thaiger.
Thaiger Talk is our new Thaiger Community where you can join the discussion on everything happening in Thailand right now.
Please note that articles are not posted to the forum instantly and can take up to 20 min before being visible. Click for more information and the Thaiger Talk Guidelines.