Phuket Lifestyle: Drug addiction – Yassine's cautionary tale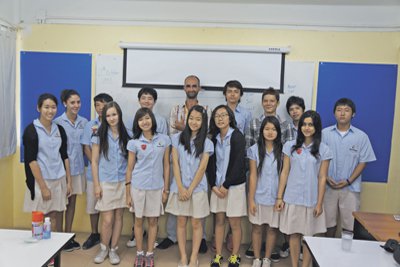 PHUKET: Morocco over the years has been romanticized by Hollywood and through the prose of numerous authors. It's a place that conjures up images of bazaars, palaces and bustling market squares. But the vision of Morocco from those looking in, is a lot different to the one Yassine Darkaoui endured while looking out from the Northern city of Tangiers.
Yassine started smoking cannabis, out of curiosity, when he was 19, and, in a way, to show himself and others that he could play with, and handle the "fire".
He then made what is a natural progression for a lot of drug addicts; moving onto ecstasy and heroin by the time he was 23.
Prior to his drug dependence, Yassine represented the Moroccan National team in Laser Class sailing events before addiction forced him to quit.
Heroin took over his life for the next eight years: " I needed more and more money, work became hard and I started to forget friends and family. When there is no heroin it felt worse than torture."
The drug controlled his life to a point where he couldn't function without it. His life kept spiraling out of control: "I was like a slave and it was impossible for me to live without the drugs.
Everyday when I woke up, I would smoke, and at work, every hour I was going to the toilet. One day my boss said to me, 'Hey, I will put a telephone line in the toilet for you as you spend a lot of time in there'."
After recovering from his second overdose, and upon the leaving hospital, Yassine thought the only escape was suicide as the grip heroin had on him was so strong.
But with the help of his aunt, who found Yassine wandering the streets of Tangiers, he spent two weeks getting clean in a psychiatric hospital – only allowed to leave under 24-hour family supervision.
At that time, he was suffering from chronic depression and had to take 20 pills a day just to feel 'normal'.
Even with the help of prescription medication he still thought about heroin everyday.
The sharp reality of the real world was a lot different from the world his drugged mind had formed over the years: "When you are high, you live more in your mind than in reality and the heroin helps the mind to create a parallel world. The longer you take the drug the bigger the parallel world becomes. You disconnect from reality and live only in your head."
The depression went away after six months but his addiction remained and he started using again.
"I took [drugs] every other day for a year and then one day, when I was with my girlfriend, she helped me to see the way the drug worked and said it would kill me or I would be poor."
Yassine decided to follow his girlfriend Adelaide to Thailand to try and break away from the addiction and start a clean new life.
He stopped taking the drugs three days before his flight.
"To break a habit you have to be positive that the mind can be conditioned to new things and it is possible to change the way your mind works."
The sun-soaked Moroccan now has the personality of a man who has been given a fresh start in life.
On Phuket, Yassine has rekindled his love affair with sailing and says spending time on the water is a form of therapy to help keep his mind balanced.
He participated in last year's King's Cup and Phuket Race week.
He says that he now wants to warn children in Phuket about the dangers of drug addiction and has recently shared his life experiences at HeadStart school, where he gave a brutally honest talk about drugs and their effects to year 9 and 10 students.
"The solution is not to put the addict in prison, the solution is to teach the young people that there are other ways to feel high," said Yassine.
"The drug is like any product and anyone has the opportunity to buy the product."
The other way to 'feel high' for Yassine is sailing, and he is about to embark on a personal challenge that will be the most demanding sailing experience of his life.
He is attempting to sail a 150 mile course in a Laser dinghy, starting from Phuket, to try and beat the record held by Olympic bronze medalist, Michael Blackburn who sailed a Laser dinghy 117 nautical miles across the Bass Straits in 13 hours.
So far he has had physical, mental and technical training to prepare him for this record breaking attempt.
He also received instruction on sailing during the night, which will be the toughest part of the challenge as he only has GPS and a small torch to guide him.
Yassine is being helped by Andaman Sea Club, the company of Chris Jongerius, CDR Pornprom "Gop" Sagultem of the Thai Royal Navy and his coach Chris Millington, who has trained the British army.
To follow Yassine's progress, visit: andamanlaserchallenge.blogspot.com.
— Andrew Scott

Join the conversation and have your say on Thailand news published on The Thaiger.
Thaiger Talk is our new Thaiger Community where you can join the discussion on everything happening in Thailand right now.
Please note that articles are not posted to the forum instantly and can take up to 20 min before being visible. Click for more information and the Thaiger Talk Guidelines.