Phuket Lifestyle: Asia is seventh heaven for Chapman's yacht designs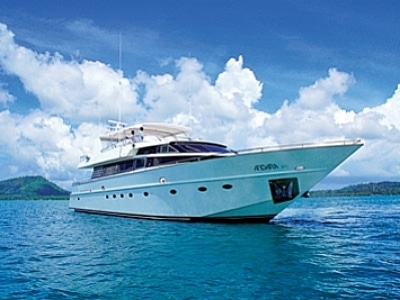 PHUKET: Born into a family of architects in England, it is hardly surprising that Jody Chapman became interested in product design and eventually graduated with an honors degree in industrial design from the University of Brunel in Surrey.
He later went to work for the luxury car manufacturer, Austin Martin, where he used his design talents on the V8 Vantage. Jody also worked with a team of engineers who produced Jaguar and Landrover models.
After six years, he decided that he wanted to work in a smaller company where his own design ideas could be realized. He joined a firm, as project manager, that designed boats built around the world. Jody explains that he has tried to draw inspiration from sources other than superyachts and often cites automotive cues. His favorite ever car is a P4 Ferrari which he claims "is a near perfect icon where performance has been interpreted by artists and craftsmen".
"I believe many of the innovations in world class cruising and racing will occur in Asia so I have moved my design studio to Singapore," he explained. "Europeans are building their yachts in Asia due to the much lower construction costs whereas Asians are looking for yachts in Europe as they are more brand conscious. I hope to be able to offer bespoke interiors and exteriors to both markets."
Jody plans to bring innovation and his creative personal vision to yacht design in the region.
"I'm incorporating Asian design concepts such as feng shui and regional building materials like bamboo, moveable screens and open spaces to update interior spaces on yachts. The quality of light is incredible in Southeast Asia and I'm intrigued about using it in my design vocabulary," he continues. "I think that yacht design tends to lag behind the innovations in architecture. So I'm hoping that the dynamic economies of Asia, including Thailand will be a good place for my design ideas.
"Design and construction of yachts can happen with teams working from a variety of locations. Each part of the design process can be made from a separate studio that must coordinate with the owner or their representative. The whole process can be very bureaucratic and challenging. I believe I can simplify the process of design and construction and speed up the entire process in getting a finished product to the client," said Jody.
With a background in and a passion for architecture Jody has always felt that yacht design has a tendency to lag behind and a lot can be learned from contemporary Asian interior design. One of his recent favorites is that of President's Design award winner 26 Cable Road by ip:li architects in Singapore.
From his new studio, Seventy Seven Design, in Singapore, Jody plans to act as the conduit for Chinese and East Asians who want a stylish and competitive racing or pleasure yacht. He also plans to diversify his design work into creating fresh interiors for corporate jets.
"I like to work with clients who have an open mind and are interested in looking to the future of design. I expect to be very busy," said a smiling Jody.
— Bruce Stanley
Third runway for BKK Suvarnabhumi Airport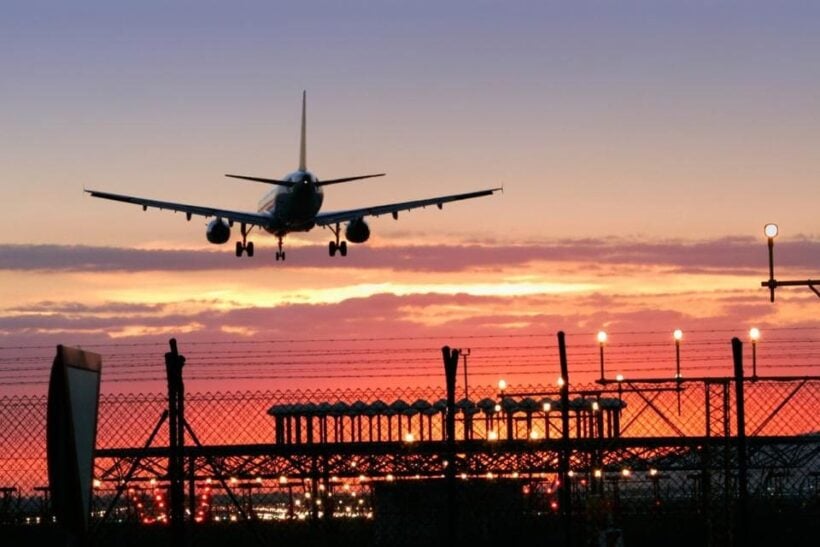 The Thai cabinet yesterday approved the construction of a third runway at Suvarnabhumi International Airport as part of the country's ambition to become the aviation hub of ASEAN.
The 21.7 billion baht project will increase the combined capacity of Suvarnabhumi international airport's runways to 94 arrivals and departures per hour from the current 64, said Lt-Gen Weerachon Sukonthapatipak, deputy government spokesman.
Suvarnabhumi Airport (aka. BKK) was opened in 2006 as Bangkok's second airport. Initially it replaced the tired Don Mueang Airport but Don Mueang was later revamped as a low-coast airport to service the growing traffic demands.
Meanwhile Suvarnabhumi Airport was, and still is, operating above its designed capacity. An earlier bid to build a third terminal has been mired in controversy and is currently shelved pending a new brief from Airports of Thailand with a new round of design bids called for in the future.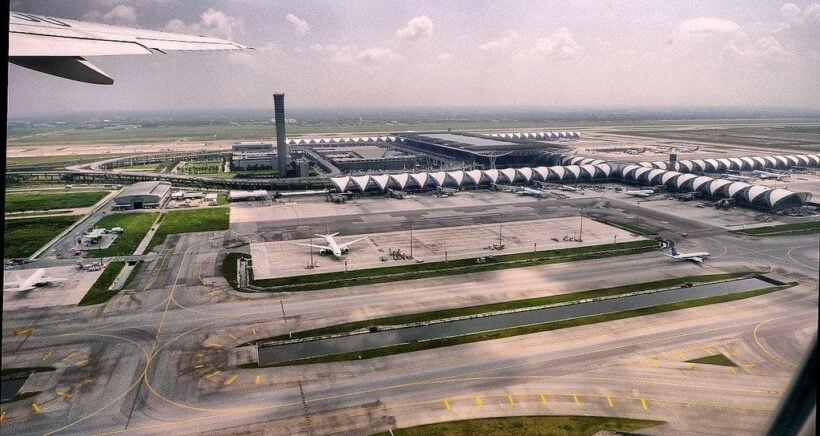 Patong's trash hero rewarded for collecting garbage in filthy canal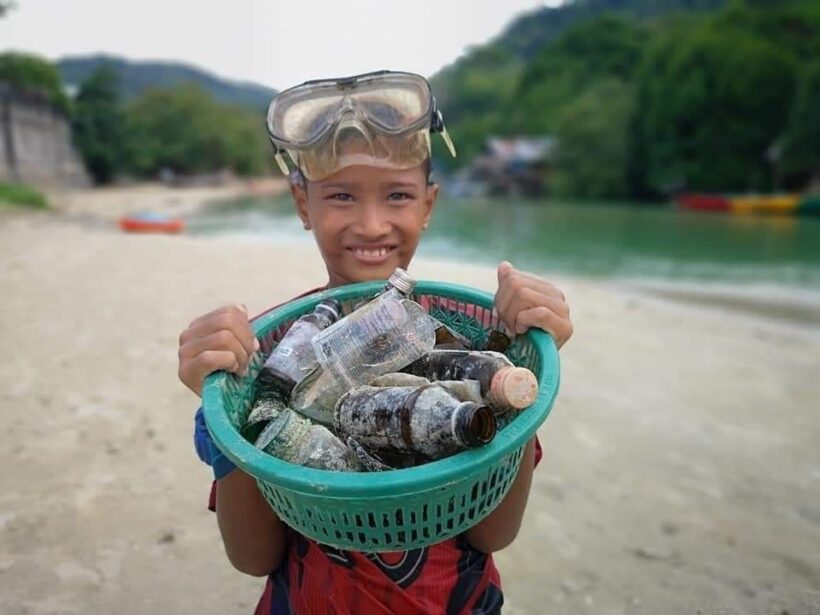 PHOTOS: Patong Police / Theeraphong Penmit / Newshawk Phuket
A Phuket boy has been rewarded after setting an excellent example for the rest of the Patong community.
8 year old Kosin Ta-ngam, who is studying at Sai Nam Yen School in Patong in Pratom Suksa Three, has been collecting garbage in the filthy Pak Bang Canal and along Patong Beach since the beginning of this year.
He lives with his grandmother and other relatives. His grandmother has been looking after Kosin since he was 10 months old.
A certificate, scholarship and life vest have been awarded to Kosin by the Patong Police Chief Col Anothai Jindamanee for displaying excellent citizen for the community as a youth volunteer and being an active part of keeping the city clean.
The Pak Bang Canal, running through the back of Patong into Patong Bay, has been a dark, dirty mess for decades. Many promises have been made to clean it up but it remains a disgraceful waterway flowing through Phuket's main tourist town.
The tiny eight year old seems to be able to achieve a lot more than the local municipality with all their money and machinery.
Kosin, you are the Thaiger hero for today and we salute you!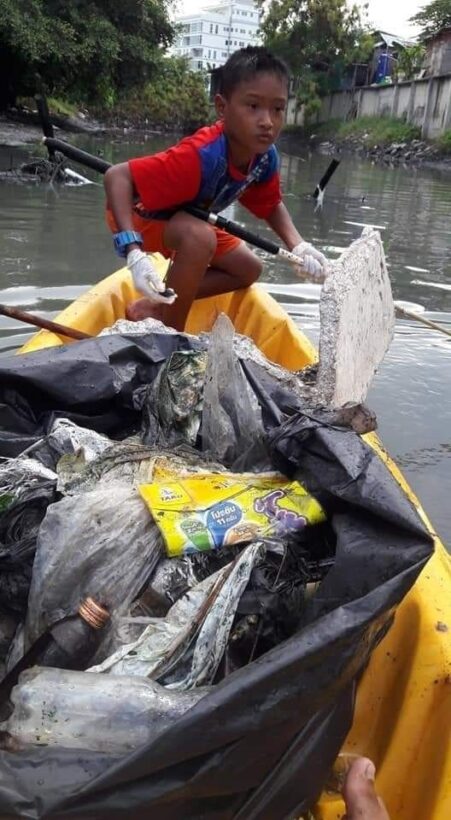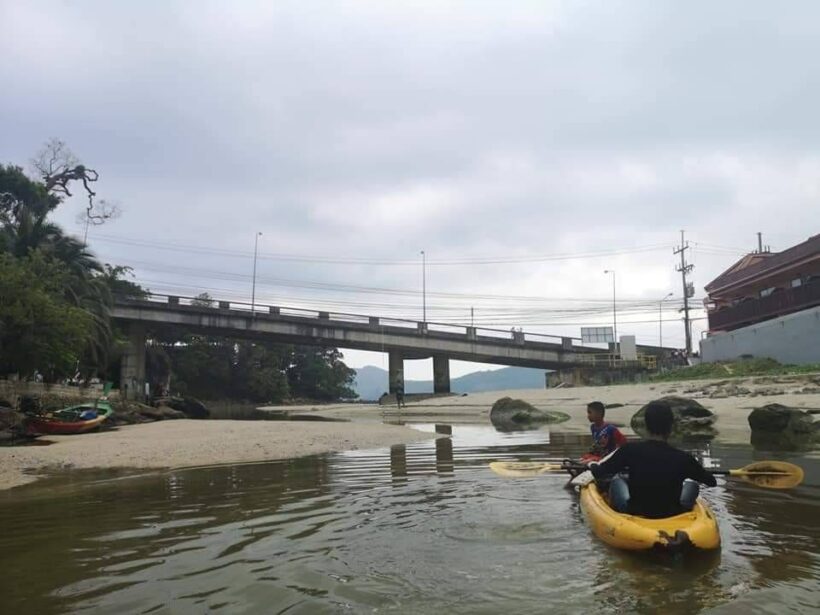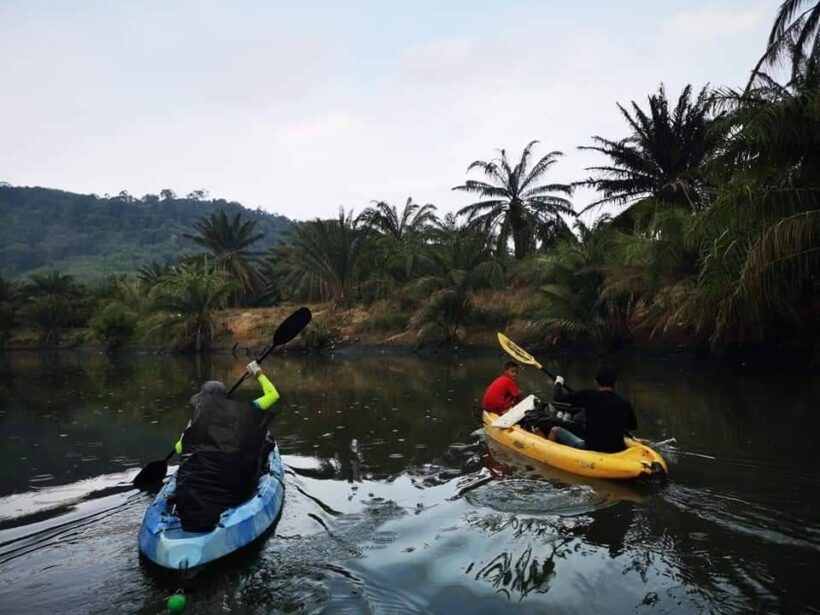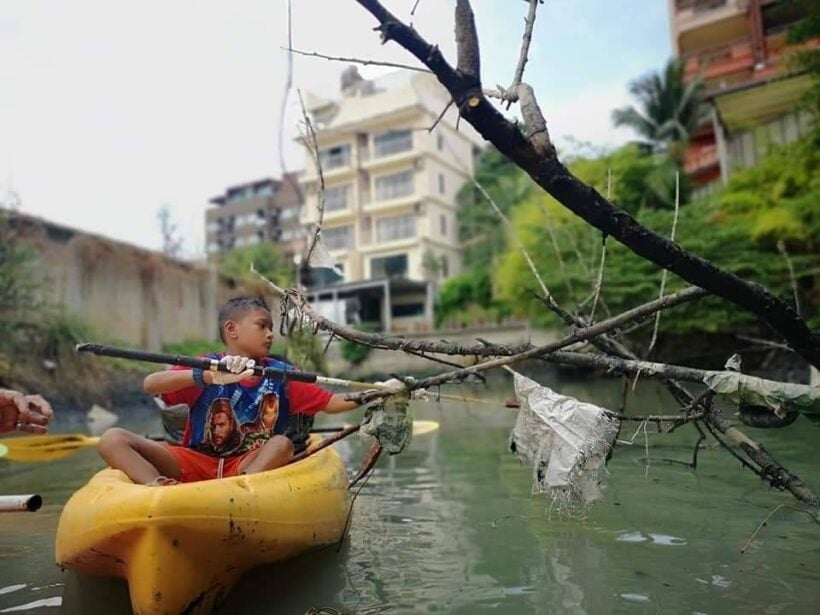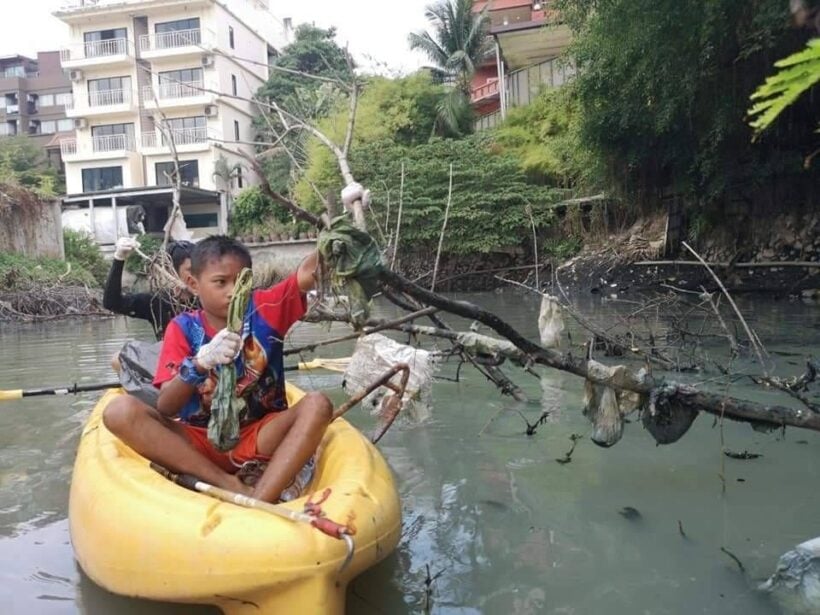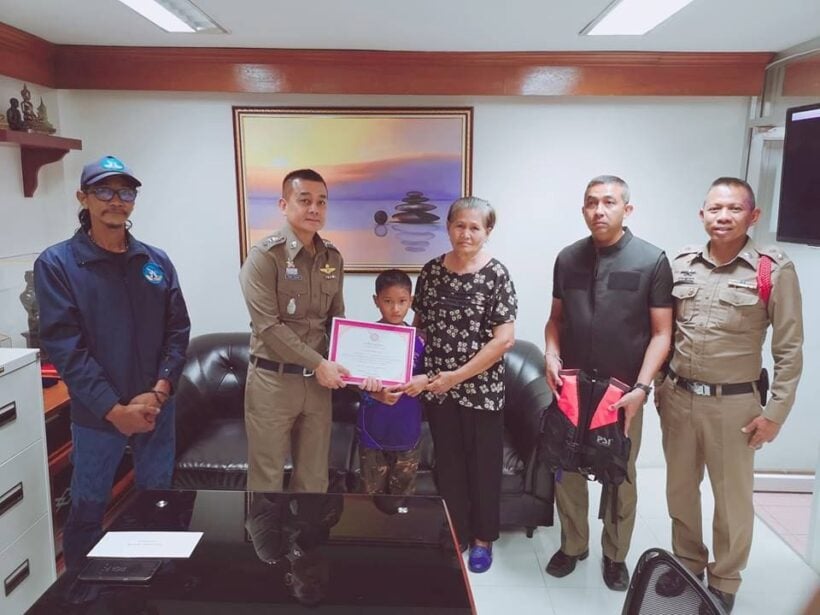 Mitsubishi testing their new regional jet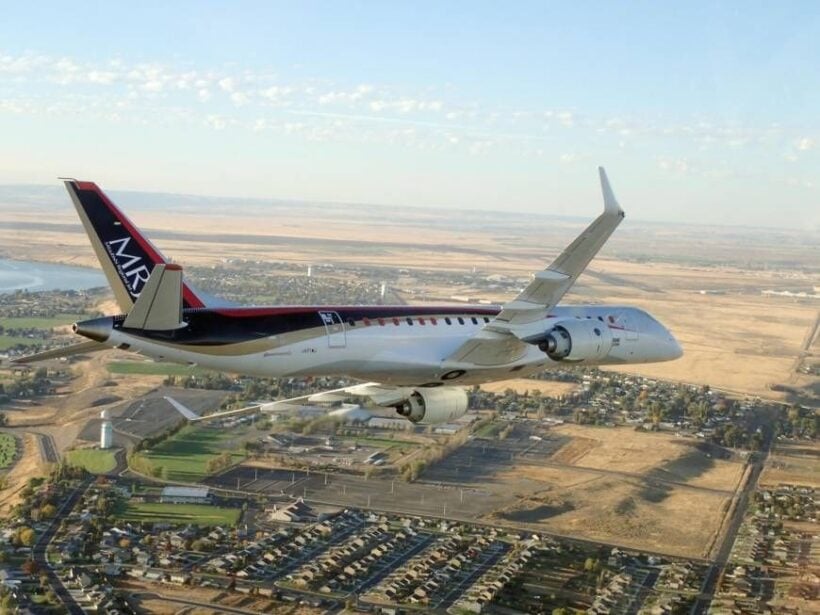 PHOTO: The Japan Times
Mitsubishi Heavy Industries' new 88-passenger Mitsubishi Regional Jet is testing the skies just as rivals Embraer and Bombardier are moving to sell off their manufacturing operations for jets with up to 160 seats to Boeing and Airbus.
At stake, particularly in the market for jets with fewer seats, is US$135 billion in sales in the two decades through 2037, according to industry group Japan Aircraft Development.
More cities in Asia and Europe are seeking to link up with each other and the Mitsubishi Regional Jet, the first airliner built in Japan since the 1960s, began certification flights last month in Moses Lake, Washington.
With fewer seats and smaller fuselages, regional jets are a different class of aircraft from larger narrow-body planes such as Boeing's 737 or Airbus's A320. The MRJ has a range of about 3,220 kilometres. The seating is 2+2 instead of 3+3 in a small Airbus or Boeing single-aisle jet.
After spending at least US$2 billion over more than a decade, the manufacturer is looking to get its jet certified and start deliveries to launch partner ANA Holdings.
Mitsubishi initially planned test flights in 2012 but blew past that deadline because of production difficulties. Now, the company, which makes ships, nuclear power plants and aerospace components, expects to have the plane ready for customers next year, a timetable that will test the company, said Mitsubishi Aircraft president Hisakazu Mizutani.
Mitsubishi Heavy is not the only Asian manufacturer betting that it can build aircraft cheaper and more efficiently. Commercial Aircraft of China (Comac) has a new regional jet in service, while Korea Aerospace Industries is studying whether to develop a 100-passenger aircraft.
"The aviation market in Asia is expected to grow further in the coming years and there will be demand for these aircraft," said analyst Lee Dong-heon at Daishin Securities in Seoul.
"The shift in the regional aviation segment we have seen over the last year or so has opened opportunities."
"The MRJ is fully capable of competing in the market."