Phuket Life: Smooth sailing on the USS Nimitz [VIDEO]
PHUKET: For anyone interested in military aviation, a chance to board the US aircraft carrier USS Nimitz is the opportunity of a lifetime – and a group of lucky Phuket reporters were invited aboard the mammoth floating airfield soon after it anchored off Cape Panwa recently.
The Nimitz Strike Group includes the USS Princeton missile cruiser and nine flight squadrons. For most of the more than 5,000 sailors, along with 300 marines, it was their first time in Phuket. After some confusion over transport arrangements (click here for story), the visit went off without a hitch and some 400 sailors took part in numerous "comrel" (community relations) organized by the US Navy League as part of their visit.
During the 20 minute ferry ride from Phuket Deep Sea Port, the Nimitz looms ever larger. Its enormity, more than 23 storeys from keel to top mast, finally comes into full view when the ferry docks at the huge loading barge docked at its stern.
The hangar bay, the largest of the vessel's multiple decks, extends almost its entire length. This is the area where all major repairs are carried out and planes not needed for the daily flight schedule are sheltered. Four elevators are used to transport aircraft and other machinery from here to the flight deck above.
Here the enlisted men lucky enough to be chosen first to go ashore formed a long line waiting for their turns to disembark. For most, it was their first time in Phuket, as only about 30 per cent of the crew remained since the Nimitz last ported in Phuket in February 2010.
One of the striking things about the Nimitz is its sense of timelessness. Like the set of the horror classic Alien, it seems a generic, three-dimensional labyrinth of thick metal hatches, gangways, ladders, doors and cables. No interior decoration here; it is all about functionality.
We were told there was a Starbucks somewhere aboard, but it never crossed our field of vision as we climbed ever upward to the first stop on our tour: the main flight deck – an expanse longer than three football fields – more than 18 meters above the sea surface.
After a very diplomatic and friendly "welcome aboard" address by Rear Admiral, Commander Michael S White, the press were given a tour of key control areas on board.
The flight deck was far more quiet than it would be on a normal service day, when flight launches and recoveries routinely ensure battle readiness. Two-man patrol teams armed with automatic rifles slowly walked the perimeter of the deck, where a variety of some 30 aircraft were firmly chained down.
Mechanic 1st Class Rudy Reyes, one of the few sailors doing maintenance on a plane on the flight deck, told the Phuket Gazette he was re-installing an overhauled Rolls Royce turboprop engine, one of two used to power an E2C Hawkeye aircraft.
The Hawkeye, the Navy equivalent of the Air Force AWACs, mainly conduct surveillance missions and serve as the strike group's "eyes and ears". They can stay airborne for five or six hours on one fueling, he said.
From here we spoke to Aviation Boatswains Mate Chief Petty Officer Joseph Inge, who explained that there were typically 25 to 32 "birds" on the flight deck, with about 12 more below. Six different types of aircraft on the ship make up Carrier Wing 11, with eight squadrons of helicopters and fixed wing aircraft.
With so many jets and such a short runway, landing is accomplished using any of four "arresting gear" wires which are used to grab the plane's landing hook when it hits the deck and then does its "run-out". No springs are involved; each wire needs to be replaced after about 100 landings.
It's impossible to store all of the aircraft in the hanger, so special precautions need to be taken on deck during rough seas. "If the seas are too rough we pull them off the deck edge and do what we call a heavy weather tie-down, which means we add extra chains to secure them from high winds. Sometimes we have to park them in special formations to reduce the wind from rocking the ship back and forth," said CPO Inge, who said rough seas had not been too much of a problem so far on this deployment.
The next stop was the navigation bridge, where different departments stacked on a series of decks control flight operations within a five mile radius and up to a height of 25,000 feet. To keep track of so many aircraft, a scale model of the entire flight deck, called the "Ouija Board," is used. The board has replica models of each aircraft, each pinned with a variety of information including fuel status and maintenance needs.
Although GPS-based monitoring systems have also been developed to track flight deck operations, this seemingly old-fashioned system remains the best solution because it is easier to conduct the never-ending status updates manually – and it won't fail during power disruptions, the officer on duty explained.
The master of this realm, which is typically manned by eight to ten staff, is called "The Handler". He will have had 24 years of experience before taking on this crucial position, so the job is the pinnacle of his career. He typically works from 16 to 18 hours a day, but is so accustomed to such long shifts that fatigue is not a serious concern, the officer explained.
Also on the bridge is the pilot house, where a crew of about six navigates the ship. Staff here needs to work closely with the aviation units to help maneuver the vessel so it can provide the best possible conditions, factoring in wind and sea, for safe launches and recoveries.
At the very top of the navigation tower is the primary flight control area, responsible for the work of all 600 Navy aviators on board. The bosses here, quite literally, are known as the "Air Boss" and the "Mini Boss". Each has the final say on safety on different parts of the flight deck: the former for the section of the stern flight deck known as the "waist", where catapults three and four are located; and the former for the bow area, where catapults one and two operate to launch the "birds".
Navy pilots face daily challenges that commercial pilots would find hard to imagine. Not only is the runway short, but it is constantly moving. The key piece of technology to help them land safely is known as the "Improved Fresnel Lens", an optical landing system known as the "Meatball" for short. This gives pilots crucial flight information by a series of lights that allow them to adjust the landing path to hit the desired target: landing wire three. If they miss that, they can hit a backup wire or even abort the landing to fly off and try again. If they hit the three wire, they have effectively managed to put their head into a 1.1 square foot box – not bad for a 44,000 pound aircraft moving at a 120 miles per hour onto a moving vessel.
Air Boss Todd Abrahamson said the primary control area, 135 feet above sea level, has the best view on the ship, with tall windows affording almost 200 degrees of visibility from fore to aft.
"We have about four and a half acres of sovereign US territory out here that we are managing. We are the last and final safety observers making sure that there is deconfliction on the deck and airborne for the aircraft and all the people working on the flight deck," he said.
The Air Department, with its complement of 630 people, is also responsible for the hangar ba
— Stepen Fein
Keep in contact with The Thaiger by following our
Facebook page
.
Out of 37 countries, Thailand has the worst pension system, says Bloomberg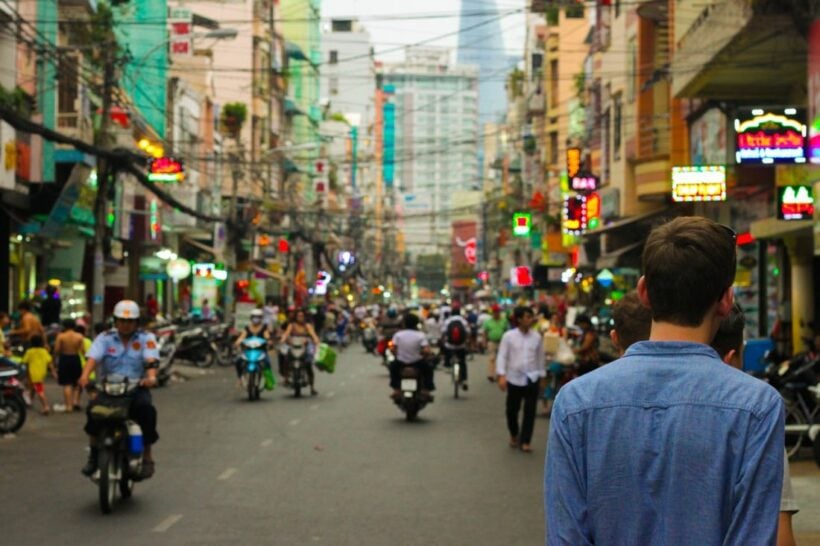 Thai Residents reports that on Sunday, Bloomberg published an article on the world's best pension systems, using information gathered from the 2019 Melbourne Mercer Global Pensions Index.
The survey looked at the pension systems of 37 countries with metrics including employee rights, savings, the number of homeowners, growth of assets, and growth of the economy. The purpose of the analysis was to determine what was needed to improve state pension systems and to gauge the level of confidence citizens had in their state pension system.
The Netherlands and Denmark were found to have the world's best state pensions, with Australia, Finland, Sweden, Norway, Singapore, New Zealand, Canada, and Chile next. Out of all 37 countries, Thailand finished last, with what the report described as an extremely ineffective and ambiguous system.
"Thailand was in the bottom slot and should introduce a minimum level of mandatory retirement savings and increase support for the poorest."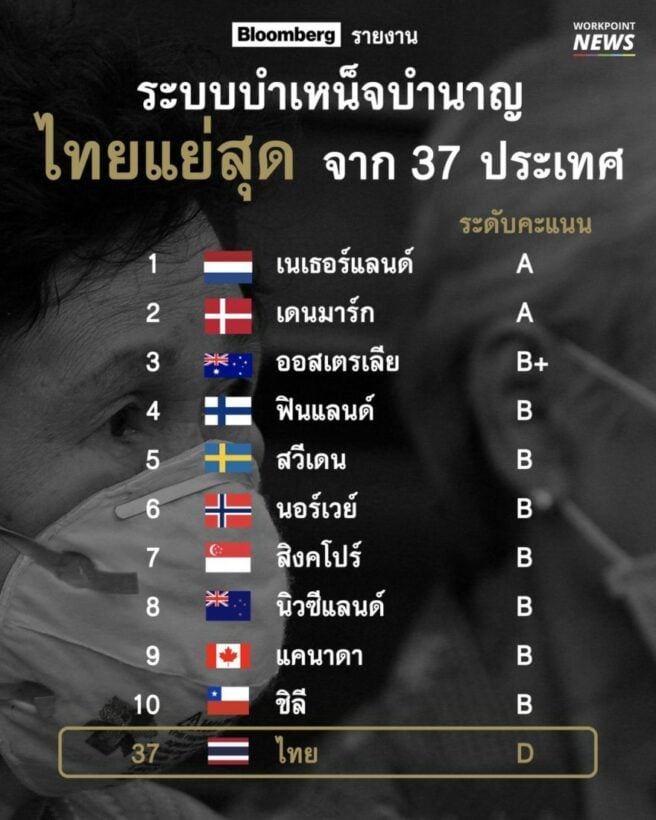 Photo: WorkpointNews
Thai Residents states that only those employed within the government system in Thailand are eligible for a pension based on salary. For most Thai citizens, pension amounts vary from 600 baht to 1,000 baht a month, depending on the recipient's age.
A report carried out by The Securities and Exchange Commission (SEC) advises Thai citizens to have at least 4 million baht saved by the time they retire, but Thai Residents reports that 60% of Thai retirees have less than 1 million baht in savings, with one in three citizens who have reached retirement age are forced to continue working in order to survive.
SOURCE: thairesidents.com
Keep in contact with The Thaiger by following our
Facebook page
.
Tax on salt content being considered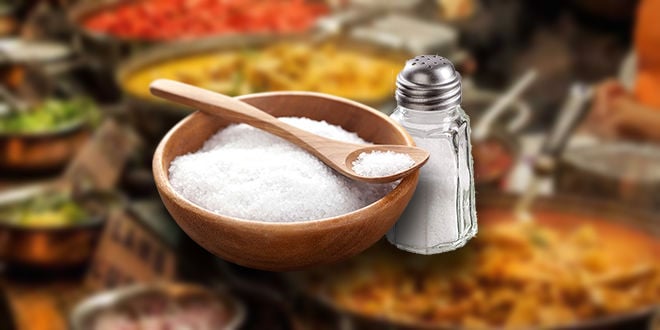 The Excise Department is considering imposing a tax on the salt content of food to encourage food producers to reduce the sodium content of snacks, instant noodles and seasoning cubes.
The director of the Office of Tax Planning said that the department is discussing a limit on the amount of sodium food can contain, in line with the standard set by the World Health Organization (WHO), which is 2,000 milligrams of salt per day.
In reality, Thai people consume an average of 1,000 milligrams per meal, making their daily intake well above WHO guidelines, according to the director.
He said any tax imposed would be at a level which would encourage food producers to reduce the sodium in their processed food without being punitive, adding that the proposal isn't intended to generate more tax revenue, but to help protect the health of consumers. Excessive sodium in the diet can lead to high blood pressure and kidney disease.
Fish sauce, soy sauce and salt would not be taxed.
SOURCE: thaipbsworld.com
Keep in contact with The Thaiger by following our
Facebook page
.
Water shortage warnings in 22 provinces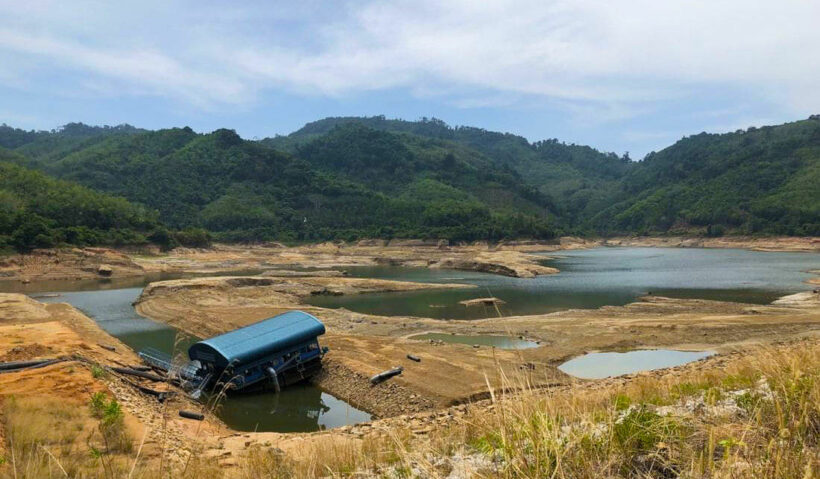 People living in 22 Thai provinces are being warned to prepare for shortages of drinking water during the upcoming dry season, due to start on November 1st.
The warning was issued by the National Water Resources Office, citing low levels in reservoirs, which are the main sources for tap water production waterworks in 22 provinces.
Areas at risk identified by the office are in northern, north-eastern, eastern and southern provinces.
Measures have been adopted by agencies charged with dealing with water shortages. including dredging water channels to allow greater volumes of water to flow into reservoirs, drilling underground wells, enlarging storage ponds and the purchase of water to supply to those in urgent need.
The Royal Irrigation Department has announced that people should use water sparingly.
There are currently about 6 billion cubic metres of usable water in reservoirs in the affected provinces, with 5 billion cubic metres reserved for consumption and ecological preservation, leaving only 1 billion cubic metres for use in agriculture.
This means farmers in the Chao Phraya river basin may not be able to grow a second crop of rice this year.
SOURCE: thaipbsworld.com
Keep in contact with The Thaiger by following our
Facebook page
.