Phuket Gardening: Variety is the spice of life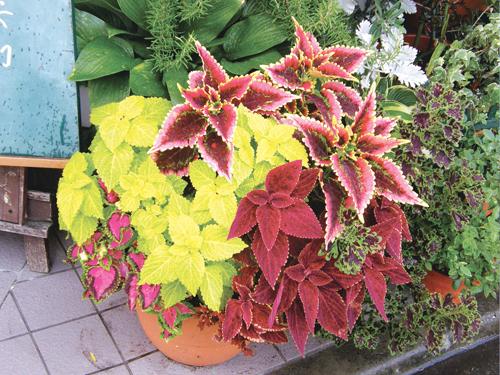 PHUKET: Every so often, readers of the Phuket Gazette pose questions which prompt other reflections, and ultimately require a fuller response than a mere email allows. Here is a recent, partly paraphrased example:
A Kata apartment dweller has a sunny communal balcony, at present adorned with boxes of bougainvilleas. She says that some people would like to exchange these for purple flowers instead. The attached pictures reveal boxes of what look like coleus plants. The reader adds that while she prefers the bougainvilleas, it might be possible to have "these purple flowers, if not too much care is needed to keep them looking nice".
Well, variety is the spice of life, as they say. But personally, I would at least retain the bougainvilleas, if only because they are hardy, flower for much of the year, especially if given fertilizer, and love a sunny aspect. Some of the newer cultivars are spectacularly colorful.
Coleus, now usually referred to as part of the solenostemon genus, is a completely different kettle of fish, a foliage plant first and foremost, and originally grown mainly as a house plant in temperate regions. An unusual plant with sharply contrasting leaf colors, they range from almost black, through purple and deep red to green and yellow.
The leaves are toothed and surprisingly thin – very like a nettle in shape and texture. Effective when mixed together in a pot (or box) to enhance their pronounced color variations, they are soft-stemmed perennials, a characteristic which means they wilt easily when deprived of water, and will probably need to be replaced after three years or so.
The solenostemon will, moreover, need daily watering in hot weather; indeed a position in full sun may produce leaf scorch. Protection afforded by taller shrubs such as bougainvilleas may be one solution in an exposed tropical environment such as a sun-drenched balcony. Solenostemons are somewhat disease prone, especially to mealy bugs and downy mildew. And remember to pinch out growing tips if you want to encourage a bushier plant.
Personally, I would be inclined to mix up your existing container plants, perhaps with crotons (codiaeum) with their spectacular deeply veined leaves, usually yellow and bright green, but often suffused with orange and red. These are hardier than solenostemons, will grow much taller, and have large, shiny, leathery leaves.
Or maybe cordylines, which are now available in rich shades of magenta as well as green and crimson. Both of these species are erect, single stemmed plants, will tolerate full sun and require relatively little maintenance.
Dracaenas, with elegant, curved, sword-shaped leaves are very easy to grow in containers.
Of course, you could go for flowering plants that adapt to life in constricted spaces – say pink or red adeniums, which as desert plants need hardly any moisture, dwarf tabernaemontana, which are evergreen, bushy, and have masses of scented white flowers, or even the highly fashionable but water-loving ruellia. Known as the three o'clock plant, it loses its delicate, violet flowers by mid afternoon, but it is very eye-catching.
One caveat occurs to me. If you have extended boxes as opposed to separate ceramic pots, you are going to need soil conditions suitable for all their occupants. In other words, you cannot put, say, a moisture loving ruellia next to an adenium, since the fleshy stems of the desert rose will rot if watered more than once a week.
On the other hand, too little moisture and the ruellia will wilt.
So mix and match by all means, but remember that some arranged plant marriages will not enjoy the experience. What's new…
Tip of the week – Garden pests: Mosquitoes
As we all know to our cost, mosquitoes are person pests, not plant predators. There is, however, a connection with gardens, since the males feed solely on pollen and nectar.
The female anopheles is the villainess of the piece, sucking blood in order to nourish her eggs, which she will then deposit in stagnant water. If you have pot plants immersed in water or boast a lily pond, make sure you have a few small fish, such as guppies, to eat the writhing larvae.
Mosquitoes are most active in the early morning and late afternoon, just the time when it is cool enough to work in the garden. Murphy's Law.
Fortunately malaria is almost unknown in Phuket, but another variety of mosquito, aedes Egyptiae, can transmit dengue fever. Some plants are believed to deter the insect – African marigold, garlic, jasmine, lavender – but the evidence is largely anecdotal.

If you have a question or a garden that you would like featured, you can email the author here.
Keep checking our online Phuket Lifestyle pages or join our Facebook fan page for regular gardening features and tips.
— Patrick Campbell

Join the conversation and have your say on Thailand news published on The Thaiger.
Thaiger Talk is our new Thaiger Community where you can join the discussion on everything happening in Thailand right now.
Please note that articles are not posted to the forum instantly and can take up to 20 min before being visible. Click for more information and the Thaiger Talk Guidelines.