Phuket Gardening: Our sunny reminders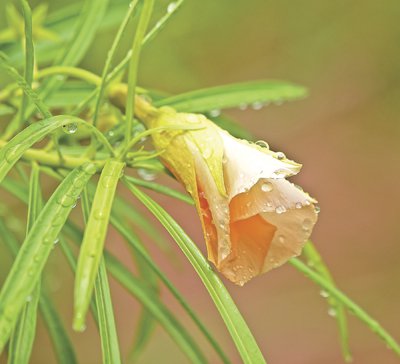 PHUKET: Typhoon force winds, teeming torrents of rain, roads like lakes, uprooted trees and fractured boughs – hardly the conventional image of a "Land of Smiles" burnished by tropical sunshine beaming from azure heavens.
Leaden skies, accompanied by profound gloom suggest that something much more ominously potent than Venus has blotted out the sun. Despite the meteorological office's pronouncement that such weather is normal, it is freakish rather than typical.
Our terraces and gardens were unprepared. On patios everywhere, precious potted plants have been blown over like ninepins, their containers smashed to smithereens; in garden borders, shallow rooting shrubs have lost their footholds and collapsed, even flowers that have dared to bloom in the inclement conditions are wearing a sodden and bedraggled air.
The only denizens of my patch that are genuinely thriving are the water-babes: flowering plants such as heliconias, zingibers (gingers), cannas, spider lilies, spathyphyllums and swamp lilies.
A number of foliage plants are also enjoying life, notably caladiums, marantas, climbing philodendrons, aglaonemas, and ferns such as the asplenium (bird's nest fern).
So, all is not doom and gloom. In tropical gardens it never is. As soon as the sun returns, there will be golden blooms aplenty to remind us of the sunny days that inevitably lay ahead.
One such shrub is the allamanda, last week's selection, a shrub whose intensely luminous golden flowers look like mini suns. Some blooms are literally hanging on, despite the storms.
Another yellow shrub that is coping better than most is the cananga odorata, sometimes known as the ylang ylang. Its unusual blooms hang down from pendulous branchlets; slim, greenish talons that change to golden as they age. The narrow, fleshy petals never open wide, but they are tough cookies, and seem more-or-less impervious to anything the weather can throw at them.
The blooms appear almost continuously amid the glossy dark green foliage, not as spectacular in appearance as the golden-trumpeted allamanda, but with the advantage of possessing a delicate fragrance that is justly famous in Thailand. Go to any spa or cosmetic department and there you will find the distinctive aroma of the ylang ylang, distilled into perfume samples, massage oils or sweet-smelling soaps.
The shrub makes a medium sized evergreen tree or large shrub, and can be trained to cover a trellis. I am aware of one ylang ylang, which covers a metal framework fully twenty feet long and ten feet wide with an overarching canopy of foliage and flowers. There is also a smaller, denser form of the shrub which grows only about two meters high. In both cases, propagation is best achieved by planting hard-wood cuttings.
Doing reasonably well in the monsoon is the yellow oleander (thevetia peruviana). Like its relative, the common oleander or nerium, it is not a fan of wet, windy conditions, but unlike the nerium it does not sulk, and stop producing its yellow or apricot, bell-shaped flowers.
Certainly there are fewer blooms than in the dry season, but thevetia is a shrub – perhaps better described as a treelet – which carries on flowering all the year round. Moreover thevetia is evergreen, and its narrow, bright green leaves are an added attraction. Because it is both striking and reliable, it has been widely planted as a roadside presence around the island.
It is also an excellent plant if you want a quick garden screen: the only drawback is that all parts are poisonous, and other smaller plants may find it difficult to grow under its canopy, especially if fallen leaves are not removed. And there are plenty of those right now.
But come rain or shine, the yellow oleander will rise above the conditions. A real survivor.
Tip of the week: Recovering from storm damage
These last few weeks have seen some of the wildest weather in years.
Trees and potted plants have been particularly hard-hit: trees because their roots have been rendered sodden and unstable by the constant rain, and their boughs and foliage
weighed down by the amount of water they have had to absorb. Add to that the wind's ferocity and you have a deadly combination.
Particularly affected have been evergreens, heavyweight vines, and beach trees such as sea-almonds, and casuarinas. If you have a casualty or two, make a neat cut well inside the splintered wound. In that way, the tree is less liable to become infected.
Plants in containers have been toppling over like skittles. Temporarily remove their platens; which can sometimes make the pots less stable. Resist the temptation to water: they have had more than enough for the time being.
Phuket Gardening is the Phuket Gazette columnist Patrick Campbell's feature of all things flora.
If you have a question or a garden that you would like featured, you can email Patrick Campbell here.
Keep checking our online Phuket Lifestyle pages or join our Facebook fan page for regular gardening features and tips.

— Patrick Campbell
Finance Ministry wants to give 1,500 baht to each domestic traveller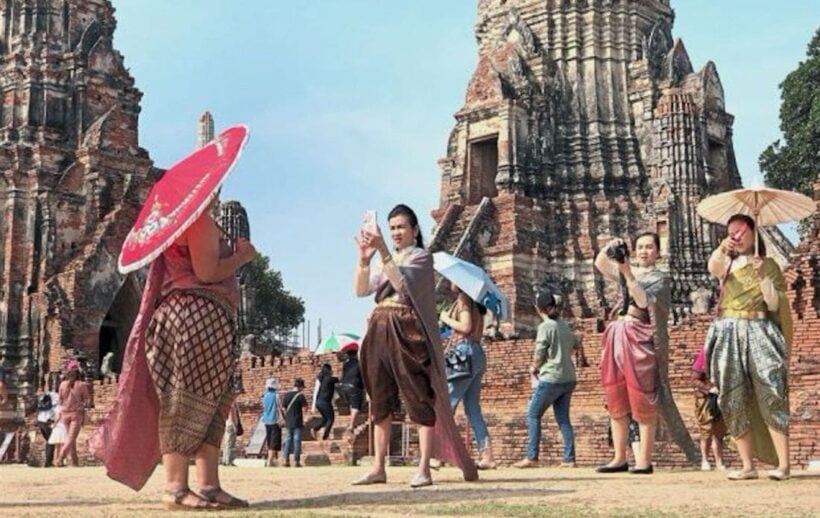 The Finance Ministry says they are launching a new stimulus package to boost the country's domestic tourism by giving Thais 1,500 baht each to spend when they travel to 55 provinces under the promotion campaign.
Under the campaign, Thais aged 18 and over can register for the program. The government will then deposit 1,500 baht into their accounts though the e-payment system. They can use the funds to make e-payments the shops that have joined the project.
"We are collaborating with the Tourism and Sport Ministry and Krung Thai Bank for the campaign and have set a budget of up to 15 billion baht. We will now propose the program to the deputy PM Somkid Jatusripitak and the cabinet to consider as soon as possible. We aim to launch the campaign before July this year," a source from the Finance Ministry said.
The ministry expects up to 10 million Thais to register for the program, he added.
SOURCE: The Nation
Bangkok named most popular city for Japanese tourists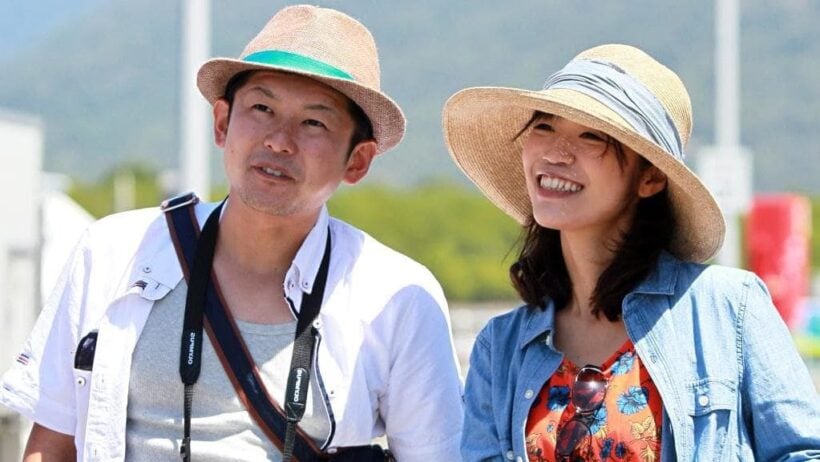 Thai PM Gen Prayut Chan-o-cha says he was happy after hearing that Bangkok was named the most popular destination for Japanese tourists during their Golden Week, a five-day long holiday which begins in late April.
The survey was conducted by Agoda, the online booking platform. Pattaya and Phuket were also ranked among the most popular destinations at #4 and #10 respectively.
"Japanese tourists are among the top 5 nationalities of foreign tourists visiting Thailand, particularly Bangkok where there are many beautiful attractions, delicious food, not-too-high cost of living, and friendly Thai people. The two countries's cultures are also quite similar. They can go along quite well," said a spokesperson for the PM.
Lt Gen Werachon Sukondhapatipak, the deputy spokesman of the Thai government, added that the PM loves to follow the updates on the tourism industry. Thai tourists love to escape the summer heat in Thailand, and visit Japan to experience the Japanese spring, visit popular tourist locations, sample authentic Japanese food and the Japanese people. The PM also invited the Thai people to be a good hosts, making all tourists feel welcome and helping keep them safe.
SOURCE: National News Bureau of Thailand
Bangkok luxury poised to push through the US$300 ceiling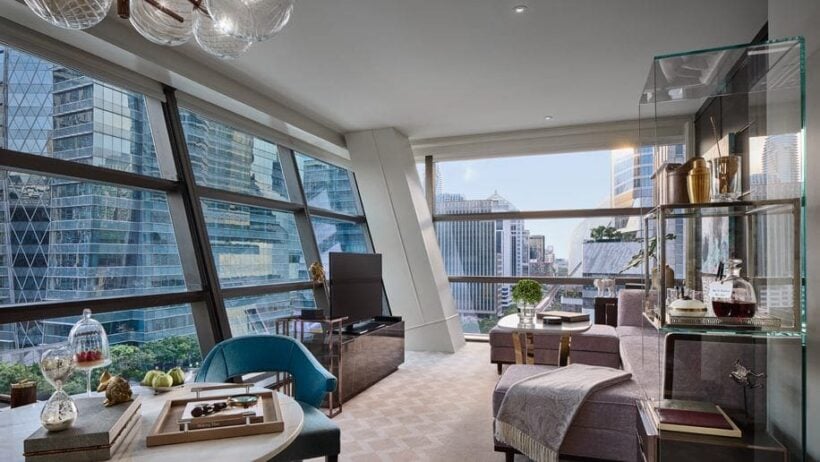 by Bill Barnett of c9hotelworks.com
PHOTOS: Rosewood Bangkok
For hotel owners and managers in South East Asia, one of the great mysteries of the past ten years has been the low rate profile of Bangkok's luxury hotel set. Despite soaring and sustained tourism growth, rising airlift and a strong economy, rates at Bangkok's top tier properties have remained fairly stagnant.
Have we reached the tipping point?
I had had the opportunity to visit the latest entry to the Bangkok luxury class a few days ago, the Rosewood. With 159 keys which includes a limited number of posh houses with private pools and terraces the property is seeing an exceptional response and already achieving high rates.
What's impressive about the entry is a take on the design approach that sees hotel developers apply a non-uniform approach with AvroKO coming in to focus on the restaurants and bars, while the rooms and public areas were led by Celia Chu Design and Associates.
While the speakeasy Lennon's has not be opened yet, the 6,000 record vinyl collection is impressive and the bar will clearly have a strong pull. Taking the approach to designing restaurants and not typical hotel outlets, the Chinese eatery Nan Bei is a breath of fresh air and limited seating provides a bespoke appeal.
Taking a step back, and looking at recent entries like the Waldorf Astoria, and upcoming 101 key Capella, what is clear is luxury properties are shifting in terms of key drivers of the segment of art, fashion, residential vibe, bar and restaurant offerings, wellness and events.
So, what about rates?
On a broad basis Bangkok's top tier hotels have averaged rates of US$200-240 for the past few years. This set has seen longer serving properties such as the St. Regis, Kempinski, and Okura effectively flatline on rates, though newer entries have come up including the Park Hyatt. On the broader horizon is the return of the Four Seasons and Capella by the river and the Orient Express at the MahaNakhon skyscraper.
With the entry of Rosewood driving rates, my expectation is that a few of the set will follow and at the end of 2019 we will set limited number of hotels crash through the US$300 average room rate barrier and effectively smash the legacy glass ceiling of Bangkok's luxury hotels.
As in any business there will be winners and losers. Smaller hotels with some rate leading premium key types will be able to push up average daily rates. Segmentation is another key and hotels on the river that lack substantial corporate numbers will remain challenged until transport links to the area improve.
Where in the world are Bangkok luxury hotels heading?
To sum up 2019, size and location matter, the shift on food and beverage and social events along with niches like wellness and  smaller meetings/weddings are the key to the future. As for the quantum leap in rates, it's about time Bangkok hoteliers be confident and push rates towards a more global norm.