Phuket Gardening: I say paw-paw, you say papaya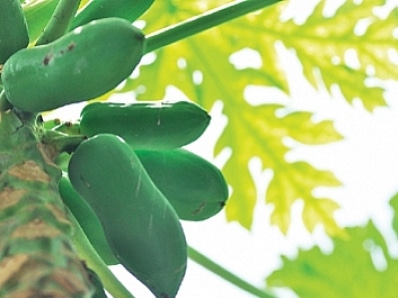 PHUKET: When I was young, papayas (pronounced papaiya) were considered very exotic, rarities that occasionally came along with other fresh fruit – mangoes and kiwi fruit, at the end of an expensive dinner.
Here papayas (stress on the last syllable please) are the most available of fruit. In Isarn, a meal without green shredded papayas in the mix is almost unthinkable. It's a basis for soups, salads, stews and much else besides. Som tam is a classic papaya concoction. Here, in the south, the huge fruits are more often allowed to ripen and are served as a dessert, though they are also used in savory dishes. The distinctive flavor is not to everyone's taste – sweet and slightly perfumed. If you like melons, you will probably like papayas.
Either way, the plant, known elsewhere in the world as the paw-paw, is probably the easiest of all fruit trees to cultivate in Thailand – and one of the most civilized. Civilized because it grows vigorously and quickly from seed, has a neat appearance, and crops heavily. In fact, it produces those huge succulent, marrow-shaped offerings in less than a year. Having borne a crop continuously for several months, a haul which may consist of as many as twenty or more weighing up to two kilos, its top leaves begin to turn yellow. That is usually a sign that the plant is on the way out. It can then be unceremoniously hacked down – since the stem is fleshy and hollow – with a single blow from a sharp machete. The root will soon rot away.
Papayas are technically not trees at all, but they give every appearance of being so. They are attractive plants, single-stemmed and with a crown of soft, palmately lobed leaves. Normally there are no branches and the fruit hang down from the trunk just below the crown.
Unique? Yes. There is only one species (carica papaya), which originated from Mexico, though inevitably there have been a number of commercial cultivars such as Maradol, Sunrise and Caribbean Red. These are normally ready to eat when the skin is turning red or orange and still has patches of green. Pick it as soon as it is ripe: the fruit rapidly goes soft and begins to rot once it has passed its sell-by date. In some tropical cultures, the papaya, which contains an enzyme called papain has other medicinal uses – bizarrely as a contraceptive, and for tenderizing meat. The black seeds can also be eaten: crushed, they serve as a substitute for pepper.
Peculiarly suited to this island's climate, the papaya is beginning to become naturalized on vacant lots around Phuket. If you do intend to grow it, plant a number of the peppery seeds from a ripe fruit directly into the soil, then water and await results. Many will germinate after a couple of weeks. Since the males do not bear fruit, remove them once they have produced their slender stalks with small white blooms. You may decide to keep one male, but usually papayas are self-pollinating, or are cross pollinated by insects or wind.
The plants can take oodles of sun, and will also need plenty of water and nutrients. After all they are going to produce lots of goodies. Moreover, they are relatively disease free – at least in Phuket. Hawaii had its entire crop decimated by the ring-spot virus, but here nothing worse than the odd fruit-fly seems to impede their upward progress.
Phuket Gardening is Phuket Gazette columnist Patrick Campbell's feature of all things flora.
If you have a question or a garden that you would like featured, you can email Patrick Campbell here.
Keep checking our online Phuket Lifestyle pages for regular gardening features and tips.
— Patrick Campbell
Keep in contact with The Thaiger by following our
Facebook page
.
Out of 37 countries, Thailand has the worst pension system, says Bloomberg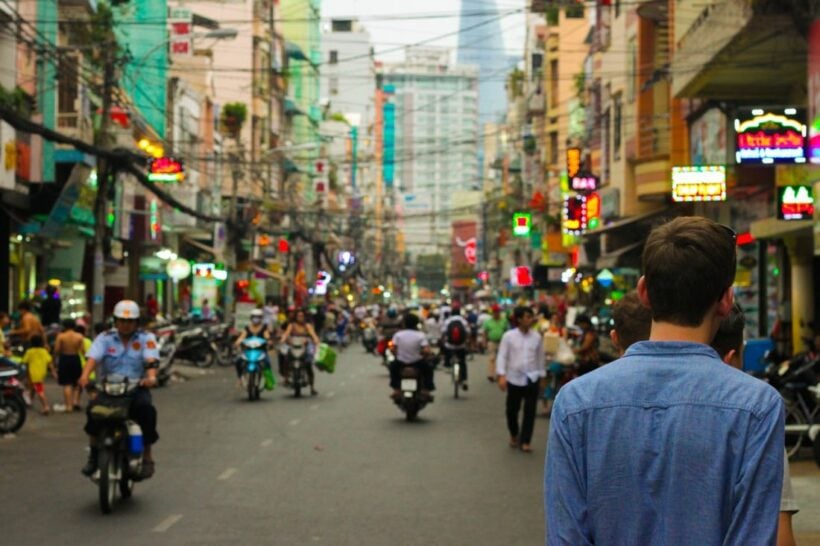 Thai Residents reports that on Sunday, Bloomberg published an article on the world's best pension systems, using information gathered from the 2019 Melbourne Mercer Global Pensions Index.
The survey looked at the pension systems of 37 countries with metrics including employee rights, savings, the number of homeowners, growth of assets, and growth of the economy. The purpose of the analysis was to determine what was needed to improve state pension systems and to gauge the level of confidence citizens had in their state pension system.
The Netherlands and Denmark were found to have the world's best state pensions, with Australia, Finland, Sweden, Norway, Singapore, New Zealand, Canada, and Chile next. Out of all 37 countries, Thailand finished last, with what the report described as an extremely ineffective and ambiguous system.
"Thailand was in the bottom slot and should introduce a minimum level of mandatory retirement savings and increase support for the poorest."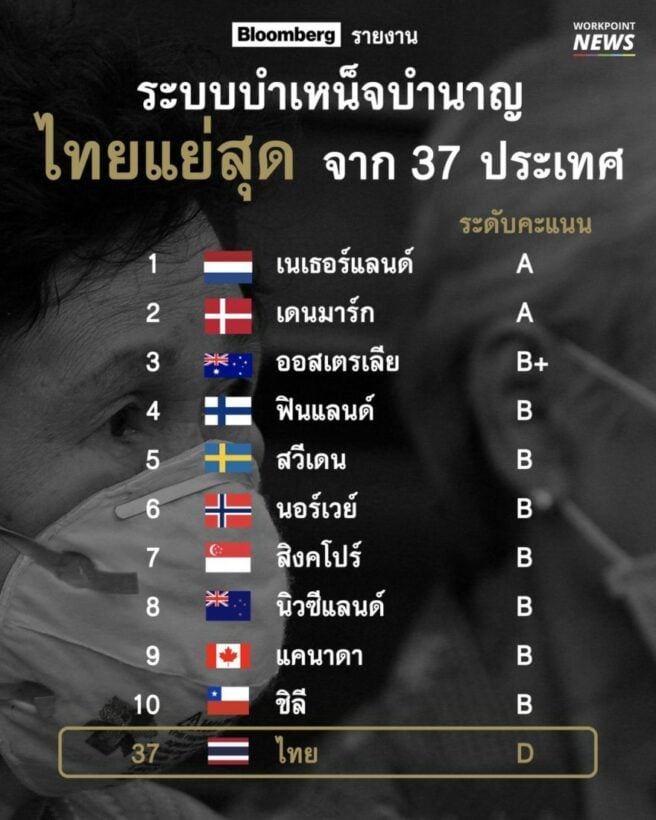 Photo: WorkpointNews
Thai Residents states that only those employed within the government system in Thailand are eligible for a pension based on salary. For most Thai citizens, pension amounts vary from 600 baht to 1,000 baht a month, depending on the recipient's age.
A report carried out by The Securities and Exchange Commission (SEC) advises Thai citizens to have at least 4 million baht saved by the time they retire, but Thai Residents reports that 60% of Thai retirees have less than 1 million baht in savings, with one in three citizens who have reached retirement age are forced to continue working in order to survive.
SOURCE: thairesidents.com
Keep in contact with The Thaiger by following our
Facebook page
.
Tax on salt content being considered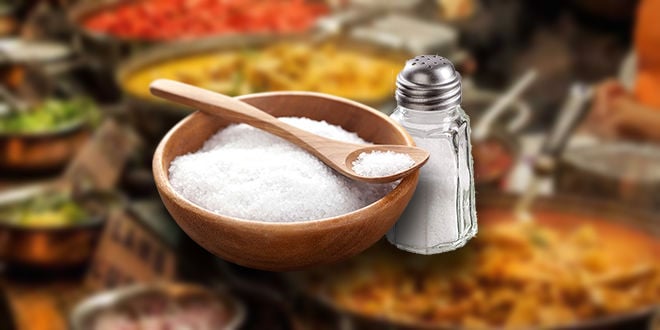 The Excise Department is considering imposing a tax on the salt content of food to encourage food producers to reduce the sodium content of snacks, instant noodles and seasoning cubes.
The director of the Office of Tax Planning said that the department is discussing a limit on the amount of sodium food can contain, in line with the standard set by the World Health Organization (WHO), which is 2,000 milligrams of salt per day.
In reality, Thai people consume an average of 1,000 milligrams per meal, making their daily intake well above WHO guidelines, according to the director.
He said any tax imposed would be at a level which would encourage food producers to reduce the sodium in their processed food without being punitive, adding that the proposal isn't intended to generate more tax revenue, but to help protect the health of consumers. Excessive sodium in the diet can lead to high blood pressure and kidney disease.
Fish sauce, soy sauce and salt would not be taxed.
SOURCE: thaipbsworld.com
Keep in contact with The Thaiger by following our
Facebook page
.
Water shortage warnings in 22 provinces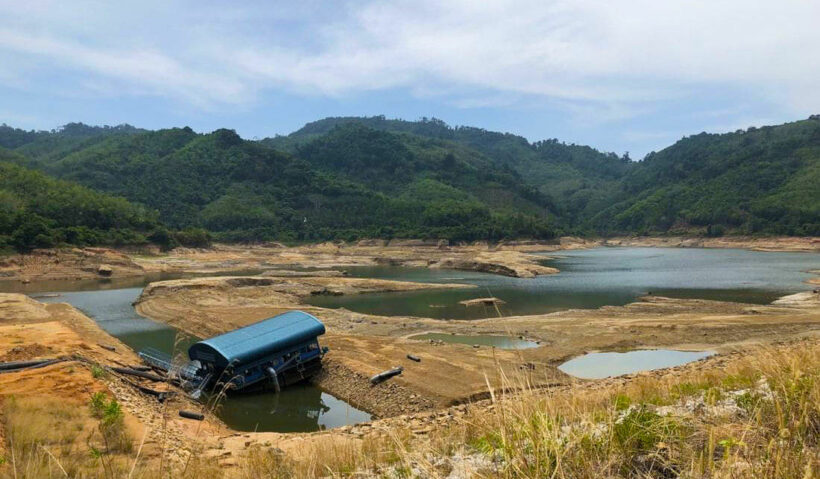 People living in 22 Thai provinces are being warned to prepare for shortages of drinking water during the upcoming dry season, due to start on November 1st.
The warning was issued by the National Water Resources Office, citing low levels in reservoirs, which are the main sources for tap water production waterworks in 22 provinces.
Areas at risk identified by the office are in northern, north-eastern, eastern and southern provinces.
Measures have been adopted by agencies charged with dealing with water shortages. including dredging water channels to allow greater volumes of water to flow into reservoirs, drilling underground wells, enlarging storage ponds and the purchase of water to supply to those in urgent need.
The Royal Irrigation Department has announced that people should use water sparingly.
There are currently about 6 billion cubic metres of usable water in reservoirs in the affected provinces, with 5 billion cubic metres reserved for consumption and ecological preservation, leaving only 1 billion cubic metres for use in agriculture.
This means farmers in the Chao Phraya river basin may not be able to grow a second crop of rice this year.
SOURCE: thaipbsworld.com
Keep in contact with The Thaiger by following our
Facebook page
.