Phuket Gardening: Alpha shrubs start with 'A'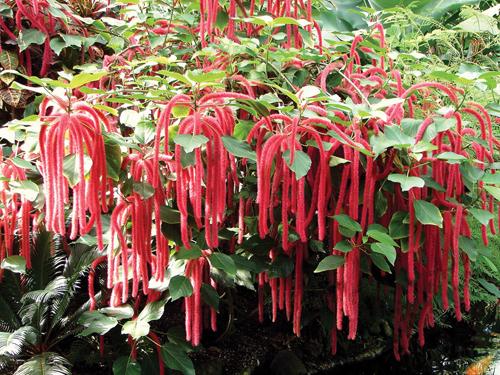 PHUKET: Last week we considered annuals, but today it is the turn of their big brothers – the shrubs and ornamental trees that form the backbone of any tropical garden (click here for last week's article).

Acalypha hispida, also known as the chenille plant or red cat's tail, is alphabetically the first to come under scrutiny. Unlike its cousin, A. wilkesiana or Jacob's coat, which is grown entirely for its unique, multi-colored foliage, hispida has conventional leaves, but the most unconventional of flowers – masses of long crimson catkins which hang down beneath the foliage. These blooms feel soft and velvety to the touch – hence the colloquial name of cat's tail.

It is a tolerant plant which will put up with poor soil, provided you give it a sunny position and a reasonable supply of water. Granted the right conditions, it will bloom freely all year round. The only proviso is that it may need pruning, since it can become leggy. Often used as an informal hedge or in dramatic groups, the chenille plant is one of the best starter plants for the inexperienced gardener. It is also easily propagated from cuttings.

Another distinctive shrub, but far removed from the chenille plant in appearance, is the adenium obesum or desert rose. Also a favorite with Thais, the adenium is basically a desert plant, a succulent which stores water in its thick, knobbly, sometimes leafless stems. Indeed for some growers, these grey, distended stems are the principal attraction, though it does produce trumpet shaped flowers and club-shaped, glossy foliage. Rarely grown in open beds, the desert rose is usually found in rock gardens or containers. An ideal choice for a pot since it will thrive in dry conditions. An occasional drenching is all it requires. In fact the adenium is much more likely to succumb to over-watering (which leads to stem and root rot) than to under-watering. If you do plant it out, the desert rose is a perfect candidate for a xeric regime.

In Thailand the desert rose has been extensively hybridized: the common pale pink, plumeria-like flowers, which appear on rather gaunt branches, now often superceded by more dramatic white, cream edged with deep crimson, or vivid red blooms. Horticulturalists tend to prune top growth to encourage flowering, but in truth, the plant is such a slow grower that it is often treated as a bonsai specimen. Personally I would let well alone unless it becomes too leggy. Propagate from calloused cuttings left overnight to dry out.

When I drew up a list of top twenty shrubs a couple of years ago, the allamanda topped the list. I have no reason to change that opinion. It wins on many counts: one, as a beautiful flowering shrub possessing huge yellow trumpets with a golden center; two, because it is tolerant of almost any conditions; three, because it has attractive glossy evergreen foliage which is a perfect foil for the flowers; and four because it seems immune to disease of any kind.

At the height of the recent driest season for years, it continued to bloom and bloom. If the allamanda has a fault, it is that although technically a vine, it does not produce tendrils, so it is unable to attach itself to adjacent surfaces. The whole luxurious structure of branches, stems, leaves and flowers, can easily become top heavy without support of some kind. But trained to a trellis or tied to a wall, it looks magnificent.

There is also a yellow, bushy variety with narrow leaves and smaller blooms, often used as a roadside border plant, and a dusty pink variety, A. blanchetti which does twine more effectively, but lacks the dramatic impact of its golden cousin.

What of more 'A's such as acacias, and abutilons?

Well, they will have to wait in the wings for another time.

If you have a question or a garden that you would like featured, you can email the author here.

Keep checking our online Phuket Lifestyle pages and join our Facebook fan page for regular gardening features and tips.

This article appears in the current (May 18-24, 2013) issue of the hard-copy Phuket Gazette newspaper, now on sale at newsstands throughout the island. Digital subscribers may download the full newspaper, this week and every week, by clicking here.
— Patrick Campbell
Keep in contact with The Thaiger by following our
Facebook page
.
Tax on salt content being considered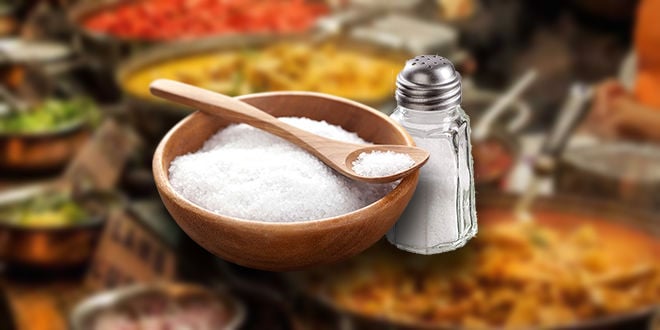 The Excise Department is considering imposing a tax on the salt content of food to encourage food producers to reduce the sodium content of snacks, instant noodles and seasoning cubes.
The director of the Office of Tax Planning said that the department is discussing a limit on the amount of sodium food can contain, in line with the standard set by the World Health Organization (WHO), which is 2,000 milligrams of salt per day.
In reality, Thai people consume an average of 1,000 milligrams per meal, making their daily intake well above WHO guidelines, according to the director.
He said any tax imposed would be at a level which would encourage food producers to reduce the sodium in their processed food without being punitive, adding that the proposal isn't intended to generate more tax revenue, but to help protect the health of consumers. Excessive sodium in the diet can lead to high blood pressure and kidney disease.
Fish sauce, soy sauce and salt would not be taxed.
SOURCE: thaipbsworld.com
Keep in contact with The Thaiger by following our
Facebook page
.
Water shortage warnings in 22 provinces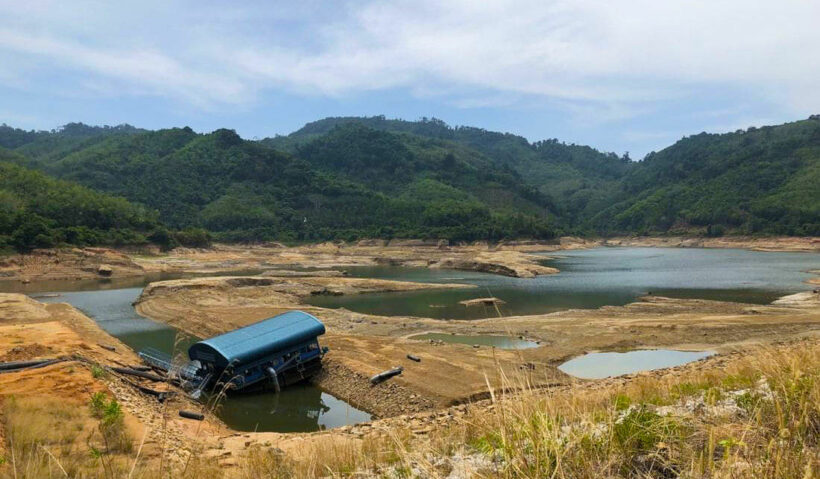 People living in 22 Thai provinces are being warned to prepare for shortages of drinking water during the upcoming dry season, due to start on November 1st.
The warning was issued by the National Water Resources Office, citing low levels in reservoirs, which are the main sources for tap water production waterworks in 22 provinces.
Areas at risk identified by the office are in northern, north-eastern, eastern and southern provinces.
Measures have been adopted by agencies charged with dealing with water shortages. including dredging water channels to allow greater volumes of water to flow into reservoirs, drilling underground wells, enlarging storage ponds and the purchase of water to supply to those in urgent need.
The Royal Irrigation Department has announced that people should use water sparingly.
There are currently about 6 billion cubic metres of usable water in reservoirs in the affected provinces, with 5 billion cubic metres reserved for consumption and ecological preservation, leaving only 1 billion cubic metres for use in agriculture.
This means farmers in the Chao Phraya river basin may not be able to grow a second crop of rice this year.
SOURCE: thaipbsworld.com
Keep in contact with The Thaiger by following our
Facebook page
.
Green Day heading back to BKK in 2020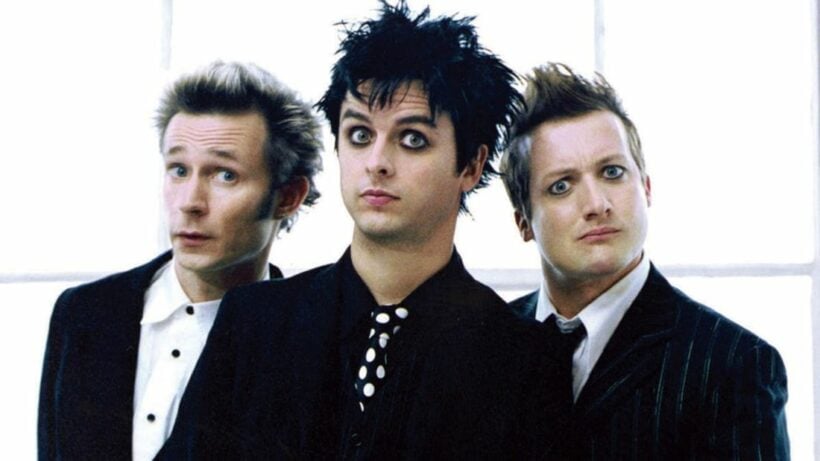 Green Day, five-time Grammy Award winners, are embarking on a global tour in 2020, including a stop-over in Bangkok during March. The rock 'n' roll Hall of Fame inductees will perform a series of concerts throughout Europe, UK, North America and Asia.
"Green Day Live in Bangkok" takes place on March 11, 2020 at Impact Arena, Muang Thong Thani. But it's not their first time. Green Day sold out concerts in their last Thai live gigs in 1996 and 2010.
Formed in 1986 in Berkeley, California, Green Day is one of the world's best-selling bands of all time, with more than 70 million records sold worldwide and 10 billion cumulative online streams of their music and performances. Their 1994 breakout album "Dookie" is widely credited with popularising and reviving mainstream interest in punk rock, catapulting a career-long run of No 1 hit singles.
In 2004, Green Day released the rock opera "American Idiot", selling more than 7 million copies in the US alone and taking home the Grammy Award for Best Rock Album. In 2010, a stage adaptation of "American Idiot" debuted on Broadway to critical and commercial acclaim. Entertainment Weekly called Green Day, "The most influential band of their generation," while Rolling Stone said, "Green Day have inspired more young bands to start than any act this side of KISS, and that doesn't seem to be changing."
Green Day Live in Bangkok 2020 is on March 11, 2020 at Impact Arena, Muang Thong Thani.
Ticket prices start at 2,000 baht and tickets go on sale on November 2 at all ThaiTicketMajor outlets via www.livenation.co.th or www.thaiticketmajor.com or call: 02 262 3838 for more information.
SOURCE: The Nation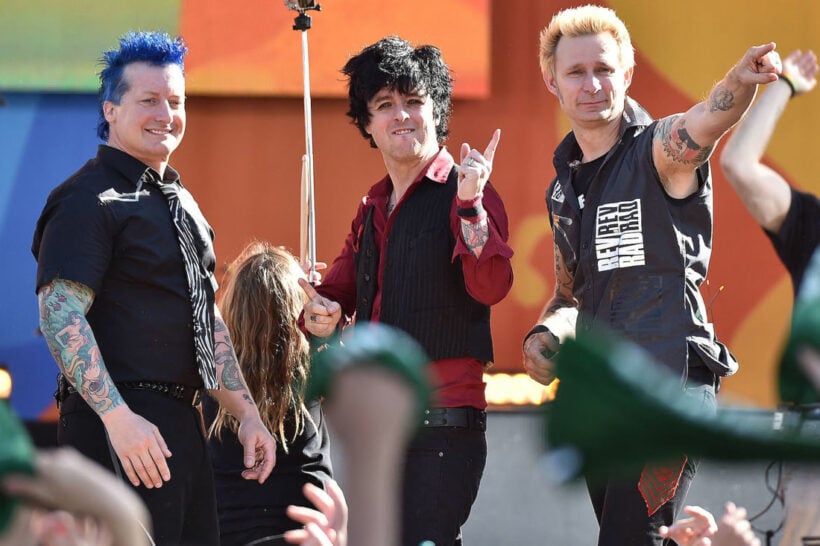 Keep in contact with The Thaiger by following our
Facebook page
.