Phuket Gardening: Take a leaf out of my book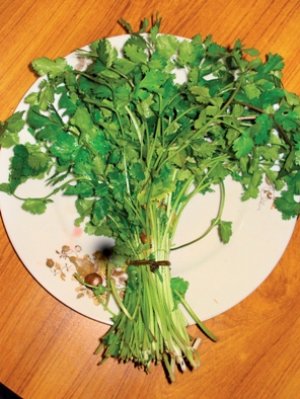 PHUKET: As anyone who lives here in Phuket can testify, green leaves are as crucial to Thai cuisine as lettuce is to a western salad and mint to English roast lamb.
Indeed, the edible leaves of at least three herbs – coriander, basil and mint – are present in many international dishes, both east and west of the Indian Ocean. However, fresh coriander leaves are more widely employed in Southeast Asian cooking.
The herb grows here more readily than in the temperate climes of Europe where the crushed, dried seeds are a more common ingredient in recipes. Buy some seeds (widely sold as a spice) and unless they have been adulterated, they will sprout easily in pots. Importantly, don't ignore the root. Crushed with garlic and pepper, it makes the most widely used seasoning in Thai food. Smells odd, but tastes divine.
Similar in appearance, Chinese celery also boasts foliage that resembles European parsley (one of the names for coriander is Chinese parsley). Moreover, because of its strong flavor – not remotely like conventional celery – it is normally added, sparingly, to soups, fried rice and pork dishes. Ken chai is often brought home from the market in this household.
Basil is, next to coriander, the most used leaf herb in Asia. It is also the most widely grown, partly on account of its tendency to germinate like a weed. In our household, we have no need to buy basil; it keeps appearing unannounced in the garden.
Ocimum basilicum (bai horapa in Thai) is the most common variety, similar to the sweet basil so beloved by Italians they venerate it as the 'royal herb'. In Italy, it is the key ingredient in pesto sauce.
The dark green leaves, borne on reddish stems, often picked and eaten raw, are commonly found on plates of herbs that accompany Thai food, but the leaves are tough; hence they are usually macerated, along with other herbs, and added to curry pastes.
Sometimes used in meat dishes, their distinctive aroma permeates the food. My Thai partner dislikes the smell, and carefully picks out the offending leaves and puts them on my plate. Mai pen rai.
Two other less common varieties are lemon basil and the so-called 'holy' basil. Lemon basil also flourishes in my garden, a smaller leaved and sap-green version of sweet basil. Known as bai manglak, it has a lemony scent; its soaked seeds are used in a dessert made with coconut milk. Holy basil, so-named because it is a sacred Hindu herb, has narrow leaves, and is rarely eaten raw, but it is cooked in much the same way as sweet basil.
Spearmint (shades of Wrigley's chewing gum?) occurs in Thailand but, like its cousins, peppermint and applemint, it needs water and shade, not always readily available in Phuket's gardens. I have not attempted to grow conventional mint here, but it was one herb that grew like a weed in my London patch.
Seed is available, so it must be worth a stab, especially if sown in a container that gets regular watering. As most farang know, mint sauce, made with chopped mint leaves, vinegar and sugar, is a natural accompaniment to roast lamb, while fresh green sprigs
add a distinctive fragrance to garden peas.
Fennel (foeniculum vul-gare) is another herb more associated with temperate climes – especially the Mediterranean where its attractive leaves, delicately feathery like those of dill, are used to flavor sausages and fish dishes. Italians love the bulbous root of Florentine fennel, using it in pastas and stews.
However, in Southeast Asia, only the seeds, which have a mild, aniseed tang are used as a spice; a key ingredient in Indian garam masala dishes and in some Thai curry pastes. A perennial herb, fennel grows profusely in Europe; a tall, upright plant with distinctive umbels of tiny yellow flowers. A familiar presence, as I recall, on the roadsides of Andalucia.
If in Thailand it is sparingly cultivated, I am tempted to ask why, since the climate in countries such as Syria where it is produced commercially, is much more variable than here. Another herb worth trying?
Finally, a herb that is a familiar presence, the kaffir lime (citrus hystrix). Known in Thailand as bai magrut, it is grown principally not for its fruit, but for its bright green leaves which have a distinctive double-lobed appearance (see photo).
Unlike the readily available lime fruits which are cultivated for their juice, this variety has a darker green, warty skin, but relatively little juice; it is the aromatic leaf which is a staple of Thai cuisine.
Like the equally tough bay leaf, it is usually left uneaten after being added whole to provide a distinctive lemony edge to soups, especially tom yam. It is also used as an ingredient, chopped up, in Panang and red curries.
I have two of these thorny plants in my kitchen plot, but they are fastidious about soil conditions and consequently slow-growing. You might find it more convenient to buy a bunch or two in the market and store them in the freezer.
Amazingly, the leaf will not lose its flavor or texture, and as a bonus, both the rind and the leaf can also be grated and used to add zest to cooked food. However, I am reliably informed that kaffir lime will flourish in a container.
So all of these herbs can be cultivated in pots, even if you have only a patio, and surely that is good news for the taste buds.
Phuket Gardening is Phuket Gazette columnist Patrick Campbell's feature of all things flora.
If you have a garden that you would like featured on this page, please email Patrick by clicking here.
Keep checking our online Phuket Lifestyle pages for regular gardening features and tips.
— Patrick Campbell
Phuket in the Top Ten list of Best Places to Visit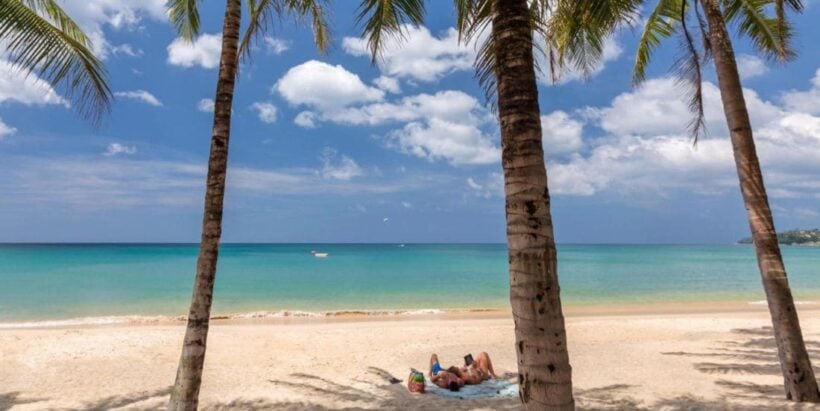 Paris topped the US News list of the World's Best Places to Visit, Phuket gets into the top 10 destinations this year. The annual rankings list the World's Best Places to Visit, along with region-specific and niche lists.
Paris, a long favourite with its world-renowned attractions, excellent cuisine and charming atmosphere, scored the top spot in the Best Place to Visit in the World listing. New Zealand's South Island was in second place, Rome was third, Tahiti fourth and London in fifth place.
Thailand's most popular island, Phuket, was the highest placed Asian destination and scored the eighth place in the Top Ten destinations, beating out Grand Canyon, New York, Sydney and Maldives.
US News also compiles the Best Places to Visit in the USA, the Best Historical Cities to Visit in the USA, the Best Small Towns to Visit in the USA, the Best Places to Visit in Australia and The Pacific and the Best Places to Visit in Asia. Unique to US News, the rankings combine editor, traveller and expert feedback to determine the most remarkable destinations around the world.
Paris, France
South Island, New Zealand
Rome, Italy
Tahiti, French Polynesia
London, UK
Maui, Hawaii
Bora Bora, French Polynesia
Phuket, Thailand
Grand Canyon, US
Yosemite, US
Barcelona, Spain
New York City
, US
Dubai
, UAE
Machu Picchu, Peru
Sydney
, Australia
Maldives
Amsterdam
, The Netherlands
San Francisco
, US
Florence, Italy
Yellowstone
, US
SOURCE: ttrweekly.com

SURVEY: Do you tip in Thailand?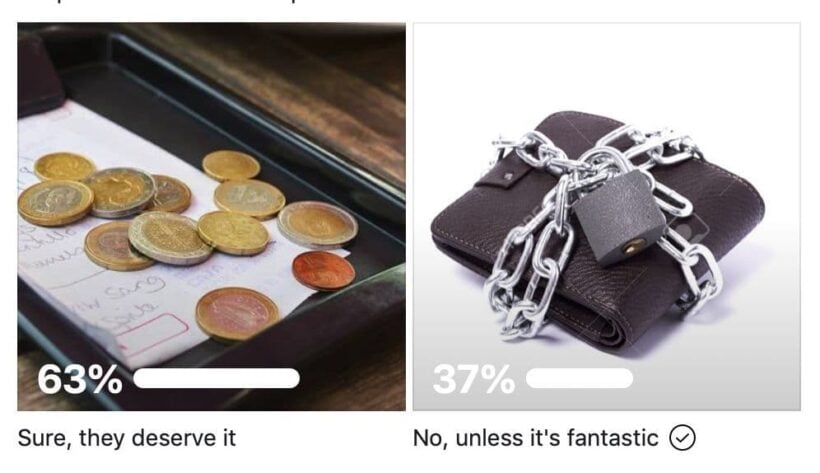 Yesterday we asked readers to tell us what they do when it comes to tipping in Thailand. We noted that a lot of people's feelings about tipping was related to where they come from and the customs they had on tipping in their home country. The question was…
To tip or not to tip? Whilst the custom of tipping is largely something you bring from your country, what are your tipping habits in Thailand?
Most people, 63% said YES, they tip, whilst 37% said NO, they don't tip.
The Thaiger also has an article – The Top Ten Tips on Tipping in Thailand HERE.
Here's some of your thoughts on the matter…
Thai waiting staff usually survive on small salaries, so unless they provide a lousy or unfriendly service I usually tip. How much will of course depend on how well they were doing their job, but I rarely leave a restaurant without tipping. – Michael B
Let's just say my tips leave a lasting impression and go a long way to helping more than just the person I gave it to! The Thai people have never failed me in my journeys from north to south… for this I express my gratitude generously in return… khob khun krap 💜 – Kirk L
Tip is an extra, should be given if there is extra in either quality or service or both. There is also the service charge, which is not optional to be included in the equation. – Francesco G
When they start to get my orders right and I don't have to wait ages my order then i might tip. – Sami J
Of course tips; unless service is bad. It's part of their salary and tipping beats ladydrinks (begged for) all day long. – William H
Good way to get rid of annoying coins but a small tip doesn't hurt. Most service I get in Thai land is quicker and with a smile compared to home. – Andrew C
Top Ten tips to tipping in Thailand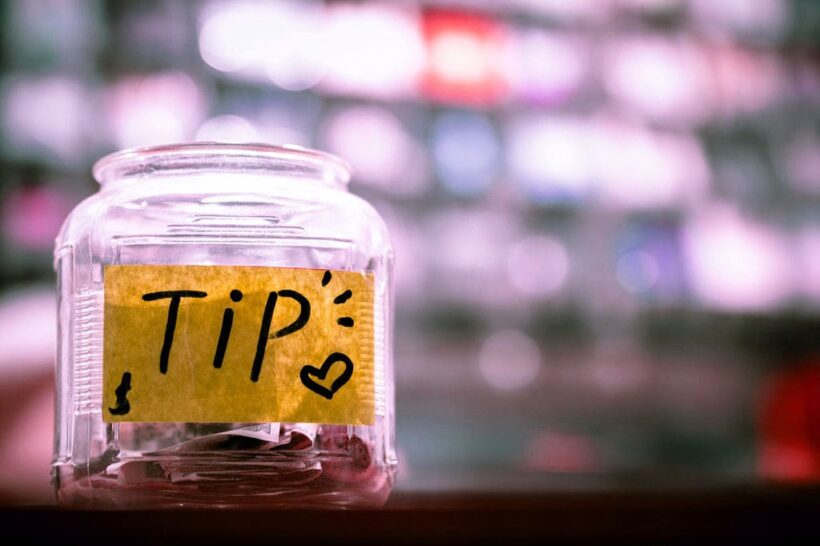 How much is appropriate in Thailand or should you tip at all?
There is no rule of thumb although tipping is not common amongst Thais whilst it remains reasonably common with some westerners, but certainly not all. Americans almost tip by habit.
Tipping in Thailand is not mandatory but will always be welcomed with a 'wai' and a smile.
Our 'recommendations' are by no means the rule. And your discretion should be advised at all times when you have your wallets out and talking about money in Thailand.
'Nice' restaurants
If you allow 10% of the bill as a tip for a 'good' or better restaurant, that would be considered a generous and well-appreciated tip. Or just rounding up the bill to the nearest hundred baht will be appreciated as well. At a 'fancy' restaurant with snooty waiters and a really nice view you better use the 10% rule to avoid any 'glances' when you leave.
Check the bill to see if there's a 'service charge'. If so then you can dispense with the tip – the 'service charge' is meant to be dispersed amongst the staff. But a personal tip to a very special staff member would be nice in these cases – 50 to 100 baht would be suitable.
But unlike many US restaurants, you will get out of the restaurant alive if you don't tip. Remember, it's a voluntary gesture. If in doubt just have a quiet word with the Manager who will usually be frank with you about what may be appropriate at their venue.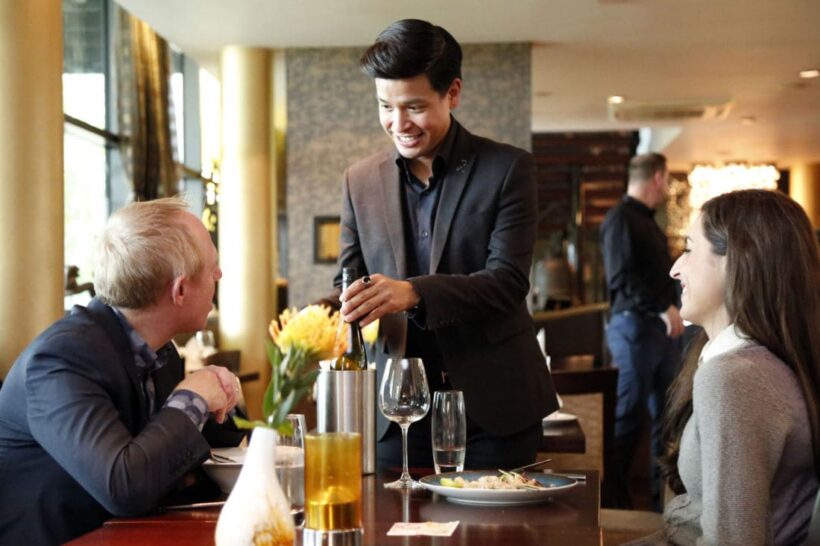 PHOTO: Gerry's Kitchen
Street food
If you feel inclined to tip when eating street food then you are more than likely going to confuse the vendor. Most street food is clearly priced, or at least when you ask the price, there is one price. That's what you'd be expected to pay and you'll receive the correct change. At the same time you're not expected to bargain or haggle the food prices.
If you're in a franchise like McDonalds, Starbucks, KFC, Svensons, Tom Tom's, etc there's no need to tip.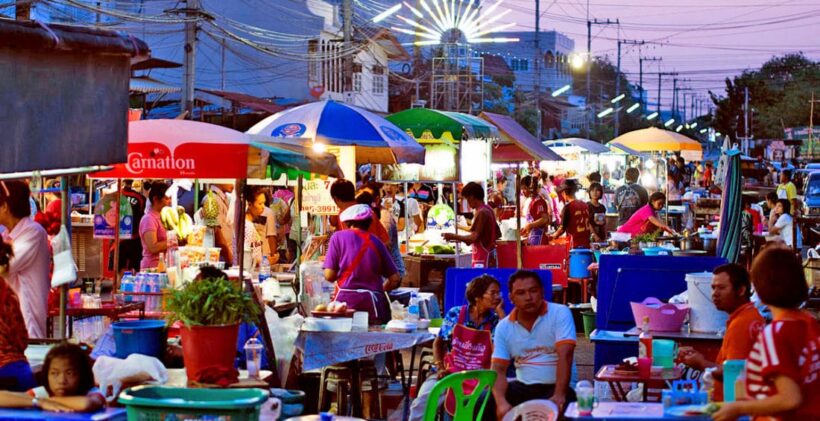 At the bar
Quite a few different situations here. If you're going up to order from the bar in a 'nice' venue then there would be no expectation for you to tip (if you're in any of the tourist zones you'll already be paying a heavily marked up price).
But if it's a beach bar and the waiters have been serving you drinks all day whilst you've been contemplating nothing-in-particular, then rounding up your bill or leaving 100 baht when you leave would be appropriate.
And if you've been chatting to the bar attendant all afternoon, a tip of 50-100 baht would almost be expected, but not mandatory.
As with restaurants, if there's a 'service charge' on your bill then consider that your tip has already been paid, although a smaller tip for a particularly attentive waiter would be a nice gesture.
Speaking of bars, if you end up at one of the venues with lots of smiling, scantily-dressed 'bar girls' (or bar boys) gesturing you to have a drink with them, then it's a different situation altogether. For these 'Girlie Bars' (or boy bars), they are on a commission. So, apart from your over-priced drink, you'll also be buying them a drink (which they also receive commission on). In return you'll get their T'inglish smalltalk and company and a good time is had by all. No tips in this situation.
Tour Guides
If you're one of 30 people on a crowded bus or boat, on a fixed price tour, then never feel obliged to tip. If you've booked a tour guide for your personal use for a few hours or the day, then we would recommend a tip around 10% of the agreed tour guide hire. For a half day tour, maybe 100-150 baht or double that for a full day tour.
If you have been on an organised tour but the tour guide has been uniquely amazing, you took up a lot of their time with questions or just went above and beyond their work requirements, then a tip given straight to them would be greatly appreciated. 50 to 100 baht.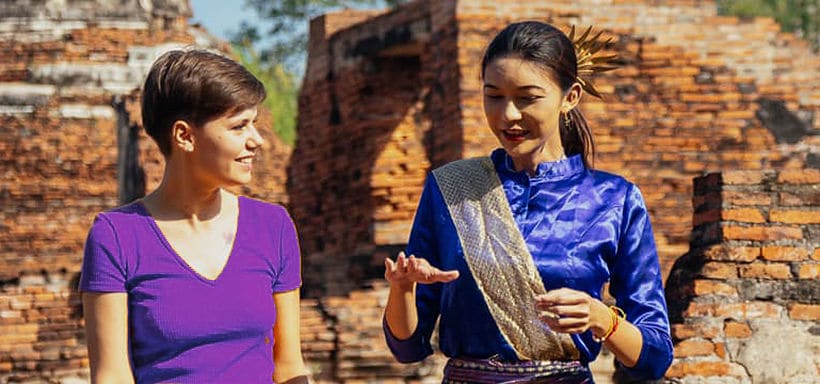 Taking a taxi
There are two ways to take a taxi in Thailand. Either negotiate a price before you get in or check that they have a working taxi meter. There's plenty of wriggle room in between these two solutions where you can get caught out. Firstly you should have a 'rough' idea of what the fare is going to be before you even think of taking a taxi. Check with your hotel concierge or ask a friend before you take your journey.
With the metred taxis there are a few, not many, taxi drivers that turbo-charge their meters so they run a lot faster than the permitted rate. If you think you've been ripped off take a photo of their taxi ID and threaten (nicely) to contact the Tourist Police (1155).
If you've taken a taxi ride, metered or negotiated, and all went well and the taxi was clean, etc, then feel free to round up your bill. The worst problem you'll have with taxis, especially in Bangkok, is that you'll often be turned down if you're not heading where THEY want to go. There are big fines for taxi drivers who refuse your fare but the situation is not heavily enforced.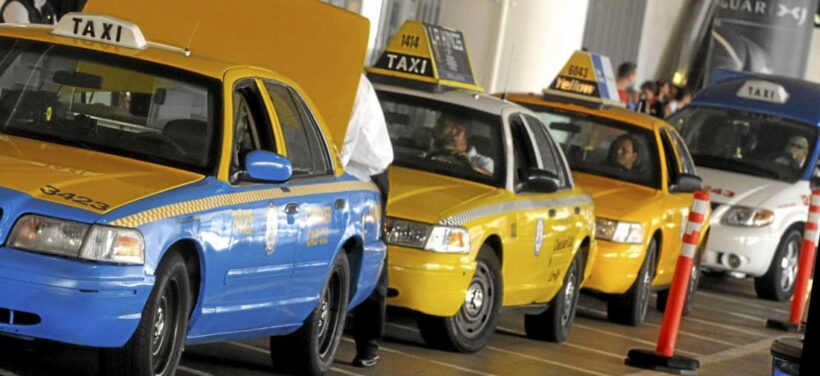 Ride-hailing taxis and Apps
Uber and Grab, but most likely GrabCar which is increasingly popular in Thailand and likely to be fully legalised in 2019. In the case of GrabCar, for example, the App does it all from the booking, calculation of the fare, a pic of the driver, the registration of their car, a map showing the car approaching and an estimated time of arrival – it's certainly the future.
There's also a TripAdvisor-style appraisal system so you can read reviews and rate your driver. In the case of a Grab fare, you know the fee before you get in. Rounding up the bill at the end would be appreciated but it's not necessary.
You will find the Grab fares competitive, usually less, than the government-endorsed taxis floating around the streets so feel free to offer a little something at the end.
Tuk Tuks, Baht Buses and Red Buses
No meters here. You're in a public transport 'twilight zone' here and anything can happen. Good news is it usually ends well. BUT, if there are any problems you should call the Tourist Police immediately (1155).
Always negotiate the price before hiring a tuk-tuk or Red Bus (Chiang Mai). Tuk Tuks in Bangkok are the three wheel jalopies that are ubiquitous in the capital and have been for decades. It's estimated that there are around 9,000 of these hideous, noisy modes of transport. All that said they remain a favourite for tourists and are something you MUST DO at least once in your life.
In Phuket the tuk tuks are mostly red, although you'll see them in other bright primary colours. The Phuket tuk tuks are a blockchain – a closed system with a local 'mafia' keeping control of the pricing and oppressing the entry of any competitive public transport into the island. Just google 'tuk tuk Phuket' and read the endless stories about the island's infamous tuk tuks.
Negotiate the fee before you get in. It will be higher than a conventional taxi ride. Haggle or bargain the price as hard as you like, with a big smile on your face. Once settled then don't even think about trying to bargain at the end of the journey.
Just don't.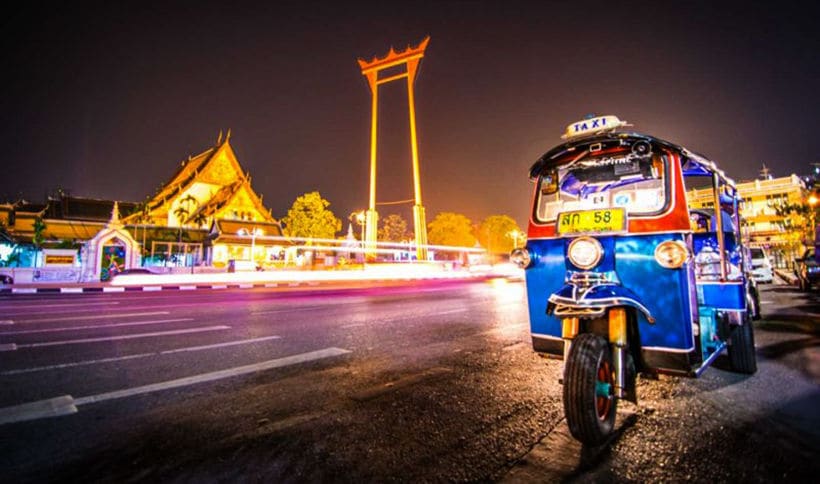 Massage
Traditional Thai massage is unique, an art, easily found and usually very good. After all that diving, bargaining, swimming, shopping and checking to avoid pot holes in the middle of the road, you're going to need a massage. Most of the better massages won't be found in the middle of the busy streets of a tourist trap like Pattaya's Walking Street, Bangla Road in Phuket or around Patpong in Bangkok. Indeed some of the services you may be offered, including the often-mentioned 'happy ending', are not really 'traditional' Thai massage.
Ask your hotel concierge for a recommendation, check with TripAdvisor or ask a local. If you're walking along a busy tourist street you will hear MASSAGE!? shouted at you as you make your way past their shops, usually with a rate card handy and usually in matching team outfits. These might be ok for a quick foot or shoulder massage.
For a good or even great Thai massage you need to find a spa with trained masseuse and masseurs. Most hotels will have their in-house spas, and most of these will be very good.
Anyway, back to the tip, a 50 to 100 baht would be an appropriate tip directly to your masseur. It would be customary to tip your masseur in most situations.
Tattoo artists and hairdressers
Tattoos are a very popular 'thing' for many visitors in Thailand. And the tattoo shops are very good with some of the world's best exponents of the art working in the Land of Smiles. There are also traditional local tattoo artists that are highly sought after. We would recommend a 10% tip to your tattoo artist.
Much the same goes when you visit the hairdresser in Thailand. We would recommend you make the tip directly to your hairdresser, if you're happy with their work. For the cheaper 'barbers' with their less-fancy premises a 20 baht tip would be appreciated.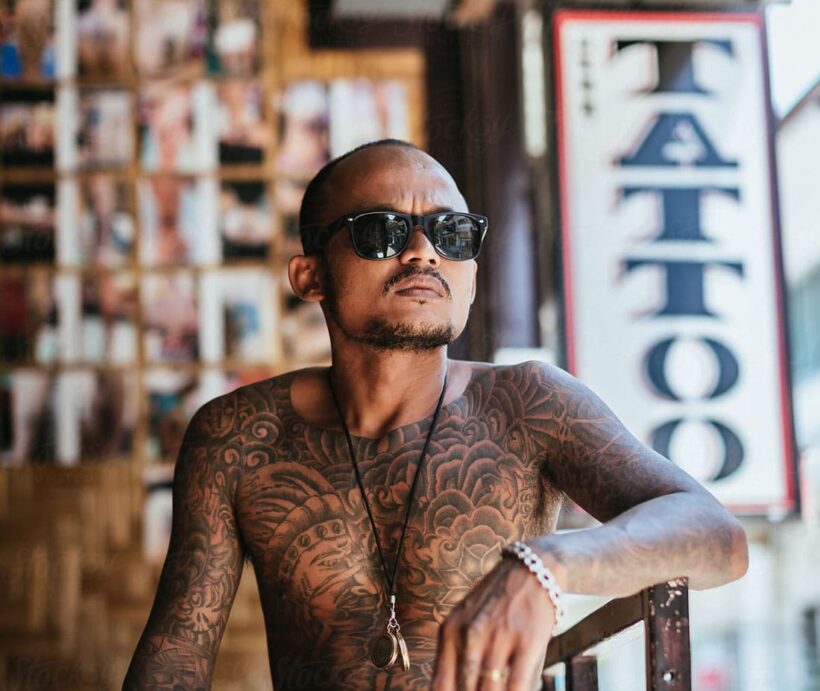 Bathroom attendants
Not every venue will have bathroom attendants but most shopping centres will, larger office blocks and restaurant and bar venues at night. Some of these may have a fixed price-to-pee. Other won't but you'll see the attendants lurking around keeping the bathrooms and toilets clean.
There is no need to tip them but, if it's a really nice bathroom and you appreciate the cleanliness a 10 baht tip would be appreciated. If you paid to use the bathroom there's no need to tip.