Thai Life
Phuket Food: Think globally cook locally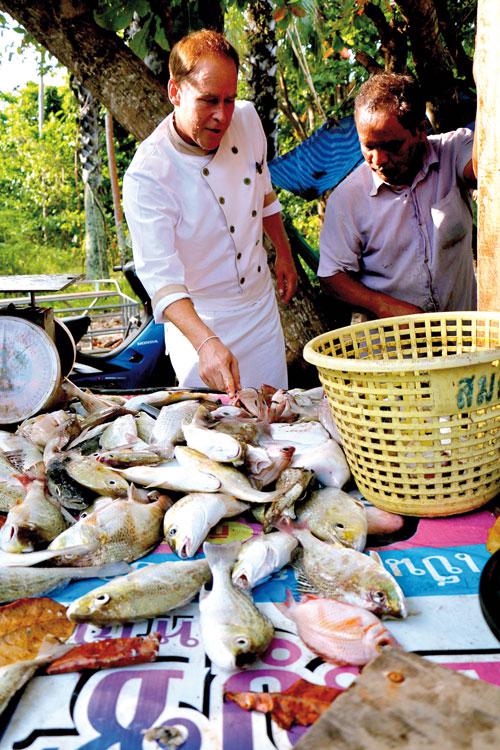 PHUKET: First on a speedboat, through the deep blue waters, east from Phuket, then in a song taew, across the lush green jungle of Khao Yao Yai – and finally I'm there: a stone's throw away from a fisherman's village, surrounded by rubber trees, talking to a chef. Or should I say – a celebrity. With his recent appearance on the Iron Chef Thailand TV show, Scot Flaxman, Chef and F&B Manager at Glow Elixir Khao Yao Yai Resort shouldn't complain about a lack of attention.
But if it's attention he's after, why did he escape the flashy living of London, Singapore and other metropolises and settle in this remote piece of paradise? And what keeps him and his resort's kitchen going?
You've been and worked in many places before, yet you ended up in the Phuket region. How did it steal your heart?
A long time ago the company I was working for catered for "The Beach" movie premiere party. And it was such a phenomenal, inspiring party that I decided to visit Thailand. So I got together with 10 chef friends of mine and we all came to Phuket for two weeks. And we enjoyed it so much – the food, the climate and the atmosphere, that we came back the following year and the following year and so on. And after doing this for four years I just never wanted to go home. That's when my sister asked me why don't I move to Thailand, and so I did.

So from place like London, full of life, people and bars, you moved here to Koh Yao Yai and ended up in a remote location. How does it feel?
I was born in a very small mining town in Zimbabwe. I travelled, I lived in Singapore, visited Hong Kong regularly, but in the end it's nice to come back to a quiet place where you can give personal attention to people. There's such an impersonal feeling about being in the city. Most of the people you meet you will never see again. That's what I like about coming back to a place like Koh Yao Yai. Take away the beach, the beautiful weather and everything else, it gives me a chance to give the guests that personal touch.
I like to greet guests when they arrive. I remember years ago I went to stay at the Le Meridien in Khao Lak, and there the chef welcomed us in the reception and for me that was such a fantastic experience to meet the chef when you check in.
There are a lot of aspects to being a chef. Some chefs think they can run the kitchen and run the restaurant from their office. Other chefs are in the kitchen where they throw tantrums and scream. For me, being a chef is the interaction, the feedback from people.

What are some of the biggest challenges of running a restaurant in this location?
Supply and delivery. For example, when I first came to work here we had pork on the menu. But this is a Muslim island, all of our staff are Muslim and to get the pork here, we could not use the public ferry. We could not use the speed boat or any mode of public transport from Phuket, unless we rented a long tail or speedboat and the cargo would come straight to the beach and off-load here.
So I decided to take pork off the menu rather than incurring massive costs. But it's also about embracing the local community and not alienating ourselves. And this small gesture went a long way. We buy what we can from Koh Yao Yai to support the local community and the families of the associates who work here. But if we can't get it here, we get it from Phuket. And some things you can't get there either.
What do you get locally?
We get as much fruits and vegetables locally as we can. We get palm sugar, curry pastes. Instead of making one of my chefs prepare paste for two hours a day, we buy the local stuff. We buy as much coconut cream as there is but that's still not enough so we have to ship some. We also grow our own galangal, lemon grass and lime leaf tree, and we're starting a nursery so we can grow more of our own products. And you can taste it – fresh is the way to go. And we get all of our seafood from local fisherman, directly on the beach. We like to cook Koh Yao Yai style, the way locals prepare food. We have dishes here that taste different from anywhere else in Thailand.

How did you end up on Iron Chef?
We had a guest staying here last spring. And she asked if I was interested in being on Iron Chef. And I'm a big fan of the entire show, so of course I was interested. I have done everything to try the whole spectrum of being a chef. I've done hotels, restaurants, fine dining, private cheffing, catering, everything. Some chefs have their niche, I don't. When I turn 60, I want to be able to say I tried everything.

How does it compare – cooking in a resort and cooking on TV?
I didn't find it any different from cooking for a restaurant. You just have to focus on what you're doing and block out everything else. When I asked my chef friends for advice, they said: "Just forget about the cameras, you're in your own kitchen, doing your own thing, just carry on".
Why do you think cooking shows are so popular these days?
I think everybody wants to cook but some are afraid to. And people are interested in looking behind the scenes. Ten years ago we didn't have open plan kitchens. Now they are very popular, people want to see what you're cooking.

Did this experience change the way you run the kitchen in the resort?
My kitchen has changed totally, the resort has changed totally, the island has changed. Nobody from Khao Yao Yai has been on TV before so when I chose a chef from here to come with me to Bangkok, it was a huge thing on the island, a huge thing for the community. And for me it was great. I wanted this exposure for my chefs. It was a great opportunity to push the whole team and to let them know everything can be done. In Thailand, I get a lot of 'can not' attitude. I can explain to a chef what I want and they will be puzzled and reply 'can not'.
But when you show how it's actually done, they realize they can. So the appearance in Iron Chef opened up a lot of creativity in our kitchen and this is what cooking is all about. It's not about sticking to the recipe that has been around for 50 years but about putting your style onto something.
Keep checking our Lifestyle pages for the latest happenings across Phuket. Alternatively, join our Facebook fan page or follow us on Twitter.
— Maciek Klimowicz