Phuket Environment: Jellyfish are back in the spotlight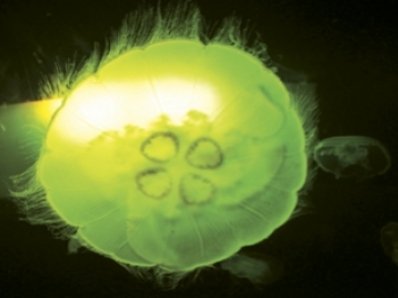 PHUKET: A piece published recently in a London daily newspaper may have created some unnecessary alarm in Phuket. The story concerned a British tourist who apparently fell overboard while on a boat in Thailand. She was so severely stung by jellyfish that she ended up in hospital with the equivalent of third degree burns, not only excruciatingly painful but which necessitated skin grafts. The injuries have apparently led to unsightly and permanent scarring.
A cautionary tale indeed. But, it is important to remember that such an occurrence is extremely rare, and that the unfortunate victim probably had the bad luck to fall into the middle of a large "bloom" or swarm of venomous jellyfish which reacted – as they do – by firing tiny toxic, barbed darts into her unprotected skin.
That she did not receive any immediate treatment would not have helped her cause. Furthermore, and since the blisters turned black the following day, she probably experienced a rare allergic reaction.
Jellyfish are one of the oldest forms of life on the planet, and exist the world over. They vary in size: from the tiny purple ones often marooned at high tide on Phuket's beaches, to lion's mane jellyfish, with tentacles 80-feet-long. Nomura's jellyfish can have a bell of up to 200 centimeters wide.
Most jellyfish are venomous, but not many are likely to produce extreme reactions, and only one, the box jellyfish, is potentially lethal.
In any case, if you snorkel or dive, you will spot them. Most are translucent, even luminous, and consist of a gelatinous, umbrella-shaped bell and trailing tentacles – beautiful creatures in their own right. It is these tentacles, with up to 2000 stinger cells (nematocytes) per square millimeter, which do the damage.
I swim several times a week in Phuket's seas, and have only ever been stung once. Unlike the lady who likened her ordeal to being cut by hundreds of razor-blades, I felt almost nothing – maybe the plastic embrace of a bag.
Only when I came ashore did I realize what had happened. I rubbed the red swellings with crushed sea vine leaves – a known antidote – and in the process broke many of the rapidly forming blisters. The following day, I bathed the affected areas with vinegar but it was too late. The discomfort lasted two weeks and red marks remained for six months.
If there are more jellyfish these days it is for two reasons.
One, is that the seas are dumping grounds for nutrients from agricultural runoff. Eutrophication provides ideal conditions for jellyfish which, unlike fish, can find plenty of food in shallow, deoxygenated water.
The second, and more crucial reason, is overfishing: the jellyfishes' natural predators are all in decline – tuna, sharks, swordfish and leatherback turtles. Another example of Mother Nature's delicate balancing act being disrupted.
If you do have the misfortune of being stung, don't rub the wound, which allows blisters to burst and the poison to spread. Apply vinegar (acetic acid) as soon as possible. Every boat and every lifeguard station should carry a bottle or two.
— Patrick Campbell

Join the conversation and have your say on Thailand news published on The Thaiger.
Thaiger Talk is our new Thaiger Community where you can join the discussion on everything happening in Thailand right now.
Please note that articles are not posted to the forum instantly and can take up to 20 min before being visible. Click for more information and the Thaiger Talk Guidelines.