Phuket Diving: Camera rolling, regulator in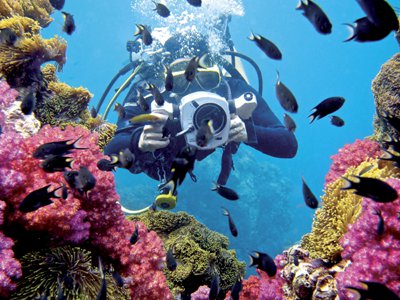 PHUKET: Toweled dry and eating a pile of pancakes on Andaman Ocean Safaris' boat, my dive buddy and I head to the upper cabin with lackluster enthusiasm to watch the video from the day's dive. I had seen these sorts of videos before.
They usually came off as gimmicky and, let's be honest, I had just been on the dive so I remembered what I saw and how it looked – but this time I had no idea what I was getting myself into.
Henrik Konradsal's video had me laughing before the divers finished suiting up, as a little playful editing made each awkward diver dance to the 1990s classic Mambo Number 5.
But it wasn't until the camera went under water that Henrik's magic took hold of everyone watching, and we were sold.
A blue spotted ray wafted from the sandy bottom, it's colors vibrant against the blue water – it was all vastly more beautiful than I remembered it. I caught myself thinking, "I want to be on the that dive!" Yet, there I was on the television staring at a cuttlefish.
Almost all the exciting marine life spotted, some of which we had only heard about from other divers, was in the video. All this footage came from one camera, and one man, who had been able to not only shoot the approximately 20-minute video, but also to complete all the post production.
I had to find out how he did it.
Phuket Gazette: How do you incorporate the sense of discovery into your videos?
Henrik Konradsdal: I'm always looking for new things to put in the video. The more interesting fish and corals I find, the more interesting the video is going to be for the guests. So if I can see a leopard shark that's going raise the value of my DVD, I shoot it.
PG: What are you looking for when you shoot the film?
HK: First of all, I want the nice shots. The shots that are going to make people say, "Wow, is that actually the dive we did?" I know where to go and I have my spots. I figure out which angle is good for a particular shot, try to go to my spot, do the shot I normally do and then I try to look for something special to see.
Instructors and Dive Masters know what I'm doing, so if they've seen something special they always point it out to me – "shark over there" or "octopus over here". I find all the special things and people are sometimes surprised about how much I find. But I may only find half of it, while the instructors show me the rest. They, of course, want me to see whatever they saw, so that I can film it, and they can tell their customers later, "Oh, that's the shark we saw."
PG: Do you use any stock footage outside of the intro, where you are introducing the staff?
HK: Yeah, it happens. Sometimes I'll see something and I'm not able to get a good shot of it. Then maybe I'll have to use footage from a previous day or the day before that. But if it's a day with bad visibility, I won't suddenly put 20 meters visibility into the film. I mean I would use stock footage of bad visibility of the same fish, crab or whatever. But I try to use as little as possible.
PG: I was very impressed by the way the camera and you move through the water. What kind of camera angles do you look for when you are shooting?
HK: If I'm following the subject I try to be below it, shooting up, or at least on the same level. I try not to shoot from the top for the same reason you want to shoot a fish from the front. You actually want to see the fish, its expression and its face. You want to see how the fish interacts with the camera.
PG: It looked like you were working nonstop on the boat. How does that editing process work for you on the boat?
HK: My set up for the video is the same every day. I have the morning part; I have the funny part; I have the diving part; and the afternoon part. And in each section there is something I'm looking for. And I always know right away when I have it. So when I sit down to edit, I just go straight to that part. It saves me time, not having to look through everything.
PG: So if lunch is late you don't get to eat, right?
HK: Yeah, as soon as I come out of the water from the first dive and start importing footage I need the food to be ready. I can start eating while the files are importing. As soon as my files are imported, I start editing.
PG: Are you able to jump to exactly where you want to be when editing?
HK: Yeah, and I try not to keep the camera rolling too much. I just shoot the film I need and then stop. For other videography projects you would continue filming a little bit longer, just in case, but I don't have time for that because it's going to take longer to import and longer to find the footage that I need.
PG: Earlier we were talking about how your videos look better than real life. The water looks clearer, the colors are a little sharper. How do you do that?
HK: I do some color editing. Underwater, I basically set up my white balance correctly. That's how I get the blue effect. It doesn't matter how green the water is. I want the water to be blue, so I do the white balance accordingly. Then, if I don't think it's blue enough, I add some blue during the edit and maybe take away some green. Most of the effects for the film I create underwater, with the angles. I have a bit of a wide-angle feature on the camera, so I can get a bit closer to the object and it will still fit inside the frame. On the TV it might look like I'm three meters away, but in reality I might be just a meter away. So that makes the water look clearer than it is.
PG: What kind of advice do you have for a hobbyist or someone just starting underwater videography?
HK: Get to know your equipment before you get into the water. You need to know where the buttons are. Also, learn how to do white balance on your specific camera. I've never really had any success with the underwater mode, which many cameras have.
Really, the key to being an underwater photographer or videographer is your buoyancy. If you are new to diving, but you are an experienced photographer you'll have problems. You need to learn to dive properly before being able to take good shots.
PG: So before we bring this to a close, what's your favorite dive site to work on?
HK: I love Shark Point, which is beautiful. The tops of pinnacle two and pinnacle three are just amazing to film. There's so much marine life and, on top of that, there are all the colors of the soft corals. I just can't fail at shooting there [laughs].
Henrik shoots with a Sony cx550 in a Light and Motion Stingray G2+ housing. On the boat he uses iMovie editing software, but for more advanced editing he uses Final Cut Pro. He can be contacted at fx.scuba.phuket@gmail.com.
— Isaac Stone Simonelli

Join the conversation and have your say on Thailand news published on The Thaiger.
Thaiger Talk is our new Thaiger Community where you can join the discussion on everything happening in Thailand right now.
Please note that articles are not posted to the forum instantly and can take up to 20 min before being visible. Click for more information and the Thaiger Talk Guidelines.