Phuket Dining: Tempting tastes of the Cape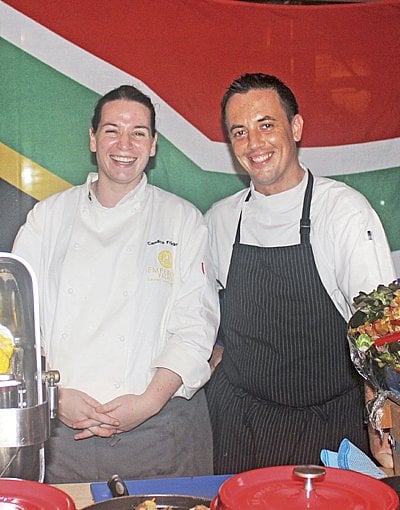 PHUKET: Few things can tell someone about another culture or country like its food. Italian food is full of flavor and body. American food comes in large quantities and fills you up. Thai food is spicy with intricate details and layers.

If food is indeed anything to go by to get a sense of culture, then the South African Food and Wine Expo, held at the RE KÁ TA Beachside Restaurant in Kata, hit the nail on the head by offering its patrons a taste of what South Africa is all about.

The flavors on offer from the food and wines were so diverse it was almost impossible to try them all – well, almost impossible.

The meats off the braai – Afrikaans for barbecue – on display were hearty and in abundance. The wines were full of form that had people reaching for more and the aromas and atmosphere that filled the air truly had an Ubuntu feel to it.

In attendance was HE Ruby Marks, the ambassador for South Africa to Laos, Cambodia, Myanmar and Thailand and she had nothing but praise for the event.

"This is all wonderful. It really is and I feel so proud to be a South African and am truly overwhelmed by it all," she said, clearly gushing with pride.

"The Thai palate is a refined one and open to new tastes and experiences. South African food is perhaps something that many people have not necessarily tried before and, therefore, I am excited that we can introduce them to it."

Foods such as biltong: a jerky- like snack that is salty and rich. Boerewors: a spicy, juicy sausage slowly cooked on the braai. Chakalaka: an accompaniment to all dishes consisting of beans, chilies, carrots and an assortment of spices and herbs.

And, of course pap: porridge-like meal made from ground maize, with onion-and-tomato gravy that fills every bit of spare room in your belly.

Then there is the wine. Like any proud, rainbow-blooded South African will tell you, wine from the Western Cape region of the country is up there in terms of quality with the very best from around the world.

Don't believe me? Here's what Monsieur Georges Ciret, the wine director of the Boathouse had to say: "South African wine is special. It has flavors that separate it from the rest of the world and, if anyone is curious enough to try some, then they will soon realize that wines from the south of Africa can hold their own against anything from France or other countries.

"South African wines are fruitier than other wines and this is unique to the country. Robust grapes give it more body, which accompanies the hearty, meaty food of the country."

This combination offers those who are curious and the adventurous something uniquely African, which is a taste that is gaining popularity around the world.

After the 2010 FIFA World Cup, the world's eyes have often found themselves gazing in the direction of South Africa, and its rich history and amalgamation of flavors and cultures shine through in the food and wine on display.

Head chef Bryan Berger is a South African expat who has been living here for seven years and is overjoyed to be able to share a little bit of home with people from all over the world.

"Food brings people together. It is a great unifier," he says, while dishing up a generous helping of barbecue pork ribs off the fire for an Irish couple.

"In South Africa we have so many cultures and languages and people all coming together and mixing it up and that is reflected in our food. In one meal you can have curries from Durban, fruity sauces from the Western Cape or large servings of beef and lamb from the Karoo or the Free State."

This mix of flavors and cultures is perhaps the defining feature of South African cuisine.

The country's history is well known and documented. A radical past has shaped the landscape and thrust different ideologies and beliefs into a great melting pot and stirred them all together. The end product is something that Ambassador Marks believes is something to be proud of.

"We have so much to offer the world and, for a country that is still in its infancy [only 18 years old] we really are a shining light.

"In terms of produce, we have it all. Our weather is conducive to producing top quality ingredients and we are already looking into exporting our citrus products to Southeast Asia as well as our unique tea called rooibos [red bush]."

So, if you are looking for a spice that's lekker and aren't afraid to risk a babbelas, then why not try some South African flavors that will definitely have you screaming, "Ayoba mzanzi, Ayoba!
Finance Ministry wants to give 1,500 baht to each domestic traveller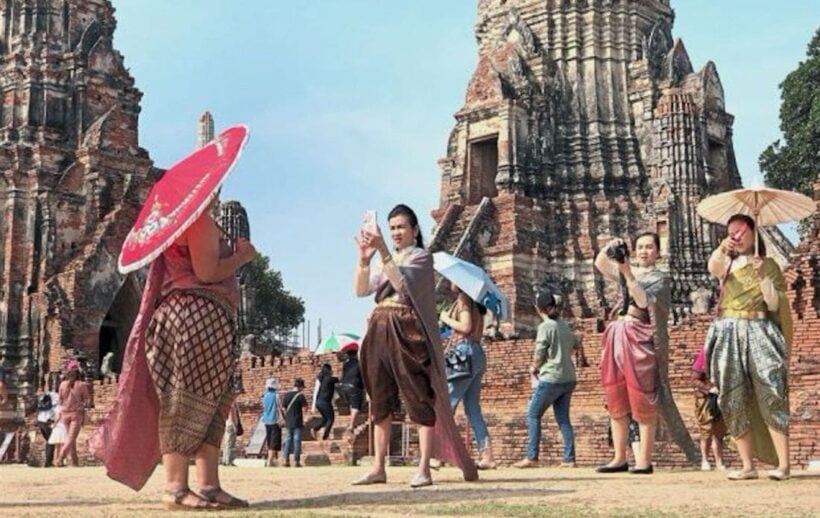 The Finance Ministry says they are launching a new stimulus package to boost the country's domestic tourism by giving Thais 1,500 baht each to spend when they travel to 55 provinces under the promotion campaign.
Under the campaign, Thais aged 18 and over can register for the program. The government will then deposit 1,500 baht into their accounts though the e-payment system. They can use the funds to make e-payments the shops that have joined the project.
"We are collaborating with the Tourism and Sport Ministry and Krung Thai Bank for the campaign and have set a budget of up to 15 billion baht. We will now propose the program to the deputy PM Somkid Jatusripitak and the cabinet to consider as soon as possible. We aim to launch the campaign before July this year," a source from the Finance Ministry said.
The ministry expects up to 10 million Thais to register for the program, he added.
SOURCE: The Nation
Bangkok named most popular city for Japanese tourists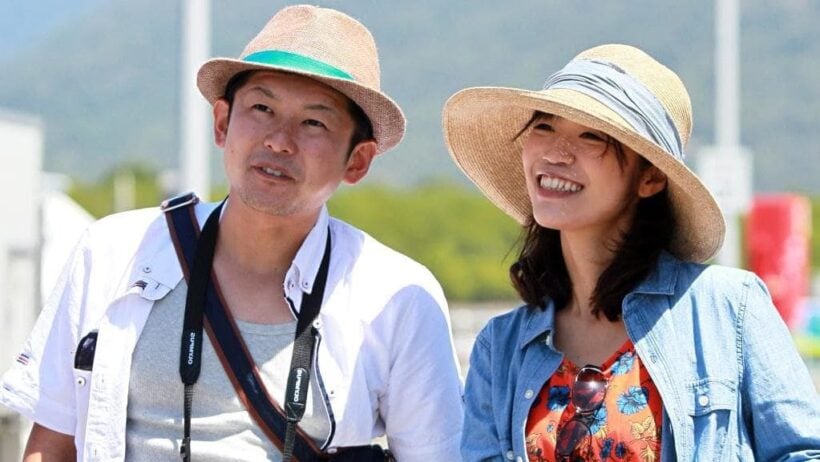 Thai PM Gen Prayut Chan-o-cha says he was happy after hearing that Bangkok was named the most popular destination for Japanese tourists during their Golden Week, a five-day long holiday which begins in late April.
The survey was conducted by Agoda, the online booking platform. Pattaya and Phuket were also ranked among the most popular destinations at #4 and #10 respectively.
"Japanese tourists are among the top 5 nationalities of foreign tourists visiting Thailand, particularly Bangkok where there are many beautiful attractions, delicious food, not-too-high cost of living, and friendly Thai people. The two countries's cultures are also quite similar. They can go along quite well," said a spokesperson for the PM.
Lt Gen Werachon Sukondhapatipak, the deputy spokesman of the Thai government, added that the PM loves to follow the updates on the tourism industry. Thai tourists love to escape the summer heat in Thailand, and visit Japan to experience the Japanese spring, visit popular tourist locations, sample authentic Japanese food and the Japanese people. The PM also invited the Thai people to be a good hosts, making all tourists feel welcome and helping keep them safe.
SOURCE: National News Bureau of Thailand
Bangkok luxury poised to push through the US$300 ceiling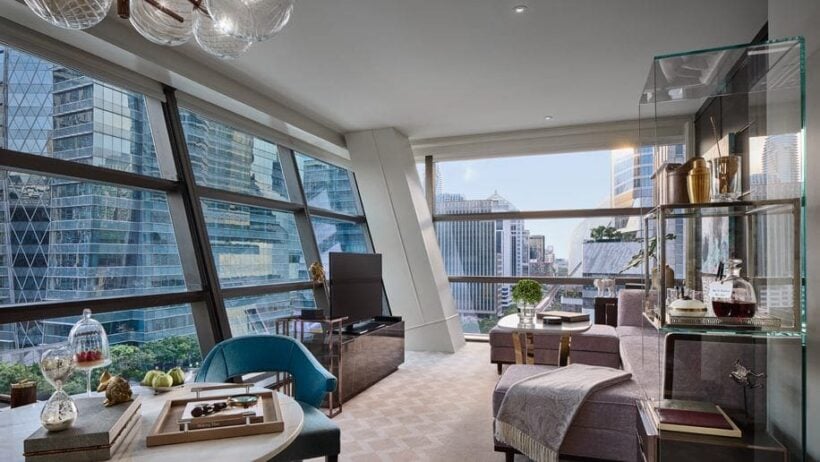 by Bill Barnett of c9hotelworks.com
PHOTOS: Rosewood Bangkok
For hotel owners and managers in South East Asia, one of the great mysteries of the past ten years has been the low rate profile of Bangkok's luxury hotel set. Despite soaring and sustained tourism growth, rising airlift and a strong economy, rates at Bangkok's top tier properties have remained fairly stagnant.
Have we reached the tipping point?
I had had the opportunity to visit the latest entry to the Bangkok luxury class a few days ago, the Rosewood. With 159 keys which includes a limited number of posh houses with private pools and terraces the property is seeing an exceptional response and already achieving high rates.
What's impressive about the entry is a take on the design approach that sees hotel developers apply a non-uniform approach with AvroKO coming in to focus on the restaurants and bars, while the rooms and public areas were led by Celia Chu Design and Associates.
While the speakeasy Lennon's has not be opened yet, the 6,000 record vinyl collection is impressive and the bar will clearly have a strong pull. Taking the approach to designing restaurants and not typical hotel outlets, the Chinese eatery Nan Bei is a breath of fresh air and limited seating provides a bespoke appeal.
Taking a step back, and looking at recent entries like the Waldorf Astoria, and upcoming 101 key Capella, what is clear is luxury properties are shifting in terms of key drivers of the segment of art, fashion, residential vibe, bar and restaurant offerings, wellness and events.
So, what about rates?
On a broad basis Bangkok's top tier hotels have averaged rates of US$200-240 for the past few years. This set has seen longer serving properties such as the St. Regis, Kempinski, and Okura effectively flatline on rates, though newer entries have come up including the Park Hyatt. On the broader horizon is the return of the Four Seasons and Capella by the river and the Orient Express at the MahaNakhon skyscraper.
With the entry of Rosewood driving rates, my expectation is that a few of the set will follow and at the end of 2019 we will set limited number of hotels crash through the US$300 average room rate barrier and effectively smash the legacy glass ceiling of Bangkok's luxury hotels.
As in any business there will be winners and losers. Smaller hotels with some rate leading premium key types will be able to push up average daily rates. Segmentation is another key and hotels on the river that lack substantial corporate numbers will remain challenged until transport links to the area improve.
Where in the world are Bangkok luxury hotels heading?
To sum up 2019, size and location matter, the shift on food and beverage and social events along with niches like wellness and  smaller meetings/weddings are the key to the future. As for the quantum leap in rates, it's about time Bangkok hoteliers be confident and push rates towards a more global norm.