PHUKET DINING: Great value at vintage vamp Kopitiam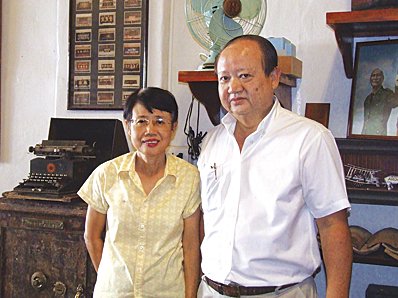 PHUKET: If you crave quality Chinese-accented Thai cuisine, and might like to savor it in a retro ambiance, you need to visit the latest addition to Old Phuket Town's culinary scene.
Kopitiam Cafe and Restaurant – a family-owned kitchen located at the Yaowarat Road end of Thalang Road – opened only three months ago but has already established itself as one of the most pleasant eateries in the Old Town.
What immediately strikes you about Kopitiam is its location. The restaurant is positioned smack in the middle of a neighborhood awash in tradition and history, and teeming with character.
Thalang Road, once the most important trading street in Phuket, today boasts a charming sweep of beautifully maintained Sino-Portuguese shop houses, each with a distinctive colorful door.
Kopitiam nestles snugly inside one of these shop houses, complete with sheltered verandah out front where customers can sit and watch map-wielding tourists amble by, or check out Thalang Road's famous classic Volkswagen car collection.
Owners of the restaurant are Wirot Bumrungwong and his wife Wilai, who used to lecture at Phuket Rajabhat University.
Kopitiam is one of three businesses, all owned by the family, standing side-by-side along the landmark road.
Next door is Wirot's parents' 100-year-old Chinese herbal medicine shop, and two doors down is "Wilai", a restaurant she has owned for 12 years.
Red and green colors greet you at the entrance to Kopitiam, while the interior boasts sturdy teak furniture and whitewashed walls, embellished with fascinating black-and-white photographs of Phuket during the early 20th century.
The restaurant is bright and airy, and crammed with antique knick-knacks, such as a wonderful Sun Standard typewriter, an antique vinyl record player, and a large creaking bookcase housing dusty Hemingway-esque novels and vintage comics.
But Kopitiam is not just a pretty face. It matches its aesthetic charisma with some very tasty goodies, all of which grace the menu at under the 100-baht mark.
The card includes a small but superb vegetarian collection of 10 dishes, all cooked by the lady in charge of the culinary end of things, Chef "Lek".
"We pride ourselves on the cleanliness of the kitchen and the freshness of the ingredients we use," says Wirot.
"Around 90 per cent of our customers have been foreigners so far… so our Pad Thai (60 baht) is very popular. We already have a lot of regulars," he adds.
Start your meal with one of Kopitiam's signature herbal drinks (20 baht). The refreshing Roselle herbal juice is crisp and sweet with just a hint of fresh cinnamon that tickles the tongue.
Follow this with the vegetarian spring rolls (50 baht). They're made from shiitake mushroom and a couple of bristly spices, and are tasty and not too greasy. Or try the Tom Yam Goong (90 baht). It's flavorful and made hearty with thickly cut vegetables.
For mains, the Kaeng Khiew Wan Kai (Green Curry, 70 baht) is excellent, thanks to whispers of basil and delicate salting. Or try the the Hokkien Mee (60 baht), a lip-smacking stir-fried chicken noodle dish in soy sauce.
If these suggestions don't get you drooling, there are also plenty of standard Thai curry and seafood dishes on offer. There is also a good breakfast menu, and Kopitiam hopes to introduce a dessert menu in April.
Kopitiam is open from Monday to Saturday, 11am to 10pm. T: 081-8923723
— Andrew Jennings
5,000 Buriram citizens register for medical marijuana possession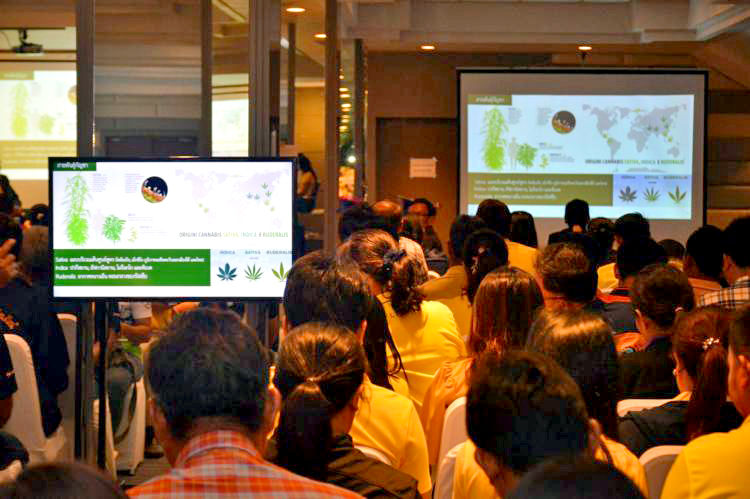 by Tanakorn Sangiam
The 90 day registration period for persons in possession of marijuana, without facing prosecution, end this Tuesday, May 21. 5,000+ persons in Buriram, north-east Thailand, have already registered their possession during this period. A community seminar on marijuana planting and management also took place yesterday to prepare Buriram province as a key manufacturer of medical marijuana.
About 250 people comprising of public health officials, agricultural officials, and community enterprises today joined a seminar on marijuana planting and management for medical usage. The seminar was aimed for participants to further distribute the knowledge on systematic medical marijuana planting and manufacturing management to help promote income distribution in local communities, specifically some 3,000 community enterprises in 23 districts in Buriram province.
These community enterprises will then be evaluated for their preparedness, and will be determined by the Food and Drugs Administration whether Buriram province is ready to become a key medical marijuana manufacturer of the country.
Talking about the end of the moratorium for persons in possession of marijuana, Buriram Provincial Public Health Official Withit Saruesadeechaikul said some 5,000 persons had so far registered as possessors – 2,000 villagers in the Buriram province and 20% of registered possessors being cancer patients.
SOURCE: National News Bureau of Thailand
Twitter and Facebook work to block anti-vax misinformation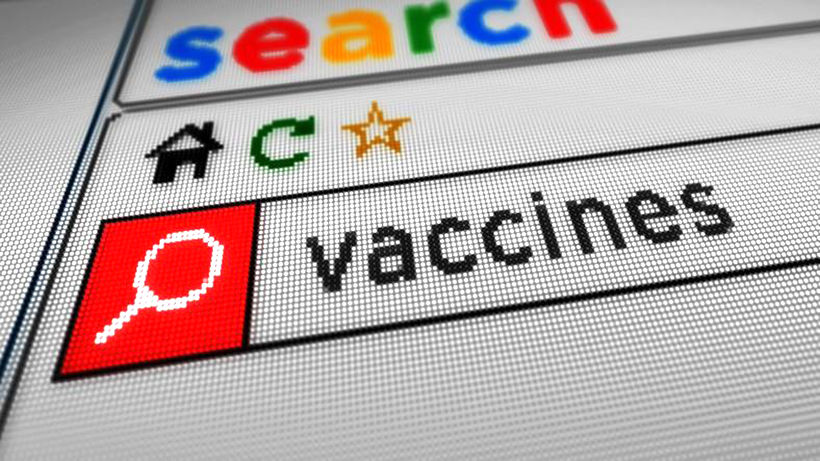 If you search for the word 'vaccines' in Twitter, the first thing you see from today is a post from the US Department of Health and Human Services pointing you to reliable health information instead of misinformation from the anti-vax adherents.
Twitter says it now has a new tool in 'search' prompting users to head to vaccines.org, which is run by informed officials and health professionals. Social media companies like Facebook and Twitter are facing intense pressure from lawmakers to remove anti-vaccination propaganda from their platforms. The push-back is coming from officials and netizens.
The tool shows up on Android, iOS, Twitter's mobile site, and on the newly designed desktop site in the US, Canada, the United Kingdom, Brazil, and Korea – more countries soon.
Twitter has used a similar tool that prompts users who search for terms related to suicide to contact a hotline for help. According to the blog post, Twitter intends to extend this tool to other health-related search terms in the future.
Last week, it was announced that Instagram would hide search results for anti-vax hashtags on its platform, effectively blocking any associated content. Two months ago Facebook announced it would also work to curb vaccine misinformation.
Thai Airways' profits dive 83% year-on-year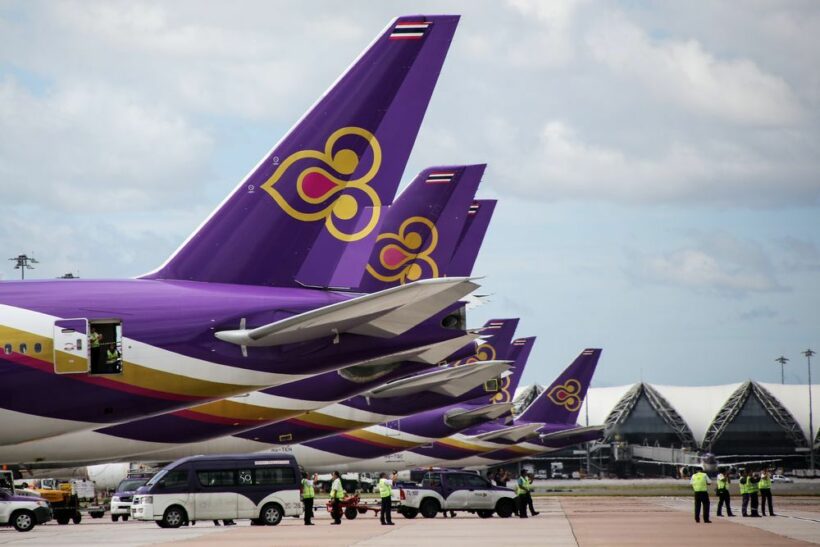 Thai Airways has had an 83% dive in profits for the first quarter of 2019. The Q1 balance sheet came out yesterday.
The airline's management is blaming the high baht, the ongoing US-China trade wars and the closure of Pakastani airspace (forcing rerouting of its Eurpean flights), for the drop.
• Net profit of 456 million baht, down from a 2.7 billion baht profit in the first three months of last year
• Revenue of 49.7 billion baht, down 6.9% on the same period last year
The Thai Airways President Sumeth Damrongchaitham is laying the blame at the strong appreciation of the baht against major currencies saying it makes it impossible for the airline to raise air ticket prices.
Quoted in the Bangkok Post, he said… "Although the baht's appreciation helped lower some expenses, including loan payments and lease payments for aircraft and engines, this benefit remains minimal."
He also cited the ongoing trade spat between the US and China taking a toll on the airline's cargo business, which saw earnings drop 12.9%.
In February, following Pakistani border stoushes with India, Thai Airways aircraft needed to make detours for their European traffic, which pushed up fuel costs, according to Mr Sumeth.
The airline plans to sell products on its website and mobile app in September to increase revenue.