Phuket Books: A head-spinning adventure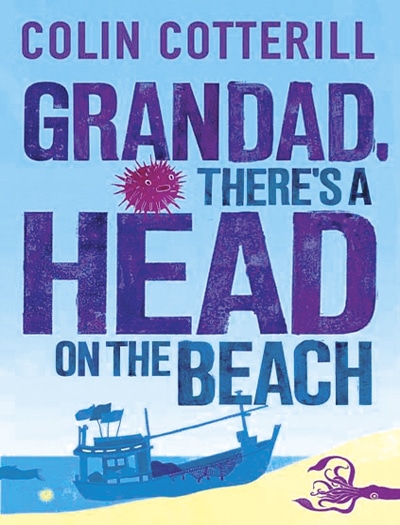 PHUKET: So far, Colin Cotterill has written seven novels in the Dr Seri Series, which tell of the misadventures of the National Coroner of Laos who emerges from thirty years in the jungle with the Pathet Lao after their victory in 1975. Now he's has switched to a new Jimm Juree series in modern day Thailand.
Jimm Juree is a 34-year-old divorcée and former crime reporter for the Chiang Mai Mail. In the first novel of the series – Killed at the Whim of a Hat – she cuts all ties in Chiang Mai to follow her slightly addled mother after she purchases a complex of five beach bungalows in Pak Nam, Chumphon. Along with her comes her bashful body builder brother Arny and her granddad Jah, an taciturn, ill-tempered former traffic policeman. Staying behind in Chiang Mai is her 'sister' Sissi, a former transsexual beauty queen and now a reclusive internet outlaw.
These characters form the backbone to the second novel of the series. Granddad, There's a Head on the Beach (Quercus, London, 2012, 326) is exactly what Jimm says when she comes back from a walk on the beach with the two family dogs.
A sinister policeman and two thugs from the local body snatching society determine that the head is of a Burmese and of no further concern. At the same time a middle class mother and college-age daughter turn up at the bungalow. They have no identification and their car has no license plates. Obviously they're on the run from someone.
These two cases are taken up by the former crime fighter Jimm Juree. There are any number of laugh lines. After an angry phone conversation, Jimm reflects: "The trouble with a cell phone was that if you slammed it down you'd break your own jaw."
Of her slightly dotty mother, she observes: "She was convinced that those little packets of preservatives they put in food were condiments. She's eaten so many she'd likely live to 150."
Of the fugitive mother and daughter: "They insisted we call them Noy – the mother, high-tone, and Noy, the daughter, low tone. Thai is a wonderful language that leaves many a foreigner ripping out chunks of hair. It has an ability to change a dog into a horse, a skein of silk into a bush fire, an entire town into an irrigation ditch. And all at the mere drop of a tone."
The mystery of the two fugitives is soon solved by Sissi, the computer whiz. At Georgetown University, the daughter had caused an aristocratic classmate to lose face. For this they're being hounded by hyper-efficient uber-Gestapo dedicated solely to Thai aristocrats. Now I know that this is a farce, but that's just plain silly.
In the other case, the head on the beach belongs to a Burmese fisherman, one of many who have been murdered aboard a fleet of three slave ships. Now this makes no sense either. Why go to all the expense of hiring a corrupt police officer and a couple of thugs to abduct Burmese and ship them out to slave ships, not to mention paying and equipping Thai armed guards to watch over them, when they'll work for chickenfeed anyway? What's the point?
Still the climax is a rousing one, with the action shifting between Jimm narrating her scoop into her video camera aboard a small fishing boat and her audience of mother and sister Sissi who've taken over an internet shop. They're watching the action, which has gone viral, along with the rest of the world. The unhappy internet shop owner suddenly realizes that what he's watching is not a TV show.
The book is full of off-the-wall funny stuff – a thoroughly enjoyable read if you know nothing about Thailand, not so much if you do.
The book is available from amazon.com or by ordering through the main bookshops in Phuket.
— James Eckardt
Thai Life

Join the conversation and have your say on Thailand news published on The Thaiger.
Thaiger Talk is our new Thaiger Community where you can join the discussion on everything happening in Thailand right now.
Please note that articles are not posted to the forum instantly and can take up to 20 min before being visible. Click for more information and the Thaiger Talk Guidelines.