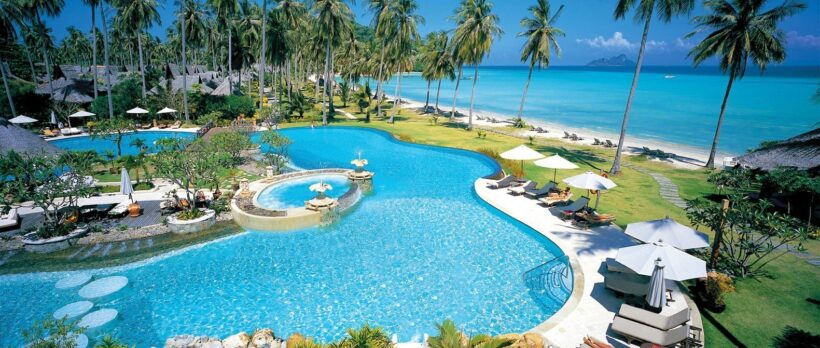 Phi Phi Island Village Beach Resort is inviting families with kids of all ages to enjoy the ultimate island experience with comfortable family bungalows, child-friendly facilities and features, all set within 70 tranquil acres of beachfront beauty.
Offering stunning seaside stays for the whole family, Phi Phi Island Village Beach Resort boasts two freeform infinity pools overlooking the white-sand beach at La Ba Gao Bay, which boasts clear, protected, shallow waters perfect for swimming and snorkeling.
The resort also offers plenty of engaging activities with a fitness centre, yoga classes, tennis court and watersports centre. The menus at the resort's four restaurants include kids' meals, and babysitting and child-focused services are also available, as well as a schedule of activities collectively known as the Phi Phi Family Playground.
Chao Treenawong, Phi Phi Island Village Beach Resort's General Manager, highlights the appeal of Koh Phi Phi as a family escape. "Parents choose to stay with us because they want their children to get away from the screen and enjoy nature with fun, energizing, activities to fill their day, top class accommodation options and fantastic dining," he says.

Light, airy and comfortable, all the rooms, bungalows, suites and villas at Phi Phi Island Village Beach Resort are designed for three or more occupants, and many come with an extra sofa-bed suitable for a child. There's also a spacious two-bedroom Family Bungalow, also with a sofa bed, perfect for four or more guests. Meanwhile, cots and extra beds are available on request.
When it comes to dining, families have plenty of choice with international buffet breakfasts, a la carte lunches and dinners, as well as snacks, ice-cream, juices and fruit served from the pool bar or bean/Co café. There are also plenty of dishes designed specially for younger guests.
The unique Phi Phi Family Playground ticks all the family friendly boxes. Youngsters are kept entertained with a Little Islanders Programme for 3-10 year olds while older kids can enjoy the Young Explorers Programme, specially designed for 10-16 year olds with activities that range from crafts to swimming classes, kayaking adventures to beach games and fitness boot camps, cooking classes to hands-on sustainability workshops.
Creating a healthy connection between families who stay at the resort and the environment is part of the ethos at Phi Phi Island Village Beach Resort and new Marine Discovery Centre launched earlier this year as an interactive attraction to showcase local marine life with colourful displays and an integrated clownfish and bamboo shark nursery onsite.
"The centre not only teaches families about how we're taking an active role in protecting Thailand's endangered marine species," explains Khun Chao. "It also encourages young people to get involved and feel connected to the destination, which adds tremendously to their enjoyment."
Another family friendly bonus at Phi Phi Island Village Beach Resort is that guests looking to book a late summer getaway or an early winter vacation in 2018 can take advantage of the Early Bird Promotion with a special 15% discount for bookings made 60 days in advance.

For full details click HERE or please contact reservations@phiphiislandvillage.com