Patient reveals he contracted HIV from donated blood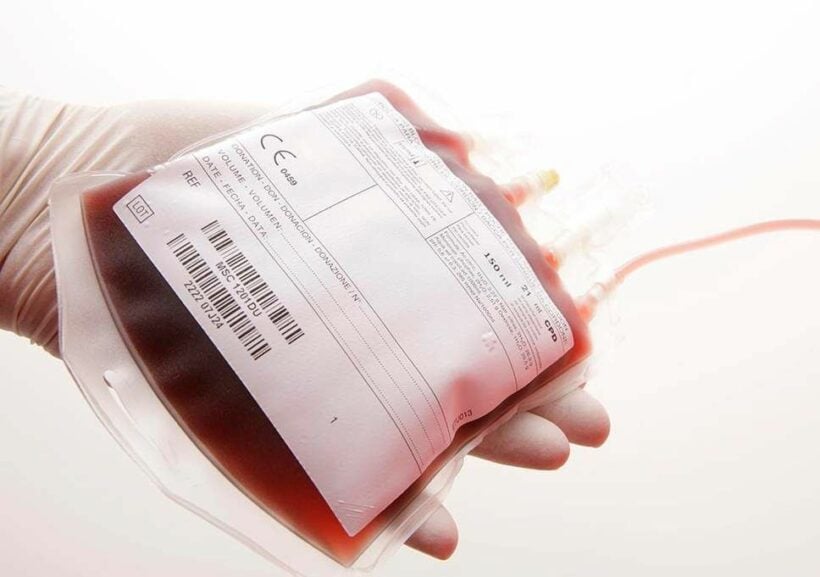 "We are continuously improving the screening process for donated blood."
A young Thai-Japanese man has contracted HIV via a blood transfusion given as part of his leukaemia treatment at a Bangkok private hospital 15 years ago.
But Bumrungrad International Hospital, where the man received treatment for years, says the infected blood came from Thai Red Cross Society and it was likely the anonymous donor was in a "window period" – before it was possible to detect HIV in the blood. The case has nevertheless triggered alarm and public questions over the safety of blood provided by hospitals and the Red Cross.
The 24 year old man decided to make his predicament public only because he'd been barred from medical services at the hospital. His parents chose not to sue when his infection was detected because Bumrungrad administrators promised to take the best possible care of him.
But after a decade of free treatments at the hospital, the family decided to switch to herbal medication, but the results were unsatisfactory so they returned to the hospital, only to be told the patient should seek treatment under the 30 baht universal healthcare scheme.
"My son has had leukaemia since he was nine and so far we've spent nearly 7 million baht on his treatments."
Her son initially received chemotherapy at Bumrungrad but his white-blood-cell count was low and 14 blood transfusions followed.
"His condition improved with the transfusions, but after the 12th bag of blood, he suddenly started deteriorating," the mother recounted, and soon after the hospital found he had HIV.
Bumrungrad Hospital's corporate communication division acknowledged last week that the patient had been treated at the hospital since 2004 and said it believed the infection came from blood from a donor who was in the HIV window period. Expressing regret for the patient's plight, the PR team said he'd been undergone 266 treatment sessions in the time he'd been cared for at the hospital. It said the hospital was committed to providing him aid in accordance with humanitarian principles.
Dr Ubonwan Charoonrungrit, director of the Thai Red Cross Society's National Blood Centre, said the risk of getting HIV via a blood transfusion was low, but it did exist.
"We are continuously improving the screening process for donated blood," she said.
"Other medical professionals concur that blood screening is trustworthy, even if there remains a "one in a million" chance of infection. The key to avoiding such mishaps lies in donors being honest about their health conditions."
Medical technologist Pakphum Dechhassadin, who runs the popular Facebook page "Mor Lab Panda", shed light on the subject in a post. Screening devices can only detect the HIV virus about 11 days after exposure, he said, so blood will be accepted from donors in the interim "window period".
Noting that some people donate blood just to be tested for HIV for free, Pakphum warned they could be putting an innocent fellow human in grave danger.
Instead, he said, get an HIV test at the Thai Red Cross Anonymous Clinic.
SOURCE: The Nation


Are you considering a medical procedure abroad? With Thaiger Medical you can research hospitals and doctors, choose a destination in Thailand or abroad, and book an appointment today.

Read more headlines, reports & breaking news in Bangkok. Or catch up on your Thailand news.
IKEA Thailand launches full online store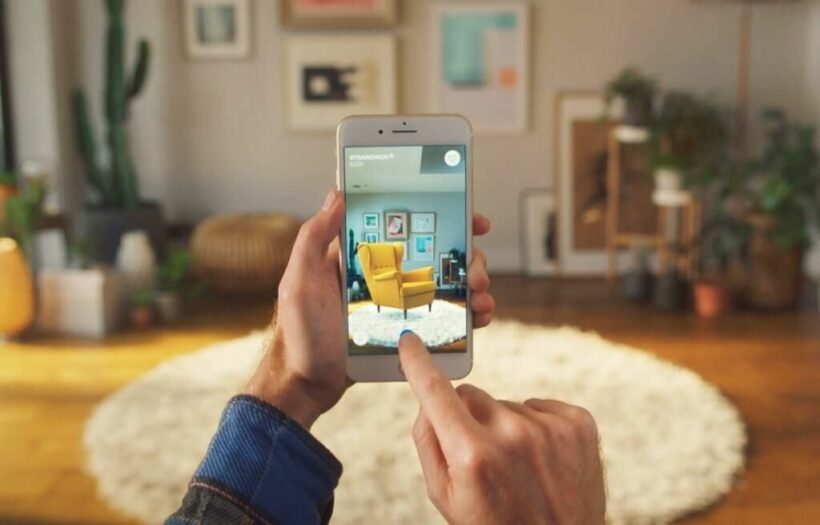 "…it took IKEA about two years to study the market demand, develop the infrastructure, and prepare everything before launching their e-commerce service in Southeast Asia."
by Kwanchai Rungfapairsarn
IKEA Thailand has announced the official launch of its IKEA Online Store as it gets set to better provide for individual customers across the Kingdom.
IKEA Thailand say the seamless online shopping experience will offer the same journey and impression customers get when they visit a physical IKEA store.
"We see the potential – it is a potential in Thailand for IKEA. We have only been accessible within Bangkok so far, and now we will be accessible for people from across the country," Lacia Sherlock, the deputy retail manager for Thailand, Singapore and the Philippines, said.
"The delivery prices need to be affordable and all the services need to be accessible for consumers living outside of Bangkok, so that they are able to get the assembly or whatever they need."
IKEA has developed the full e-commerce platform for modern shoppers providing a convenient channel to access it products and inspirations, 24 hours a day and from anywhere in Thailand.
Sherlock said it took IKEA about two years to study the market demand, develop the infrastructure, and prepare everything before launching their e-commerce service in Southeast Asia.
"We aim to provide an impressive online shopping experience similar to the shopping experience customers get when visiting our physical stores. The online store has been available in Singapore and Malaysia within Southeast Asia."
"We are pleased to now be able to provide this access to Thais. We have been wanting to do this for a long time, along with providing them with a superior experience and inspiration through both of our two Bangkok stores," said Sherlock.
IEA soft-launched its e-commerce service in Thailand on March 26 in order to test the system and procedures and ensure they were fully functional before yesterday's official launch.
"We are looking at achieving 17,000 online orders this year. We believe that the IKEA Online Store will help strengthen IKEA Thailand and drive sustainable growth, as our popular in-store shopping experience is complemented by our new online offering."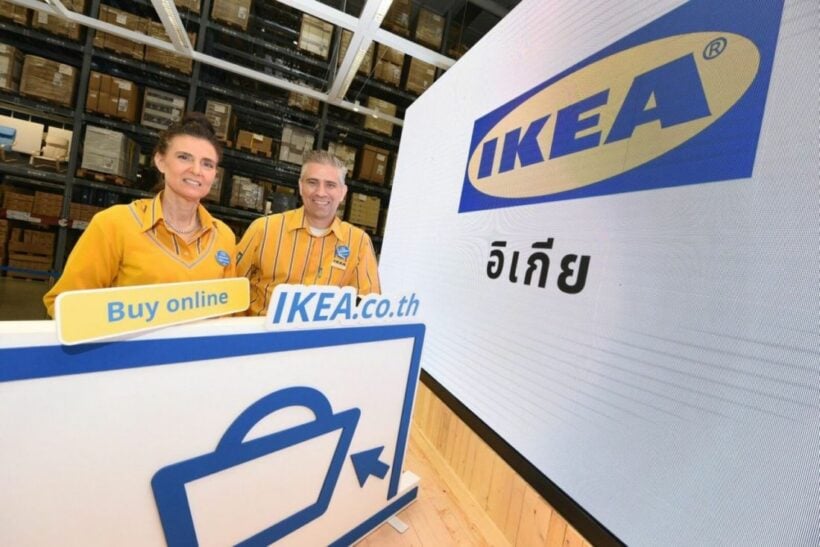 PHOTO: The Nation
Thanathorn is able to attend this afternoon's opening of Parliament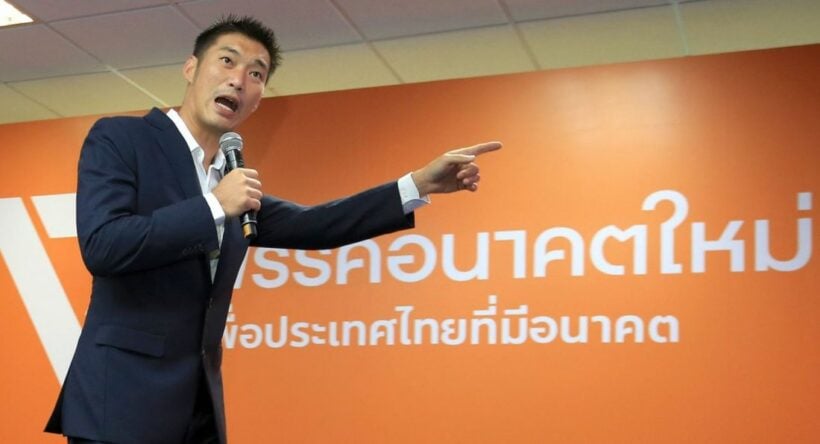 PHOTO: Future Forward party leader Thanathorn Juangroongruangkit, heading to the opening of Parliament today?
Future Forward party leader Thanathorn Juangroongruangkit has been told he can attend the opening of parliament today by His Majesty the King in the conference hall of the Ministry of Foreign Affairs.
But the 41 year old leader of Future Forward is yet to confirm his attendance after being told yesterday he would not be able to be part of the opening proceedings.
Sorasak Pienwech, the secretary-general of the House of Representatives, says his office is yet to receive a formal order from the Constitutional Court temporarily suspending Thanathorn's parliamentary membership so, as far as they're concerned, he is still a member of parliament and is permitted to attend today's opening at 3pm.
The Constitutional Court voted 8:1 yesterday to suspend Thanathorn's parliamentary membership after it unanimously voted to accept the Election Commission's media share ownership case against him.
As for the meeting of MPs tomorrow, in the conference hall of TOT Company on Chaengwattana road, he said Thanathorn can attend because he has not yet taken an oath as constitutionally mandated.
After the oath-taking ceremony, however, he will have to stop performing his duties as an MP and will have to leave the meeting, according to Mr. Sorasak.
Informed sources said that Mr. Pornpektch Wichitcholachai, former president of the junta-appointed National Legislative Assembly, will be nominated as the only candidate and he is likely to be elected the Senate speaker because of his close connection with the junta, especially Prime Minister Prayut Chan-o-cha.
SOURCE: Thai PBS
Vendors shuffled off Bangkok footpaths to make way for motorbikes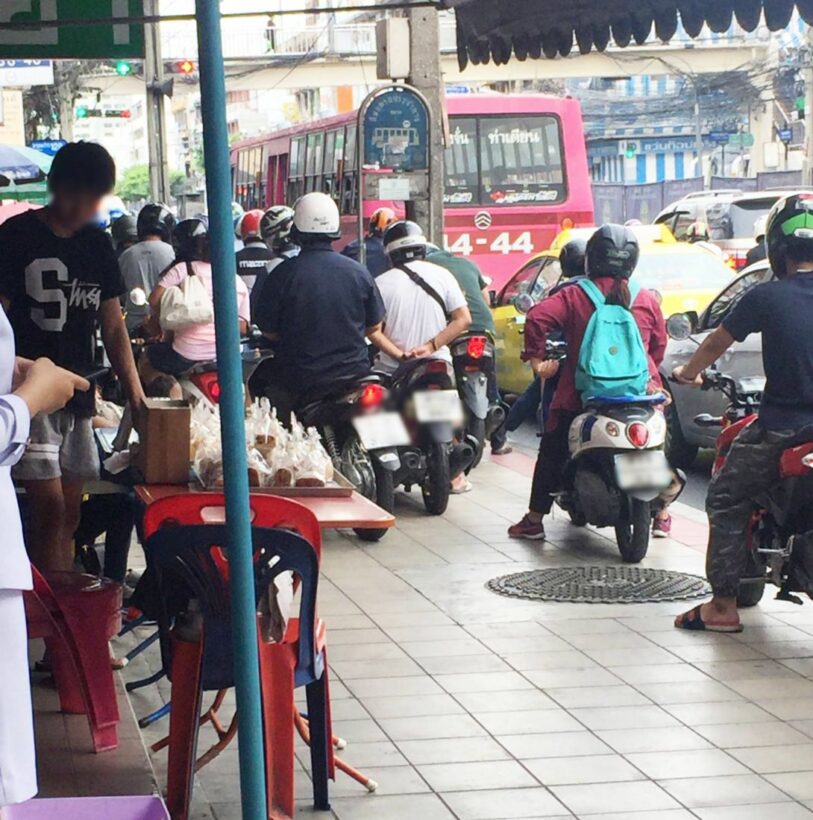 PHOTO: Daily News
Motorcyclists are brazenly flouting the law after a recent picture on the Facebook site of JS 100 Radio showed a 'traffic jam' on the footpath at Lat Prao Soi 101 in Bangkok.
Pedestrians were unable to get through as the motorcycles crowded the walkways, according to the post.
Daily News was slamming the riders for their behaviour. Comments responding to the pictures saying that vendors had been cleared from the capital's sidewalks only for motorcycles to increasingly take over and bring more headaches to pedestrians.
Some even complained about police seen riding on the sidewalks of Bangkok as well as going the wrong way against traffic.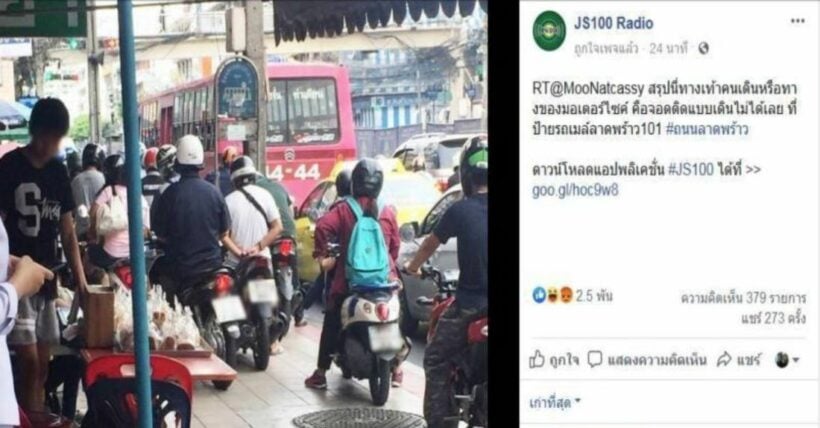 SOURCE: Daily News