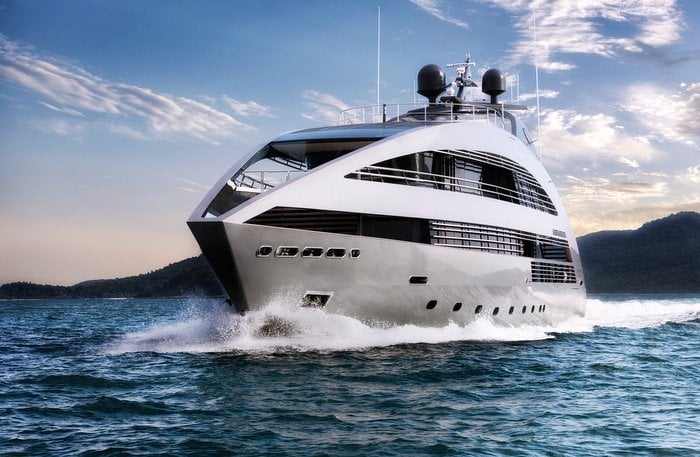 PHUKET: The visually stunning superyacht Ocean Emerald is the first superyacht to receive one of the recently launched 12-month superyacht licences. Currently based in Pattaya at Ocean Marina Yacht Club, Ocean Emerald is being heavily promoted in Phuket by numerous locally-based charter agents.
Designed by Norman Foster and built in Italy, the 41meter Ocean Emerald is one of four built to the same space-age design. Since she received her licence-to-charter, all and sundry have been promoting the fact that she can be chartered in Thai waters and is apparently expected in Phuket for the high season.
Ocean Emerald is the first of what the government hopes will be many more, but so far she is the only superyacht that is legally available to charter in Thai waters.
Does one boat make an industry?
Not really, but then I'm playing devil's advocate. I'm being facetious. Ocean Emerald is the first, but hopefully not the only, superyacht to get the license. More will apply and be approved in due course.
The superyacht licence move is a positive step for the industry; however, let's not lose sight of the rest of Thailand's charter industry. An industry which has over the years shown robust growth and has been relatively resilient to the challenges Phuket and Thailand's tourism industry have faced.
The charter industry at large needs support and change from the top. The government needs to look at it across the board, not identify 'quick fixes' or PR opportunities, but take a holistic view. And dare I say it? Create a plan.
While the industry has shown considerable growth over the years, much of this following the 2004 tax reductions, I would argue that it still has much untapped potential.
Back in 2003 when local business and marine industry figures came together to push for change, the end result was a successful reduction in the import taxes and duties to zero. However, also on the agenda at the time was the desire, indeed the need, to change regulations and recognize the term 'pleasure yachts', a term which still is not enshrined in law and which to all intents and purposes does not exist in Thailand.
Without recognizing recreational sailing, defining a 'pleasure' yacht and developing regulations and rules that are applicable specifically to such, little will change, yet Phuket's marine industry and charter industry in particular offer such potential.

Is a ten meter speedboat less important than a 30 meter plus superyacht?
Of course not, both are part of a marine industry which contributes significant direct and indirect revenues to Thailand's tourism earnings, and primarily to foreign exchange earnings too.
All you need to do is head to any of Phuket's marinas and see the vast diversity of boats available for charter. Whether it's a day charter or a multi-day charter, Phuket caters to all.
Phuket is home to global charter operators such as Sunsail and The Moorings, as well as many long-established local charter agents like Asia Marine, Elite Yachting and Boat Lagoon Cruises, as well as many smaller agents and private charterers. Together, they are the engine of Phuket's charter industry and continue to drive overseas awareness of the beauty of Phuket's cruising grounds and the surrounding areas.
Phuket (and Thailand's) charter industry is still an unpolished gem. It promotes the best of what Phuket and Thailand is all about and leaves minimal environmental footprint (at least compared to other tourism activities). Yet apart from the odd Tourism Authority of Thailand (TAT) overseas exhibition presence, roadshow or photo in a brochure, it gets scant attention.
It's time for change. It's time for a more holistic look at the country's marine industry. If the powers-that-be were to do that, I think they would be pleasantly surprised at what they saw.
Duncan Worthington is a long time Phuket resident and through Infinity Communications (www.infinity-comms.com) consults to leading consumer brands, hospitality and marine clients in Thailand. In his 'spare time' he runs the marine portal www.MarineScene.asia. #OnDeckPhuket
— Duncan Worthington