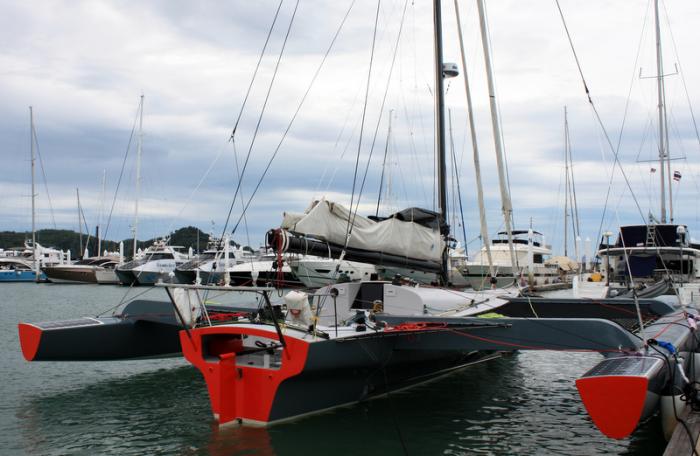 PHUKET: Multihull sailing isn't something new to Phuket. In fact, some would argue multihulls are the ideal boats for Phuket's waters. With their shallow draft they can more easily access some areas as compared to their monohull cousins.
While everyone has different tastes in terms of size, brand and two hulls or three, what is relatively new to the local multihull scene – specifically the sailing scene – is the larger trimarans.
On the racing front, the small Phuket-built fleet of Firefly 850 Sport catamarans kick-started the multihull racing scene quite a few years ago and while still turning out for local regattas with strong support from a core group of owners, Phuket has started to see the average size of multihulls increasing, to the point where Phuket recently welcomed it's second 40-plus-foot trimaran.
The first was Adrenaline, a trimaran of pedigree and vintage – more of that in a future column – but this latest edition is the 'new' 43-foot Tantrum Too owned by Robert van Paridon.
An amateur sailor most of his life, Robert has sailed everything from dinghies to superyachts and, after relocating to Singapore from the US in 2006, Robert bought a Beneteau First 44.7 cruiser/racer in 2008 to compete in local regattas, and named her Tantrum. As the regional fleet grew, and with it the number of professional sailors taking part, Robert decided to sell Tantrum and move on to different things.
Following an invite from a friend, Robert crewed on the Corsair Zhuka in Pattaya and while doing 20 knots in 25 knots of breeze, he was sold on trimarans. On another friend's advice, Robert headed to Brittany, France, to look at the large number of trimarans there.
"I was like a kid in paradise,"' said Robert.
He took out for two days what is today known as Tantrum Too, and also raced her in a local French regatta. Liking what he saw, he bought her and not long after had her shipped out to Asia.
Built by Auriga Yachts with bat'kar as architect, Krysalid – as she is believed to have first been named – was built as a prototype in 2006. Designed as an oceangoing racer/cruiser, built from epoxy on foam and with no discernible interior, she was durable and reliable – built to cross the Atlantic, not for luxury.
"After she was launched, the yard went bankrupt, I believe, and they only built the one. She was subsequently bought out of the bankruptcy and set-up by her first owner for racing," said Robert.
Gildas Ludot, President of the French Multihull Association at the time, raced her off the West Coast of France from 2011-2013 where she performed well against the top all-carbon boats at that time.
Set up for single-handed racing, in 2014 she competed in the Route du Rhum – the transatlantic single-handed yacht race between Saint Malo, France and Pointe-à-Pitre, Guadeloupe – skippered by Julien Mabit. However, after experiencing two low pressure fronts in a row and sustaining equipment damage, Julien had to pull out of the race.
Still set-up for single-handed racing, a few tweaks and modifications have been made and Robert and his crew of up to four will be campaigning Tantrum Too on the local scene this season.
Following their first competitive race in Singapore, they will take part in the Multihull Solutions Regatta Phuket followed by Cape Panwa Hotel Phuket Raceweek, then it will be to Malaysia for the Raja Muda Selangor International Regatta followed by the Phuket King's Cup Regatta. Back to Malaysia for the Royal Langkawi International Regatta in January, followed by the Nongsa Regatta and Neptune Regatta in Indonesia before heading back to Thailand's Gulf Coast for the Top of the Gulf Regatta and season-ending Samui Regatta.
"After one year on the regional circuit we will see how Tantrum Too is doing. In the future we may look to enter some of the offshore races in Hong Kong, such as the China Sea Race and Hong Kong to Vietnam Race," added Robert.
As a new addition to the local multihull racing scene and still a relatively unusual sight, expect to see more 40-plus-foot trimarans along the Andaman Coast and down to Singapore as the fleet continues to grow.
Duncan Worthington is a long time Phuket resident and through Infinity Communications (www.infinity-comms.com) consults to leading consumer brands, hospitality and marine clients in Thailand. In his 'spare time' he runs the marine portal www.MarineScene.asia. #OnDeckPhuket

— Duncan Worthington