Thai Life
New zoning includes Phuket's beaches and islands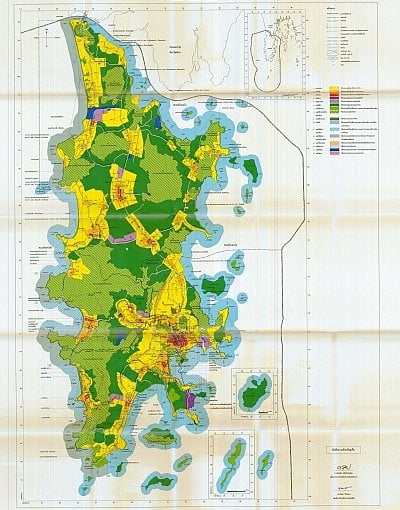 PHUKET: THE chief of the Public Works and Town and Country Planning office in Phuket has called for all developers and local authorities issuing building permits to heed the new zoning regulations that came into force on July 7.
"The application form for building permits remains the same and requires submission at local Administration Organizations for processing and issuing," said Vongsagorn Noonchookan.
"Building permits issued before July 7 remain under the previous regulations, even if construction has not begun at the site, but applications filed after July 7 must adhere to the new rules," Mr Vongsagorn explained.
International law firm Baker & McKenzie issued an English-language summary and an analysis of the new regulations, which both alter and expand on the previous regulations that were established in 2005.
The most notable changes made in the Ministerial Regulation to Implement the Phuket Province Town Planning Regulation BE 2554 (2011) are an increase in the number of types of land utilization zones from 13 to 16, as well as stricter controls governing land use within each type.
The additional zones allow governance of the small secondary islands that are part of Phuket province but were not included in the 2005 regulations. They include empty land for environmental preservation, tourism and fishery (shown in blue on the chart); empty land for recreation and preservation of coastal environment (blue with white stripes); and empty land for preservation of natural resources and coastal environment (blue with brown stripes).
"Practically, the changes will have the most effect on the islands surrounding Phuket and coastal land within the province. The effects on residential areas will be minimal," Mr Vongsagorn told the Phuket Gazette.
"The old regulations did not cover the beaches and land on the small islands. Now they cover the entire province. In fact, the new regulations are what will allow the planned convention center to be built in Mai Khao, which was not possible before," he added.
Under the previous regulations, the percentage of land permitted for purposes other than that prescribed in its zone was applied to each individual land plot. The 2011 regulations now stipulate that these percentages apply to each zoning area.
Percentages themselves have fallen, becoming more restrictive on what land can be used for within each zone type. For example, 15 per cent of commercial and high-density residential zones (red) can be used for purposes other than those allowed under the regulation. This is down from 70 per cent in 2005.
Residential and commercial use of rural and agricultural areas (green) have become more restrictive. The rules now cover loopholes that may have previously allowed for waterfront construction. Structures and storage on environmental and forestry reserves (light green and green with white strips respectively) are also governed more strictly than before.
Baker & McKenzie have recommended that all developers carefully consider these new regulations which govern all types of development and land use to ensure that their projects adhere to Thai law. Consultation should be sought even if land or construction permits were acquired before July 7.