More than 4 million Asians took a cruise last year – a 20% increase.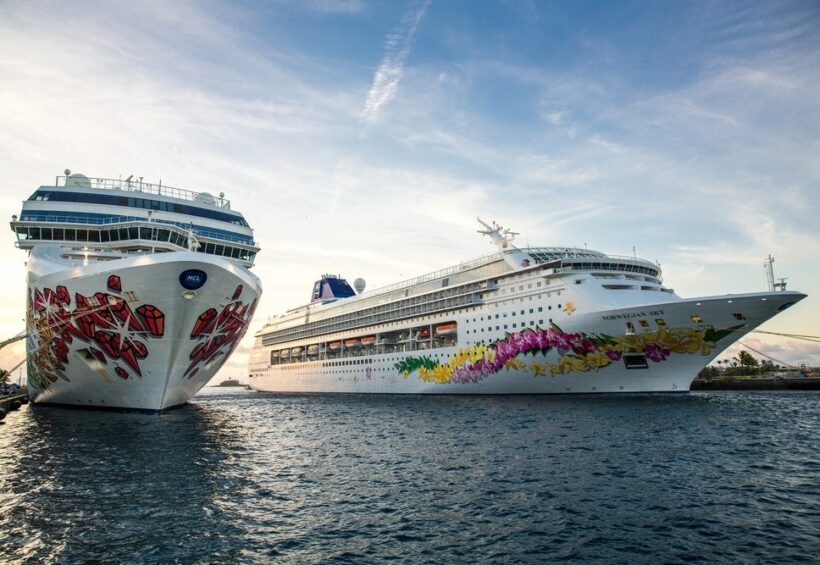 PHOTO: Travel Daily Media
More than 4 million Asians took to the seas in 2017, aboard an ocean liner. A record-breaking 4,060,000 Asians took an ocean cruise in 2017 according to Cruise Line International Association (CLIA) – a 20.5 per cent increase from the 3,370,000 Asian passengers who boarded a passenger ship in 2016.
At 20.5 per cent, the 2017 year-on-year growth is more than three times the global growth (6.3 per cent), way ahead of markets such as North America (5.0 per cent) and Australia (4.4 per cent), putting Asia on top of the world in terms of cruise growth.
Asia accounted for about 15 per cent of total global ocean passenger volume in 2017.
The region also had seven countries making it to the top 20 countries by cruise passenger volume. Cruise passengers from China, Taiwan, Singapore, Japan, Hong Kong, Malaysia and India all saw double-digit year-on-year growth. The fastest growing markets were Hong Kong and Malaysia which both recorded more than 80 per cent growth from 2016.
"Cruising continues to be on an impressive progressive trajectory in Asia, gaining consumer interest and having a positive impact on the economy. With a comparatively low population penetration rate and limited awareness of cruising in many Asian markets, the potential is tremendous." Said Mr Joel Katz, Managing Director for CLIA Australasia & Asia.
"Since the start of the CLIA Asia office in 2017, we have made strong progress with introducing CLIA's training and accreditation programme, educating travel agents on everything cruise and how they can benefit from the current demand. We look forward to working with the industry to support the continued development of cruise in Asia."
Above figures were released as part of the 2017 official global cruise industry numbers reported by CLIA.
Keep in contact with The Thaiger by following our
Facebook page
.


Looking to jettison some items before jetsetting away or chartering a yacht? Look no further than Thaiger Classifieds where you can find and post items, work, property and more for free. Be sure to check out YonderTours for things to do in Thailand and tours across the country.

Official complaint filed with the DSI over The Peaks Residences Condominium in Phuket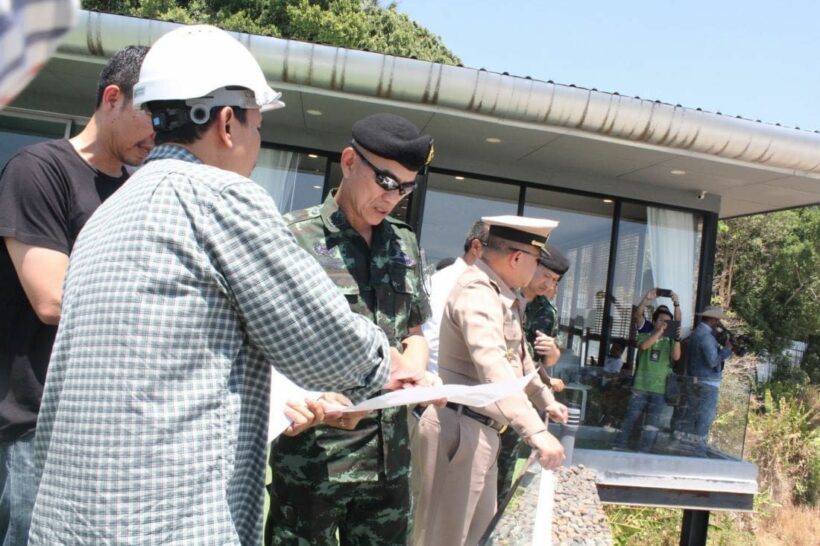 PHOTO: Inspections at the property in March this year – Kritsada Mueanhawong
Bangkok MP Sira Jenjaka has gone ahead and filed a long list of formal complaints over The Peaks Residences Condominium project being built in the hills above Kata Noi in Phuket.
The Palang Pracharat MP has also claimed to have had death threats made against him over his investigations and accusations over the condo's land titles and ownership in recent weeks.
The MP filed an official complaint with the Department of Special Investigation chief in Bangkok this morning.
The complaint alleges that the Karon Mayor Tawee Thongcham and the municipality "neglected their duties" by issuing permits to Kata Beach Co Ltd, the developer of the The Peaks Residences Condominium.
In February this year the Karon OrBorTor issued a construction permit for the project but in April municipal officials also sent a letter acknowledging the ongoing legal proceedings over the legitimacy of the land title, the NorSor 3 Kor Number 1863.
The complaint alleges that the project is being built on land with a NorSor 3 Kor No. 1863 land title. The complainants allege that the legal land document would have had to have been presented to obtain building permits and construction to proceed. But they claim that, as the NorSor 3 Kor for that land was under consideration by the Administrative Court, a legal building permit could not be issued.
In August 2017, the Regional Administrative Court ruled that the NorSor 3 Kor No. 1863 land title was invalid. Furthermore it determined that the land was "protected forest land".
The DSI formally received the complaint documents this morning.
Meanwhile, the developer of The Peaks Residences Condominium, Manassanan Nararattanawee, the CEO of Kata Beach Co Ltd, maintains that the project's paperwork is all "proper' and that "everything is under the law".
"Our company has already suspended construction to wait for the judgment of the Supreme Administrative Court."
Officials from the Internal Security Operations Command inspected the property in March this year as the owners promised to 'slow down' construction. Read that story HERE.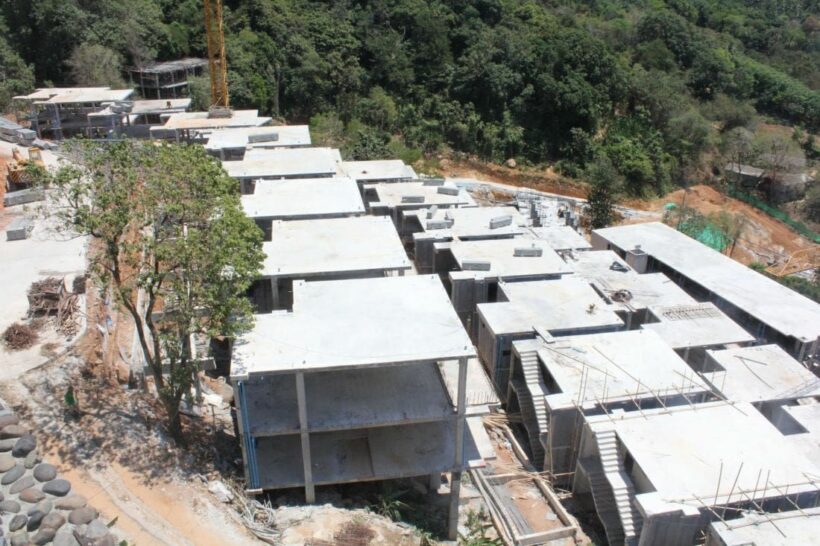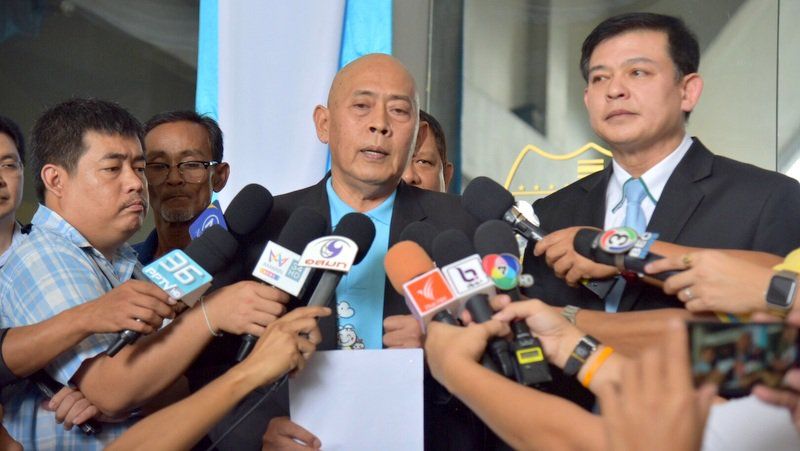 PHOTO: Department of Special Investigations
Keep in contact with The Thaiger by following our
Facebook page
.
More than four million guests stayed in an Airbnb on August 10, 2019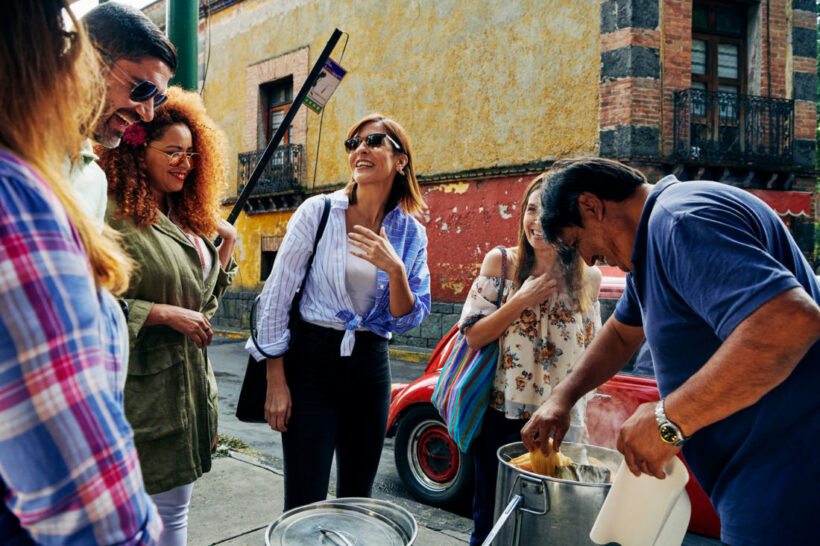 "Airbnb has created an opportunity to meet people from all around the world." – Pim, an Airbnb Host in Thailand
Exactly 11 years since Airbnb was founded, the home-sharing hospitality company and 'accommodation disrupters' celebrated its biggest night ever, with more than 4 million people spending the night in an Airbnb listing on August 10, 2019.
To date, there has been more than half a billion guest arrivals at unique homes and properties all over the world since the company was founded in August 2008.
To work towards bringing the world closer, Airbnb has created the Airbnb Connection Index, which reflects the pairings of countries and regions between hosts and guests. For example, when a guest from Thailand becomes the first to stay with a host in Iceland, a new connection is made. In return, when an Icelandic guest becomes the first to stay with a host in Thailand, another new connection is made.
In 2010, the Airbnb platform had facilitated more than 1,300 connections. By 2015, that number had increased to more than 16,500.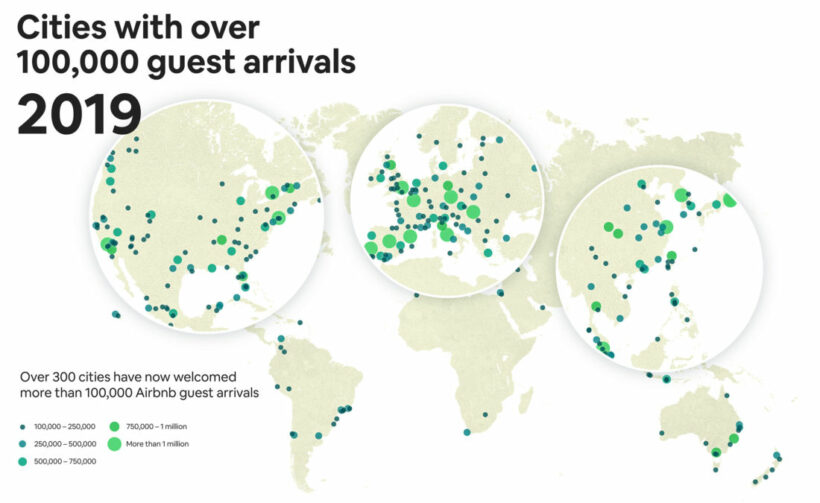 Today, approximately 26,000 connections have been made via the Airbnb platform, and by the end of 2019 more than 30,013 connections are expected to be made as the platform grows even further.
With the current presence of the Airbnb platform in 245 countries and regions, it is mathematically possible for there to be 60,025 place-to-place connections. By the year 2027, Airbnb predicts that there will be in excess of 50,000 connections.
As outlined in a recent report, much of Airbnb's fastest growth is occurring in emerging destinations, propelled by a rising demand for travel to places across Asia Pacific, Africa, and Latin America.
Pim, an Airbnb Host in Thailand, shared, "Airbnb has created an opportunity to meet people from all around the world. It makes me understand that different cultures can live together. We can be happy, we can share, we can have good memories together no matter where you come from."
Keep in contact with The Thaiger by following our
Facebook page
.
John Legend & Chrissy Teigen check out the tastes at a Korat Market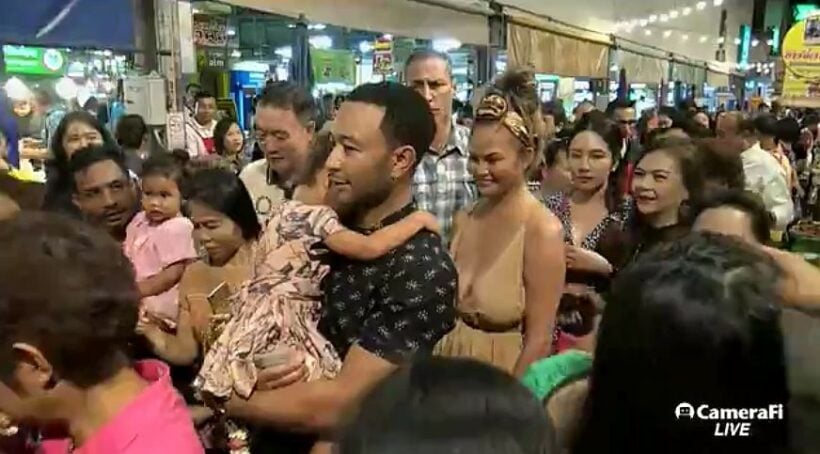 American music legend, John Legend, and his Thai-American wife Chrissy Teigen headed to a Nakhon Ratchasima food market only to be surrounded by locals trying to get a quick selfie.
The army of fans surround the musician, his wife and daughter to follow them around the market in the 25 minute Facebook post. It was smiles all around but as the video wears on so does the patience of the American singer whose only protection appears to be a plain-shirt body-guard who is at least 40 centimetres taller than everyone around him (he doesn't stand out at all).
A Thai policemen comes to their rescue and helps escort them somewhere a bit quieter.
Legend's model wife Chrissy Teigen is seen almost wearing her dress as any number of wardrobe malfunctions appear moments away from happening throughout the video.
The family were reported to have visited a number of famous Korat landmarks during their visit to the area.
Legend performed in Bangkok in March 2018 this year as part of his Darkness and Light tour.
Keep in contact with The Thaiger by following our
Facebook page
.