Gardening: Between a rock and a hard place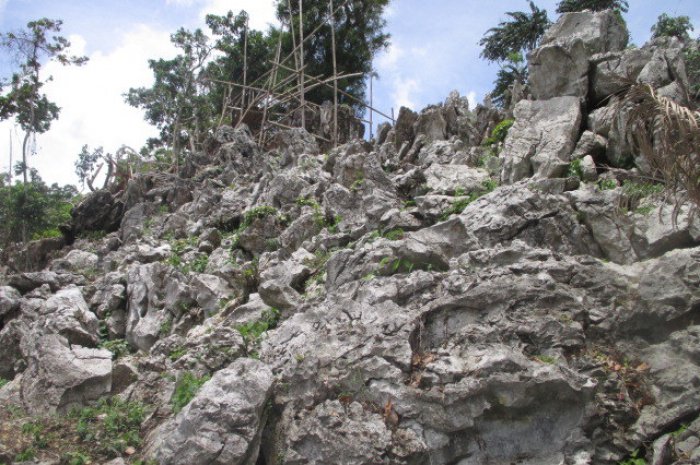 PHUKET: I was recently invited by my good friend Paul Maitland-Smith to Cebu, in the Philippines. Like Phuket, Cebu is an island, and on much the same latitude. It is, however, considerably larger, with mountains rising to 3,300 feet – twice the height of those in Phuket. Much of the tropical vegetation there prompted memories of the hillside rainforests in Phuket – mangoes, bananas, huge clumps of bamboo, myrtles, banyans and mountain ebony, even the odd African tulip tree and flame tree in brilliant scarlet bloom.
But limestone underfoot had replaced Phuket's granite, and the temperatures were two or three degrees cooler, especially at the elevations – 2,000 feet or so – where we were reconnoitering.
The result? Plants growing wild that I have not seen in Phuket. For example, the steep hillsides had abundant displays of deep purple spikes of verbenas, and masses of eggplant bushes with tiny green, pea-like fruits (solanum torvum). They are valued as a food source in Thailand, but here the locals seemed indifferent to their presence. Lantanas, known here as coronitas, had established a flowery footing on many of the slopes.
Another more eye-catching shrub, native to the Philippines, was surviving at these altitudes – the medinilla or rose grape. It has attractive clusters of pink flowers and red seed pods complemented by bluish green, deeply veined leaves. Brugmansias, which I have always struggled to grow in Phuket's salty and humid climate, were there growing wild in the mountain upland air.
In Thailand, you have to go to Chaing Mai and its environs to find similar specimens. On the adjacent terraced slopes – a surprise to me – the local farmers were growing row upon row of chrysanthemums destined for the cut-flower trade.
Paul's current project is an extraordinary one. On an exposed rocky outcrop, he envisages the creation of a structure which will not only make a magnificent new home, but will incorporate both a museum and an art gallery to house some of his unique collection of antiques and 'objets d'art', as well as to provide a dramatic space in which local artists can display their creations.
And here's the rub: Instead of flattening the existing craggy rocks and thereby creating a level platform, our visionary has decided to retain these limestone shapes, eroded into fantastical patterns and textures by eons of rain and wind, and incorporate them in his design.
Part of a series of enclosing structures composed mainly of plate glass and stainless steel, the rocks will feature both within and without its confines, part and parcel of a mountain citadel approached by winding steps which follow the contours of the terrain from the landscaped gardens below, and rise past a huge rocky pool complete with waterfalls and koi carp. As you climb, you will pass through the portals of an Indian temple, ancient pillars and arches reassembled in this remote setting.
There is more. A number of these outcrops are embraced by the serpentine roots of banyan trees, clinging like giant octopods to these immovable crags. They too will be a feature of this domain. Once completed, you will be able to enter this series of glazed structures and see on every side, the sea or mountains. Look in the immediate vicinity and you will literally be within touching distance of rocks and roots. Man and nature in harmony.
My brief was to recommend plants for such a high, arid environment which might enhance the visual experience of owner and visitor alike. Below, down in the valley, and set in checkered shade, were plants in abundance, already expertly selected and cared for – feathery columnar ferns, lady palms, spiky yuccas, huge bird's nest aspleniums, colorful bromeliads, all sprouting from a dense carpet of creeping vetches and aesthetically landscaped amid rocks, water features and statuary.
In the micro-climate above, conditions are less bountiful, since soil is always at a premium in
exposed craggy sites. It gets washed away by unremitting tropical rain, thus revealing the bare rock beneath. What little soil that does exist is a mixture of broken down grains of rock and deposited organic matter such as dead leaves.
Thus many plants that exist on mountain rocks in holes, declivities or crevices are epiphytic, that is to say they need little soil for their roots and take their nutrients and moisture mostly from the atmosphere. Many of these are bromeliads.
It is good to see that Paul, fast out of the starting blocks, has already planted a number of gold and red neoregelias which have rapidly become established in cracks or where there is a thin covering of soil. Because of their sculptural shape, bromeliads look particularly effective when used in mixed plantings with other, maybe less dramatic neighbors.
A good way to start the ball rolling.
If you have a question or a garden that you would like featured you can email me at: drpaccampbell @gmail.com. Further information about this gardening series and Patrick's other work can be accessed at: patrickaccampbell.wordpress.com
— Patrick Campbell
Thai Life

Join the conversation and have your say on Thailand news published on The Thaiger.
Thaiger Talk is our new Thaiger Community where you can join the discussion on everything happening in Thailand right now.
Please note that articles are not posted to the forum instantly and can take up to 20 min before being visible. Click for more information and the Thaiger Talk Guidelines.