New rooftop dining experience overlooking the Andaman at The Nai Harn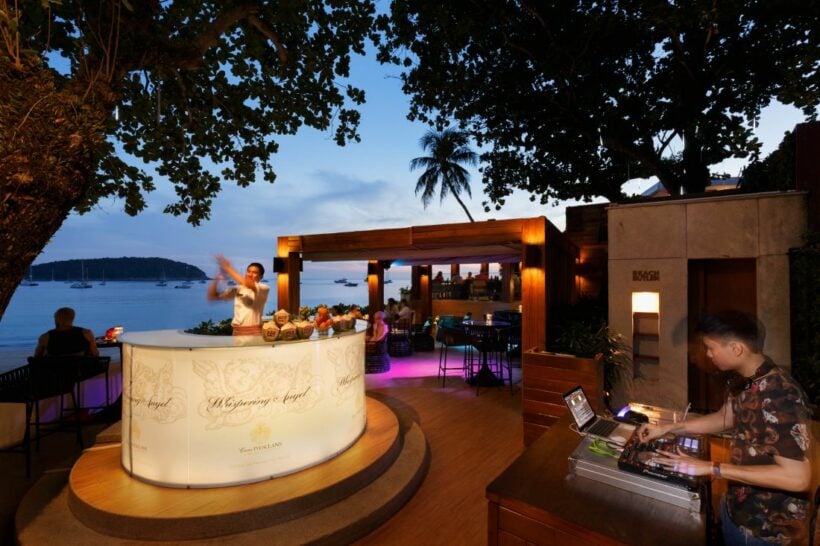 Red alert Phuket foodies.
The Nai Harn is once again raising the bar on island gastronomy with the launch of Prime @ Rock Salt, a new rooftop venue that promises exclusive dining experiences with spectacular views of the beach and sea. The new restaurant will begin welcoming diners from the end of November 2018.
Perched on top of Rock Salt, The Nai Harn's popular beachfront restaurant, 'Prime' is an exclusive eatery with just 20 seats. This intimate size allows the chefs to create highly personalised dining experiences, including serene sunset dinners and private events for small groups.
"Diners will be dazzled by dramatic live cooking experiences, with an open kitchen that features a custom-built wood-fired oven and Santa Maria-style barbecue grill. This allows Executive Chef Mark Jones and his team to roast, smoke or chargrill at temperatures of up to 700 degrees Celsius."
"Prime @ Rock Salt is a new dining destination for Phuket and you could not ask for a better setting. The rooftop at Rock Salt affords spectacular sea views, especially at sunset and later when the stars fill the night sky," said Frank Grassmann, General Manager of  The Nai Harn.
"Combining this stunning setting with an exceptional menu, Prime is set to become the ultimate setting for unforgettable evenings, including romantic dinners and exclusive events."
From custom-built kitchens to premium produce, everything about [email protected] is focused on creating fantastic flavours. The appetizers feature some of the finest imported ingredients from around the world, including Spanish octopus, French goat's cheese, Scottish salmon and Cornish mackerel, all expertly prepared in innovative ways that showcase the sublime flavours. Diners can also indulge in an assortment of house-cured signature cold cuts presented with a choice of pickles, condiments and freshly-baked breads.
'Prime' also serves a selection of world-class steaks from Australia's Rangers Valley, which is famous for producing the most incredible marbled Black Angus and wagyu beef from grain-fed cattle in New South Wales. Diners can choose from 400-day grain-fed Diamantina wagyu flank steak or 360-day wagyu rib-eye steak, perfectly chargrilled and served with a bone marrow and confit onion bread pudding, asparagus and red wine jus.
For an intimate yet extravagant feast, couples can share an exquisite 270-day Black Onyx Angus côte de boeuf, cooked over flames and oak chips, or indulge in barbecued glazed short ribs, slow-cooked for 48 hours then finished in the wood-fired oven. An extensive selection of fine wines – all of them hand-picked by global wine critic James Suckling – provides the ideal accompaniment to every meal.
With its modest size, stunning sea views and mouth-watering menu, [email protected] is set to elevate Phuket's culinary scene to impressive new heights.


Find restaurant and food listings around Phuket at Thaiger Bites.

Read more headlines, reports & breaking news in Phuket. Or catch up on your Thailand news.
Thong Dee, the Kathu Brasserie loved by foodies and Phuket locals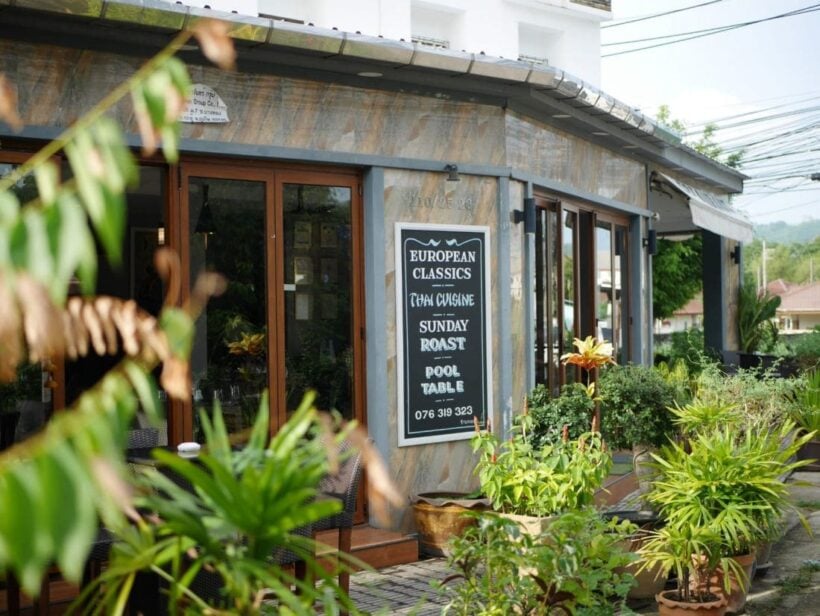 The Thaiger was invited to a special 'taster' at one of our favourite restaurants on the island of Phuket, Thong Dee. As usual, the food spoke for itself – no fuss, classy, so so tasty, eclectic. The Thaiger was a guest of the hosts Patrik and Ponchan for the evening.
Thong Dee – The Kathu Brasserie, located in Kathu in a quiet soi less than 15 min drive from Patong or Phuket Town has become a popular go-to foodie destination, away from the hustle and bustle of Phuket. The atmosphere at Thong Dee is certainly friendly and relaxed but also chic and stylish. The restaurant offers open-air dining where locals and visitors comfortably sit and watch the tiny world of Kathu go by.
The restaurant is currently ranked #1 on TripAdvisor (April 2019), undoubtedly a favourite for foodies looking for quality in a breezy brasserie which doesn't burn their wallets. But the journey to finding this perfect balance was certainly not a smooth one.
Established on the 25th December 2010, married couple Patrik Lundgren, from Sweden, and Phonchan Chiarram, originally from the Buriram province, opened "Thong Dee Restaurant & Bar", literally meaning "Good Gold" in Thai, a colloquial expression that better translates as "Good Quality".
Thong Dee began as only a dream for the two. Phonchan already owned her own bar at only 21 and Patrik always considered himself a devout foodie. He was the one to make the bold decision to become restaurateurs. With the help of Patrik's mother, the couple, with their love for F&B and strong entrepreneurial spirit, made that dream into reality.
"I consider myself a genuine foodie and always had a huge passion for food. I rather have a big bill from a fabulous restaurant then a trendy nightclub" – Patrik
Phonchan never had any formal training as a Chef but with Patrik's belief in her skills and Patrik's mother's training, Phonchan started in her own restaurant as the cook. Here she not only had the opportunity to develop her delicious family recipes but began experimenting with Western and European cuisine.
The menu opened with 80 % percent Thai food until Patrik realised it was an already over-saturated market. "We had to be different from that "green curry" you can eat anywhere in Phuket". Over the next 6 years the restaurant went through huge changes, both in layout and in menu.
Through the first stages, they enlisted the talents of André, a young chef who worked in France & Scandinavia at Michelin fine dining establishments, most notably, at Restaurant Kiin Kiin in Copenhagen. It was from him that Phonchan learned the fundamentals of fine dining, such as mise en place and creating stocks and sauces.
"He also taught me about the art of plating and classic dishes from French cuisine as well as fusion creations" – Phonchan
In 2016 they partnered up with an experienced Irish chef, from whom they learned about the strict operations of running a restaurant and creating a positive flow in the kitchen.
"He also taught me a lot form the European and English kitchen, such as the Sunday roasts, chicken liver parfait and desserts" – Phonchan.
The couple found their groove through their own culinary explorations, research and development combined with the knowledge of experienced chefs.
"…almost all of the dishes on our menu are different from how I learned from the start, both in Thai cuisine and European. I discovered in the world of cooking, all dishes can be made from the chef's own interpretation." – Phonchan
Patrik describes the cuisine at Thong Dee in detail as – "European with French, English & Swedish influences in addition to authentic Thai dishes with premium main ingredients."
You will find Patrik at the front of house being the charismatic host, paying close attention to detail and customers' every need. Thong Dee's client's range from local expat families and friends looking for a taste of home, and tourists looking for finer Thai food and good wines to match. Thong Dee has also become a favourite spot for local F&B industry management staff.
People flock from around the Island and even globally to experience Phonchan's signature Thai duck dishes, even stews and Swedish meatballs. The also offer ever-changing weekly specials. Their Sunday Roast is also a drawcard, that attracts playful groups and families looking for a wide variety of succulent roast meats.
In the future, Thong Dee are considering to expand into Phuket Town, where the offering will be much more focused on classic European Brasserie cuisine, with starters, salads and steaks and a high value wine list and of course, the same friendly service in a stylish and relaxed atmosphere.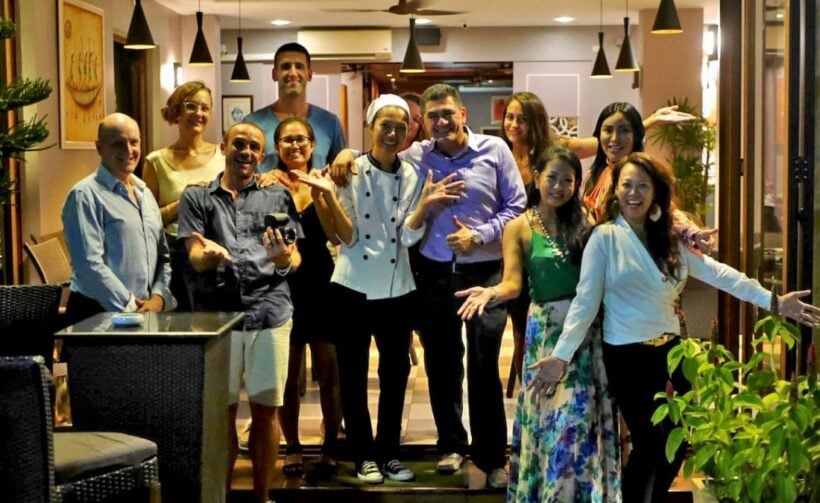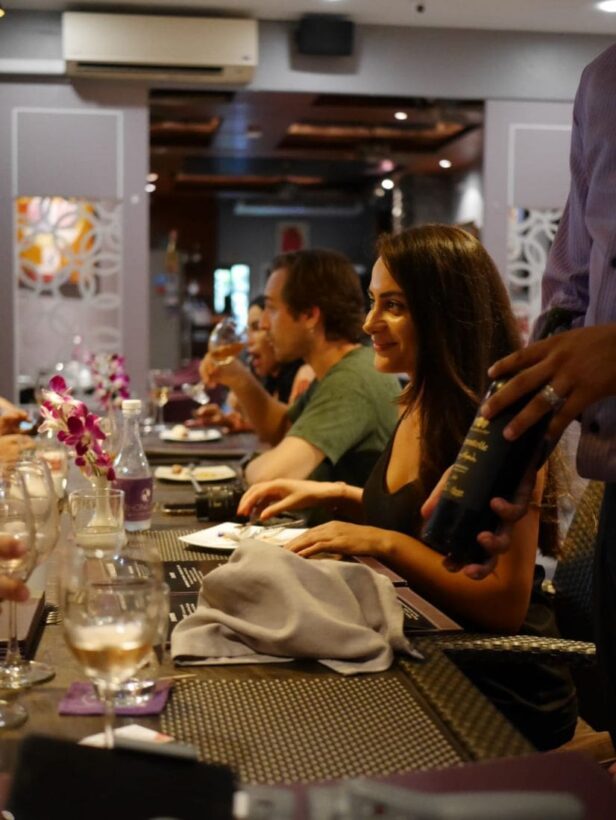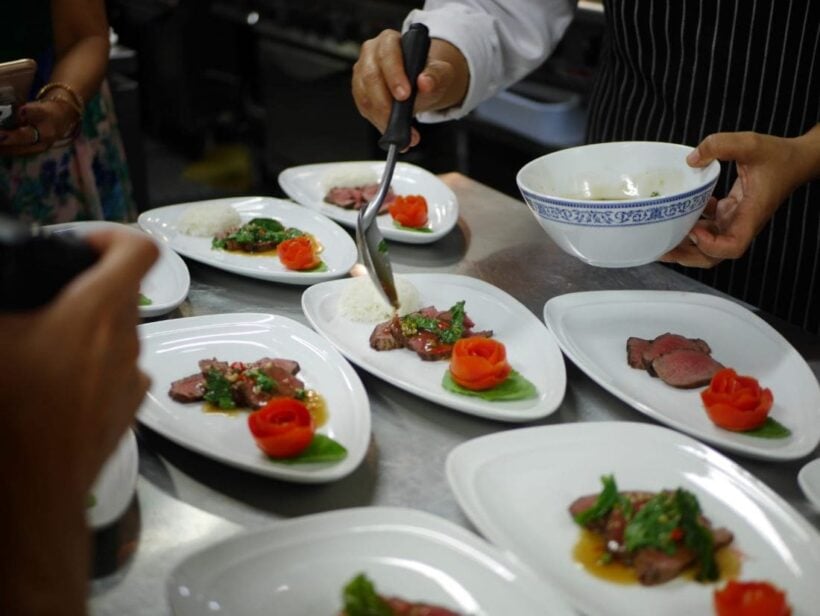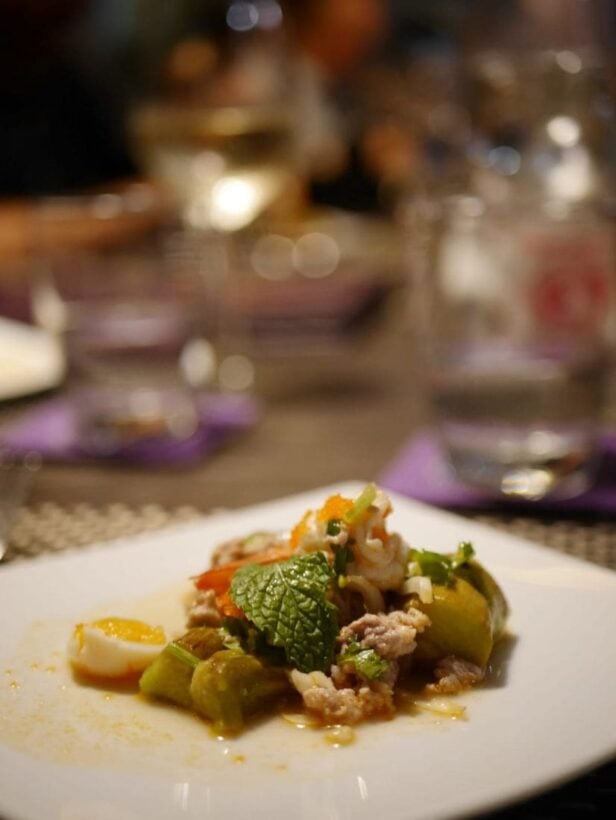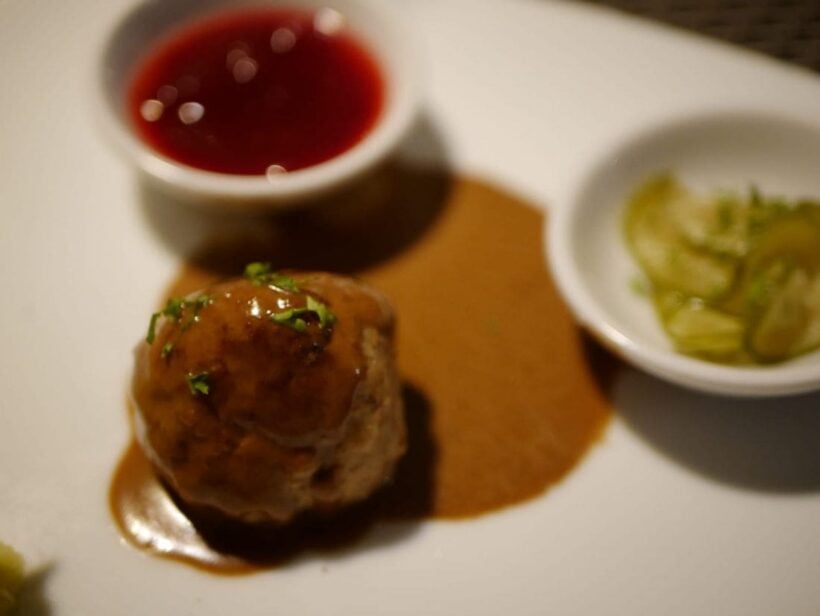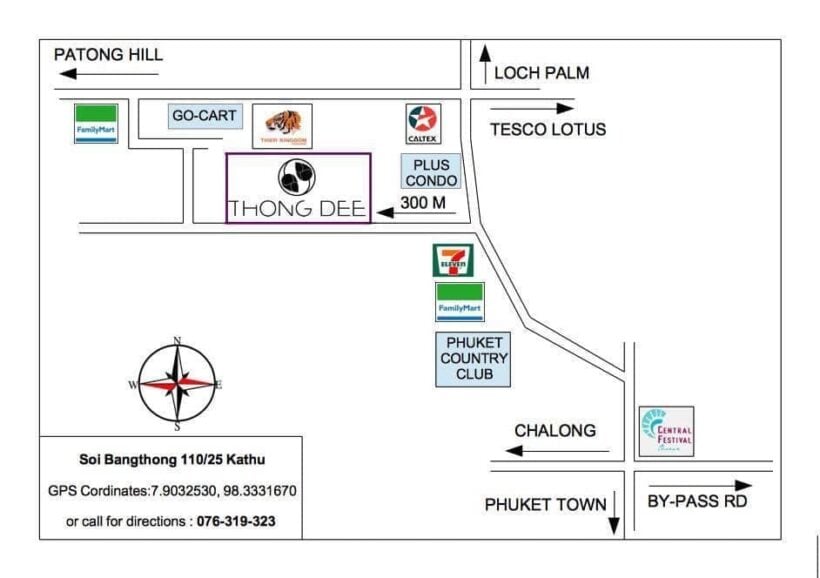 Thai suki restaurant customer injured as gas cooker explodes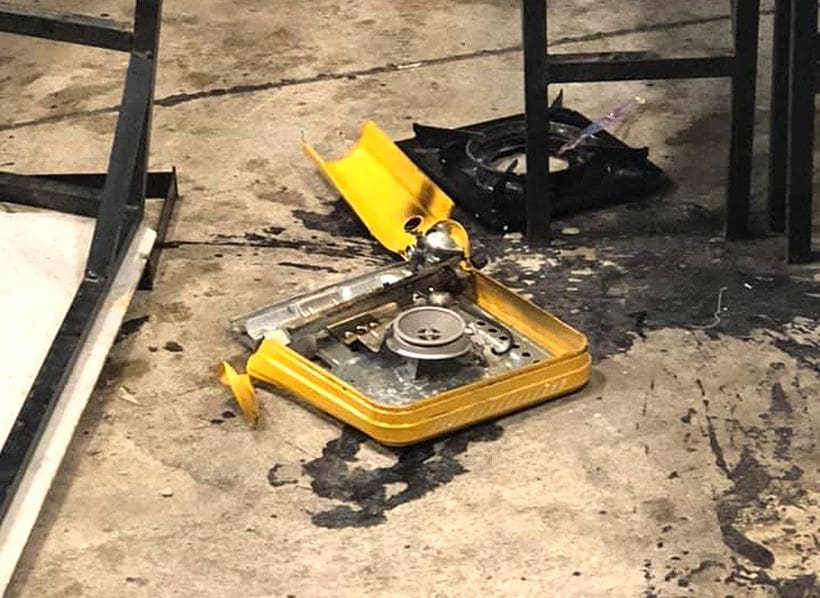 PHOTO: Facebook.com/สมพงษ์ เเก้วอาจ
A gas canister has exploded at a Moo Katha or 'suki'  restaurant in the Ram Inthra area of Bangkok. Moo Katha is a very popular kind of restaurant around the country.
Thai Rath reports that Sompong Kaew-art posted on his Facebook that he had been near the restaurant when he heard an explosion. Passersby first thought a tyre had blown out somewhere. But later they found out that a gas canister, used to heat the pan on the table, had exploded.
Poh Teck Tung foundation medics treated a woman at the scene before taking her to hospital. His Facebook post has since been read 40,000 times with 27,000 comments as Thais warned their friends about the exploding gas canister at the restaurants.
SOURCE: Thai Rath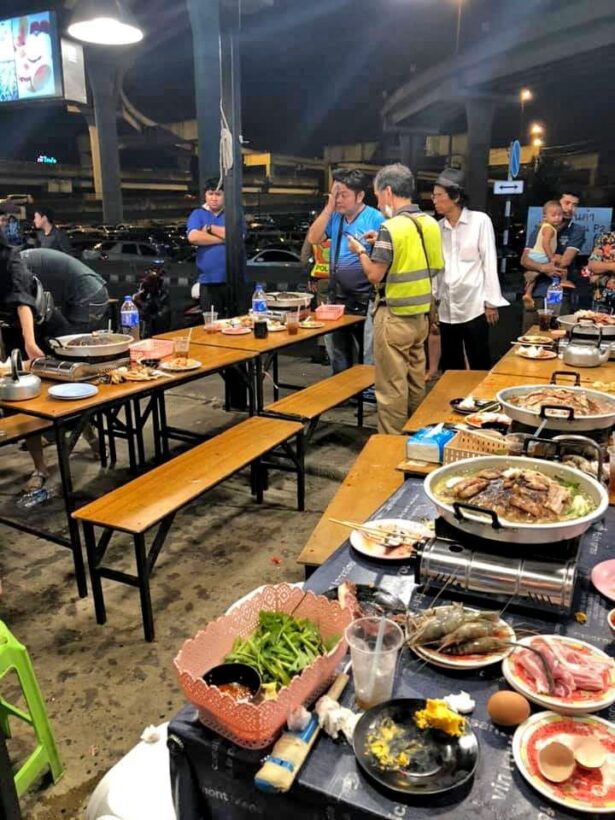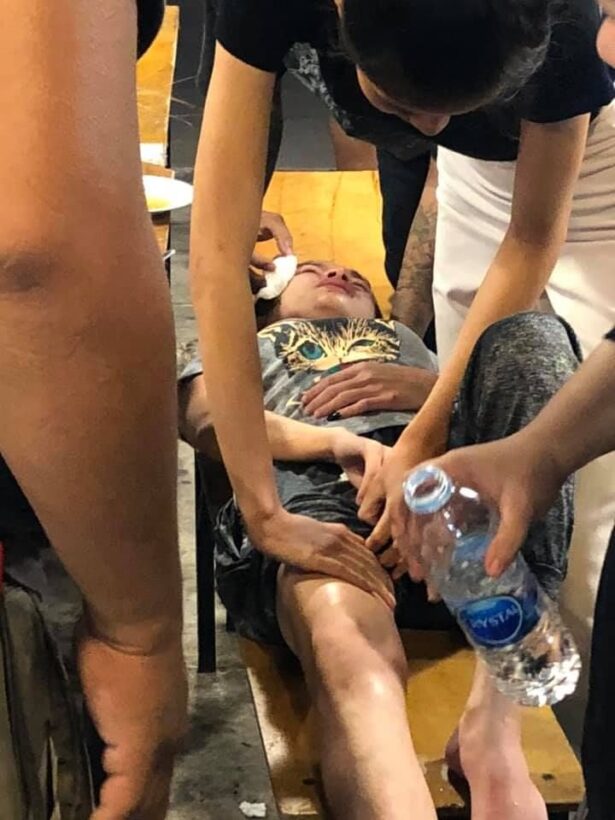 Hyatt Regency open new Spectrum Rooftop Bar in Bangkok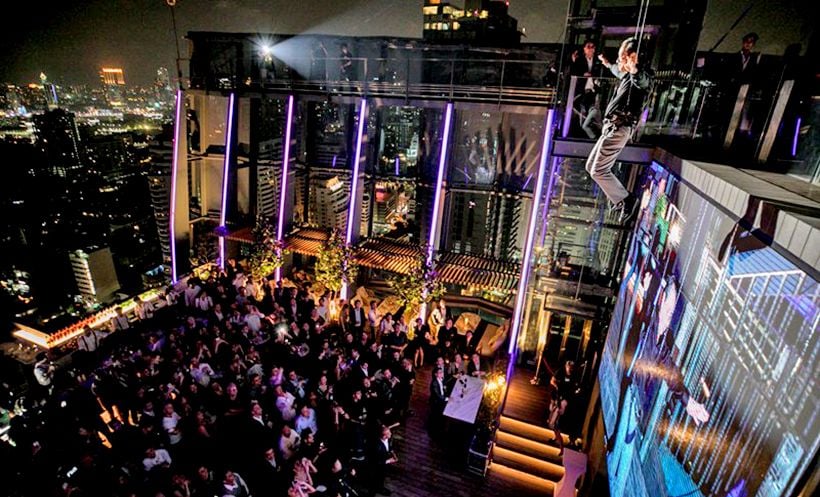 PHOTO: Award-winning Japanese architecture firm Super Potato tops off Hyatt Regency Bangkok
Bangkok's newest rooftop bar opens its doors this week as a sparkling new entry in the list of Bangkok's top-shelf night spots.
Designed by the Japanese design firm Super Potato, the Hyatt Regency Bangkok's new Spectrum Lounge & Bar is a multi-faceted venue. On three different levels, the expansive lounge features a collection of really cool, intimate spaces.
"The inspiration behind the new venue is a jet-setting couple, who have created a soulful, welcoming space to entertain guests," explained Hyatt Regency Bangkok Sukhumvit's GM, Sammy Carolus.
"This story is told through the design pieces on display, ranging from Thai art to musical instruments, and the variety of distinct areas within the venue, like you'd find in a luxury penthouse."
Spread over three levels the journey begins on the 29th floor. Handcrafted basket-weave doors lead into a plush gathering space with marble floors and an open kitchen, surrounded by earthy wooden walls. The Thai influence comes through with a scene of the Chao Phraya River decorating one wall and backlit panels with local patterns shedding light over the space. An intimate study room with a shared table features a flat screen TV for presentations, and at night it metamorphoses into a private dining facility with a floor-to-ceiling outlook on the city's skyline.
The spacious living room entices guests to linger with deep, cushioned chairs and wooden tables spread out over a velvety blue carpet. Above intricate Thai patterns etched into gold panels are an ode to the iconic gold Thai Buddha's hand. The nearby indoor bar creates an edgier vibe with a sleek, black marble countertop.
A spacious alfresco terrace spans level 30 and 31, the eclectic area features a large open deck with seats for two and alcoves framed by trees with huge daybeds and private tables.
The overall lighting scheme is designed to create a warm and cozy ambiance, a feeling of being at home, with the functionality to change to several scene settings depending on the occasion. The study and meeting room also has its own individual stage control and the lobby space plays with a changing projection – that can be adapted to a particular event.
A selection of premium tapas such as smoked Scottish salmon & Russian caviar atop bagels, wagyu beef sliders, and crispy soft shell crab with tamarind sauce on a taro fritter, are available at the lounge & bar. Craft cocktails, wine, and a comprehensive beer selection make up the drink menu with concoctions such as Mad Mango, chili-infused vodka, mango puree, spicy mango, elderflower, lime, chili and salt; and Giant Pandan, a blend of vodka, Midori, grapefruit juice, pandan, lime, egg white & bitters.
With a total space of 280 square metres Spectrum can host 80 guests for indoor gatherings and 295 people when utilizing the indoor and outdoor spaces.