Thai artist uses sex workers' hair to make social critique in BKK installation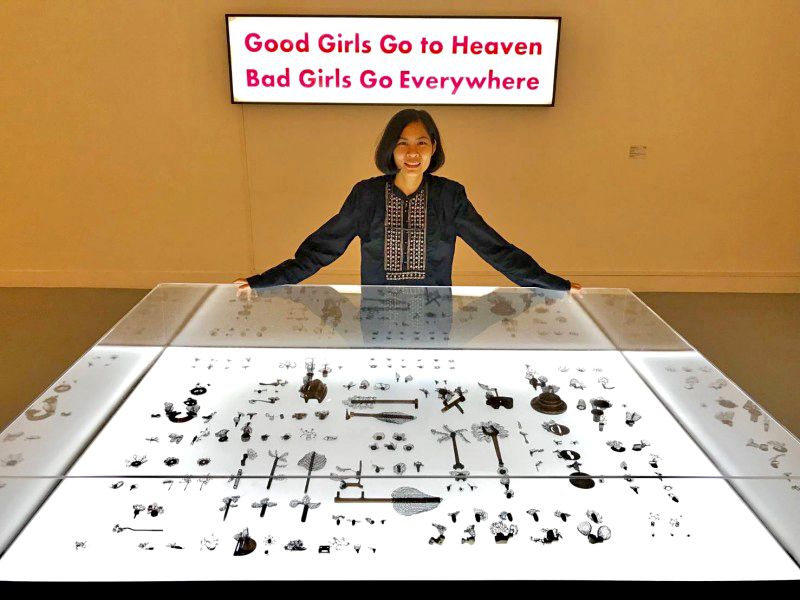 PHOTOS: Vivianne Chow
Thai artist, Imahathai Suwatthanasilp new work at the Bangkok Biennale has brought attention to the prostitution industry in Thailand. Through her work the artist critiques preconceptions on sex workers while highlight their prevalence.
Imahathai's new work involved hair, specifically hair collected from a number of sex workers in Thailand. Her passion for hair started when her father was diagnosed with liver cancer in 2003 and he asked her to cut his hair. He had always grown his hair into four long ponytails, each of which represented one of his children. He had hoped that it could be a part of him his children could keep with him if ever he would have to leave them, he died in 2008.
Studying art at Silapakorn University she began to use her own hair as a medium for deeply personal artworks. Her new installation titled Good Girls Go to Heaven, Bad Girls Go Everywhere is currently on display at the Biennale (taking place until February 3 in 20 venues across Bangkok) involves weaving the hair of Thai sex workers around 174 parts of a vintage sewing machine.
With a population of 70 million, it is estimated that there are around 800,000 to 2 million sex workers in Thailand. Often perceived to be generally accepted, prostitution remains illegal in Thailand.
Under a 1996 Thai law, there is no offence for the customer but the sex worker can be fined for offering his or her services and on top of that receive  up to a month in jail for working at a sex establishment.
Recent government discussion are moving to the notion of abolishing or regulating the business creating protective measure for the work force rather than current punitive ones. Sex workers have shared their opinion and agree that the trade should be legalised and the government should create worker ID's so they can be identified and protected like other occupations.
For her current art work Suwatthanasilp reached out to the Empower Foundation in Chiang Mai. They provide support for those who work in the sex industry, fight for the decriminalisation and offer protection to the workers while helping them to learn new skills.
The sewing machines were part of one initiative to help provide an alternative source of income for the sex workers. People were kind enough to donate sewing machines but the organization notes they always came with a label of expected 'salvation'.
Prostitution is deemed as a bad career choice, and all sex workers are under pressure to work in a  'acceptable' job. Suwatthanasilp's works has the hair of the workers shaped into leaves, grass and flowers around the sewing machine parts portraying the birth of something beautiful, delicate and intricate being able to born out of cold metal.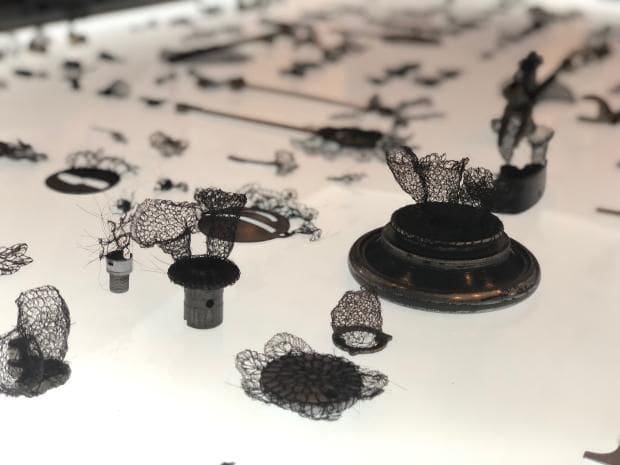 "By changing the shape of the lifeless sewing machine parts into new and lifelike objects… I want to tell people that life is able to grow out of something cold, just like how sex workers survive the judgement of the society and social structure," – Suwatthanasilp  
Very few of the machines were used for their expected purpose, as many of the women had chosen to work in this dark industry as a means to provide for their family. One woman know by the artist said that she worked her whole life in the sex trade as it was the only way to put her kids through university.
Regardless of the negative connotations attached to their job description, many of these women love their families and will do the necessary to provide for them.
In some countries with legal prostitution social benefits have shown that  incidents of rape have decrease due to the availability of the service, as well as lower the spreading rate of various sexually transmitted diseases.  Keeping prostitution illegal is often pitched as a act for women, yes it only detrimental to an huge pre-existing industry.
Decriminalisation can provide measures of precaution for the worksas well as access to legal protections although many advocated will say that only once prostitution has been completely erased will women be 'saved' form the exploitation and violence associated with it.
From an outsiders point of view, the conundrum stems by the juxtaposition of allowing the industry to flourish and exist in Thailand while not being willing to provide any form of legal safety net for the workers. Whether regulations and and a new approach by authorities would help remains to be seen, but it could be a first small step in the right direction.


Find local events and browse venues in Thailand with Thaiger Events, or post your own today.

Read more headlines, reports & breaking news in Bangkok. Or catch up on your Thailand news.
Bangkok smog: Police on the lookout for dirty exhaust from vehicles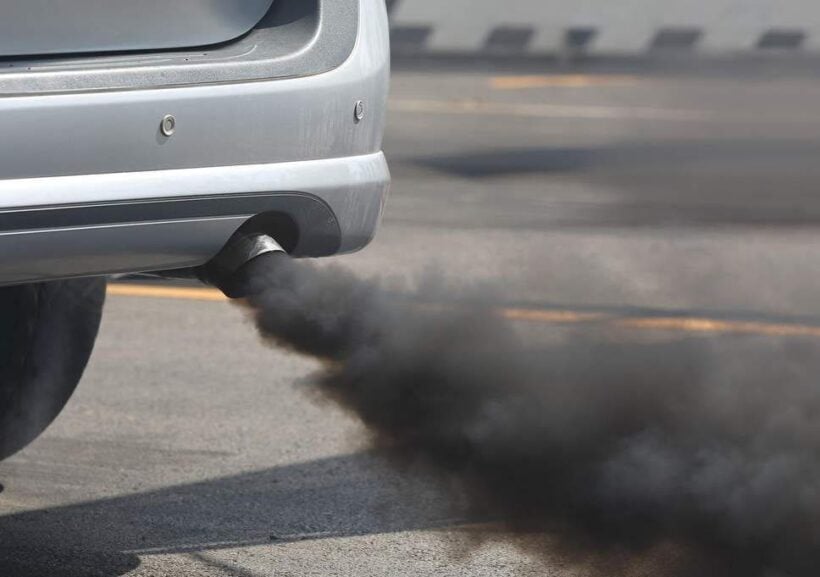 by Khanathit Srihirundaj
It's either a knee-jerk reaction, media stunt or something we hope to see a lot more of.
Checking vehicles with plumes of dirty smoke coming out of their exhaust.
To help curb fine-particle dust pollution in Bangkok, traffic police have increased the number of checkpoints where they will check vehicles spewing black exhaust smoke.
The number of checkpoints was increased on Tuesday to 20 from the previous 12, leading to 1,000 vehicles being cited and fined, traffic police commander Pol Maj-General Jirasan Kaewsang-ek said on Wednesday.
Jirasan said diesel-engine vehicles were the main culprits, along with too-old engines, and they together made a large contribution to the 60 per cent of the polluting PM2.5 particulates that were attributed to vehicle engines.
Police are putting an emphasis on removing the exhaust-spewing vehicles from the most pollution-prone areas such as Bung Kum and Chatuchak districts.
As there was insufficient staff for the checkpoints, police would ask that some officials from the Pollution Control Department be assigned to aid them during this period, Jirasan said.
In future, police may impound the vehicles or suspend the vehicle's use as a more severe punishment, he added.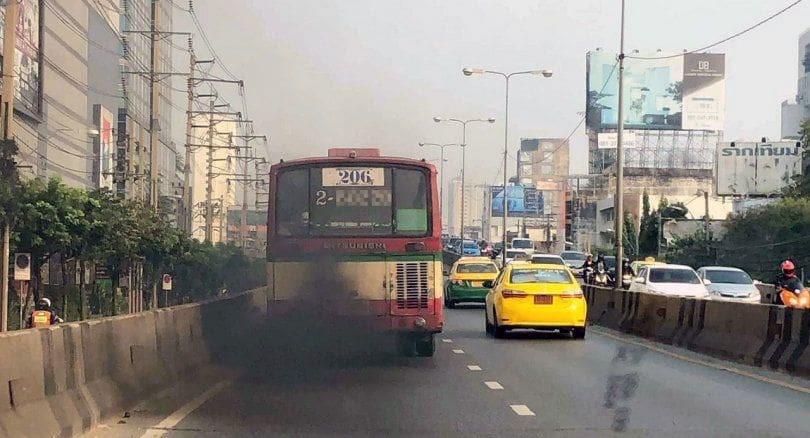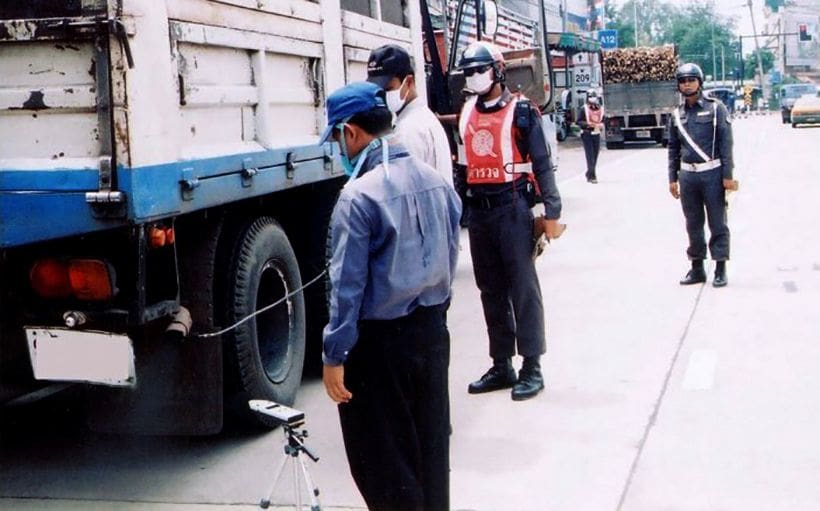 SOURCE: The Nation
Bangkok smog: Chatuchak school closes for the rest of the week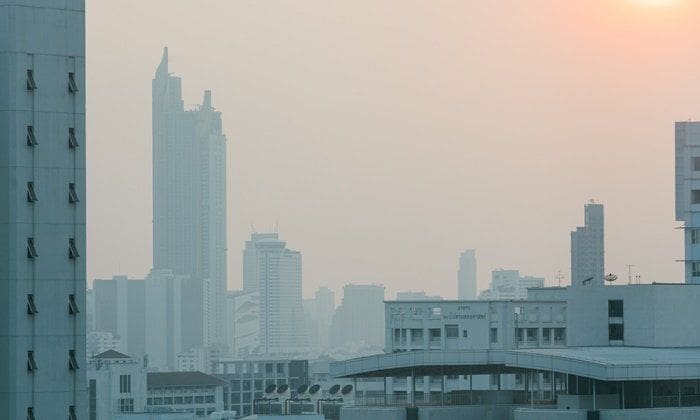 A kindergarten in Chatuchak, to the north of central Bangkok, has suspended classes because of air pollution that has landed Bangkok in the top 10 list of worst-polluted cities.
Bangkok still lags far behind some of the world's most polluted cities, including the Afghani capital Kabul (at 576), Delhi in India (306) and Mongolia's Ulaanbaatar (300). But the Top 10 worst air-pollution list is not the list Bangkok wants to be in.
Bangkok and Pattaya remain in the 'unhealthy' or 'unsafe' levels today whilst some cities in northern Thailand are also suffering with poor air quality.
Surang Khamneungnet, director of Jananan Kindergarten in Chatuchak, said pupils had been kept indoors in recent days and the grounds sprayed with water three times a day, but the children had become listless and were eating less.
The school is closed for National Teachers Day today anyway but will remain closed tomorrow and Friday because of the air pollution, she said.
Chulalongkorn University logistics expert Manoj Lohatepanont at a seminar on Tuesday advised schools to consider closing temporarily to reduce health risks for students and curb the number of cars on the roads, one source of PM2.5.
PM Prayut Chan-o-cha separately said the Education Ministry should use its discretion in deciding whether "at-risk" schools should be closed.
SOURCE: The Nation | aqicn.org


Crisis meetings in Bangkok today over smog solutions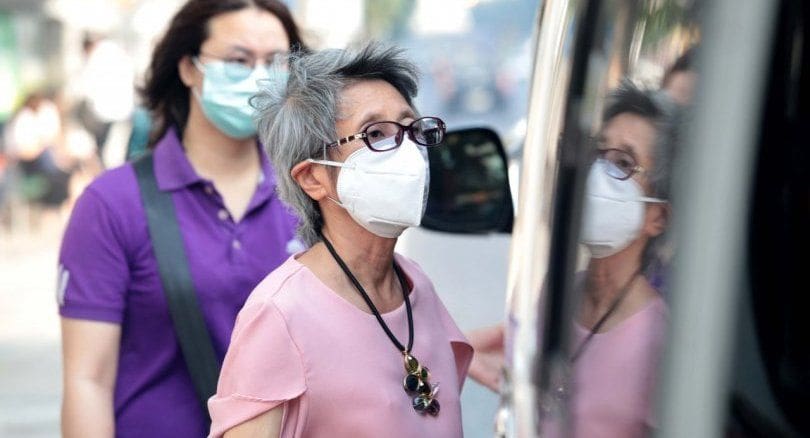 PHOTOS: The Nation
Urgent meetings are being held in Bangkok today to address the acute smog problems in the capital.
The Pollution Control Department and Bangkok Metropolitan Administration are gathering today in their latest efforts to battle with the persistent smog while dust particles continue to blanket the capital with smog levels alarming locals and causing tourists to cancel their holidays.
The meeting was organised after the authorities concerned rushed rushed to find solutions to help ease the problem, including cleaning roads more often, spraying water over Greater Bangkok's sky (useless), trying to produce artificial rain with cloud-seeding and enforcing strict laws against vehicles emitting excessive exhaust fumes.
PM General Prayut Chan-o-cha "has instructed relevant authorities to introduce additional measures to deal with this situation", Government Spokesman Puttipong Punnakanta said.
The Bangkok Metropolitan Administration (BMA) and the Army's efforts to spray water to ease the pollution on Monday night and yesterday morning did not appear to help much.
For instance, pollution was marginally brought down to 90 from 96 on Monday and to 71 yesterday on Phaholyothin Road in the capital.