Decoding Phuket's Wat Chalong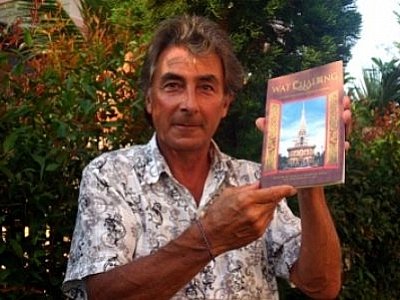 PHUKET: Most people in Phuket have had a peek at Wat Chalong, but few know the temple was once the site of a rebellion and hosted one of the largest funerals in all of southern Thailand. Even deciphering the full meaning of the paintings, statues and different buildings can be tricky.
But for Phuket expat Paul Whittall, who describes himself as "just an English fisherman", curiosity was just too much. For three years he has researched tirelessly the lesser known aspects of this glorious temple and condensed the information in layman's terms in his recently published guide book, aptly titled Wat Chalong.
Extracts of his book and information from the man himself gives us an insight into the true Wat Chalong, or Wat Chaitararam as it was officially named by King Rama V in 1846.
The History
It is not known when Wat Chalong was first built, but records show it was rebuilt and relocated in 1837. There is evidence of the early temple – the remains of a wall – on site. In 1876 Chalong was home to the Ang Yee rebellion, during which migrant Chinese tin mine workers rioted across Phuket to protest working conditions.
The Legend
This is when Phuket's renowned Abbot Luangpor Chaem, now revered throughout Thailand, came into action. He was Abbot at Wat Chalong for 81 years, from 1827 to 1908.
Paul explains that "he is still very much in the Thai people's consciousness; as soon as they enter the temple he is in their mind.
"He became a major figure in the Ang Yee rebellion because he took on the role of both mediator between the forces and healer, offering the temple as a sanctuary… He encouraged the fightback in time for the king to send an army to relieve Phuket, but he was also conciliatory. This brought him to King Rama V's attention, who gave him an honorary title," Paul says.
"According to the documentation, when he died his funeral was a massive affair. People came from all over Thailand and Malaysia, and it was the biggest funeral ever held in southern Thailand. His image appears in many other temples across Thailand."
A statue of him, and his legendary walking stick which is said to have healing powers, are both present at Wat Chalong.
The Buildings
There are six buildings at Wat Chalong: the Sala, the Mondop, the Ubosot, the Viharn, the Chedi and the Crematorium.
"Other temples are packed with stuff and it can be a bit overwhelming, whereas this one you can get to grips with because it is not so enormous and each building is separate and deals with separate aspects," says Paul.
The statue of Luang Por Chaem can be found in the Mondop, where offerings are given.
The Chedi is the main building at 61 meters high. It contains paintings of Buddha's life and his teachings, and at the top there is a display which contains a relic – a fragment of the Buddha's bone, which was brought to the temple from Sri Lanka in 1999.
The Ubosot is surrounded by eight boundary stones because it is not open to the public. It is the monks' sanctuary, where they are ordained and where items such as Luang Por Chaem's walking stick are kept safe.
The Ornate Detail
"My favorite thing about Wat Chalong is all the references to past stories and mythologies that can be found on the buildings," says Paul.
"If you walk around the temple and look at all the buildings you have got all these stories being told to you. If you can recognize the characters you can see that the whole place is like a massive picture book," he explains.
Paul points to some figures above the entrance to the Mondop, identifying them as Vishnu, a Garuda (a winged figure) and a Naga (serpent like figure).
"The Garuda and the Naga have problems," he says. "In Thai and Hindu mythology there is a constant battle between the Garuda and the Naga, and there it is on the roof – you've got Vishnu standing on top of a Garuda, which is standing on top of a Naga, which is snaking away underneath."
"Everywhere you look there are these references to stories, so apart from being an amazing building which is very colorful, everything has layer upon layer of meaning,"

The Paintings
There are two types of paintings at Wat Chalong: those relating to the life of the Buddha, which are mainly in the Chedi and the Sala; and the Jataka tales, which relate the 10 moral precepts and virtues to be perfected to attain enlightenment.
"What is nice about Wat Chalong's paintings is that they portray little aspects of these massive tales and highlight just one tiny little bit of it, whereas the other temples cram loads of information into one picture," Paul says.
He points out a painting in the Sala of Buddha sitting under a Bodhi Tree, with evil beings around him. He calls on Mae Toranee, the earth godess, to come and witness his determination to achieve enlightenment and ability to withstand evil.
For more information, readers can contact Paul at: pwhittall@aol.com.
— Alexandra Andersson
Thai Life

Join the conversation and have your say on Thailand news published on The Thaiger.
Thaiger Talk is our new Thaiger Community where you can join the discussion on everything happening in Thailand right now.
Please note that articles are not posted to the forum instantly and can take up to 20 min before being visible. Click for more information and the Thaiger Talk Guidelines.