Bonsai, cacti, palms and ponds – Phuket Gardening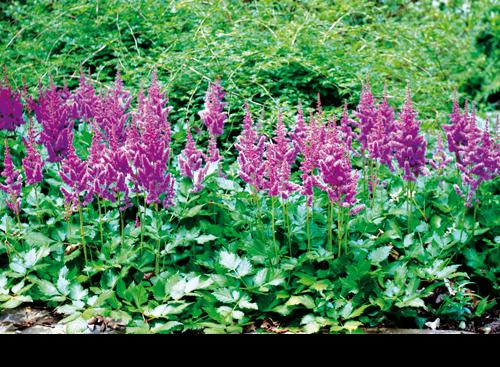 PHUKET: One article could hardly begin to catalog the sheer scope and variety of the Phuket Botanical Garden, with its 15 rai and an army of 30 gardening staff. There are more than 30 independent zones, ranging from Thai inspired mini-gardens to a Japanese style affair complete with miniature pagoda and red rectangular arch; even an English Garden with raised boxes of petunias and pots of busy lizzies (impatiens), all in multicolored bloom (click here for article).

Interestingly, these are two annuals that will cope both with the cool climate of Britain, suitably protected, with the searing heat of Phuket. Other annuals such as African marigolds, capable of surviving both environments, featured in displays elsewhere.

In the Cactus Garden, an array of round, prickly succulents, some the size of basketballs, each carefully labeled, and thriving in simulated desert-like conditions, reminded me of Arizona.
But the stars of the show are Thai inspired. There is a splendid Bonsai Garden with a huge horse and elephant fashioned from living greenery that stand guard over the entrance. Low clipped hedges of box-like evergreens lead the eye to massed plantings of astilbes in vivid shades of orange, deep red and magenta. Here are massive bromeliads, some more than six feet tall and – a real surprise – round beds of ground-hugging wedelia, looking perky with their bright green foliage and yellow starry flowers.
The tranquil fern garden also had its fair share of massive bromeliads, aechmeas and purplish neoregelias to the fore. This is a particularly impressive zone, landscaped with rocks and statuary, and awash with fountains and waterfalls to provide the necessary humidity. Even the rocks are mossy. Ferns abound everywhere, especially a luxuriant stand of sword ferns (nephrolepis cordifolia).
No Thai garden would be complete without its palms. The area devoted to single specimens [though there are palms galore] was a lawn, carpeted with Malaysia grass. Of course, the tall, statuesque palms allow plenty of light to filter through beneath. This zone provided tangible evidence of that fact: here, the humble oil palm rubbed fronds with a glaucous Bismarck palm, here, foxtails, a spreading phoenix palm and even a traveller tree shared the space with a copernica palm replete with huge glossy fruits.
Other zones were less foreseeable. There is a butterfly garden – a nice touch – and a vine garden, set in deep shade, Predictably, it is drained of color save for an irrepressible violet/blue clitoria ternatea and a budding Rangoon creeper.
The Variegated Leaf Garden, fronted by an impressive green and yellow leaved fig was relatively bare, though the Sufficient Garden, where a large shallow pond, looked destined to produce a crop of rice.
A real revelation, however, was the Winter Garden, a sector beneath a plastic dome, which housed, in its air-conditioned atmosphere, the most extraordinary array of begonias in pots, of a scarlet hue so brilliant that I initially thought they were plastic. It just shows what can be done.
So does the whole enterprise. All right, it has double pricing, a fact which doubtless deters tourists and expats. Sadly, the place was almost deserted. The brochure does no justice to the place, and though there are attractive signposts, there is no map of the Gardens. Visitors would surely pay for one. Labeling was sporadic.
But these are minor cavils. For this is a special place which not only botanists, but journeymen gardeners and anyone interested in Thailand's natural heritage would profit from visiting. It is a work of art, a labor of love, artistically conceived and imaginatively landscaped, which offers intimations of how an undeveloped Phuket might once have looked.
If you missed the first instalment on The Phuket Botanic Garden, I hope this week's account will persuade you to go. It is situated off Chao Fa Soi 48. The right turn into 48 from Chao Fa West is directly next to the offices of TOT. From Chao Fa East, take a left turn at Soi 14 (click here for map).
If you have a question, or a garden that you would like featured, you can email Patrick Campbell here.

Keep checking our online Phuket Lifestyle pages, follow us on Twitter @phuketgazette or join our Facebook fan page for regular gardening features and tips.



— Patrick Campbell

Keep in contact with The Thaiger by following our Facebook page.
Out of 37 countries, Thailand has the worst pension system, says Bloomberg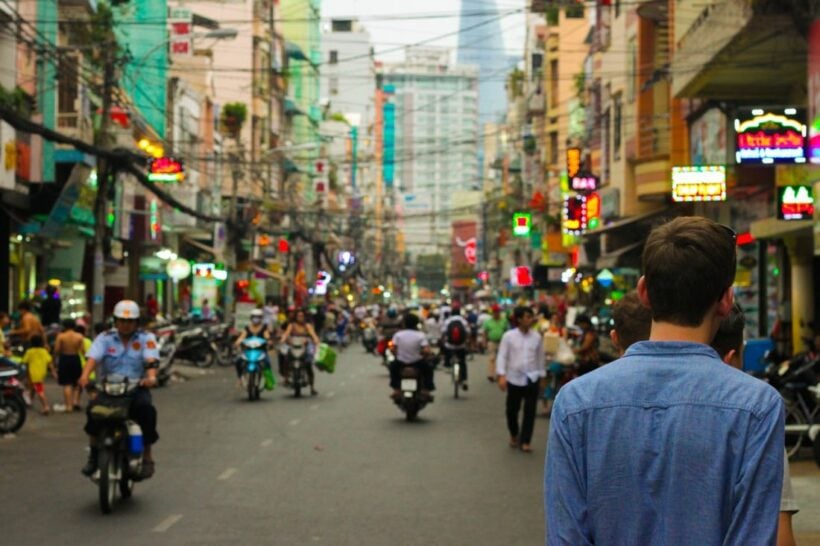 Thai Residents reports that on Sunday, Bloomberg published an article on the world's best pension systems, using information gathered from the 2019 Melbourne Mercer Global Pensions Index.
The survey looked at the pension systems of 37 countries with metrics including employee rights, savings, the number of homeowners, growth of assets, and growth of the economy. The purpose of the analysis was to determine what was needed to improve state pension systems and to gauge the level of confidence citizens had in their state pension system.
The Netherlands and Denmark were found to have the world's best state pensions, with Australia, Finland, Sweden, Norway, Singapore, New Zealand, Canada, and Chile next. Out of all 37 countries, Thailand finished last, with what the report described as an extremely ineffective and ambiguous system.
"Thailand was in the bottom slot and should introduce a minimum level of mandatory retirement savings and increase support for the poorest."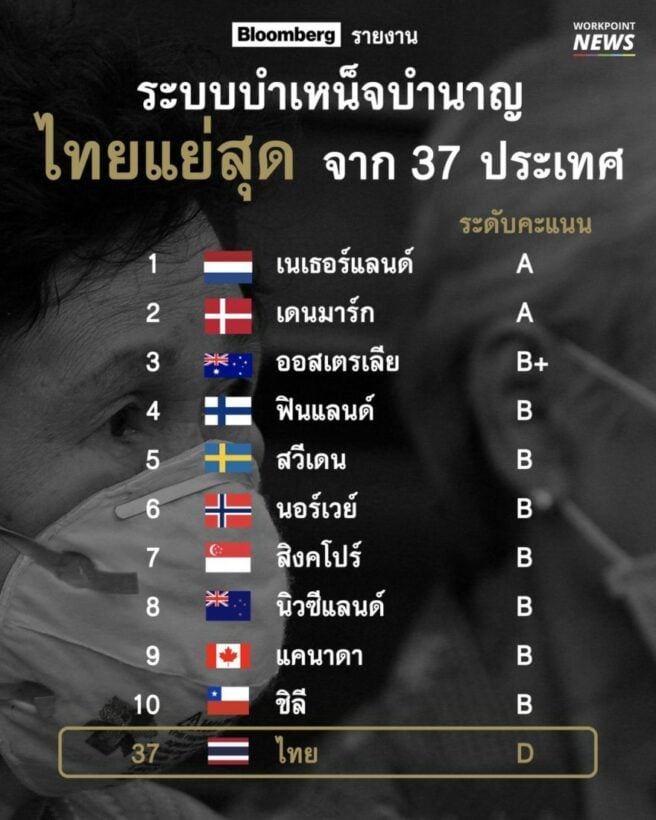 Photo: WorkpointNews
Thai Residents states that only those employed within the government system in Thailand are eligible for a pension based on salary. For most Thai citizens, pension amounts vary from 600 baht to 1,000 baht a month, depending on the recipient's age.
A report carried out by The Securities and Exchange Commission (SEC) advises Thai citizens to have at least 4 million baht saved by the time they retire, but Thai Residents reports that 60% of Thai retirees have less than 1 million baht in savings, with one in three citizens who have reached retirement age are forced to continue working in order to survive.
SOURCE: thairesidents.com
Keep in contact with The Thaiger by following our
Facebook page
.
Tax on salt content being considered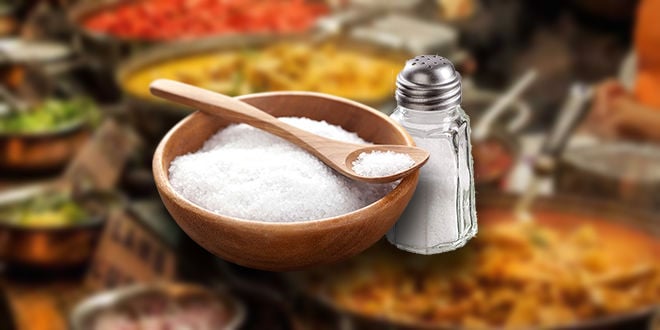 The Excise Department is considering imposing a tax on the salt content of food to encourage food producers to reduce the sodium content of snacks, instant noodles and seasoning cubes.
The director of the Office of Tax Planning said that the department is discussing a limit on the amount of sodium food can contain, in line with the standard set by the World Health Organization (WHO), which is 2,000 milligrams of salt per day.
In reality, Thai people consume an average of 1,000 milligrams per meal, making their daily intake well above WHO guidelines, according to the director.
He said any tax imposed would be at a level which would encourage food producers to reduce the sodium in their processed food without being punitive, adding that the proposal isn't intended to generate more tax revenue, but to help protect the health of consumers. Excessive sodium in the diet can lead to high blood pressure and kidney disease.
Fish sauce, soy sauce and salt would not be taxed.
SOURCE: thaipbsworld.com
Keep in contact with The Thaiger by following our
Facebook page
.
Water shortage warnings in 22 provinces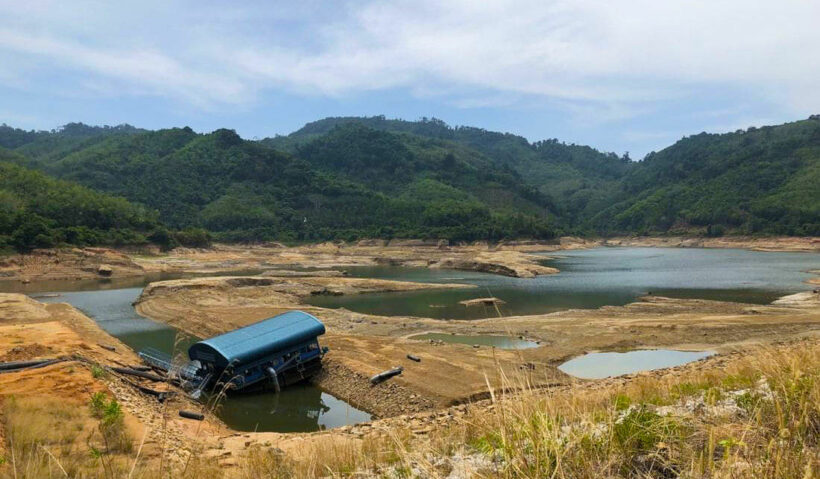 People living in 22 Thai provinces are being warned to prepare for shortages of drinking water during the upcoming dry season, due to start on November 1st.
The warning was issued by the National Water Resources Office, citing low levels in reservoirs, which are the main sources for tap water production waterworks in 22 provinces.
Areas at risk identified by the office are in northern, north-eastern, eastern and southern provinces.
Measures have been adopted by agencies charged with dealing with water shortages. including dredging water channels to allow greater volumes of water to flow into reservoirs, drilling underground wells, enlarging storage ponds and the purchase of water to supply to those in urgent need.
The Royal Irrigation Department has announced that people should use water sparingly.
There are currently about 6 billion cubic metres of usable water in reservoirs in the affected provinces, with 5 billion cubic metres reserved for consumption and ecological preservation, leaving only 1 billion cubic metres for use in agriculture.
This means farmers in the Chao Phraya river basin may not be able to grow a second crop of rice this year.
SOURCE: thaipbsworld.com
Keep in contact with The Thaiger by following our
Facebook page
.