Boat Lagoon Yachting announces mega shipment of private yachts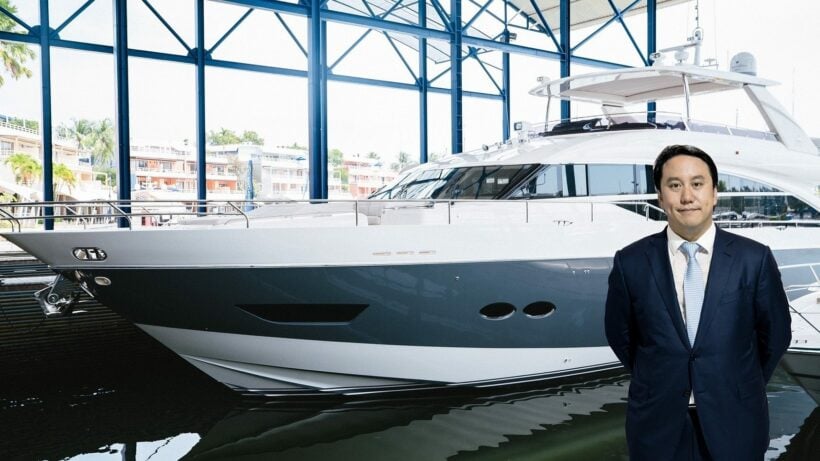 Boat Lagoon Yachting, Thailand's largest importer and distributor of luxury yachts, has made history in the region's yachting industry with the importation of the largest single shipment of luxury yachts, worth over 1,400 million baht. The shipment comprises nine luxury yachts manufactured in the UK by Princess Yachts, with sizes ranging from 19 metres to a superyacht of over 30 metres.
Mr. Vrit Yongsakul, Managing Director of Boat Lagoon Yachting said, "This very large shipment helps further solidify Boat Lagoon Yachting's position as Thailand's leading importer of luxury yachts and one of the largest in the region. It adds to the 200 boats we already have in the water throughout the region, giving us the economy of scale to further invest in the most comprehensive after-sales and maintenance facilities."
"We are seeing surging interest in the yachting lifestyle, especially in Thailand. It's largely being driven by the appeal of the absolute privacy that luxury yachts provide an owner together with giving the owner an ability to reach beautiful and uncrowded beaches, and at any time at the owner's pleasure."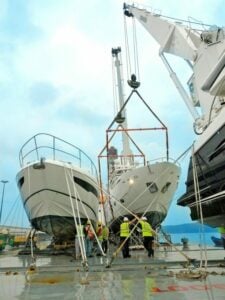 According to Mr. Yongsakul, global experience shows that the yachting lifestyle increases in popularity as a country's per capita GDP approaches US$10,000, and with Thailand's per capita GDP now at around US$ 6,000, the sport is seeing rising interest.
The fleet of new arrivals includes a Princess 62, Princess 64, two Princess S65s, a Princess 68, two 80-foot Princess 75 Motor Yachts, an 88-foot Princess 88 Motor Yacht and a Princess 30M superyacht with prices ranging from around 80 – 450 million baht.
"The Princess 62 is the newest addition to the Princess line of luxury yachts and incorporates the latest ship-building technology to make the yacht lighter, stronger and more fuel-efficient and with an interior design that is bright and airy," Mr. Yongsakul added.
Boat Lagoon has made substantial investment in its own maintenance infrastructure that includes its own 1,200 million baht, 80-rai service and maintenance facility. It has more than 80 staff.
Boat Lagoon Yachting has nine offices in five countries, including Malaysia, Indonesia, Singapore and the Maldives, as well as five branches in Thailand in Bangkok, Pattaya, Krabi, Koh Samui and Phuket.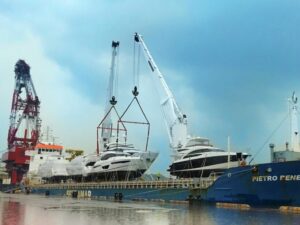 Keep in contact with The Thaiger by following our
Facebook page
.
Never miss out on future posts by
following The Thaiger
.
Raja salvage operation resumes, garbage truck, pick-up raised from seabed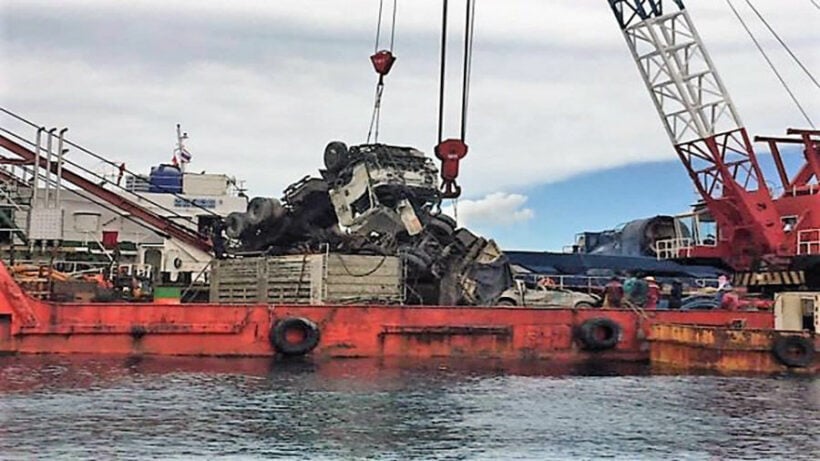 An operation to raise the sunken Raja 4 ferry and its cargo of vehicles from the seabed off Koh Samui has resumed, after being delayed due to bad weather. The ferry sank on the night of August 1 as it was transporting several garbage trucks from Samui to the mainland. The ferry had set sail in bad weather and capsized when its cargo of trucks shifted during the crossing. 5 of the 16 people on board died in the accident.
Having first been suspended briefly due to bad weather a couple of weeks ago, and more recently due to storm Noul, the salvage operation is once more underway, with workers removing an 18-wheel truck and a pick-up from the seabed.
Nation Thailand reports that operators MS Service have been using 2 cranes, installed on 2 boats, to carry out the salvage operation. Prior to being lifted, the garbage truck was covered in netting, to prevent any further refuse from entering the water. Small boats were also used to pick up any rubbish that managed to escape the netting.
The Ministry of National Resources and the Environment has previously threatened to sue the ferry company over the environmental fallout from the ferry's capsize. The ferry itself is yet to be lifted from the seabed.
SOURCE: Nation Thailand
Catch up with the latest daily "Thailand News Today" here on The Thaiger.
Keep in contact with The Thaiger by following our
Facebook page
.
Never miss out on future posts by
following The Thaiger
.
Heavy rain across the country this weekend – local forecasts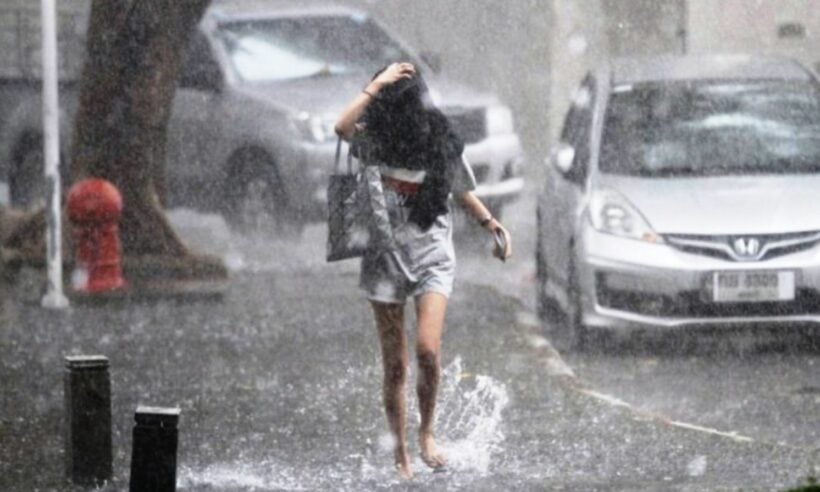 Heavy rain is expected across much of Thailand over the next few days, mostly as a result of the intensity of a tropical storm crossing into Vietnam today, 'Noul', from the South China Sea. The low pressure cell will help intensify the effects of the south west monsoon too. But the remnants of the storm won't "slam" into Northern Thailand as one news site claimed – rather it will be a lot of rain and increased winds. The storm is expected to cross into Thailand around the Mukdahan province some time early tomorrow,
Around the country, Saturday will be the worst with rains easing during Sunday. Thailand north east 'Isaan' provinces will be the worst affected as they are in the direct track of the storm as it crosses Vietnam, into Laos, and then crossing Thailand's borders in the upper north east in the early hours of tomorrow morning.
Whilst tropical storm 'Noul' has been packing winds from 80 – 120 kilometres per hour as it reaches the central Vietnam coast areas, including popular tourist locations like Da Nang and Hoi An, the storm will continue to dissipate as it moves inland. The storm has been tracking across the South China Sea this week, gathering strength, in a west northwesterly direction.
Residents in the coastal town of Hoi An report that it rained continuously last night, with strong winds, and that they expect widespread flooding to be reported during the day.
The forecast for heavy rain in Bangkok will probably dampen some of the enthusiasm for tomorrow's anti-government rally to be held in and around the Thammasat University Tha Prachan campus.
Here are the forecasts for Saturday and Sunday around the country…
Bangkok

Phuket

Chiang Mai

Pattaya

Khon Kaen

Koh Samui

Read more about Thailand's annual monsoons HERE.
SOURCE: weather.com
Keep in contact with The Thaiger by following our
Facebook page
.
Never miss out on future posts by
following The Thaiger
.
Samui charity battles to feed island's remaining residents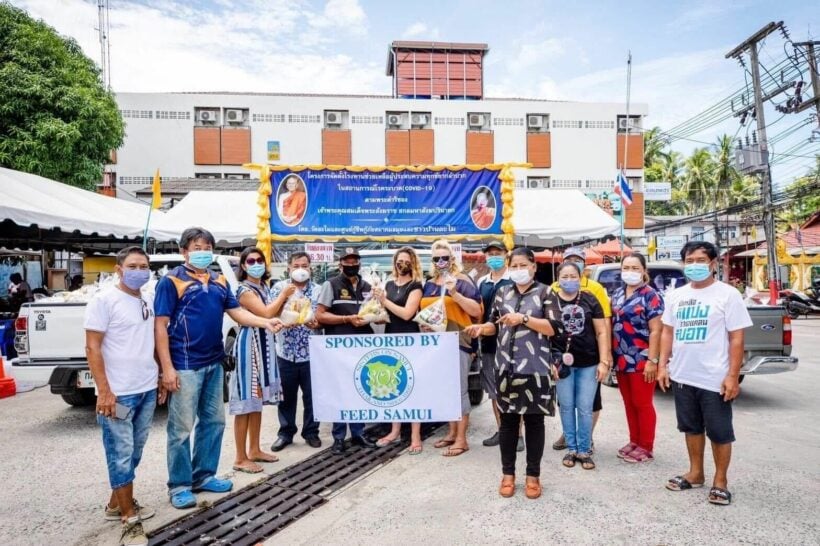 by Ann Carter
As around 2,000 Thai workers have reportedly left the island of Koh Samui due to the Covid-19 economic fallout, 'Sisters on Samui', the island's largest charity is changing up the way in which to help feed those remaining residents. Keyt Topcu, co-president of SOS, says the effort involves cutting out bags as the organisation realised that they could save over 500 USD by having those receiving aid bring their own bags.
"We hand out rice and other goods two times per week, but the bags alone cost 4,000 baht per week. If we cut out bags, we can put that money towards more food for the island's residents in need."
The first three months of feeding islanders since Covid hit included many Burmese people that were out of work. Now, those receiving handouts is mostly comprised of Thais as a lot of Burmese left the island after being put out of work.
"Those that are left are the ones that maybe had savings and could survive without work, and they are now our main clients that we serve."
Wai, a Thai mother of 4 on Samui, says she has been unemployed for 5 months and struggles to feed her children on a daily basis. Recently, she started working again but says the money isn't enough.
"I only get 300 baht per day and my mother is 65 years old. It is not easy now."
As Covid hit, many people on Samui have lost their jobs and have resorted to finding new ways to make ends meet. Mr. O, a taxi driver, now sells oysters and seaweed in a roadside stall after receiving only a few clients per day in his taxi.
"Now, many people have left the island after living here for 15 to 20 years. It is hard for me now to make a living only selling street food."
"Sometimes, I get money and other times I get nothing."
Sisters on Samui is continuing their fight to help those on the island who are still here but struggling. This Thursday, they will start the bag-free handouts in order to save plastic and money with the hopes of putting the money saved back into the community's mouths.
"We have a handout at Chaweng Lake this Thursday, September 17, in which we ask everyone to bring their own plastic bags. Also, if you want to help the cause, we are accepting monetary and food donations. A 1,000 baht donation will get us a 40 kilogram bag of rice to give out."
Apart from rice, the organisation says they need other items like eggs, noodles, milk, formula, vegetables, and tin fish to help stock their emergency stash. Yvonne Roberts, co-president of the charity says the effort to reduce plastic waste and spend the money elsewhere came about after receiving more and more volunteers to help the cause.
"As the operation slowed down a bit, we were able to logistically cut down on handing out bags as we had more volunteers to help distribute the food. In the beginning, we were trying to just get the food out as quickly as possible as it was a dire need."
As tourists make up over 90 percent of Samui's economy, the situation is grave. Sisters On Samui remains the largest charity on the island and has largely helped keep the residents afloat. To donate to SOS, you can visit their GoGetFunding page or visit the SOS website.
Links to GoGetFunding
Links to Sisters On Samui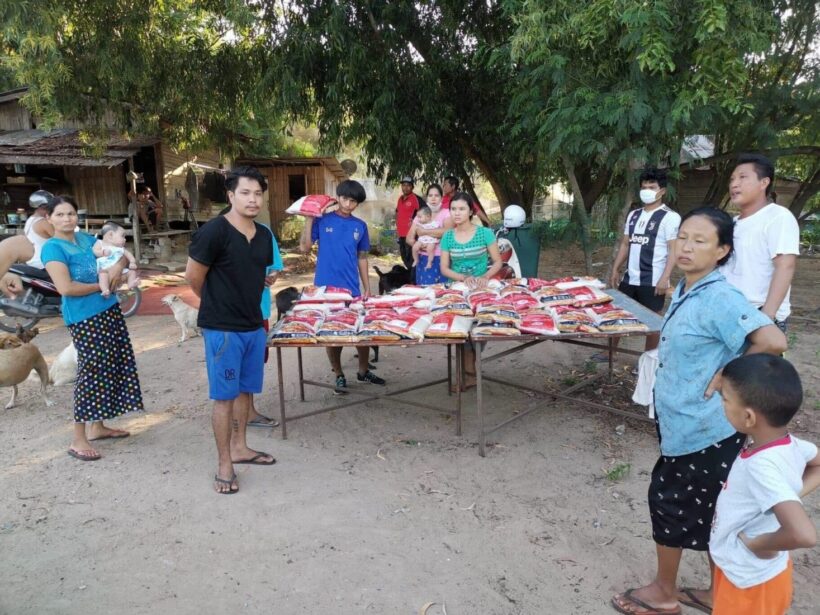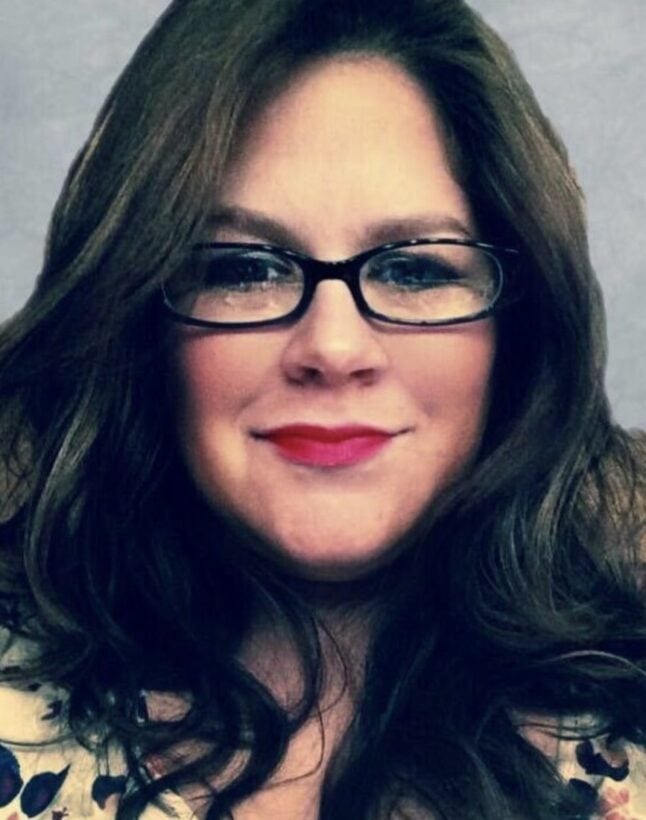 Special guest writer, Ann Carter
Keep in contact with The Thaiger by following our
Facebook page
.
Never miss out on future posts by
following The Thaiger
.